Zucchini Parmesan Fries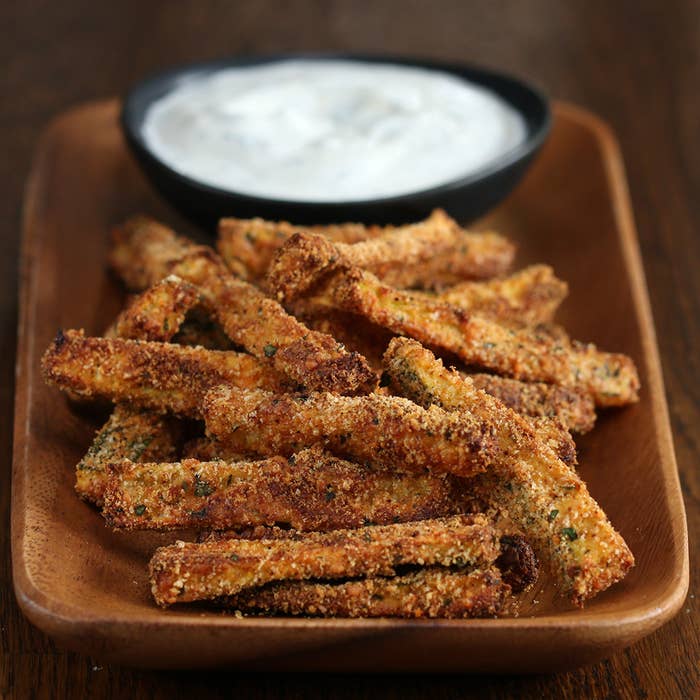 INGREDIENTS
For the zucchini fries:
2-3 zucchini squashes
2 cups plain breadcrumbs
1 cup grated parmesan cheese
1 tablespoon chili powder
½ tablespoon garlic powder
1 teaspoon kosher salt
For the cilantro-lime yogurt sauce:
1 cup plain Greek yogurt
1 tablespoon minced cilantro
1 tablespoon lime juice
¼ teaspoon garlic powder
½ teaspoon kosher salt
PREPARATION
1. Pre-heat oven to 400°F/200°C.
2. Cut the ends off the zucchini and slice the squash into ¼ inch thick by 2-3 inch long strips.
3. In a larger bowl, mix the breadcrumbs, parmesan, chili powder, garlic powder, and salt until well combined.
4. In a small bowl, beat 2 eggs. Dip the zucchini strips in the egg wash until fully coated, then transfer the strips to the breadcrumb mixture and toss until evenly coated.
5. Transfer the breaded zucchini strips to a parchment paper lined baking sheet lined with parchment paper and bake for 20-25 minutes, flipping the fries halfway through.
6. In a small bowl, mix the yogurt, cilantro, lime juice, garlic powder, and salt until well combined.
7. Enjoy!