These Banana Bread Mini Muffins Are A Bite-Sized Breakfast Option
Too cute to eat? Nah.
by
,
Banana Bread Mini Muffins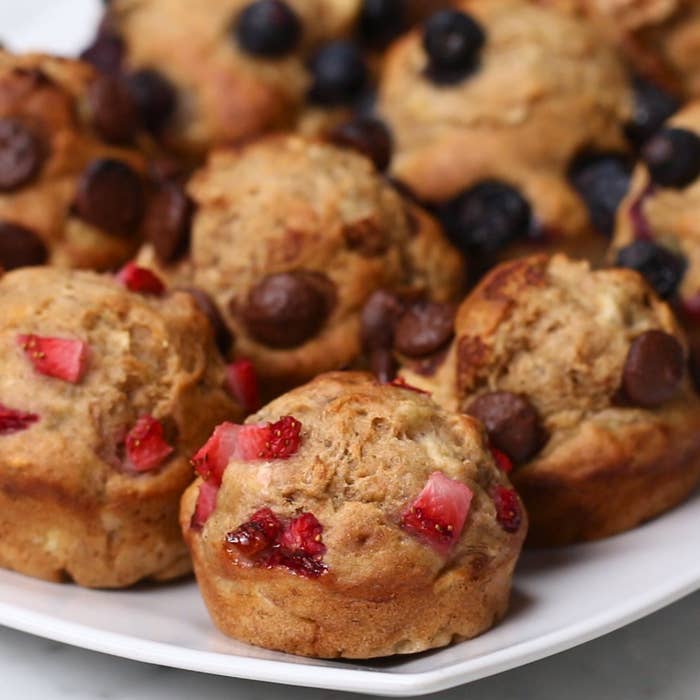 INGREDIENTS
3 ripe bananas
2 eggs
½ cup full-fat Greek yogurt
⅓ cup honey
1 teaspoon vanilla extract
1½ cups whole wheat flour
1 teaspoon baking soda
Toppings:
Diced strawberries
Dark chocolate chips
Blueberries
Chopped walnuts
PREPARATION
1. Preheat oven to 350°F/175°C.
2. In a large bowl, mash the bananas into a fine paste using a fork.
3. Add the eggs and whisk together until well incorporated.
4. Add in the Greek yogurt, honey, and vanilla extract, and mix.
5. Pour the flour over the wet mixture then sprinkle on the baking soda.
6. Using a spatula, fold the wet and dry ingredients together until the dry bits of the flour have disappeared.
7. Using a medium ice cream scoop, portion the batter evenly into a greased muffin tin.
8. Top the muffins with your choice of toppings.
9. Bake for 20 minutes, until the muffins have risen and set.
10. Remove from the tray and serve.
Enjoy your cute little breakfast muffins!