Pesto Chicken Spaghetti Squash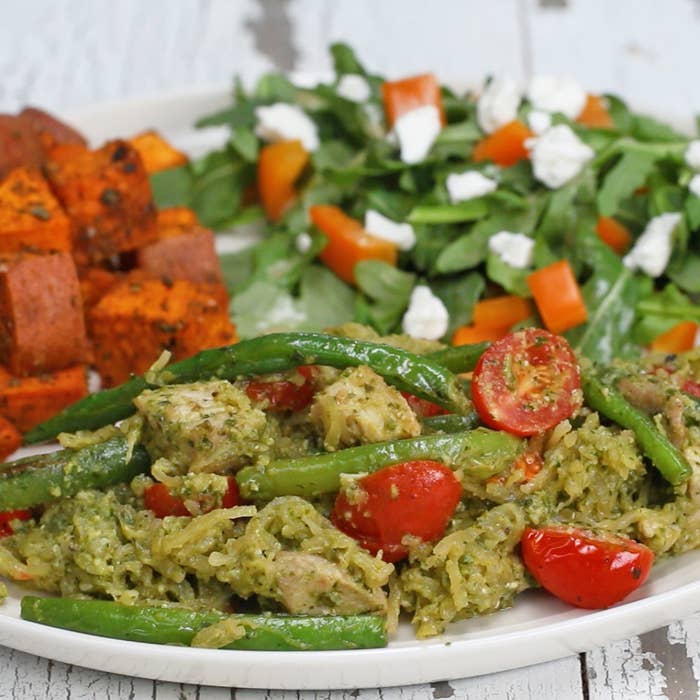 Here's what you'll need:
* 1 spaghetti squash
* 1 tablespoon oil, plus more for drizzling
* Salt, to taste
* Black pepper, to taste
* 4 chicken thighs, boneless and skinless
* ½ pound green beans, trimmed
* 1 cup basil pesto
* 2 cups cherry tomatoes, halved
Here's what you'll do:
1. Preheat oven to 400°F/200°C.
2. Using a fork, pierce holes along one side of the spaghetti squash.
3. Microwave the squash for 5 minutes to make it easier to cut open.
4. Using a sharp knife, cut the squash in half lengthwise and scrape out the seeds with a spoon.
5. Transfer the squash to a roasting pan and drizzle with oil. Season the flesh with salt and pepper, and flip the squash so that the cavity faces down on the pan.
6. Bake for 40 minutes until the squash is easily pierced with a knife.
7. Once out of the oven, use a fork to pull the threads out of the spaghetti squash.
8. Heat 1 tablespoon of oil over medium-high heat in a large, nonstick skillet. Season the chicken thighs with salt and pepper and sear them on each side for about 4 minutes.
9. Remove the chicken from the pan and allow it to rest for 5 minutes before slicing into cubes.
10. Toss the green beans into the pan and sauté until they've started to soften.
11. Add in the spaghetti squash, pesto, and chicken, and toss until well combined.
12. After the mixture is heated through, toss in the cherry tomatoes and give the pan one last toss to help everything come together.
13. Remove from heat and serve.
14. Enjoy!