Roasted Veggie Quinoa Bowl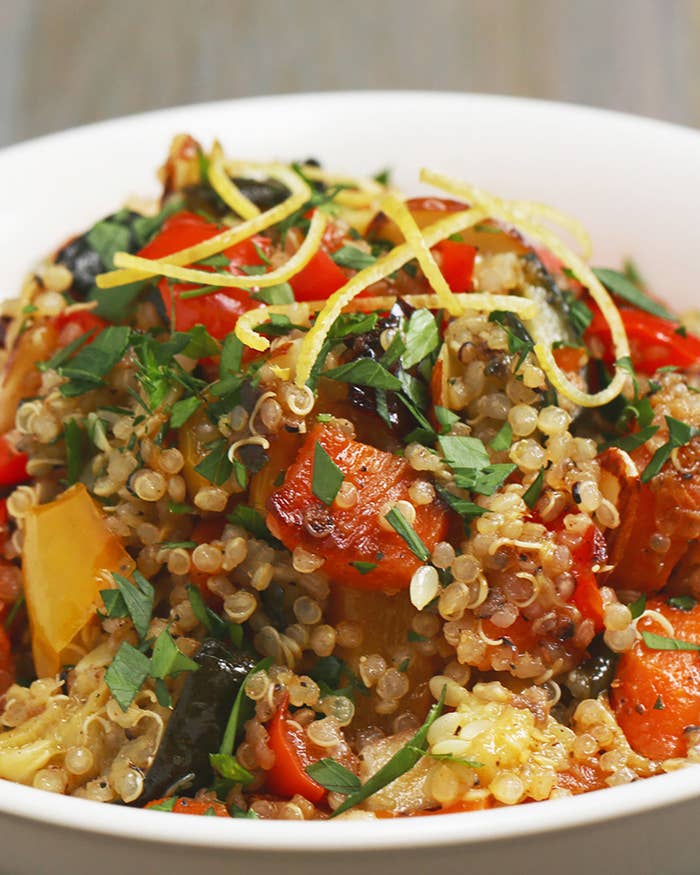 INGREDIENTS
For the roasted vegetables:
2 zucchini squash, diced
2 carrots, diced
1 red bell pepper, diced
1 yellow bell pepper, diced
1 teaspoon lemon zest
1 teaspoon salt
½ teaspoon garlic powder
¼ cup olive oil
For the quinoa:
½ tablespoon olive oil
½ cup quinoa
1 cup water
¼ teaspoon salt
⅓ cup sliced almonds
For the garnish:
flat-leaf parsley
lemon zest
PREPARATION
1. Preheat oven to 400°F/200°C.
2. In a large bowl, combine the zucchini, red bell pepper, yellow bell pepper, carrots, lemon zest, salt, garlic powder, and olive oil until well-combined.
3. Spread the veggie mixture evenly on a large baking sheet.
4. Bake for 45-50 minutes.
5. Prepare quinoa by heating olive oil in a small pan. Toast quinoa until fragrant, about 2 minutes.
6. Add in water and salt. Simmer for 15-20 minutes until the quinoa is fully cooked.
7. In a large bowl, combine the roasted veggies, quinoa, and sliced almonds. Serve in individual bowls and top with parsley and lemon zest.
8. Enjoy!