Dairy-Free Strawberry "Cheesecake"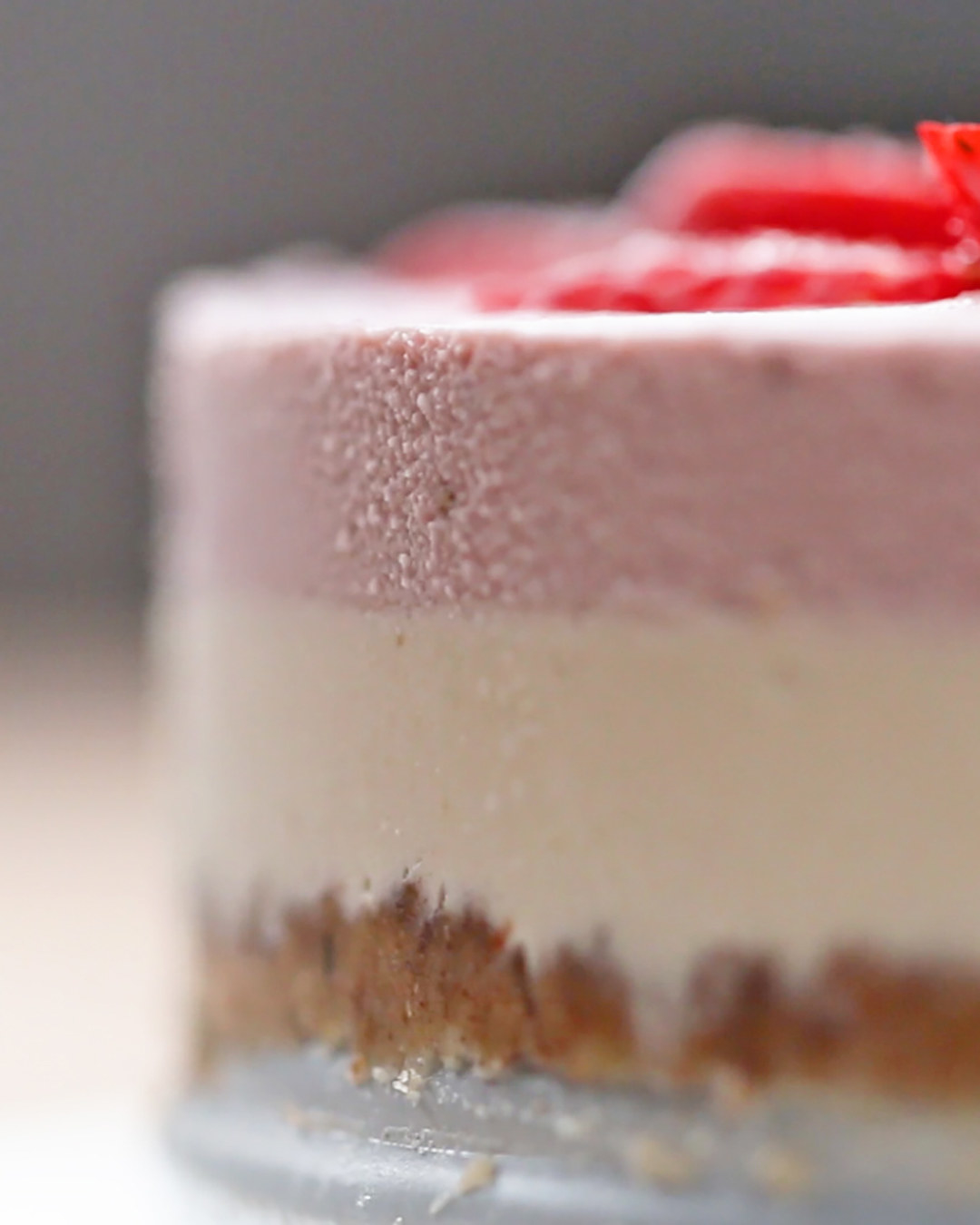 INGREDIENTS
Crust
½ cup raw pecans
½ cup almond flour
2 dates, pitted
2 tablespoons coconut oil
1 teaspoon cinnamon
Salt, to taste
Cheesecake
2 cups raw cashews
½ cup canned coconut milk, mixed
2 tablespoons fresh lemon juice
¼ cup coconut oil, melted and cooled
⅓ cup maple syrup
1 tablespoon vanilla extract
½ cup fresh or frozen strawberries
Strawberries, sliced, for garnish
PREPARATION
1. Place the cashews in a small bowl and cover with cold water. Let the cashews soak overnight, or at least for 4 hours, until soft.
2. Using a food processor, pulse together the pecans, almond flour, dates, coconut oil, cinnamon, and a pinch of salt. Pulse until the pecans have been broken down into crumbs and the crust begins to stick together.
3. Scrape the crust into the bottom of a greased and parchment paper-lined 8-inch springform pan. Use your fingers to press the crust into the bottom of the pan in an even layer.
4. Drain the soaked cashews and place them in the bowl of the food processor. Add the coconut milk, lemon juice, coconut oil, maple syrup, and vanilla extract. Blend the cashew mixture until it reaches a smooth consistency, about 5-7 minutes.
5. Pour roughly ⅔ of the cashew blend over the crust in the pan. Use a spatula to gently spread the mixture to the sides, then tap and shake the pan on the counter to achieve a smooth, even layer.
6. Freeze the pan while preparing the second layer, about 10 minutes.
7. For the second layer, add the strawberries into the remaining cashew blend and process until smooth, scraping down the sides of the bowl as needed, about 5 minutes.
8. Scrape the strawberry cashew blend onto the first layer. Use a spatula to gently push the layer out to the sides of the pan and tap and shake the pan on the counter to achieve a smooth, even layer.
9. Top the cheesecake with sliced strawberries.
10. Freeze the cheesecake until fully solid, at least 4 hours.
11. To serve, let the cheesecake thaw at room temperature for at least 10 minutes before slicing.
12. Enjoy!
Inspired by the recipe here
Looks like there are no comments yet.
Be the first to comment!