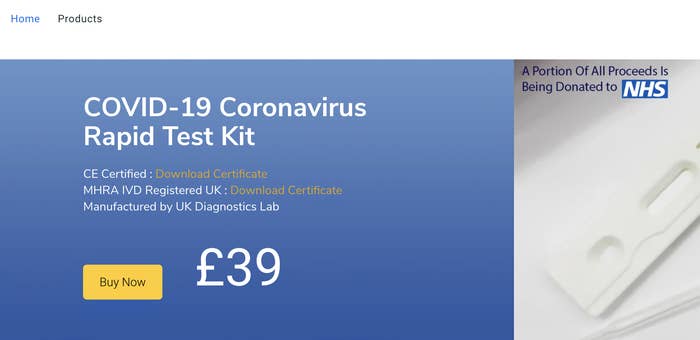 A shadowy UK website has been accused of "a naked attempt to profit from this pandemic" by illegally offering to sell coronavirus test kits for home use without regulatory approval, BuzzFeed News can reveal.
The website, MediResales.co.uk, was using Facebook ads to market a "COVID-19 Coronavirus Rapid Test Kit" for personal use for £39. It even claimed that "a portion of all proceeds are being donated to NHS".
MediResales hosted a certificate that it claimed was issued to the Derby-based manufacturer of the test kits, SureScreen Diagnostics, by the UK's Medicines and Healthcare Products Regulatory Agency (MHRA) that included the agency's logo. The MHRA is the government agency that regulates such products.
The website had also published the same letters — a "UK Declaration of Conformity" and "CE Mark Confirmation" — on its Facebook page. MediResales added its own logo to the letters.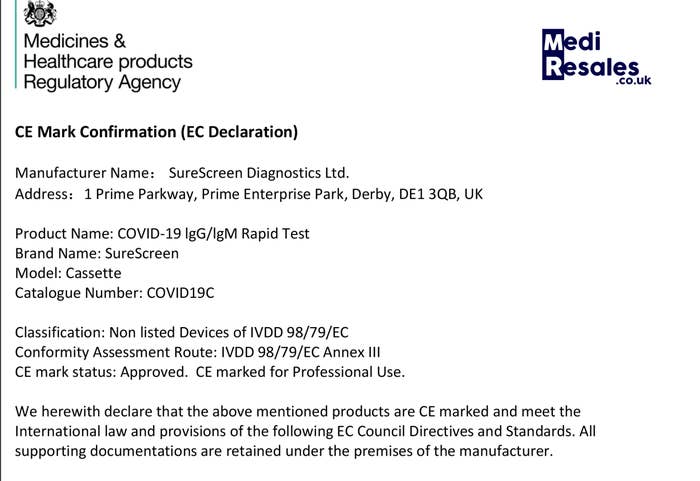 But SureScreen said it knew nothing about MediResales until BuzzFeed News approached it on Friday morning. The firm provides coronavirus tests only to businesses and it makes clear on its own website that the kits cannot be supplied to private consumers.
David Campbell, a SureScreen director, told BuzzFeed News that his company had contacted its local trading standards office, the MHRA, and the police, and was trying to track down who was behind MediResales.
"We are absolutely outraged that our name should be associated with such a naked attempt to profit from this pandemic," he said.
"We don't believe this test is actually our test, as we are very careful who we supply to, but if it proves to be, we will do all within our power to track down the company which is putting it up for sale and the supplier to them."
He added: "To be clear, our test costs just £6 and is not available for use by the general public."
Companies can only sell such tests to individual consumers if they have regulatory approval, without which a sale would be illegal.
But MediResales said on its website that the test it was selling was for home use. A BuzzFeed News reporter was able to go through all of the purchasing steps, providing personal details, and reached the final checkout page of the process using PayPal, Apple Pay, and Google Pay.
The reporter did not buy the kit and it is not known whether MediResales would in fact supply such kits to a member of the public.
The MHRA confirmed that it hadn't issued certificates to MediResales. A spokesperson said: "the MHRA does not issue declarations of conformity for in vitro diagnostic devices. We will be following up with the company concerned."
The MHRA website says there are no CE-marked tests for home use, and it is illegal to supply such products direct to the public. CE Marking is a mandatory European designation for certain product groups, such as devices used to take and test blood, to indicate they meet essential standards.
It's not clear who is behind the MediResales.co.uk. On both its website and Facebook page, it listed an address in Derby, which, according to information on Companies House — the UK's official register of companies — appears to be the premises of serviced and shared offices. More than 100 companies are listed at the same address.
The URL MediResales.co.uk was registered four days ago, on March 23, according to publicly available information on WHOIS domain registries. Its Facebook page was created the following day.
On Thursday, Facebook's ads library said that the page was "currently running ads", though it wasn't possible to see how much the page had spent on them.
One Facebook user showed BuzzFeed News a screenshot of one of the ads they'd seen on their timeline.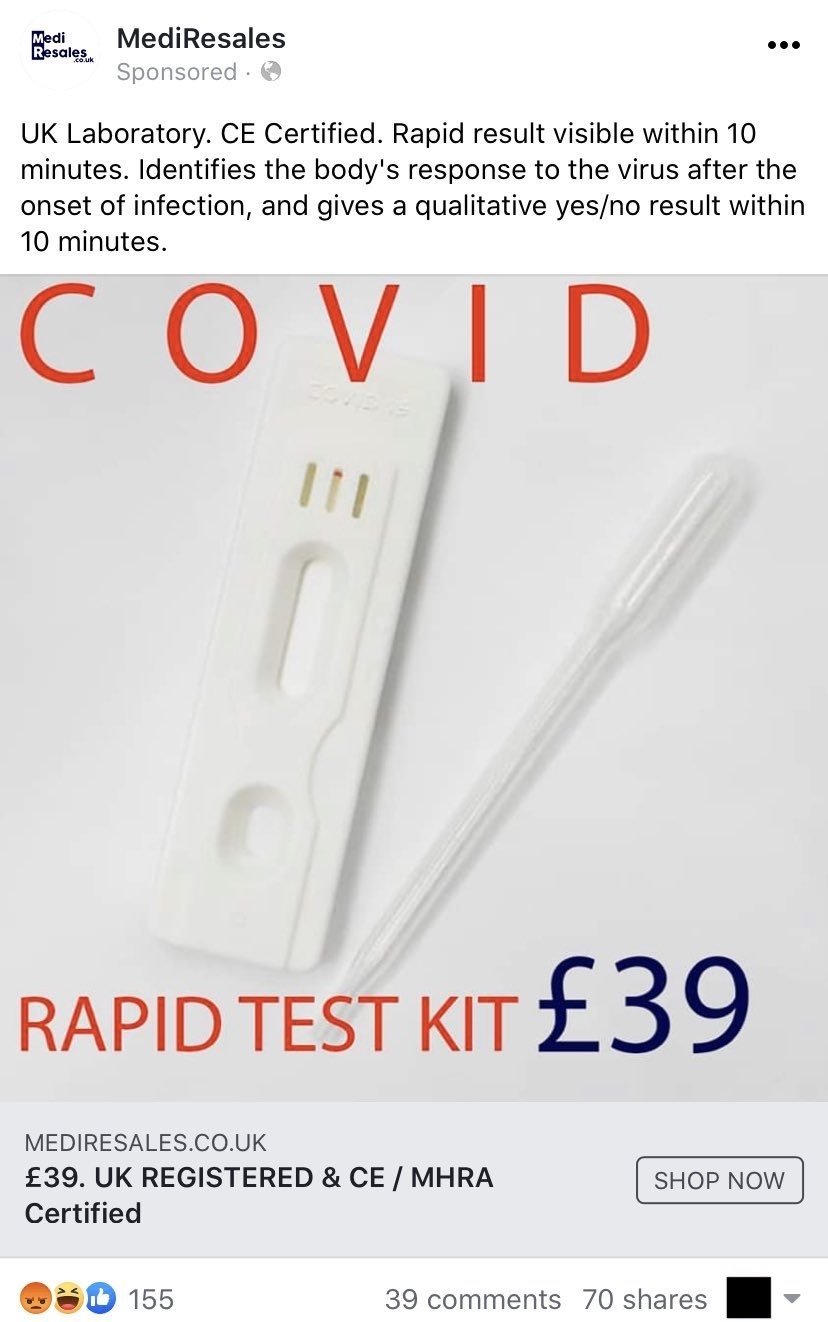 Another, Anna Howells, told BuzzFeed News that she and others had left several comments on the Facebook page questioning the test's validity and legality, but these were promptly removed by the MediResales page administrators.

"Lots of comments were removed. People were questioning their validity and others just outraged that they were selling them and not giving them to frontline NHS staff. I saw lots of those comments 'disappear'," she said.
Howells reported the page to Facebook, which told her it didn't go against the social network's Community Standards.
But shortly after being approached by BuzzFeed News for comment on Thursday evening, Facebook removed the page for violating its medical supplies policy, which bans the sale of medical supplies such as testing kits.
A Facebook company spokesperson said: "Facebook is focused on preventing exploitation of this crisis for financial gain and we have removed this page for violating our policies."
The social media giant had removed millions of ads and commerce listings for items such as masks, hand sanitiser, and COVID-19 test kits, the spokesperson said, adding: "While enforcement is not perfect, we have put several automated detection mechanisms in place to block or remove this material from our platform."
Before its page was removed, MediResales told BuzzFeed News in a Facebook message: "The MHRA have definitely CE marked these Surescreen kits."
The company didn't respond to subsequent questions sent over email. Nobody responded to phone calls on the number listed on its website — and on Friday morning, the website was taken offline before reappearing without the coronavirus tests. It was offline again at the time of publication.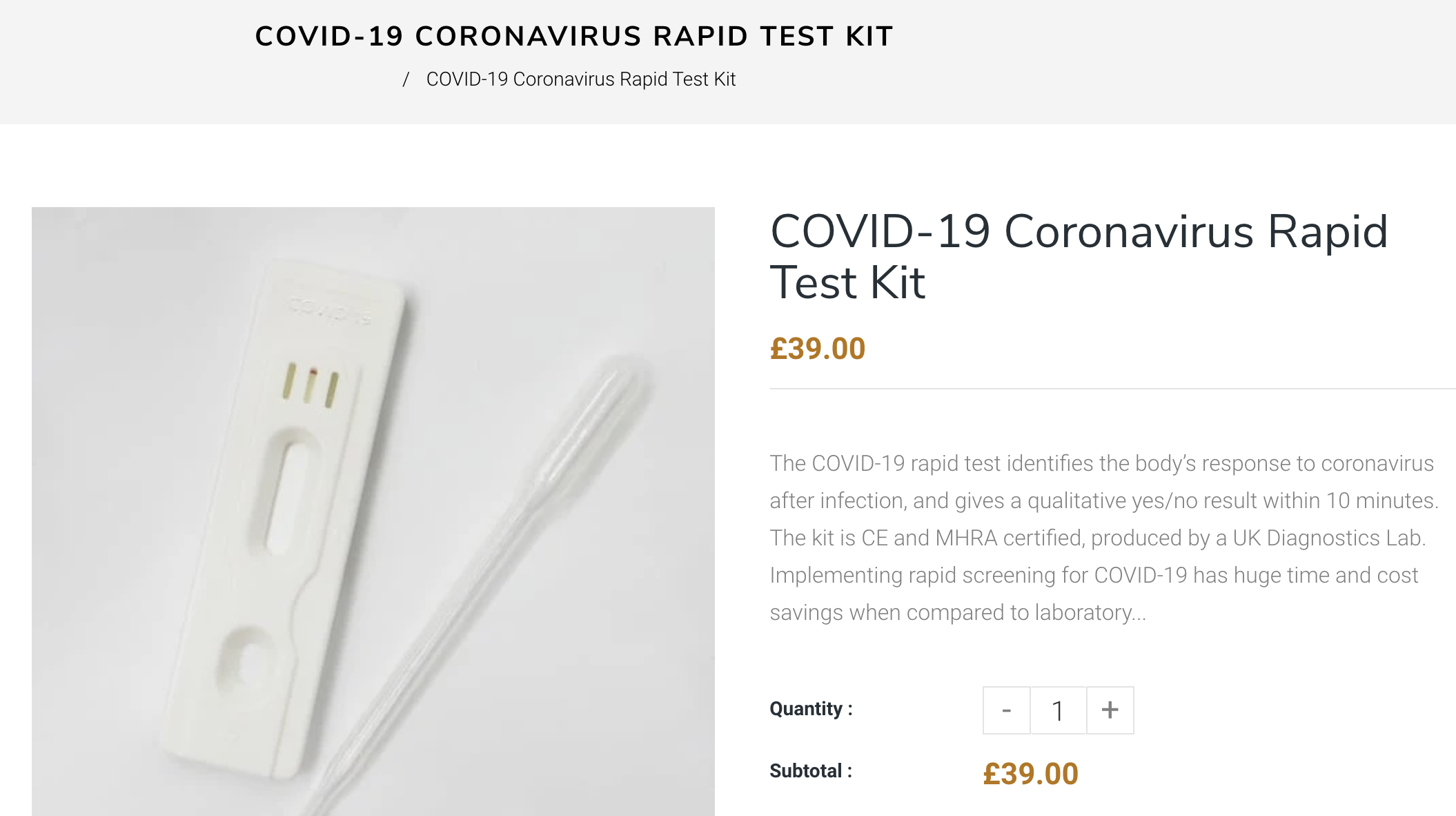 The MHRA, which said it was it was investigating a large number of similar allegations around the sale of medical devices and was unable to comment on an individual case, warned people to be wary of "dodgy websites".
"Always make sure you are buying your medicines and medical devices from a registered pharmacy or website," a spokesperson told BuzzFeed News.
MediResales said on its website that the kit it was selling was a finger prick COVID-19 rapid test which "identifies the body's response to coronavirus after infection, and gives a yes/no result within 10 minutes."
The website also claimed to sell other products, including a thermometer, a wrist blood pressure monitor, and urine test strips.
It comes as the British government is scrambling to ramp up the number of coronavirus tests it carries out. The UK is currently mostly testing people in hospitals and has faced criticism for not routinely testing NHS staff, despite data from other countries showing that health workers are among those most at risk for the virus.
A number of other companies are offering private coronavirus tests, with prices ranging from £120 to £375. These, however, are legal: Consumers order and register a kit online and then take a swab test at home, following instructions provided, before mailing it back to the lab, which processes it and provides results.