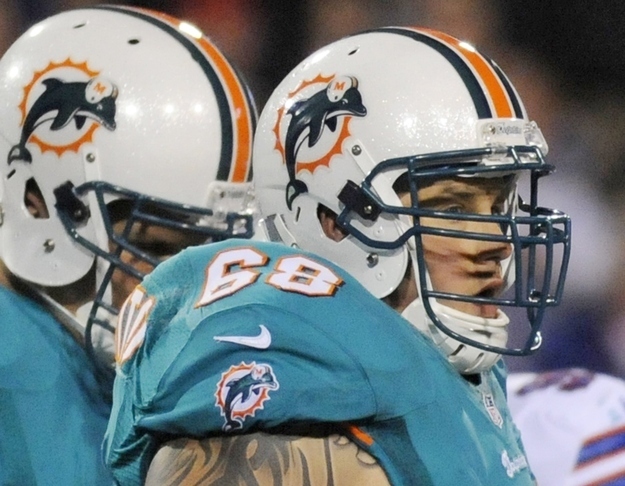 Miami Dolphins lineman Richie Incognito's team-imposed suspension for allegedly bullying and harassing teammate Jonathan Martin came to an end Tuesday.
Incognito marked the conclusion of the suspension, which started Nov. 3, with a series of celebratory tweets to his 62,000 followers that included well-wishes for Martin.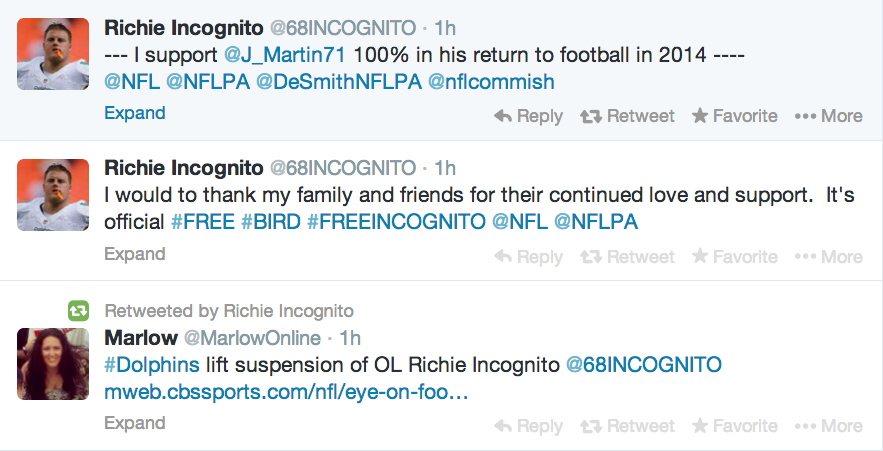 Incognito's suspension was ended days after the Super Bowl as part of an administrative move agreed upon by all involved parties.
However, the move probably doesn't matter much in terms of his future with the Dolphins. Team owner Stephen Ross said last week that he doesn't think Incognito or Martin will return to the team next season. Incognito will become an unrestricted free agent in March, while Martin remains under contract and could be traded or released.
The Dolphins, Incognito and Martin are still waiting on results from an investigation by Ted Wells, who was appointed by the NFL to look into the matter.
Martin spoke to NBC Sports last week, saying he felt his treatment by Incognito went beyond "normal rookie hazing." Incognito's lawyer released a statement about a day after the Martin interview claiming Martin was an equal participant.
Yesterday The Big Lead published the full transcript of more than 1,000 text messages Incognito and Martin swapped between October 2012 and November 2013. "The messages are what you'd expect from wealthy, young athletes: Incessant talk about partying, drinking, and chasing women. And there is plenty of bawdy back-and-forth banter that at times reads like a fraternity brother hazing a pledge," the site writes.