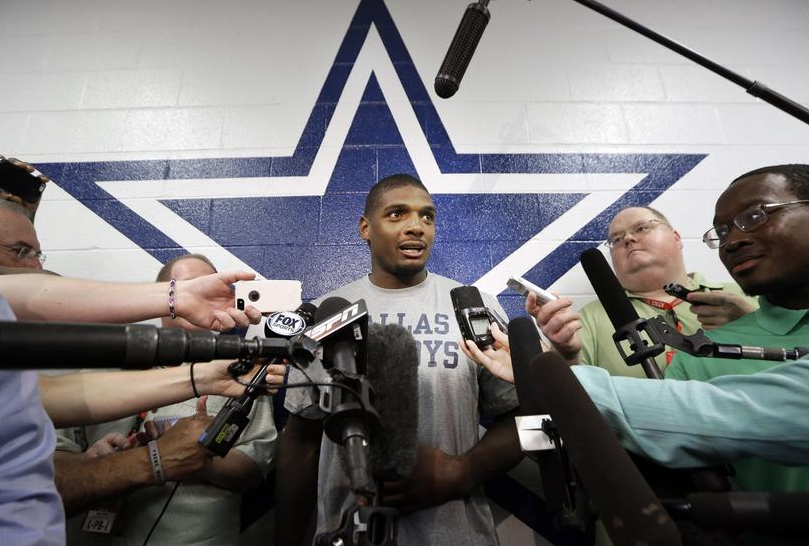 Michael Sam, the first out gay player drafted into the NFL, was released from the Dallas Cowboys today, the team announced.
Sam spent seven weeks with the Cowboys but was never promoted to the team's 53-man roster. He joined the club on Sept. 3 after being released the previous week by the St. Louis Rams, the team that drafted him near the end of the seventh round in May.
Sam later thanked the Cowboys for the opportunity in a series of tweets sent about an hour after he was reportedly released.
The Cowboys were looking to add Troy Davis, a second-year pro from Central Florida, to the roster after Sam's release, according to dallascowboys.com.
Sam is now free to sign with another team, and to continue his pursuit of becoming the league's first out gay player on an NFL roster.
At the University of Missouri, Sam revealed his sexual orientation to his college teammates and friends long before deciding to tell national media outlets. He went on to finish his college career as one of the most decorated players in school history.
Sam ended his senior season as the SEC's Co-Defensive Player of the Year and made a number of All-American teams. Many league analysts had predicted Sam would be drafted somewhere in the first four rounds.
Instead, Sam lasted until the 249th pick in the draft — only seven players were selected after him. Explanations for his precipitous drop went from size — at 6-foot-2-inches and 260 pounds, Sam was too slow for linebacker and too small for the line — to NFL teams' reluctance about dealing with media scrutiny of an out gay player.