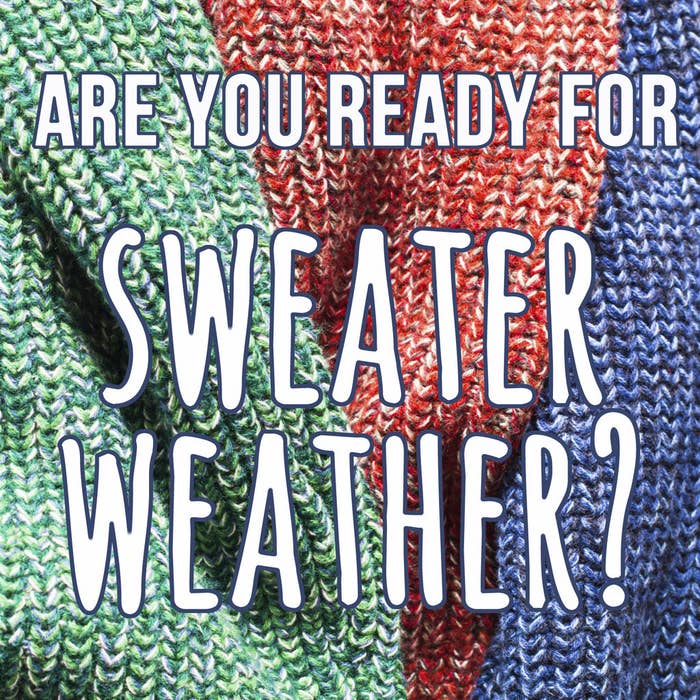 I think summer is a pile of garbage.

I want to be able to layer my clothing without turning into a hot swamp beast.

I just like feeling cozy, OK?

Wearing a sweater just feels right. IT FEELS SO RIGHT.

Seeing my breath create a little cloud of fog fills my heart with JOY.

I like my air like I like my apples, CRISP damn it.

Apples? Let's get some apple cider up in here.

I want to fall in love all over again with warm knit fabrics.

I want to feel all my problems melt away with the comforting embrace of a soft sweater.

I have the best sweaters, you guys.

Wearing a sweater is like getting a hug.

Sweaters make up for my lack of physical contact with other people.

In the summer I'm worried that my sweaters feel sad and unwanted.

I can't believe I left my poor sweaters alone in the dark.

I am jealous of fishermen and their big, thick sweaters.

My hands want nothing more than to wrap themselves around a warm mug.

A sweater gives me a protective layer against the horrors of the world.

I wish I could live inside a sweater.

I have tried to fit my entire body inside one sweater.

I have worn sweater pants, or "swants."

I would just leave the house wrapped in a big blanket if it were more socially acceptable.

I actually do wear a blanket out of the house and I don't care what anyone thinks about it.

If I'm not wearing a sweater I might as well be dead.