1.

Boris Johnson's cycle hire scheme is going through a troubled phase. Not helped by the fact this photo appears to show one of the Boris Bikes is now in Africa.

Ben Phillips
@benphillips76
A Boris bike turns up in Gambia…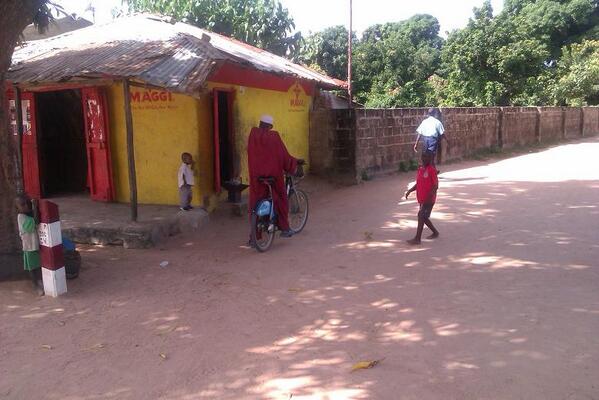 / Via
3.

The photo was published by Oxfam Campaigns and Policy Director Ben Phillips. He isn't sure how the hefty bike ended up in the West African nation.

Ben Phillips
@benphillips76
@jimwaterson I'm guessing he didn't ride it from London :-)
/ Via
4.

Phillips says he found the photo and doesn't know who took it.

But the shop in the original picture is advertising Maggi, a popular chicken stock cube in West African nations.
5.

Just 26 bikes have been stolen and not recovered since the scheme began in 2010. Which would make it truly astonishing if one of them was in The Gambia.

It would also be a very expensive bike ride. Every hire is linked to a debit or credit card - and failure to return a bike can lead to a fine of up to £300.
6.

We believe in the good of humanity. Here's how the bike could have ended up abroad.
7.

Solution 1: Someone cycled the 3,661 mile journey.

One ambitious cyclist did a steady 12mph on the hefty Boris Bike, suggesting the journey from the UK to Africa could be completed in about 305 hours of fierce peddalling on the three-speed bikes.

That's about 12 days, if you go for 24 hours a day. But then you've got to worry about getting it back to a docking station. And Transport for London have probably fined you by now.
8.

Solution 2: Someone flew the bike over to The Gambia for an outing.

Catch the 11pm Friday night Gambia Bird flight from London to Banjul and stick the Boris Bike in the hold.

You'll have 3 hours and 45 minutes to pedal around The Gambia before returning to London by 6.20pm on Saturday evening – leaving you with a few hours to return it to a docking station before hitting Transport for London's 24 hour limit on hires.
9.

Solution 3: It was nicked and shipped there.

But that would take the fun out of it.

Still, there's apparently more Boris Bikes in Africa than in the whole of Bermondsey.
Jim Waterson is a politics editor for BuzzFeed News and is based in London.