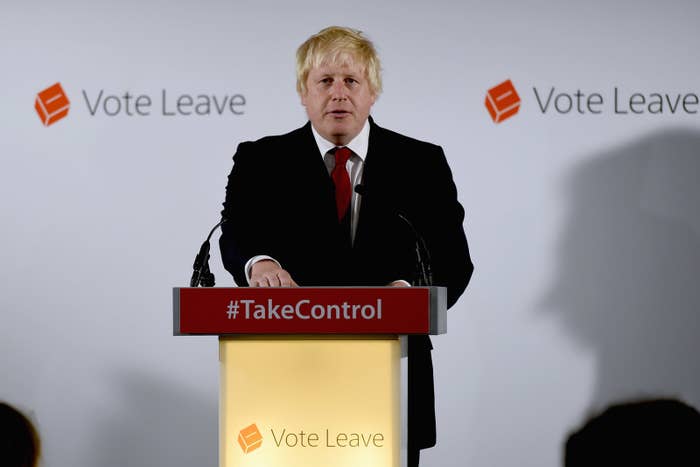 Vote Leave donated £725,000 to two related Brexit campaign groups in the final weeks of the EU referendum campaign – only for the groups to spend the money on online advertising campaigns run by Vote Leave's own IT supplier, despite strict rules banning collaboration between campaigns.
BuzzFeed News has learned that Veterans for Britain and Darren Grimes, then a 23-year-old fashion student, received substantial donations from Vote Leave at a point when the official anti-EU group was approaching its spending limit in the final weeks of the EU referendum campaign.
Veterans for Britain and Grimes then used the Vote Leave donations to run expensive online targeted advertising campaigns through AggregateIQ, an otherwise largely unknown Canadian tech startup that was credited by Vote Leave for playing a key role in winning the referendum.
Earlier this year BuzzFeed News revealed how Vote Leave gave £625,000 to Grimes in the final days of the EU referendum campaign after the official group realised it had surplus funds it could not use within the strict £7 million spending limit imposed on lead campaigners in the contest.

Such a transfer of funds is perfectly legal, on the condition that Vote Leave did not give Grimes or Veterans for Britain direction on how to spend the money. Vote Leave's finance chief has told parliament they were "independent campaigns acting independently".
If Vote Leave had coordinated campaign spending with Grimes or Veterans for Britain it could have to count the spending under the main campaign's strict spending limit, potentially breaking the law.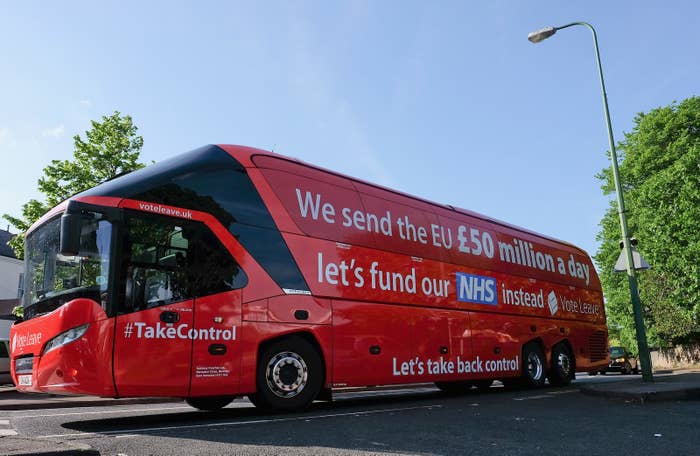 However, it has now been established that all three pro-Brexit campaigns chose to employ the services of AggregateIQ, a previously obscure company based in Vancouver with only three Twitter followers.

Grimes and Veterans for Britain deny there was any coordination as to how they spent Vote Leave's money, while a spokesperson for Veterans for Britain said it independently chose to employ the services of AggregateIQ to run a social media campaign.
Dominic Cummings, the key Vote Leave strategist, has written since the referendum that the money spent with AggregateIQ on online targeted advertising played a key role in winning the referendum: "Without a doubt, the Vote Leave campaign owes a great deal of its success to the work of AggregateIQ. We couldn't have done it without them."


Grimes has also said his independent campaign, which was almost entirely funded by the last-minute donations from Vote Leave, also spent heavily with the same Canadian tech company.
"AggregateIQ used video advertising, Google Ads, landing pages on our website to inspire sign-ups and help us get out the vote on polling day using text messages and newsletters," he previously told BuzzFeed News.
Figures released on Tuesday show the extent to which Grimes' youth-focused campaign group existed almost entirely to spend money with AggregateIQ. He only spent £107 during the first four months of its existence.
However, during the final fortnight of the campaign, as Vote Leave was approaching its spending limit, he began to receive substantial donations from Vote Leave and Vote Leave donors, which were spent on services from AggregateIQ valued at £675,315. The invoices were made out personally to Grimes.
Grimes' campaign consisted almost entirely of spending with AggregateIQ. The only other substantial expense recorded by him during the entire referendum was a £461 eve-of-poll meal involving the purchase of a dozen high-quality steaks.
After BuzzFeed News queried the arrangement, the Electoral Commission updated its records to reflect that Grimes had wrongly declared that he received the Vote Leave donations as cash – when in reality the donations were in the form of services that "were paid for and then provided to him to use".

Grimes was regularly seen in the Vote Leave office during the EU referendum and posted pictures of himself on Twitter wearing a Vote Leave T-shirt while standing behind Michael Gove at the campaign HQ on the first day of the campaign.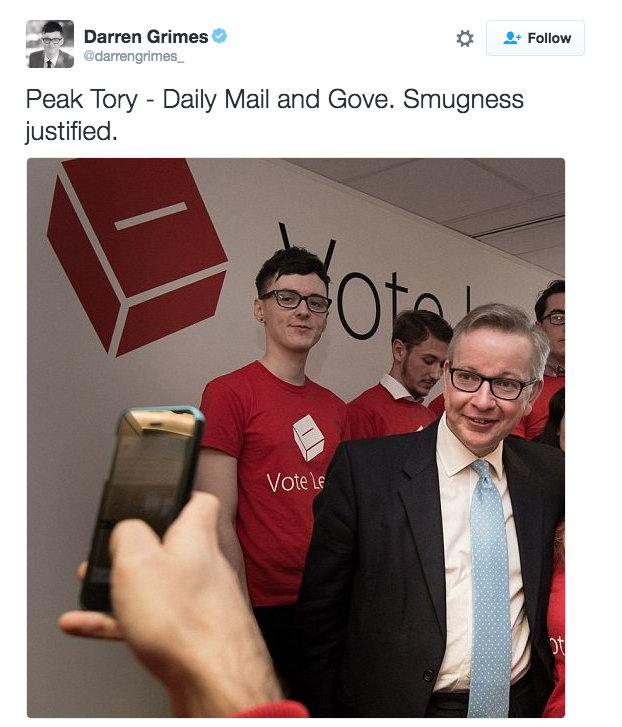 In addition to the £625,000 Grimes received from Vote Leave, Grimes also received a donation of £50,000 in kind during the final 10 days of the referendum from an individual called Anthony Clarke, who had previously given money to Vote Leave.
Grimes has previously said Clarke approached him independently of Vote Leave and that all donations were recorded in accordance with the rules.
Because the donations were made in the final fortnight of the campaign, the figures were not published until after the result was known.

A similar arrangement took place with Veterans for Britain, which spent £100,000 of Vote Leave's money with AggregateIQ on 22 June – the day before the EU referendum vote.
AggregateIQ's Zack Massingham told BuzzFeed News he regularly flew from British Columbia to London to work on Brexit-related projects but insisted he worked "quite separately" on the parallel campaigns run.

"AggregateIQ provides election-related technology and online advertising services for political organizations and candidates across the political spectrum and all around the world," he said. "We worked under contract as a vendor for Vote Leave and BeLeave [the name of Grimes' campaign] during the EU referendum and we are glad that they were happy with the work we did for them. As a vendor it would be inappropriate to comment on the details of the work we do for specific clients."
He did not clarify when his company came to be employed by Grimes and whether he started work for Grimes before Vote Leave gave the student £625,000.
Earlier this month, at a meeting of parliament's public administration and constitutional affairs committee, Labour MP Paul Flynn asked Vote Leave finance director Antonia Flockton whether it was "an entirely innocent act" that Vote Leave gave £625,000 to Grimes.

"When it became obvious that we were in surplus funding, we chose to donate to other campaigns," she said in response. "There is a question as to whether they were independent campaigns acting independently. They were. Therefore, there is no issue in relation to our expenditure.
"The rules, to our minds, are quite clear. We did it consciously and we did it on condition that those donations were reported. We were repeatedly clear about that, so we were clear that it should be transparent. I do not see any issue."
A spokesperson for the Electoral Commission said it had investigated Grimes following the original BuzzFeed News story and had not found any evidence of the law being broken, which would attract a potential maximum fine of £20,000.
"The Commission considered and undertook enquiries of Vote Leave and Mr Grimes to determine whether there was a common plan between Darren Grimes and Vote Leave," the spokesperson said. "We concluded our enquiries on 4 October 2016 and found no evidence that Darren Grimes and Vote Leave worked together in a way that broke the law.
"As such, we concluded that there was no need to open a full investigation into the matter and no further action was taken relating to this matter.
"Vote Leave have until 23 December to submit their spending return, and we will flag any issues, if any, in our press release we issue in the New Year."
Grimes said: "BeLeave used AggregateIQ services to help advertise to supporters online during the referendum. This has all been declared as required by the Electoral Commission."