Theresa May's Head Of Policy Is Leaving Downing Street
Exclusive: A Downing Street source confirmed the departure, which will mean almost all of Theresa May's key pre-election policy staff have left Number 10.
by
,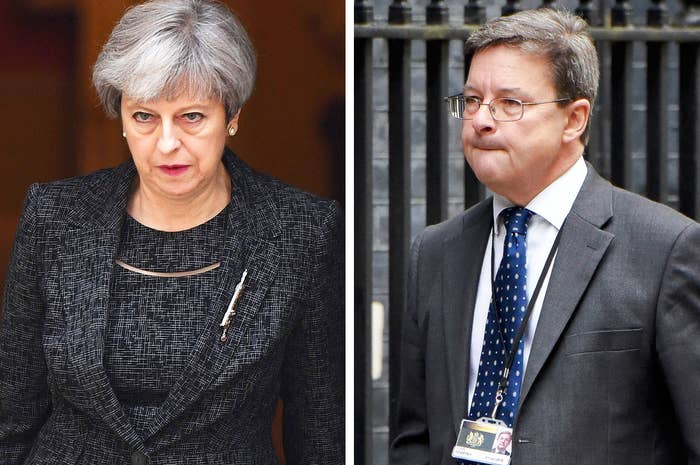 BuzzFeed News can reveal Theresa May's head of policy John Godfrey is leaving Downing Street. The departure is another blow for the prime minister, and means almost all of her key pre-election policy staff have left Number 10.
A Number 10 source confirmed the news, adding: "He's off to explore new opportunities, and leaves with our best wishes."
Godfrey joined Number 10 as the head of the influential policy unit in July 2016, shortly after Theresa May became prime minister. His departure after less than a year will raise further alarm at the exodus of May's inner circle among a chaotic centre of government.
Following the disastrous June election result for the Conservatives, Theresa May's joint chiefs of staff – and long-time key advisers – Fiona Hill and Nick Timothy resigned, while the Financial Times revealed last week that Godfrey's deputy at the policy unit Will Tanner was departing.
When Theresa May announced her snap election, Number 10 director of communications Katie Perrior and the prime minister's spokesperson Lizzie Loudon also announced their departures.
It was also reported yesterday that Number 10's head of government relations Chris Brannigan is departing.
The flurry of departures mean virtually none of the top team brought into Number 10 by Theresa May just 11 months ago now remain.
Godfrey had worked at the Home Office, and for nine years at Legal and General, before leaving the private sector to join May's team.
He was among those in the room when Theresa May's manifesto – which contained the now-infamous "dementia tax" proposals – was drafted, but was later said to have advised against including the measure in the media blame game which played out after the policy was partially reversed during the campaign.