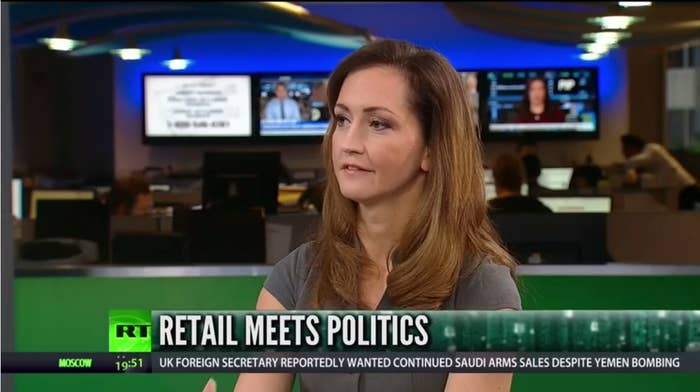 Russia Today is hiring extra staff for its French-language website ahead of the country's presidential election, as well as preparing to launch a French-language TV station by the end of the year, in another sign of the Kremlin-backed channel's increasingly global influence.

Job advertisements seen by BuzzFeed News show the media organisation is hiring extra French-language staff with a requirement that they are able to start as soon as possible.
"What is special about this hiring process is the media company itself: it's a controversial company which will continue being controversial over the next few months," said an email from a recruiting agency trying to fill a job on RT's French-language website. "Which means I need to find someone who won't back down under pressure and will be able to endorse a controversial editorial policy. That being said, the project will be fascinating."

The reference to controversy likely refers to the increasing worries about the role Russia will play in the French election. While far-right candidate Marine Le Pen's opponents have criticised her for allegedly being the preferred candidate in Moscow's eyes, concerns that Russia will mimic the tactics the Obama administration said influenced the US elections last year are reportedly on the rise within France's intelligence community.
RT's French operation currently employs just 15 people but it is understood to be close to filling the open vacancies and claims it has seen substantial growth in traffic.
"Over the last year, of RT's 6 different language sites, RT en Français has shown the most growth, with readership more than doubling," said a spokesperson for the organisation. "A particularly pleasant surprise given that the website was far from the full version that we have in mind for the future."

The Kremlin-backed station also confirmed to BuzzFeed News that it is pressing ahead with plans to launch a fully-fledged "RT en Français" TV channel, to join its existing broadcasts in English, Spanish, and Arabic.

However, contrary to previous reports, the channel says the French-language television version of RT will now only launch at the end of 2017 – well after the French presidential election.
RT had initially planned to launch a French-language TV station in 2014, only for the plan to be delayed by the Russian economic crisis and the collapse in value of the ruble.

Instead it launched a small French-language website in 2015, where recent headlines cover Donald Trump, the refugee crisis, and criticism of attempts to shut down fake news. Some Facebook posts on its French-language page include memes criticising Starbucks for hiring refugees rather than changing its European tax status, which adopt an unusual tone for a news organisation.
RT's international broadcasts have been repeatedly criticised for its editorial line, particularly during the annexation of Crimea, when one reporter resigned on air in a high-profile departure. It has also repeatedly been criticised by Ofcom, the UK broadcast regulator for breaking broadcasting standards, while in November 2016 a European parliament resolution condemned RT as part of Russian "information warfare" – prompting Russian president Vladimir Putin to congratulate the channel's journalists for their work.

Meanwhile, some of the channel's own UK staff have raised concerns with BuzzFeed News about an apparent shift towards right-wing anti-migrant coverage and leaked screengrabs of Islamophobic images posted by one of its senior staff members.
However, the channel has proved adept at turning criticism into proof of its supposedly anti-mainstream stance, such as when NatWest threatened to shut down its UK bank accounts, which RT blamed on UK government interference.
But in the eyes of RT, France is another market waiting to be served by its take on the media, according to the spokesperson: "We're excited about serving this audience with a full-fledged TV channel and working with great local talent – from France of course, and also the francophone world at large."