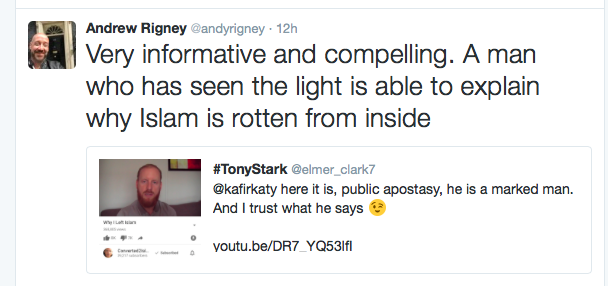 The news director at the UK arm of broadcaster RT repeatedly made Islamophobic comments on social media in which he said Islam was "rotten from the inside", retweeted an image suggesting Muslims are inclined to shoot their own daughters, and shared an image saying "there is no difference between the Nazis and Islam".
In a series of messages obtained by BuzzFeed News, Andrew Rigney also said Labour leader Jeremy Corbyn – a known fan of the Russian government-backed TV channel – is a "fucking communist IRA supporter" and "millionaire leftard" while suggesting "dumb liberal lefties" welcoming refugees to the UK will be "the first slaughtered by jihad".

A spokesperson for RT, formerly known as Russia Today, said the channel did not tolerate "hate speech" and had told Rigney to delete his social media accounts after it was alerted to the messages by staff, although it was unclear whether any further action was taken.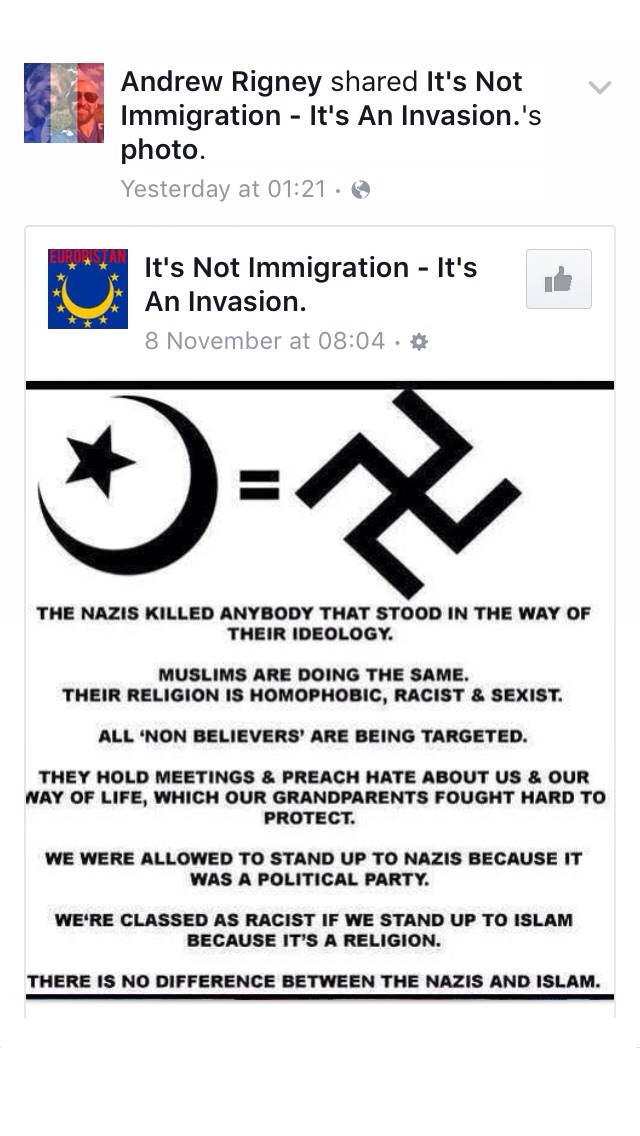 Rigney, whose LinkedIn profile described himself as "launch director for RT international [UK] news channel" also appeared to suggest people with left-wing views should be killed as they "are worth the least", said he wanted to "punch out" the face of London mayor Sadiq Khan, and implied Khan had approved the construction of a new cycle superhighway partly to give money to his "rich Muslim mates".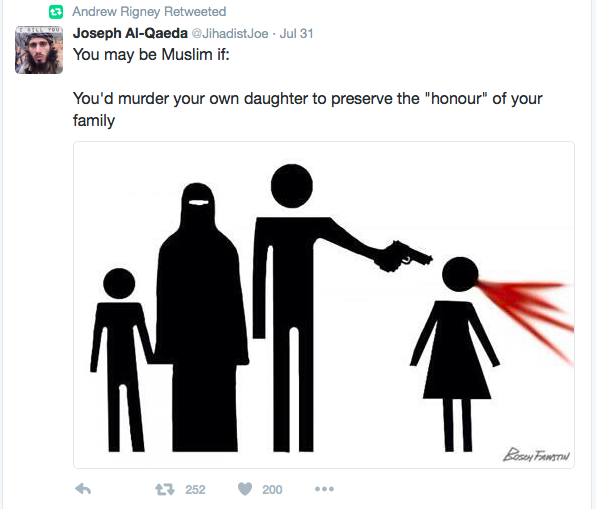 "RT does not tolerate hate speech of any kind," the channel said in a statement on Wednesday. "The employee in question was duly reprimanded as soon as the issue was brought to the attention of the management, and his social media accounts were taken down."

However, multiple RT employees told BuzzFeed News they were unhappy with the internal response.
One person said Rigney's posts had raised deep concerns among the channel's employees: "Something that has been concerning to staff for a while is the extremist and Islamophobic views of the news director Andy Rigney. There have been several complaints made against him (particularly from Muslim staff) but nothing is ever done by management. The fact that these views are tolerated is extremely worrying."
"Staff have tried to confront it but not really got anywhere," they added. "I have also been increasingly worried about the turn that the channel is taking recently."
A second RT UK employee confirmed that staff had confronted Rigney but he remained in his position.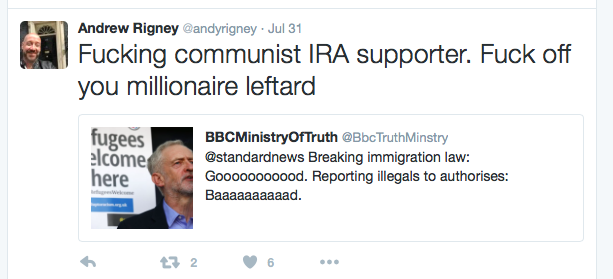 In one particularly bizarre tweet, Rigney responded to a picture of a puppy by suggesting Muslims would hang it and throw it from a building and concluded with the hashtag "#evil".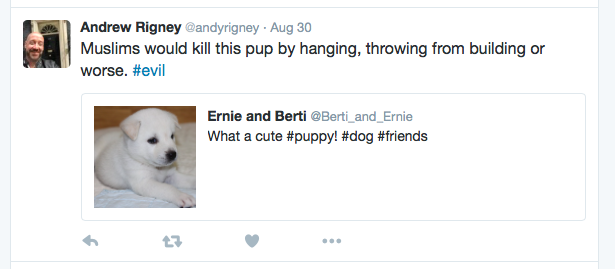 Rigney also responded to a controversy over an animated version of children's character Fireman Sam supposedly – though inconclusively – burning a page of the Qur'an by retweeting an image saying "Let it burn!".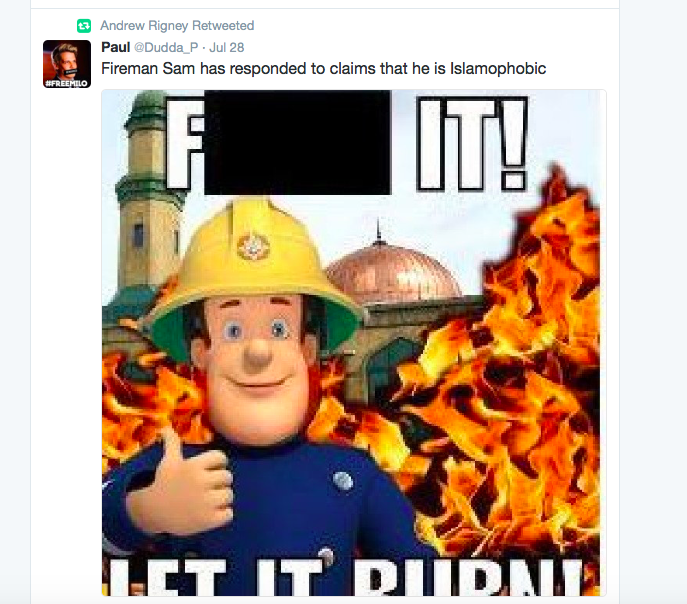 According to his IMDB profile Rigney has previously worked on The Bill and in children's programming for the BBC, and became launch director for RT UK before it started broadcasting in 2014.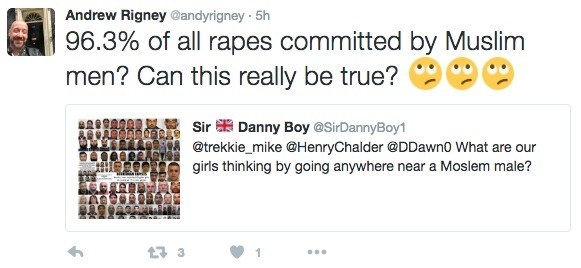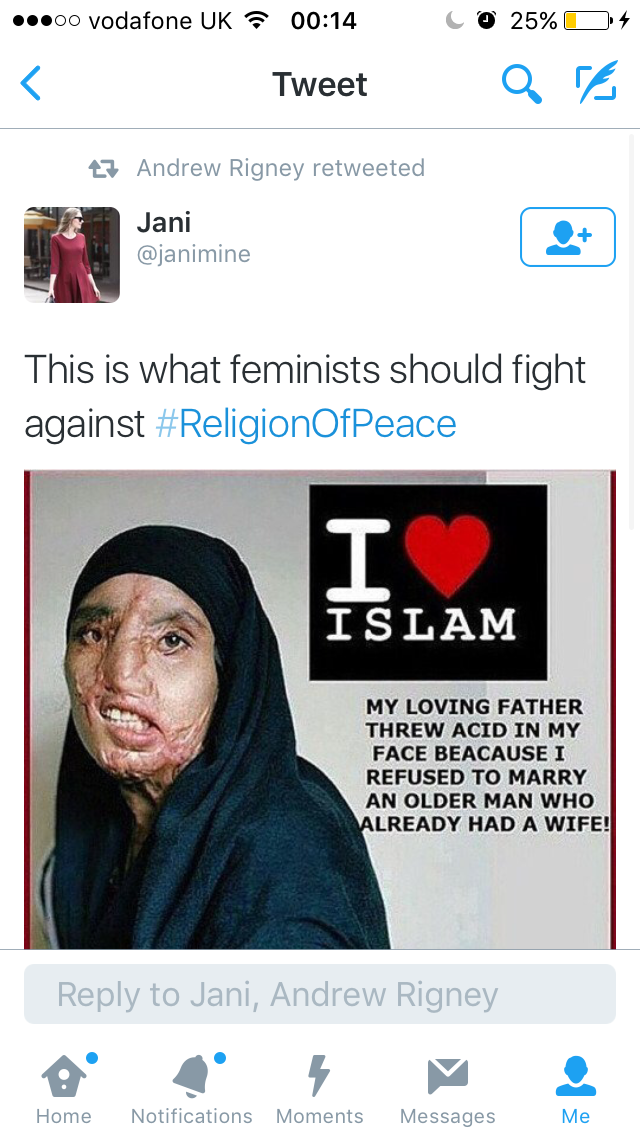 Rigney's social media accounts have been deleted or set to private since the posts were first brought to the attention of the channel's management earlier this month.
RT employees have previously described a change in the culture at the channel, with one staffer saying there had been a noticeable "general shift of the channel to be more right-wing" since the EU migrant crisis began.
UPDATE: Since publication of this story, RT has released a statement that says Rigney is a "gallery director" and not news director. The channel did not say this when it was contacted by BuzzFeed News ahead of publication.