Government Twitter Account Attacks Its Own Minister Over Her Expenses
Maria Miller was attacked by the department of culture, media and sport's social media account. They're in charge of internet policy.
The Department of Culture, Media and Sport's Twitter account went a little off the rails on Saturday night and began attacking Maria Miller, the department's own minister.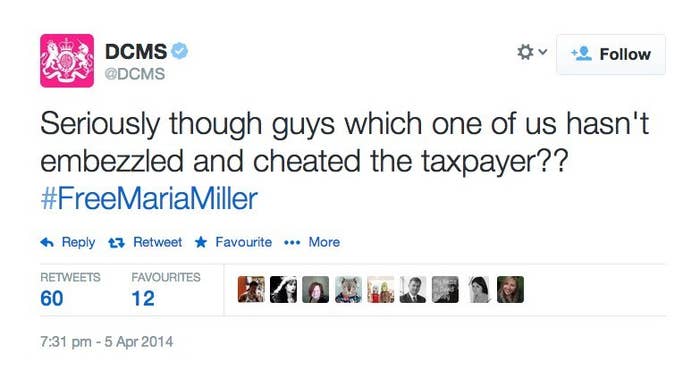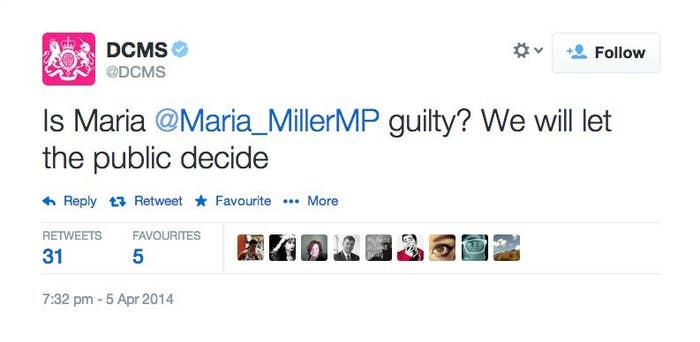 The tweets, which were deleted within five minutes, attacked culture secretary Maria Miller over her expenses claims.
Last week Miller was ordered to repay £5,800 and apologise to the House of Commons after filing erroneous mortgage expenses on her second home. Parliament's independent standards commissioner had originally concluded that she should repay over £40,000 but this decision was overturned by a committee of MPs.
Despite apologising Miller has since come under renewed attack with the Telegraph issuing a recording of a discussion between its reporter and Miller's press aide, in which the aide "flagged up" Miller's role in press regulation to a reporter investigating the politician's expenses.
Downing Street has so far stood behind Miller, with fellow ministers spending the weekend touring broadcast studios to defend her.
BuzzFeed has contacted the department for comment on the deleted tweets.