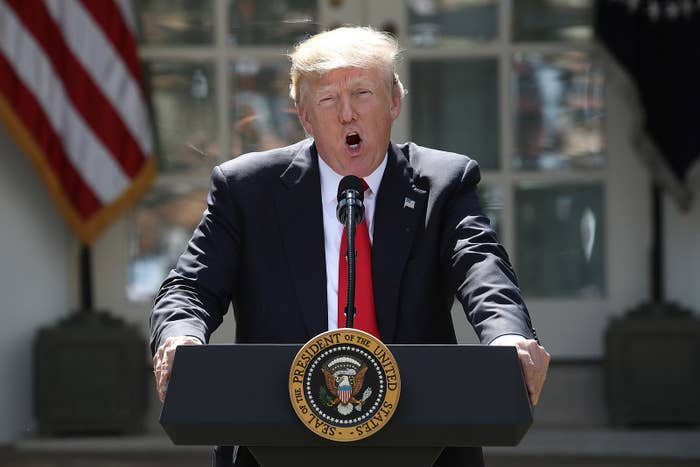 Donald Trump has criticised London mayor Sadiq Khan for saying residents of the capital city have "no reason to be alarmed" in the aftermath of the London Bridge terror attack.

The President of the United States also attacked "politically correct" responses to security issues and called for US courts to support his proposed travel ban on immigration from predominantly Muslim countries.
Trump implied Khan – who is one of the first Muslim mayors of a major Western city – was playing down the severity of the attack following the deaths of at least seven people in Saturday night's terrorist incident.
Khan's quote appears to have been taken out of context, with the relevant passage referring to the increased presence of police on the streets.
"Londoners will see an increased police presence today and over the course of the next few days," Khan told the BBC earlier on Sunday. "There's no reason to be alarmed. One of the things the police and all of us need to do is ensure that we're as safe as we possibly can be. I'm reassured that we are one of the safest global cities in the world, if not the safest global city, but we always evolve and review to make sure we're as safe as we possibly can be."

Khan's spokesperson dismissed the US President's comments: "The mayor is busy working with the police, emergency services and the government to coordinate the response to this horrific and cowardly terrorist attack and provide leadership and reassurance to Londoners and visitors to our city. He has more important things to do than respond to Donald Trump's ill-informed tweet that deliberately takes out of context his remarks urging Londoners not to be alarmed when they saw more police – including armed officers – on the streets."
Dan Scavino, the White House social media director, followed up the president's tweets with one of his own, referring to remarks Khan made about Trump on social media last year.
"Trump's ignorant view of Islam could make both our countries less safe. It risks alienating mainstream Muslims. London has proved him wrong," Khan had said in a May 2016 tweet.
Trump's tweets were not, however, endorsed by the American embassy in London.
Serving ministers in the Conservative government also criticised Trump's comments, while even Downing Street issued a statement which offered implicit support of the Labour mayor, who has been attending high-level emergency response meetings: "The prime minister and mayor of London are working together in response to this cowardly attack, with the mayor attending this morning's COBRa. The advice to the public is to remain vigilant but carry on with their lives."

Former Labour minister David Lammy said Trump's tweets were "cheap nasty & unbecoming of a national leader". "Sort of thing that makes me want to quit politics on a day like this," he added. Liberal Democrat leader Tim Farron said: ""Sadiq Khan has shown calm and dignified resolve in the face of these cowardly terrorist attacks. He is more of a statesman than Donald Trump will ever be."
In other tweets Trump said it was time to "stop being politically correct" when it comes to protecting the public and warned that "if we don't get smart it will only get worse". He also tweeted his support for existing US gun laws.
Within hours of the attack taking place on Saturday night, Trump was posting messages about the need for US courts to back his so-called "travel ban".
However, he also posted a messaging pledging solidarity with the UK and pledged the US "will be there" to help out the other country.