The Bluff of the Century
Tom Dwan may have been MIA at this year's WSOP, but rumor has it that the high-flying pro has been cleaning up in Macau cash games, where a single session can have million dollar swings. If you've forgotten about Dwan's talents, take a look at this incredible hand with 2008 WSOP champ Peter Eastgate and poker legend Barry Greenstein.
If you're not sure what's going on with this seemingly crazy hand, what's happening is Dwan completely owning the table. When he raises on the flop, it's not necessarily a bluff - the young pro is simply trying to get more info about who has what. Eastgate's and Greenstein's calls make their hands transparent and Dwan knows both that Eastgate has a Deuce and Greenstein has an overpair. The real magic with this hand is when Dwan bets a cool $100k. He knows that if he can get Eastgate to fold, then Greenstein will fold as well. The kicker here is that even after the hand is over, Dwan says clearly that Eastgate had the best hand.
The Worst Bad Beat Ever
Mathematically speaking, sure there's been worse bad beats than this one, but that doesn't take into account that the buy-in for this tournament was $1 million. Imagine that you've ponied up a million smackers to enter a tournament - things are going well, you're building chips, and the cards are falling your way. You're thinking about the $15 million top prize and what you would do with the money - maybe a private island, maybe a Corvette from every year that they've been made, maybe a lifetime supply of Ben and Jerry's for the entire town of Skokie, Illinois. Then this happens:
Yeah, things like this happen all the time and it wouldn't be anything serious in a home game among friends or a low buy-in tourney. But this is a freaking million dollars going straight down the drain. In his defense, Connor Drinan did absolutely nothing wrong and played his hand perfectly. Unfortunately for him, fate decided to deal him a nasty (and expensive) blow.
The Thrill of Victory
If you're reading this, then you already know this hand. In and of itself, it's not amazing. In fact, it's almost mundane, but this single hand of poker changed everything. After Chris Moneymaker (yes that's his real last name), an accountant from Tennessee, won the 2003 WSOP Main Event, poker would never be the same. Against an established high stakes player Sammy Farha, Moneymaker did the impossible - he won poker's biggest crown as a rank amateur after qualifying for the $10k buy-in main event for only $39 on PokerStars.
Since Moneymaker's monumental win, everyone in the world wanted to qualify for the next big event online, and poker has since become globally ubiquitous. Big tournament champions now come from a myriad of different countries and backgrounds. Online poker has become a true profession for countless players. And the game itself has become a pastime enjoyed by millions. If not for the Moneymaker Effect, you would not be reading this. The hand itself = not so interesting. The aftermath = pure insanity.
Soul Reading 101: Phil Ivey at Work
Let's set the stage. It's 2005 at the Monte Carlo Millions. Paul Jackson and the legendary Phil Ivey are heads up for the title with $1 million on the line. Ivey has the chip lead and Jackson is in desperate need of a double up. What happens is a battle of minds that shows why Ivey is thought to be the best player in the world. This is the pure epitome of the term "soul read."
From a technical standpoint, the pre-flop play here is standard, with Ivey pushing his lead by applying pressure to Jackson and increasing the pot size. However, the flop is obviously where things get interesting. Ivey's first warning bell goes off when Jackson chooses to raise the flop. If he had a Jack in this spot, calling might have been a better option as Ivey could have fired again on the turn. After Ivey re-raises, Jackson puts in another smallish raise, which is further evidence that he probably doesn't have a Jack. Given his situation and Ivey's show of strength, the right play with a Jack would be to move all-in.
The other side of the coin is that Ivey is just plain soul reading his opponent. Taking in every little detail, including Jackson's lack of a good poker face and apparent nervousness, Ivey puts in the final raise that shuts Jackson down. Figuring out the right move is one thing, but having the cojones to make the move is another. Ivey proves he has both, in spades.
The Agony of Defeat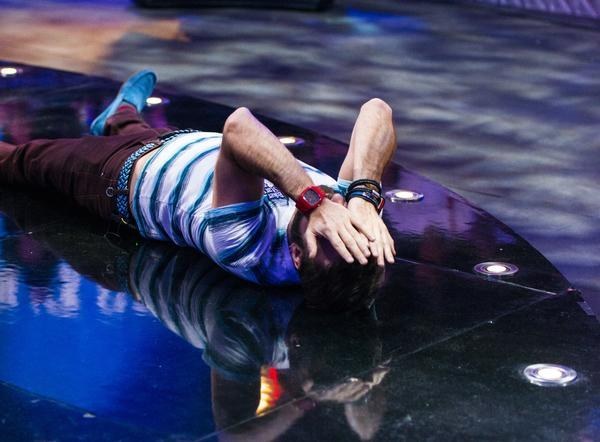 Sometimes, a single picture can say just as much as a video. As such, it's a fitting tribute to close out with a single image featuring living legend Daniel Negreanu. Arguably the most popular person in poker, Negreanu came up just short of making the WSOP Main Event final table this year, losing in a classic flip situation where his pair of Aces on the flop failed to hold up against a combo flush and straight draw. At a time when Negreanu claims he is playing better than ever, being on the ugly side of variance hurts. It hurts a lot.
At the same time, if you're a professional, as Negreanu certainly is, then you know dwelling on a simple twist of fate is results-oriented thinking and not a reflection on your overall skills. Still, it's a major bummer. Negreanu may not be part of the November Nine this year, but there are still definitely plenty of highlights left in his career to come. The $526,778 cash he takes for his 11th place finish isn't what he wanted, but it's hard to argue about a score for half a million.