This post has not been vetted or endorsed by BuzzFeed's editorial staff. BuzzFeed Community is a place where anyone can create a post or quiz.
Try making your own!
New Nose For 'Vanderpump Rules' Reality Hearthrob
"Vanderpump Rules" star Jax Taylor has had yet another nose job. The star says this time, however is the last.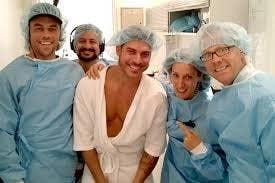 Everyone Nose The Truth
Sur bartender, Jax Taylor just made headlines the only way one seemingly can make headlines these days- confirming the plastic surgery speculation by posting to his personal Instagram page!
As a notorious womanizer and acclaimed pathological liar, Jax at least has always been honest about one thing...his dissatisfaction over his original nose and his first corrective rhinoplasty procedure. Oddly enough, it seems to be the only thing he actually owns up to.
The handsome Jax is the catalyst behind much of the hit serie's controversial sexcapades at the ultra hip, trendy restaurant, owned by the ever so fabulous, Lisa Vanderpump. Her name just screams money and riches!
Bravo Jax!
As if the pressures of having a perfectly symmetrical face among the Beverly Hill's elitists wasn't enough, heavy social media influence convinced Jax to go for a final round of revisions on his honker.
Taylor shared his selfie of his bandage-clad face revealing that he had indeed undergone rhinoplasty surgery.
-And much to his credit, never denying going under the knife.
Unfortunately, Jax's caption claimed him and a door got into a bit of an altercation a mere two weeks after his previous rhinoplasty procedure. This resulted in an undesirable beak after recovery! He was not anticipating a round two, but circumstances lead to additional work that needed to be performed in order to revise the damaged outcome.

Revision rhinoplasty requires a much more skilled, top board-certified surgeon in order to ensure successful, optimal aesthetic. Plus, male plastic surgery is an ever growing and evolving trend and well, Jax is a trendy guy!
Although, this may not be his first declaration of his affection for plastic surgery, Jax is adamant that this was a necessary procedure. He also expressed he stands behind routine cosmetic maintenance like "a little #Botox touch up."
After all, even the manliest of dudes need a little "bro-tox" here and there to stay chiseled. Beverly Hills is definitely a tough residency to have an edge on the competition.
However, the media is a buzzin'...
Does this mean perhaps the reality addict is getting prepared to be in front of the cameras for another season? Or is this his vain attempt for the mass public to relate to his insecurities revolving around his sculpted facial features?
It has not yet been announced when and if the show will return to air on the network, but we look forward to more drama, that's for SUR.