It Seems Like Another "Sex And The City" Movie Is Going To Happen
No one has confirmed anything for sure. ::wink::
In an interview with Dish Nation, Jennifer Hudson let it slip that some people (not naming names) were in talks (whispers, hushed tones) about a possible (no guarantees) third installment of the Sex and The City movie. This vague nod to what might possibly (wink wink) result in the final (or is it?) installment to the inevitable SATC trilogy is just the latest in a series of rumors by other cast and crew. Kristin Davis also weighed in on the more-than-a-pipe-dream chance of a follow-up film in an interview with Haute Living. Then, SJP and Davis had this ~mysterious~ exchange on Twitter...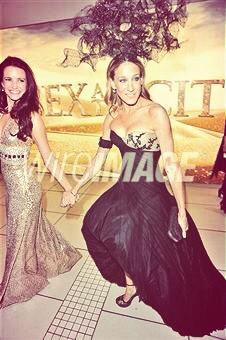 We couldn't help but wonder... does this mean it's really happening?