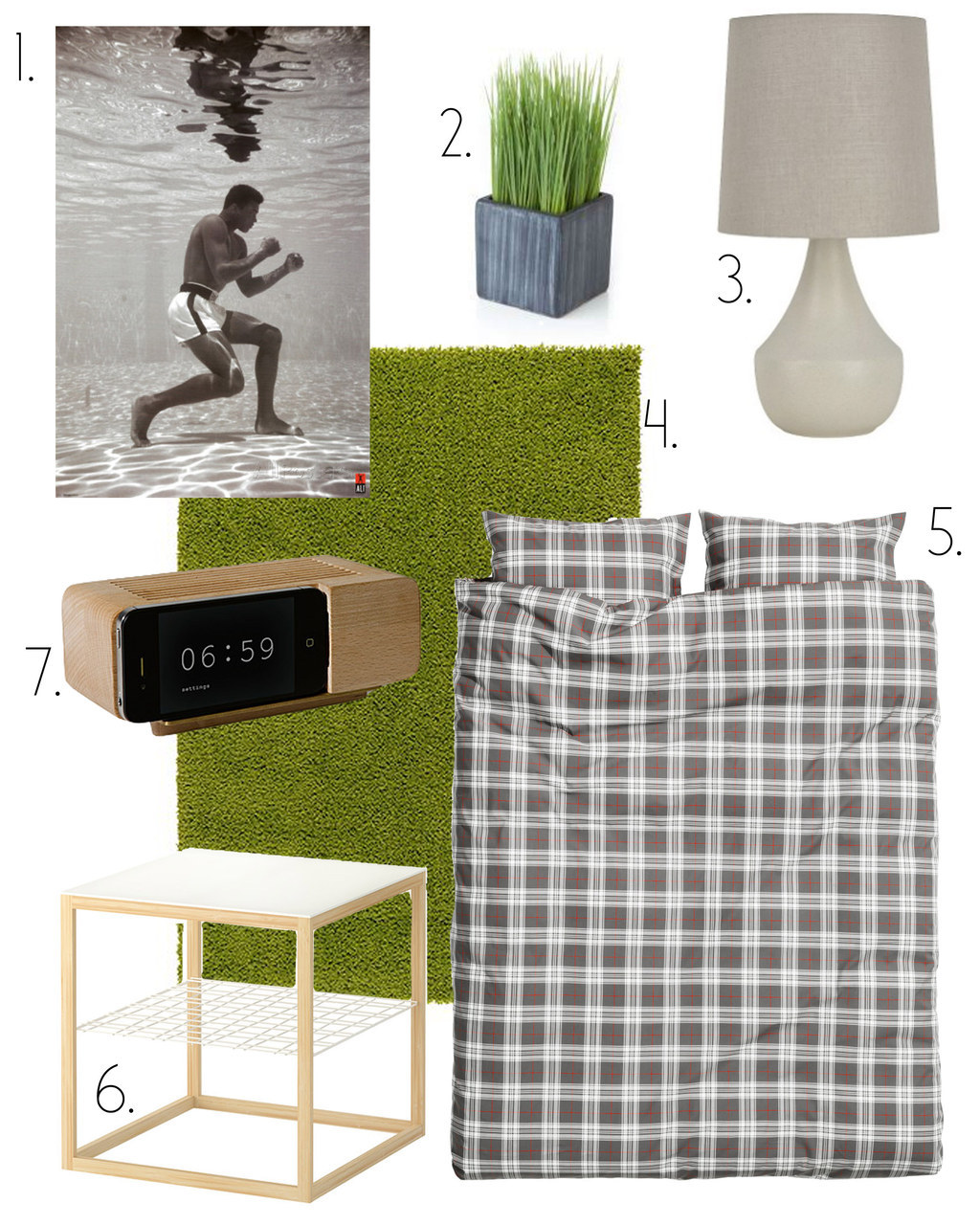 1. Ali Underwater Poster, $6
One easy way to make your dorm-style posters look instantly adult is to put them in a frame. Poster frames are usually cheap at art and craft supply stores like Michaels.
2. Wheatgrass, ~$7
If you don't want to keep a real plant alive, this kind of faux potted plant is great to add a little color to your room. Put it up on a dresser or on a windowsill and no one will be the wiser.
3. Table Lamp, $23
Ceiling fan lights are the worst. Add a little low-lighting with this simple ceramic light.
4. Rug, $40
Is that grass? No! It's a rug! And you need one. Trust. It will make your room seem cleaner and cozier.
5. Duvet Cover, $60
Plaid is rad. And you can also mix and match plaid sheets with this duvet cover so you always have ~clean~ ones.
6. PS 2012 Side Table, $30
Every one needs a nightstand. But you can use other things, like this side table, that also work for extra storage.
7. iPhone Alarm Dock, $40
If you must use your phone as your alarm (hello, everyone under 30), this cool dock will at least make it look like a real clock.
Some other great resources for the Classic and Clean:
Room and Board is a great ~higher-end~ resource for classic and modern furniture.
If you're not quite ready to commit to expensive things, the Ikea PS collections (2012 & 2014) have some great options.
If you want a big rug for a small space, FLOR is a great place to look. They're tiles, so it's like making a giant rug puzzle.
Seriously, putting ANYTHING in a frame is a trick to making your place look instantly more expensive.