Welcome to Cooking Up Change, a series in which BuzzFeed food writers sit down with some of our favorite cooks to talk about how they are using food to ignite change.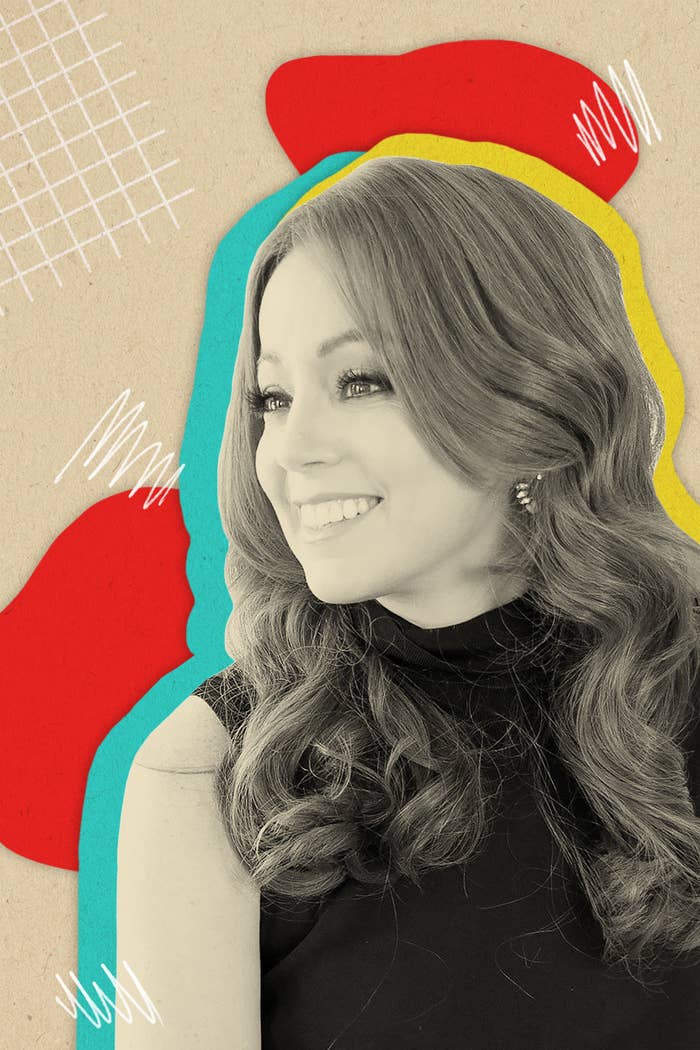 Every day, as many as 1,000 students cross the border between Tijuana, Mexico, and San Ysidro, California, to attend school, and for Marcela Valladolid, that daily commute was simply part of growing up. Raised in Tijuana, Valladolid was immersed in the vibrant culture that exists at the border — crossing it every day to attend school in California. "It didn't even feel like a blending of cultures," recalls Valladolid, "It's not two different countries, it's a region separated by a border with men that are sometimes very nice, and sometimes not so nice."

Valladolid realized her love of food while working as a prep cook and dishwasher at her aunt's cooking school in Baja, Mexico. Her first cookbook, Fresh Mexico: 100 Simple Recipes for True Mexican Flavor, was published in 2009 and immediately caught the attention of the Food Network — resulting in her first major television show, Mexican Made Easy.
With every new opportunity that came into her life, Valladolid's goal was clear: to make her favorite Mexican recipes accessible for home cooks, using easy-to-find ingredients and simple techniques. But then, in January 2017 when Trump took office, her mission evolved. "I've never had such a strong need to share and exhibit my Mexican-ness," said Valladolid. "I tried to stay chill and positive when it started, but then it became almost like I was giving into this idea that it was better and safer to just not be so loud about being Mexican." Valladolid went online and began using her platform to speak out against the growing injustices aimed toward immigrants. She posted pictures and told stories of life at the border, opened her home up to organizations supporting separated families, and used her platform to spread her message.
"The anger came as a direct response to this new and emboldened racism that came from frustrated folks that had been erroneously convinced that we were the bad guy."
"I became more vocal, more proud, and certainly more angry," says Valladolid. "The anger came as a direct response to this new and emboldened racism that came from frustrated folks that had been erroneously convinced that we were the bad guy."
She continued to promote charities raising money for separated families on her Instagram, worked with World Central Kitchen to provide meals for migrants held at the border, and brushed aside the occasional follower telling her to "stick to cooking." Her posts resulted in a flood of individuals thanking Valladolid for her outspokenness and desire to show what life at the border is really like.

"I love how Marcela Valladolid has been using her platform lately to speak out about the injustices of this administration against Latinos and immigrants," said chef and TV personality Alejandra Ramos. "She's gotten a lot of vitriol from fans who want her to 'stick to food,' and I admire her for ignoring them and continuing to speak truth to power."

BuzzFeed caught up with Valladolid to talk about her cooking style, life, career, and how she is using food to bring awareness to issues that are close to her heart.
Thank you so much for chatting with us! So, how did growing up on the border influence your cooking style?
Marcela Valladolid: I didn't realize I was living in a very unique situation until I became a culinary professional. For me, there was nothing out of the ordinary about spending half my day in Mexico, and the other half in California. This helped me create my path in terms of what I wanted my message to be. I can move seamlessly from one nationality to the other with no issue. I hold both of them with equal amounts of pride. I feel just as strongly and equally Mexican as I do American.
I think this helped me talk to a mainstream American audience and bring real authenticity to it. It made me understand that recipes need to be authentic, but approachable at the same time. Recipes need to be made with ingredients that are easily found on this side of the border.
In regard to those ingredients, you talk a lot about making your recipes accessible for home cooks. Why is this so important to you?
MV: Because I need people to want to make them at home. I started my career as a culinary instructor, so it's very easy for me to break a recipe down to a place where people can understand it. I want people to feel comfortable making my food. I know how hard it can be for noncooking individuals to approach food, and being afraid can leave you out of an entire experience, or being able to connect to a culture. Something like charring a poblano pepper is very close to me, but many people don't know what a poblano is. It's important for me to be clear and specific.
What are some of your favorite dishes you remember growing up with?
MV: Super simple stuff. My breakfast every day was a huge flour quesadilla with giant chunks of avocado, black forrest ham, pickled jalapeños, and hot sauce you could only get in Tijuana. Things like enchiladas suizas and my mom's simple mole. She would make spaghetti in chipotle cream — very nontraditional recipes with Mexican flavors. She would make cheeseburgers and serve them with jalapeños, guacamole, and chipotles, and we would build burgers that had all of the flavors of Mexico.
Growing up, everybody would cross the border, even to just do grocery shopping. A lot of traditional American foods stuck with my parents and became part of my upbringing. This all had to do with the proximity to the border. We were an absolute mix of classic Americana, traditional Mexican, and Baja cuisine.
Because you grew up so deeply rooted in both American and Mexican cultures, has witnessing the growing tension between the two countries been difficult?
MV: It has been horribly frustrating. What enrages me is the creation of fear that all of this has brought. All of this fear and hate they are injecting is making me want to silence myself. It has made me think twice about how I post, or if I'm traveling with my kids and speaking Spanish in public. There are people out there who don't live in the same safe community that I do — what about those people? The ones who are forced to completely hide their heritage and stay in the dark.
What is the purpose of making people live in fear? We can't figure it out because it has nothing to do with humans, and everything to do with politics and power. I'm not saying I'm into open borders, I'm into treating people with respect and human decency.
So when you started to speak openly about these issues, how did you deal with the people who told you to stick to cooking?
MV: Half the time I don't even think about them or delete them. But listen, I can't stick to enchiladas when I just went to a shelter and saw a child who hasn't eaten in four days.
How do you find a balance between speaking openly and knowing that sometimes speaking out can cost you opportunities or jeopardize your safety?
MV: I stopped caring. I don't care about losing followers. My decisions are motivated by my life, my values, and what I stand for, not what I can gain financially from it. This has weeded out the opportunities that I don't care about and has brought on a lot of new opportunities that mean everything to me.
Can you tell us about creating your new cookbook, Fiestas: Tidbits, Margaritas & More, and the thought that went into it?
MV: I'm super excited, it comes out April 2. The book itself became a very purposeful project. We used only my own props or ones from Mexican artisans. The book is a true, 100% reflection of how I host a dinner party. My assistant, Isabella, shot the entire book, and most of the team was Mexican or Mexican American women. Some of them would come from Tijuana to help us shoot the book, then drive back home after the day was over. The book is a labor of love and a true reflection of what it is to live in this household and community.
Also, women drink more tequila than anyone else in the US, so why isn't that reflected in cocktail books? I wanted to create a book that really came from a Casa Marcela perspective.
And I read that during one of your previous book launch parties, attendees began crying because they were so proud. How does this make you feel knowing that your cookbooks are creating community?
MV: That was one of the most transformative events in my career. That signing was one of the first times I went outside after a very difficult pregnancy, and 500 people showed up. People literally walked up to me in tears and told me, "this is the first time I have seen someone on social media speak to their children in Spanish and be so proud of it and embrace their Mexican background with so much pride and dignity." This reinforced why I do what I do. It's definitely building community.
What are some projects you have been especially excited to be part of this year?
MV: So many! I'm starting a podcast in the next few weeks that will talk about protecting your culture, your heritage, and how to keep recipes alive.
I'm also going to be executive producing a show that will show people the Mexico that I grew up with and will open people's eyes to the realities of traveling in Mexico.
I'm also in the process of creating a project that would include a restaurant, retailers, gardens, and workshops in a space that celebrates everything Mexico, which I will personally curate.
How has your approach changed over the past few years?
MV: I want to listen. I want to talk to people. I want to connect with people. And I want to understand what the other side is feeling and what their fears are. At the end of the day, we are probably just going to realize that we all have the same fears, and the roots of those fears have nothing to do with what is being told to us by the media.
I'm in a position now where all I want to do is help people connect and heal. ●
This interview has been edited for length and clarity.

You can follow Valladolid on her Instagram, Facebook, or website, Casa Marcela. And you can preorder her upcoming cookbook, Fiestas: Tidbits, Margaritas & More, on Amazon.