Welcome to Cooking Up Change, a series in which BuzzFeed food writers sit down with some of our favorite cooks to talk about how they are using food to ignite change.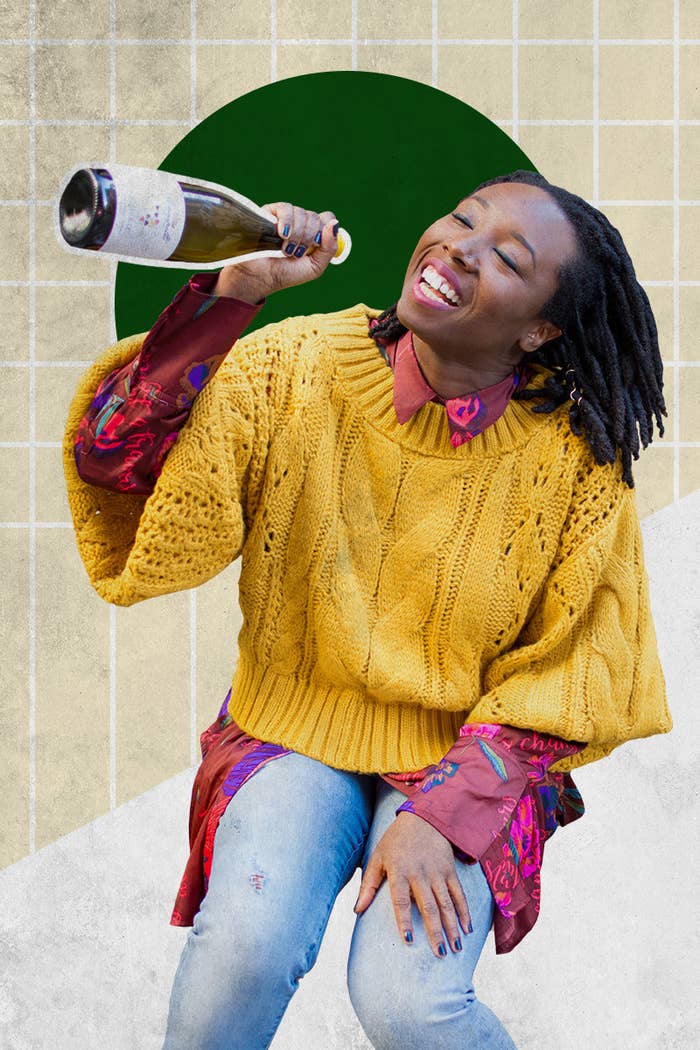 The first time I heard Cha McCoy speak was at the 2019 Cherry Bombe Jubilee, a yearly conference highlighting women in food. She took to the stage and recited a blurb taken from a 2013 NPR article titled "Moscato Finds A Younger, Hipper — And Browner — Audience."

"An NPR article from the Nielsen group that tracks wine retail sales states the following," said McCoy. "African Americans are three times more likely to drink moscato than some other type of table wine." The article went on to state the following about moscato: "Much more African American, much more Hispanic, much younger, much lower-income, much more female." And for the remainder of her speech, McCoy spoke to the many injustices surrounding wine marketing, ending with a declaration that resulted in a standing ovation from the audience: "Hi, I'm Cha McCoy. I'm a black woman, and I'm more than moscato."
Despite simply being frustrated with the often-negative generalizations that exist around Black consumers and wine, McCoy decided to take it upon herself to tackle those issues head-on. She combined her love of wine with a dedication to equitable hospitality to launch Cha Squared Hospitality, a lifestyle company focusing on tourism and gastronomy that uses "hospitality as a vehicle to generate progress in communities."
McCoy is currently a Court of Master Sommeliers–certified Level 2 sommelier (a notoriously difficult title to achieve) and an outspoken advocate for food and beverage equality. Her pop-up series, The Communion, aims to demystify the often intimidating task of discovering new wines by pairing them with everyday food from around the world in a laid-back, welcoming environment. Her work pushes restaurants and wine retailers to educate consumers about wine in a fun and accessible way, helping them discover new varieties they'll love — not just what retailers think they'll purchase. She has gained a celebrated reputation for her lively, inclusive wine tastings and has been featured in several publications including Food & Wine and Grub Street and was recently recognized as one of Wine Enthusiast's elite Top 40 Under 40 Tastemakers of 2019. Her work is also celebrated for its fresh and equitable approach to hospitality. By making wine more approachable, McCoy is bringing people together and creating community. "I wanted to be the sommelier for the people," says McCoy. "We have the opportunity to be on the forefront of connecting people."
BuzzFeed caught up with McCoy to talk about all things wine, how she is using it to bring people together, and what restaurants and wine shops can do to better serve their communities.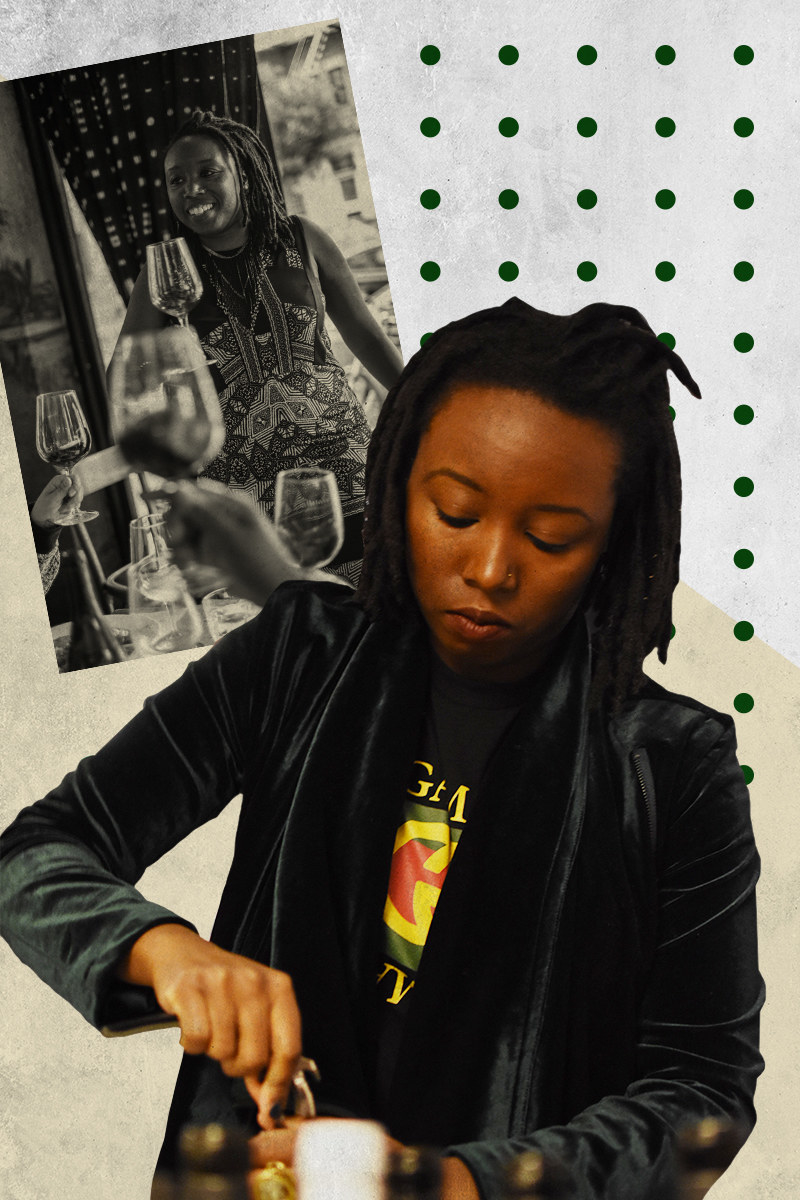 Thank you for taking the time to chat with us! What was your first introduction to wine?
Cha McCoy: On a professional level it was while I was living in Italy from 2010 to 2012, but on a personal level it was with boxed wine — something cheap and affordable to appease people who didn't like beer at family functions, and champagne for celebrations. My parents are both big fans of Moët and Dom Pérignon.
You received your MBA in Italy. What were you studying, and how did that experience shape your love of wine?
CM: I was there obtaining my MBA in international business, but wine and food is very much part of the Italian lifestyle. And because of the cost, I was able to enjoy decent wine at a cheap price, and really prestigious wines at a relatively low cost. I was able to learn about grape varietals and regions just by trial and error. It wasn't studying with books and note cards; it was organic and just part of the cultural experience of drinking and pairing local wine with local food.
And I heard your father owned a restaurant growing up — so food has always been part of your life. Do you think this sparked your love of hospitality?
CM: He was definitely the go-to cook for my neighborhood (I'm from Harlem). He would make food that was different — he was a risk-taker. A lot of the cool restaurants we have locally in Harlem now, you couldn't get that kind of food unless you traveled downtown. So it was a mixture of him being a foodie and recreating those foods he loved for us — reinventing them in a way that matched our palates Uptown.
He always paired his beer with whatever cuisine he was having. He would know exactly what to order, whether he was eating seafood, Italian, Japanese, or Dominican food — and this meant a lot to me witnessing how my father navigated menus in foreign languages so effortlessly.
So after studying in Italy, did you start taking wine classes in the states?
CM: I did, much later, but the first thing I did was go straight into working in a wine shop. I wanted to keep up with the language of wine, so I got a job in a wine shop in Harlem. That's where I met my wine mentor Eric White. He shed a light on things I didn't know about, like the various wine organizations' exams. I took my first test in 2017. I don't currently work as a sommelier on the floor of a restaurant, but I do various wine events now. I'm creating my own road map with the "golden ticket" from passing the Court of Master Sommeliers' Certified Sommelier exam, using my knowledge from my MBA and experience in the luxury space as a project manager.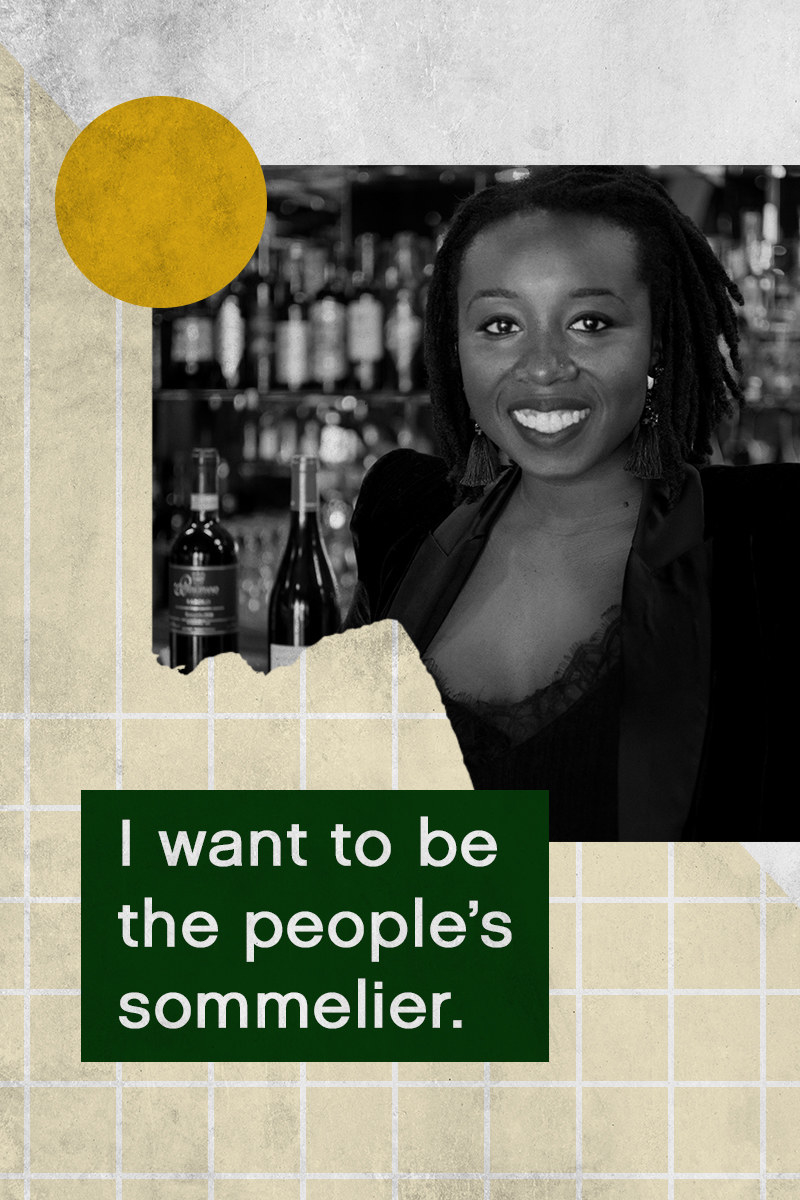 What led you to creating your own pop-up wine tasting series, The Communion? And what were the big-picture goals behind launching it?
CM: The intention was to bring people together at a table, and to be able to have a shared experience over food and wine. Connect, communicate, and community: These were the words I kept thinking about when I landed on the name "The Communion." I wanted to give people an experience they might otherwise not have felt they could access. I didn't want it to be exclusive to people who only had a certain status, or made a certain income. I want to be the people's sommelier, my people. It's my pleasure to be able to help people find a wine they like, paired with the food they eat — and I don't care if that's jerk chicken or foie gras. The sommelier experience shouldn't be limited to certain people because of where they're from or the type of food they eat.
"The sommelier experience shouldn't be limited to certain people because of where they're from or the type of food they eat."
Each pop-up tasting is with a new chef and features a new type of cuisine. People are interested in learning about what wines pair with all types of food. I get to collaborate with women, people-of-color, and other underrepresented chefs and restauranteurs, and I'm able to use my small platform to introduce their work to new people.
That's so important. Wine culture seems very intimidating.
CM: Wine shouldn't be a classist experience. The act of drinking wine in countries like Portugal or Italy is not seen as an "elevated" experience, it's just a part of daily life. Yet in America there is this classism that comes with one being knowledgeable about wine, and the idea of drinking it. If I'm serving you wine in jeans and a T-shirt, it should not take away from the fact that I can provide the same experience as if I had on all black and a blazer.
"Wine shouldn't be a classist experience."
This is why I think the natural wine movement is really cool. Beyond the health benefits of the wine and the farms, I feel it's also about : How do you get wine to all people? For your everyday meals like burgers, as well as your celebratory dinners at Eleven Madison Park. When I walk into a friend or family member's house I always see wine improperly stored, and it has probably turned to vinegar. There's this idea of holding onto a bottle of wine just because it's expensive or as a souvenir. However, wine is for the living, and the natural wine movement seems to support the idea that you should drink the wine NOW. Don't wait. Enjoy life today.

On your website it states that your mission is to "develop experiences and environments that challenge businesses to reimagine how gastronomy, travel, and hospitality can redefine luxury, stimulate mindful lifestyles, and empower communities." How can wine empower a community?
CM: The way I approach my mission is by asking: How can I use wine as a vehicle to support developing my community ? I want people to feel like they can walk into a restaurant, and instead of excluding the people who are native to the neighborhood, to have them feel welcomed. I remember working in a different wine shop, also in Harlem, and people would stare into the window and not come in — they didn't feel welcomed! We need to make the community feel empowered and show them that this is for them. That's our job, this is hospitality!
Having happy hour pricing is one thing, but how can we set a decent price point on an everyday wine that is also engaging? One way is to provide more grape varietals. These are the types of things I love challenging when I talk to wine bars and restaurant owners, because they aren't thinking about their community — just how to make money. It's about taking a little more time to think about what to put on your menu and shelves as it relates to the communities that you're in. It's a more inclusive way that will elevate, not just keep our palates stagnant.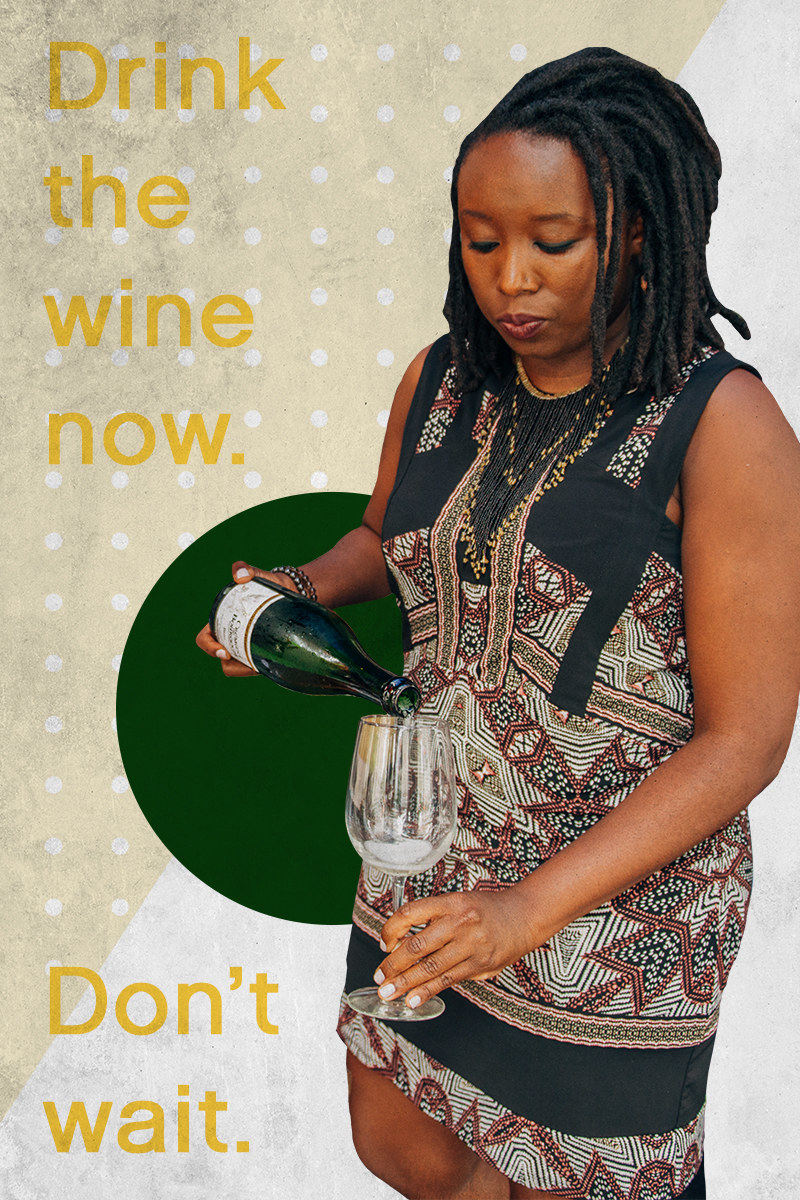 And I've heard you say that when ordering obscure wine at a restaurant, servers have said things like, "Someone like you usually doesn't pick that type of wine." What advice do you have for front-of-house managers to avoid these kinds of prejudices?
CM: It's top-down. To all the restaurant, bar, and wine shop owners: It's about taking control of what your message is. You're losing dollars by being prejudice. That same patron would probably be willing to spend $10 or $20 more on a bottle of wine at your restaurant if you didn't put them into a box. If you gave them the full service that you gave a white man, you would get more money instead of treating us like a statistic.
I want the restaurateurs and owners of the wine shops to understand this, simply from a dollars-and-cents perspective — I'm not even talking about it from a human perspective, about how we feel disrespected. What do you get out of marginalizing your guests? You're not winning with dollars or getting repeat customers.

What do you think — and hope — the future of the wine industry will look like?
CM: If I was the one creating the future of wine, I would want there to be more accessibility to smaller wine producers from everywhere and provided in more places. As the world gets smaller, we get closer and more connected to other countries. This will hopefully spark the concept of connecting people and having less bias in the world around wine and food pairings. Hospitality professionals have the opportunity to be on the forefront of connecting people. There are countries that we did not talk about wine from, now making wine and/or heavily investing in wine, such as China. The future of wine is a more global enterprise. It's not just Napa and Bordeaux.
How do we market Californian wines to the Italians or wines from Texas to the Swedes? It sounds crazy, but these are the new opportunities that I am willing to help develop. It's about understanding people first, so that we can bridge gaps. In order for me to sell Portuguese wine, I have to understand the culture, lifestyle, and how to pair wine with their food. It's about forcing ourselves to be more open-minded, and getting to know each other better. I hope that this is the future of wine.

This interview has been edited for length and clarity.

You can follow McCoy on Instagram, Facebook, or via her official website.