In Season 1, I absolutely love both Conrad and Jeremiah*. But I am and have always been a card-carrying member of Team Conrad. So I've decided to rank all of the best moments between Conrad and Belly throughout the season.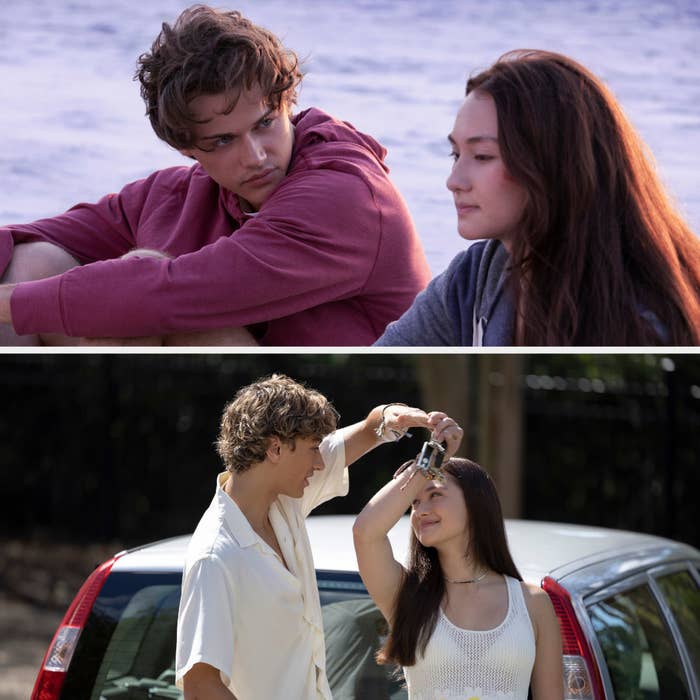 This is, obviously, a VERY unscientific ranking that can and will change at any given moment. But it's all in fun and just a way to celebrate the YA show of the summer. So let's reminisce about all these moments before I start another rewatch, shall we?
28.
When the boys have their first Belly Flop of the season, and Conrad and Belly have so much electricity underwater that flotsam and jetsam would be jealous: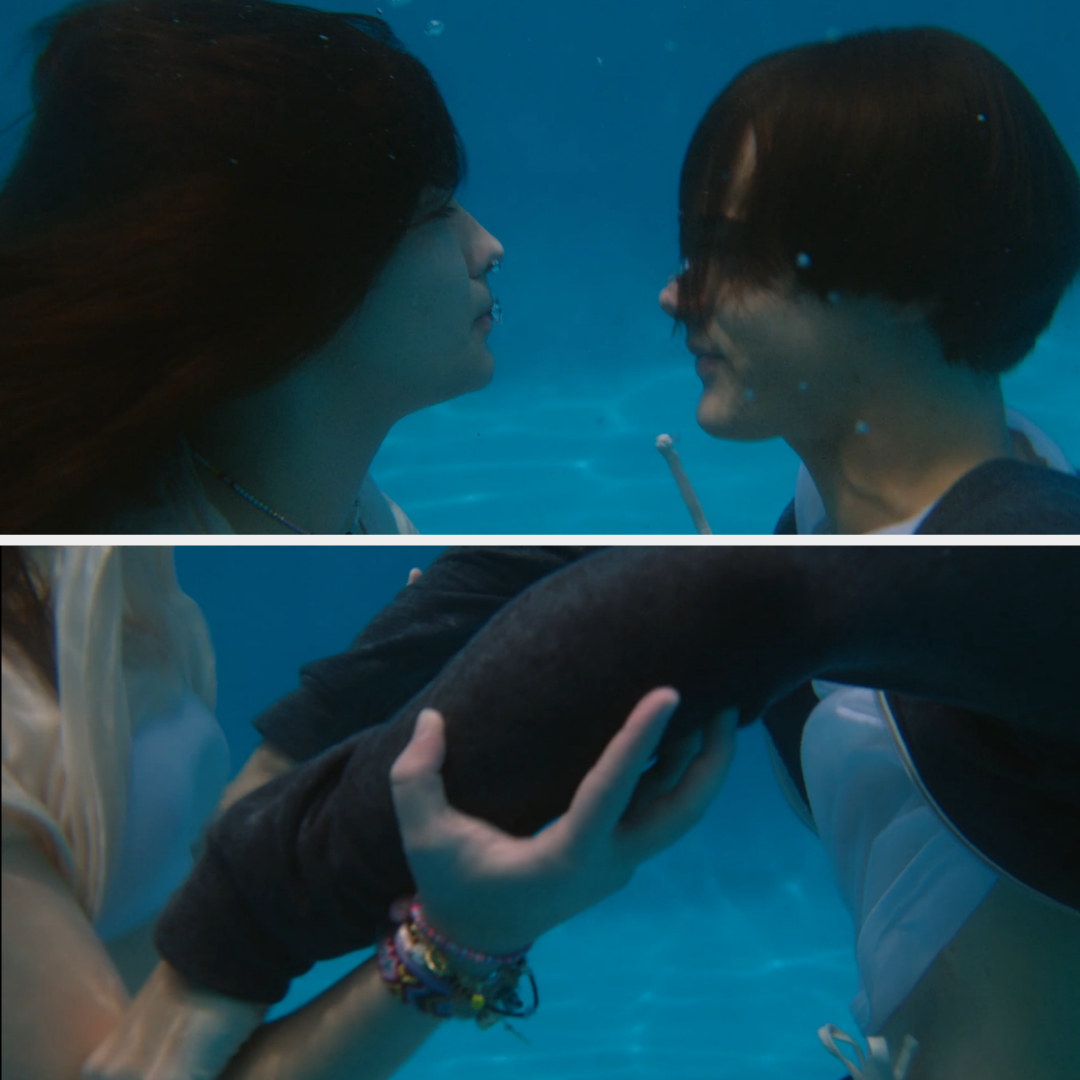 27.
When Belly calls out Conrad for crashing her first date with Cam Cameron at the drive-in: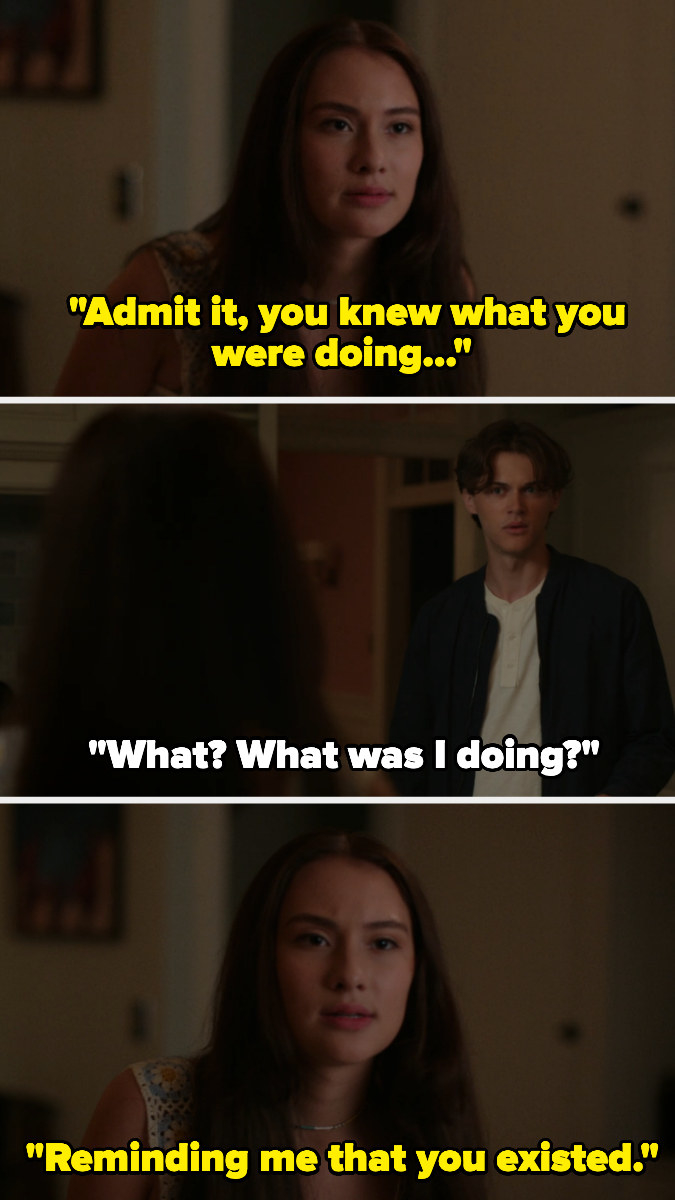 26.
When Belly and Conrad interact for the first time: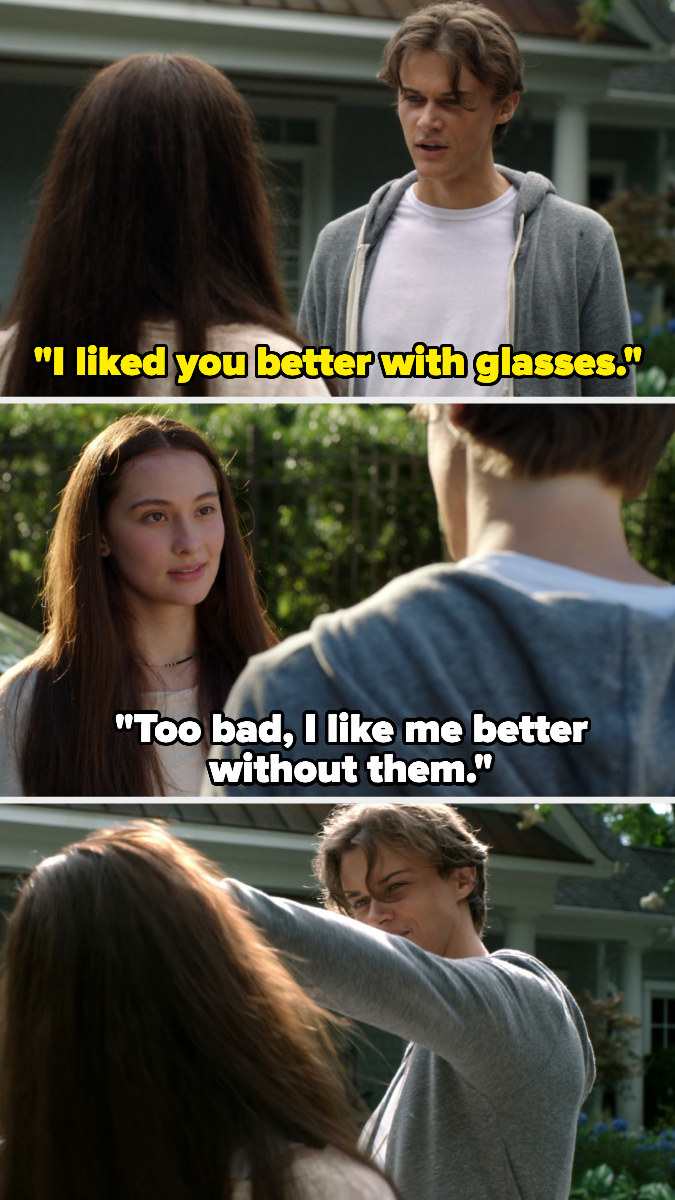 25.
When Conrad shouts "Go, Team Belly!" from the sidelines at the volleyball tournament and then promptly loses his mind with jealousy over Jeremiah and Belly: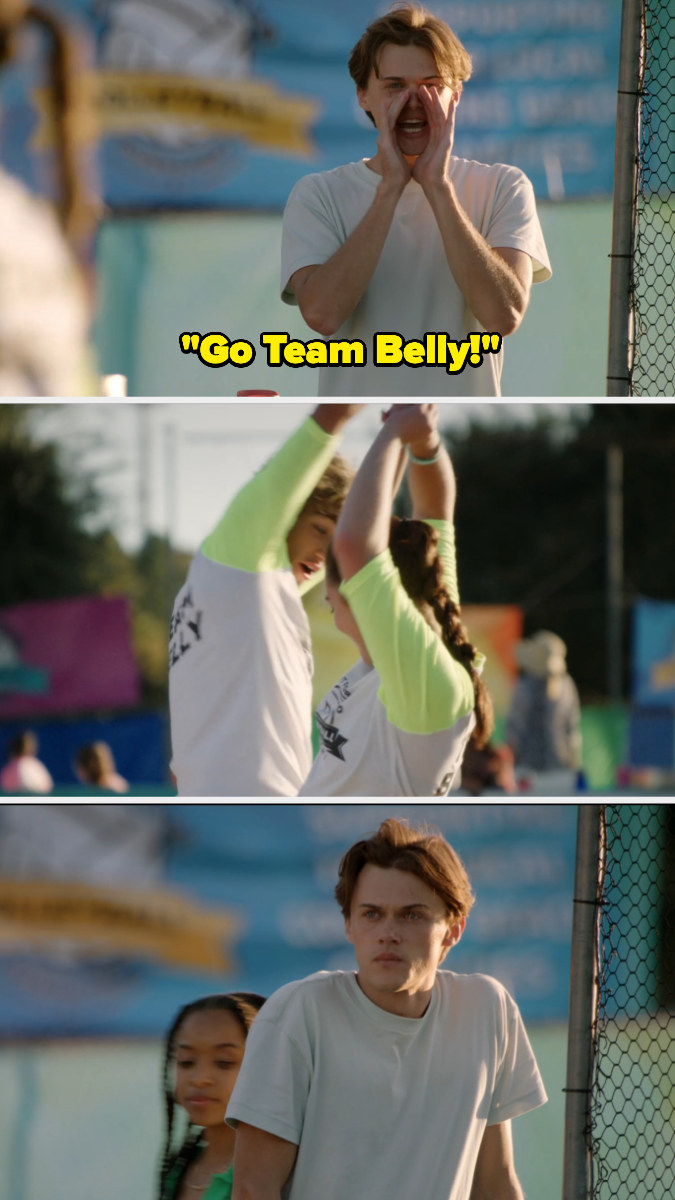 24.
When Conrad shows Belly how to properly make the bed, and maybe it's just because I'm an ADULT and household chores are far more exciting to me, but wow, what a moment: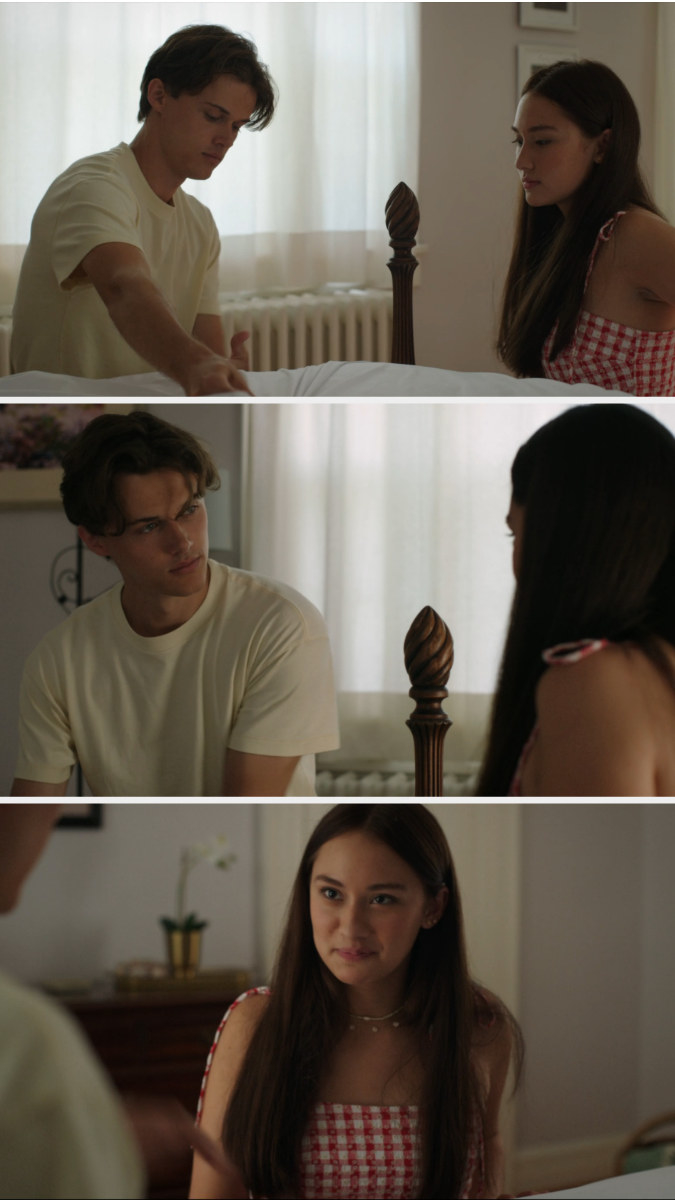 23.
I will now be interrupting the flow of this ranking with a series of Conrad stares that simply cannot be ranked — they all hold the exact same power. But here's my attempt. First, when they stare at each other at Nicole's party: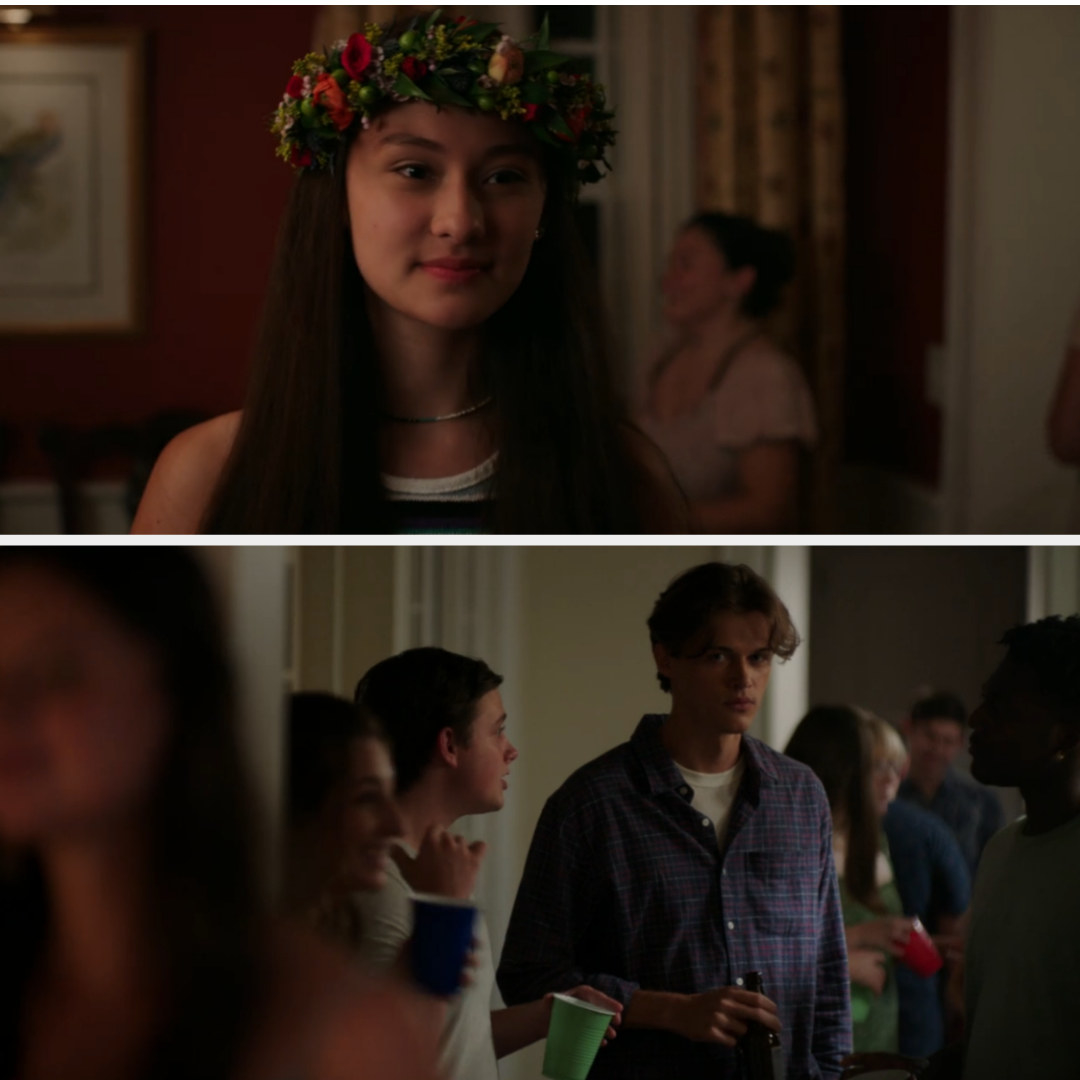 22.
When Conrad stares at Belly after Jeremiah and Steven say she looks great, and he simply cannot resist looking: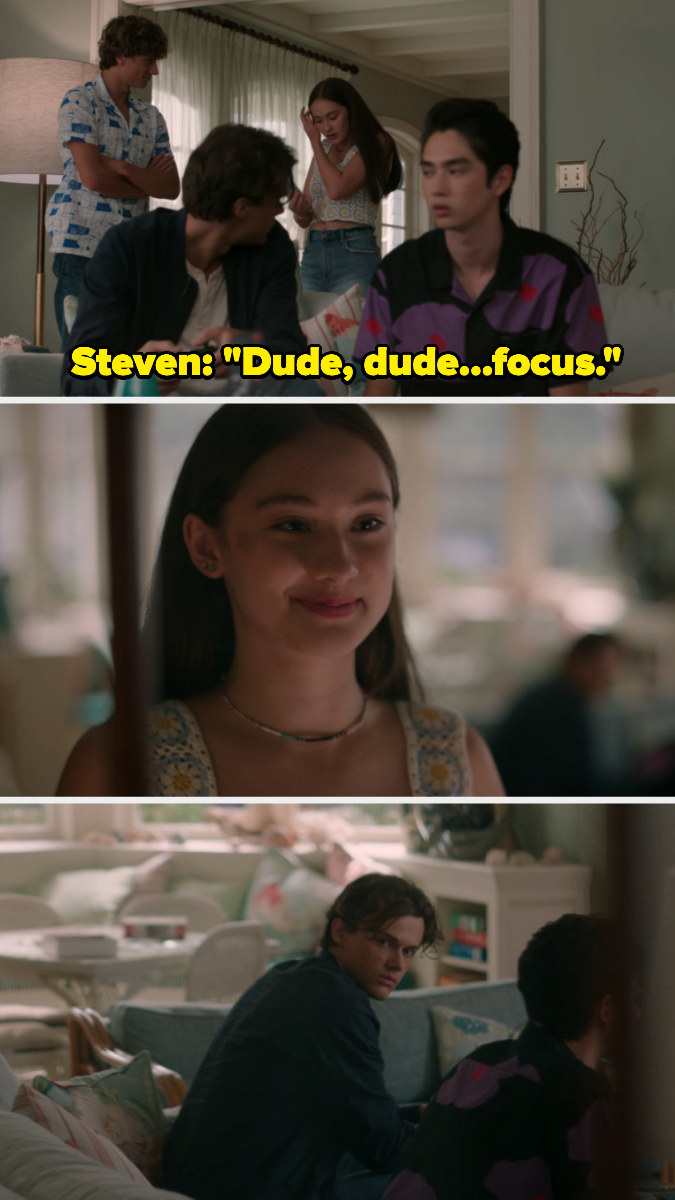 21.
When Conrad drunkenly watches as Belly gets her first kiss with Cam Cameron: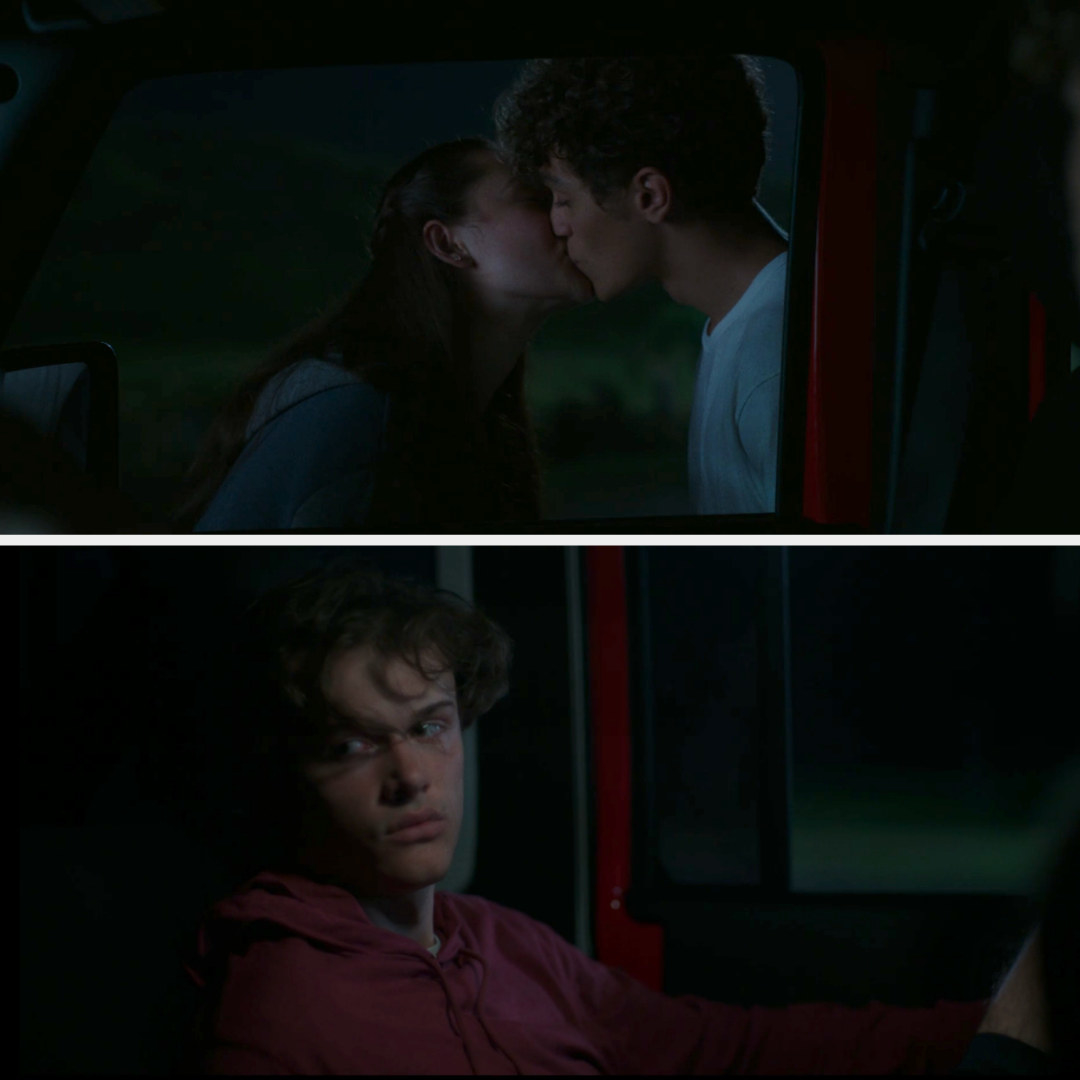 20.
When Belly and Conrad lock eyes at the debutante ball for the first time: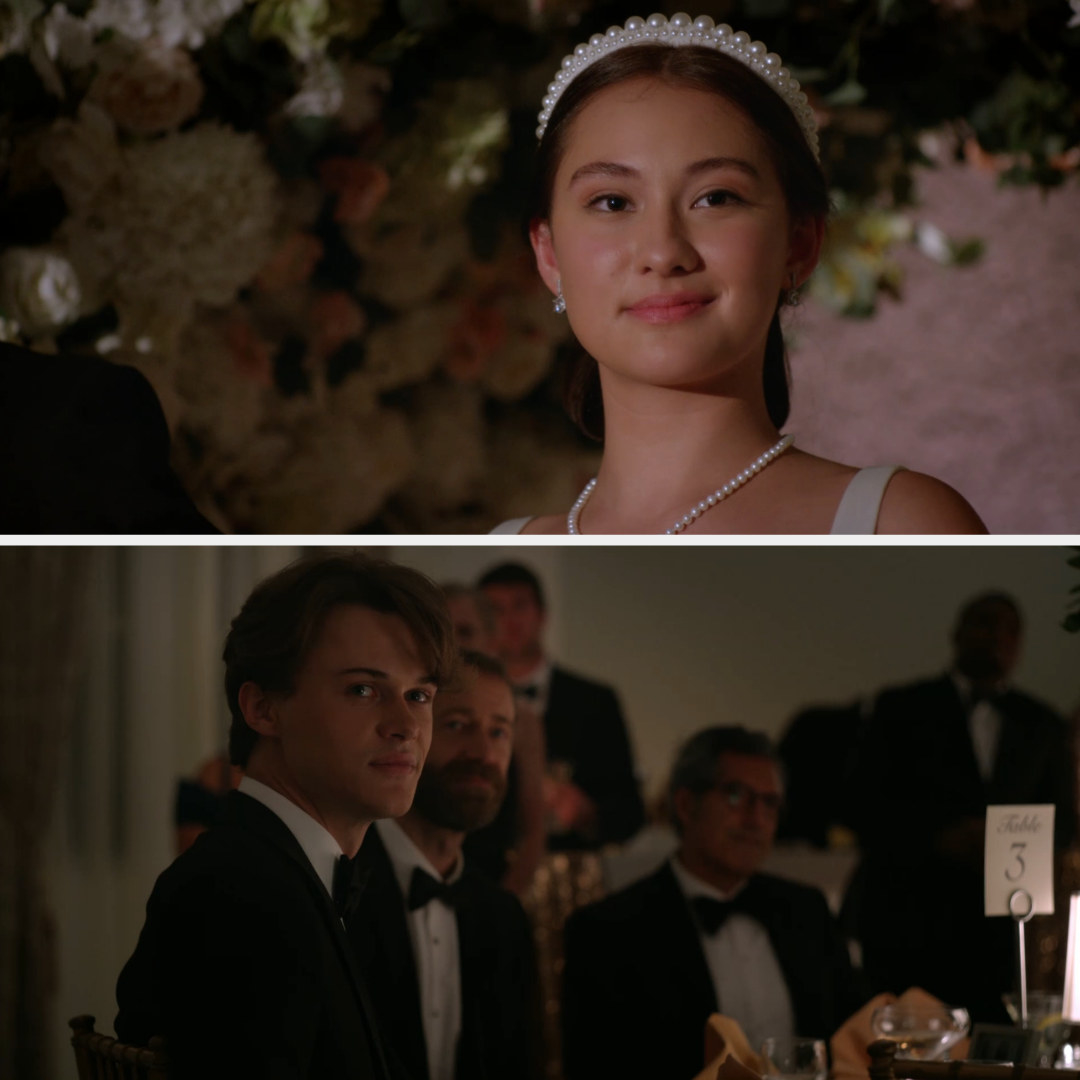 19.
When Belly first sees Conrad, and Taylor Swift's "Lover" plays both in her head and in the episode: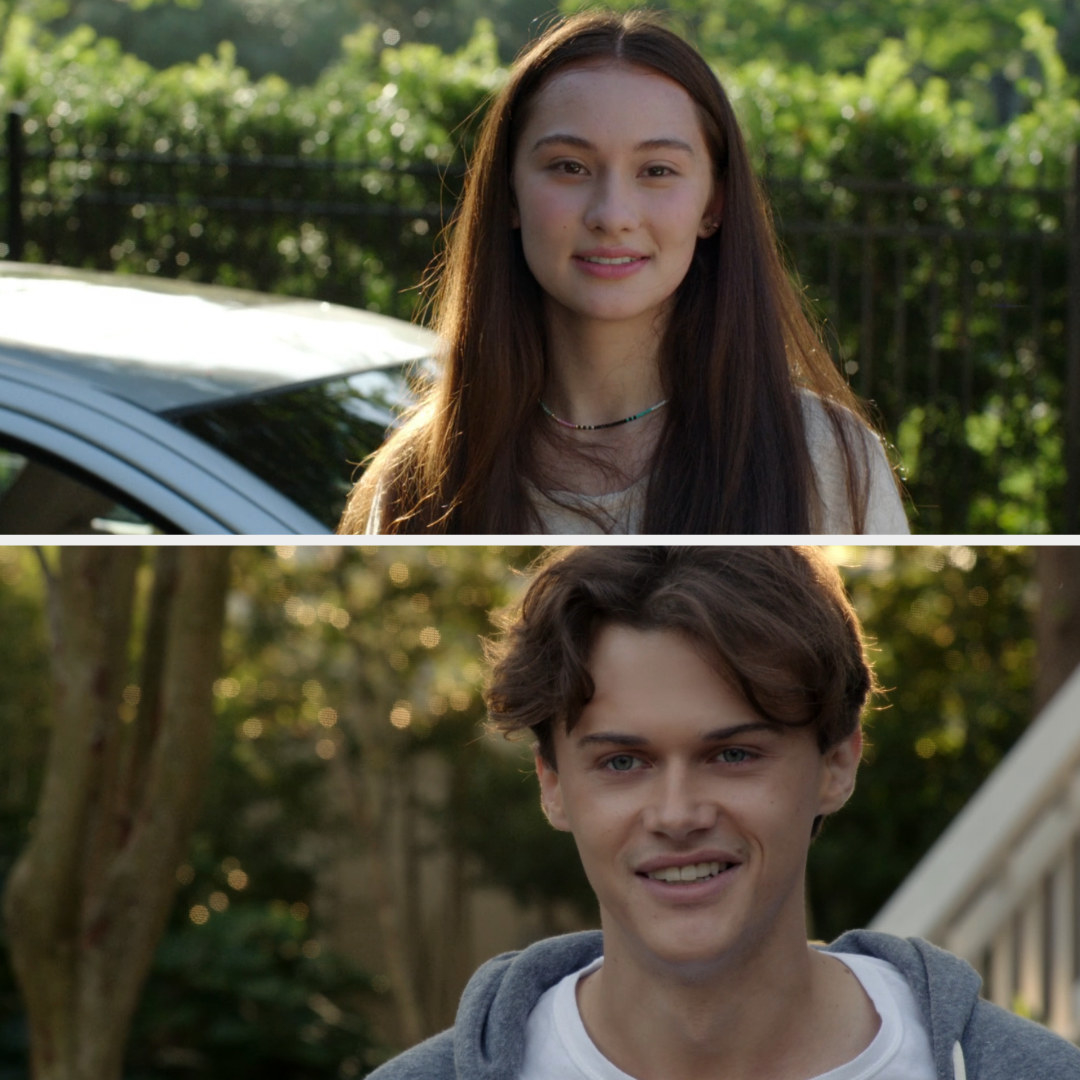 18.
Okay, now let's talk about that dang infinity necklace...shall we?? First, there's when Belly drunkenly confronts Conrad about it in the outdoor shower while holding TWO margaritas: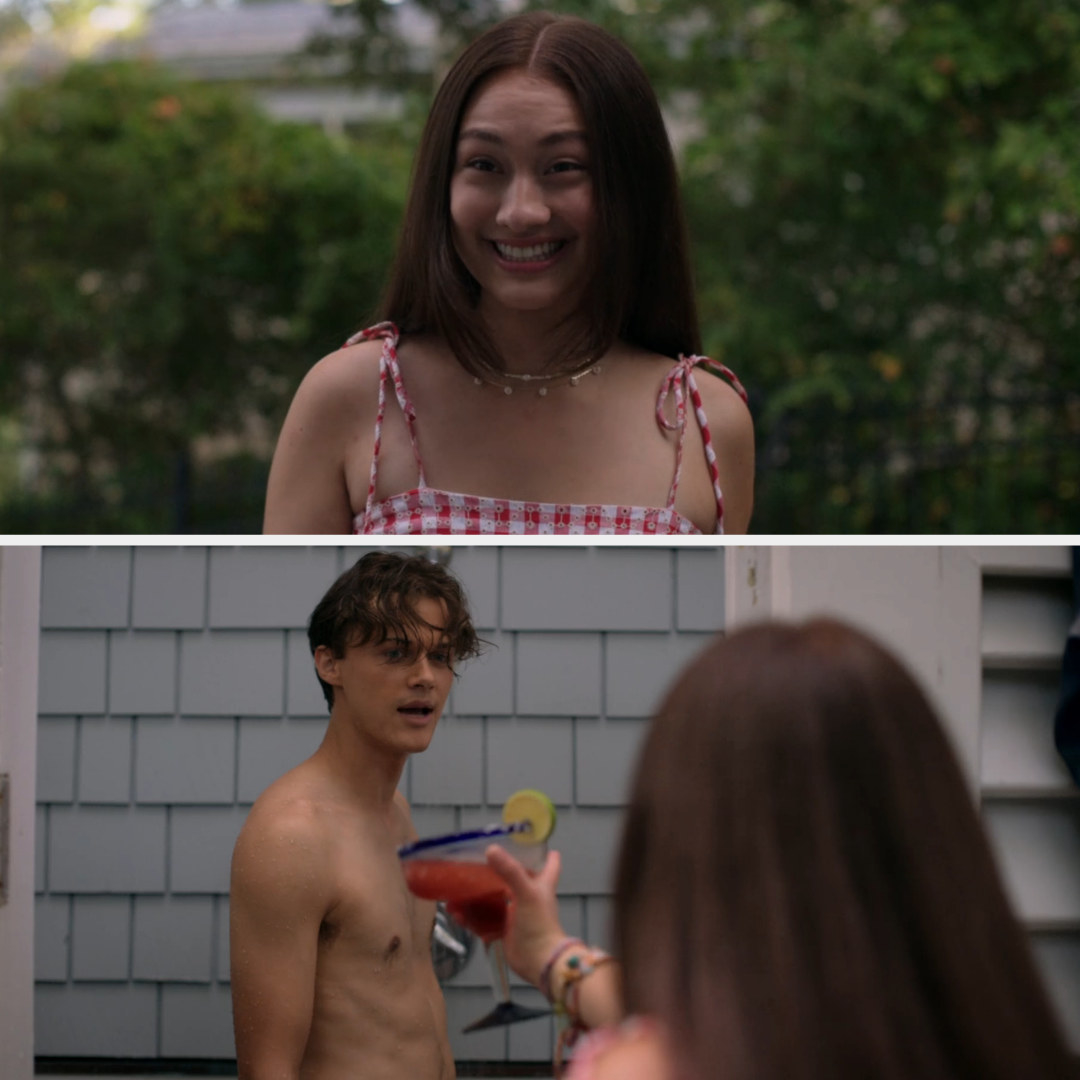 17.
When Belly first finds the infinity necklace in the same episode where we learn in a flashback that Conrad taught her all about infinity by drawing adorable maple syrup glasses on her Mickey Mouse pancakes: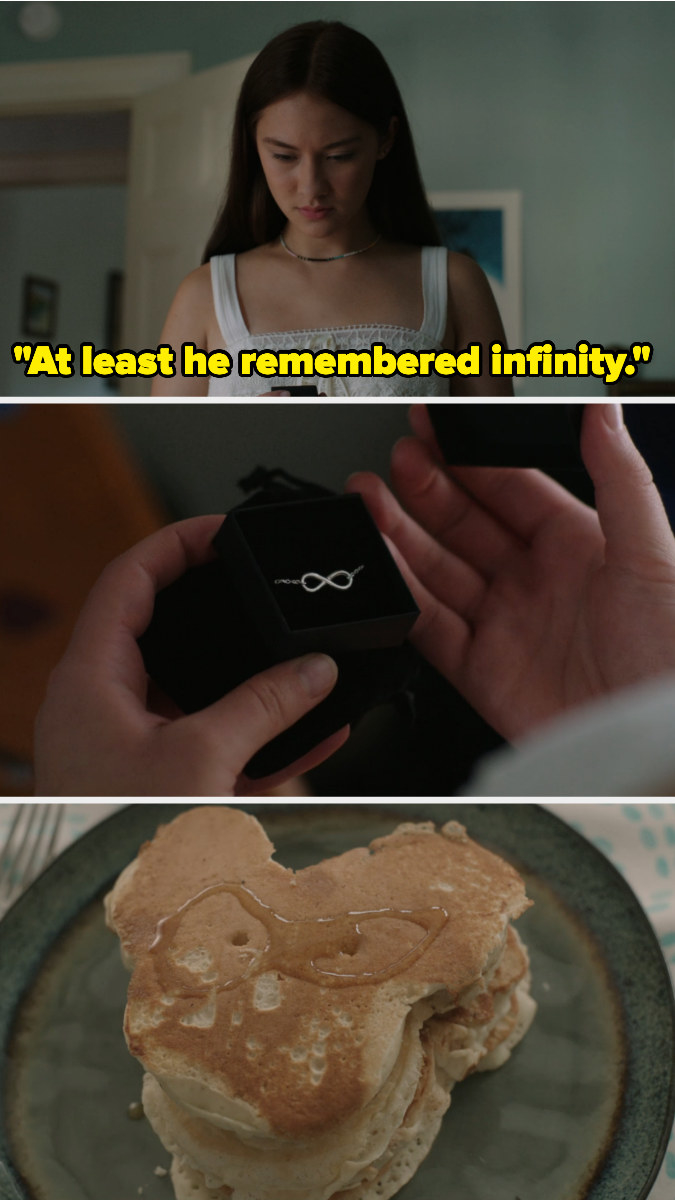 16.
When Conrad tries to give Belly the necklace in one more attempt with her, but she says he's too late: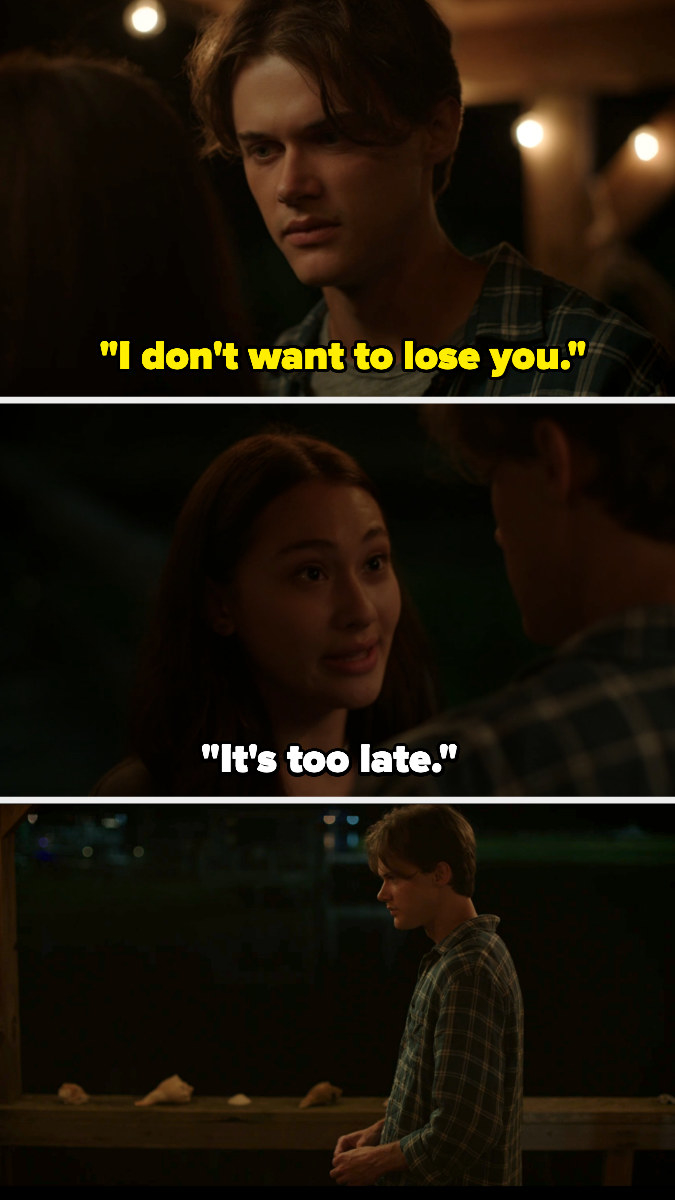 15.
When Conrad apologizes for pretending he forgot about their almost kiss on July 4 (believe me, we will get there!) and then asks Belly to the ball: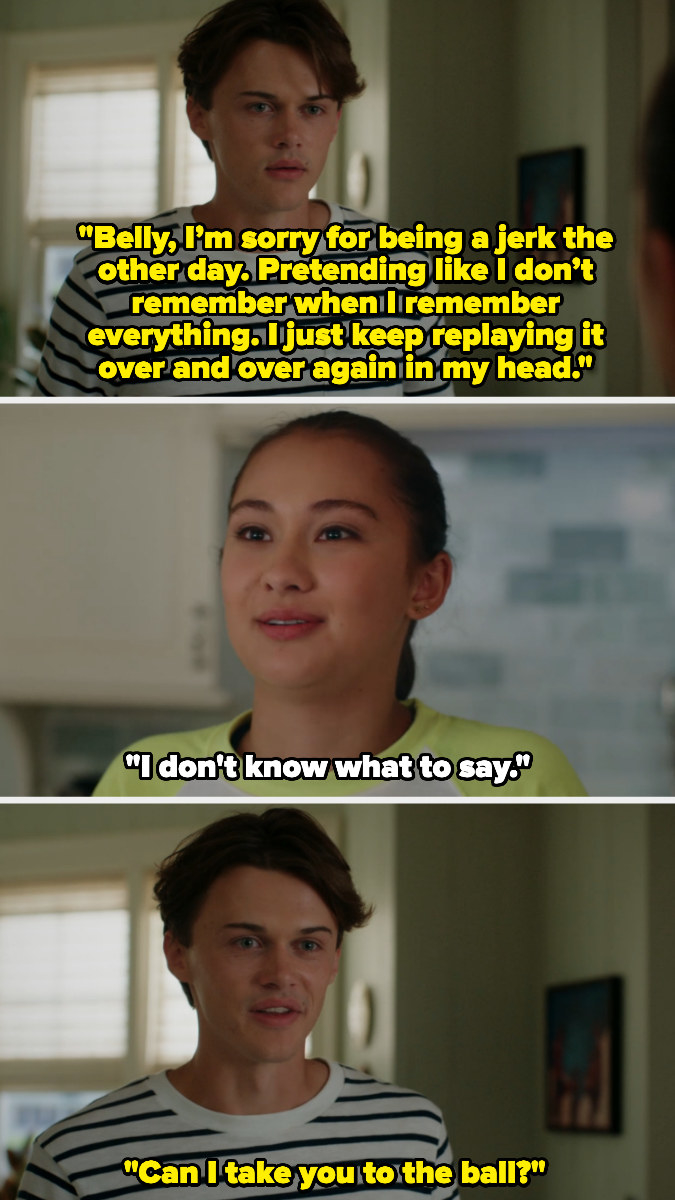 14.
When Conrad then has to apologize because Belly finds out that Susannah asked him to ask her to the ball: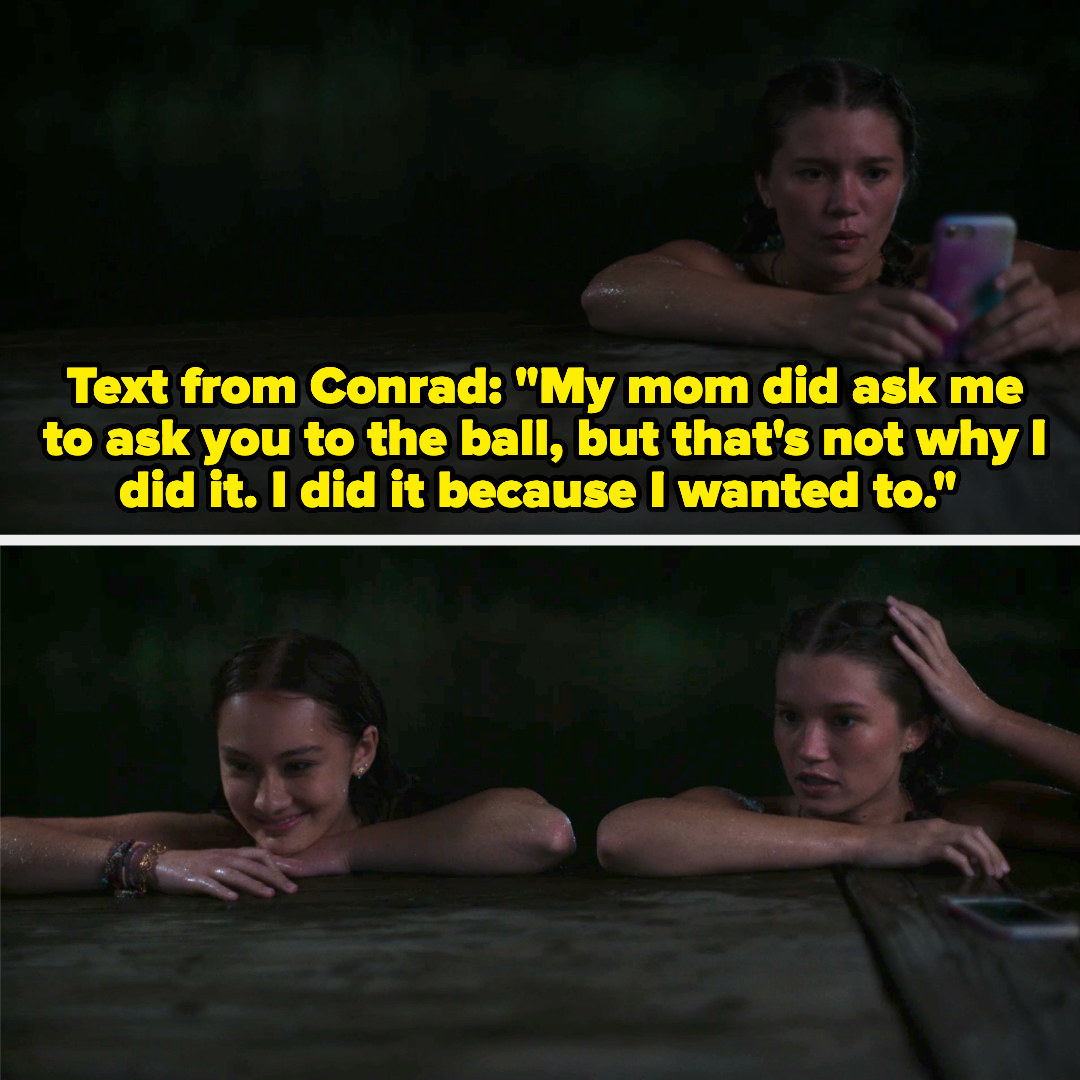 13.
When Conrad goes to see Belly the day after they almost kiss and adorably waves at her:
12.
When Conrad boops Junior Mint on the nose while looking for Belly: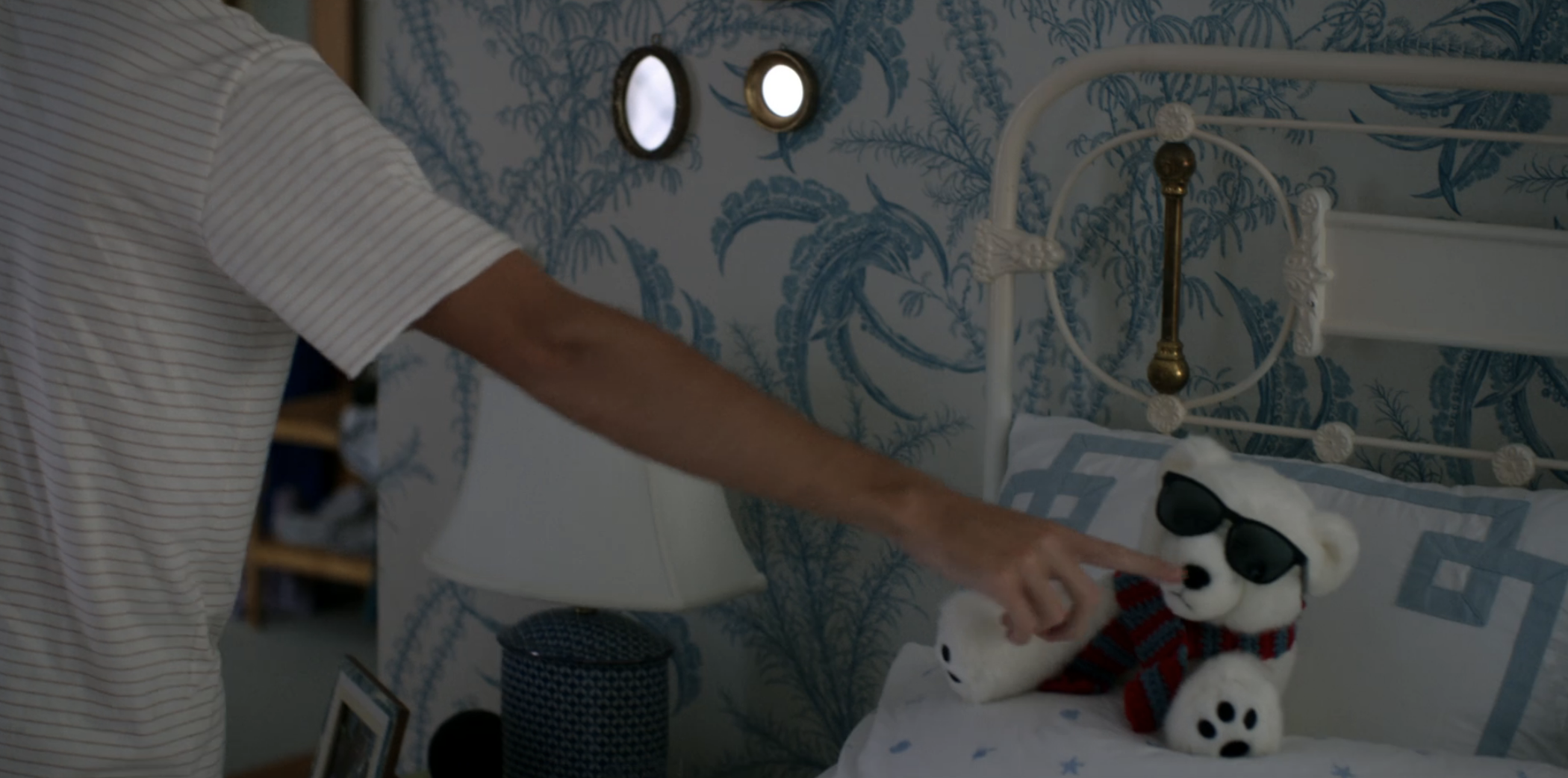 11.
When Belly was being cute and relatable, trying to figure out what to text Conrad after their almost kiss: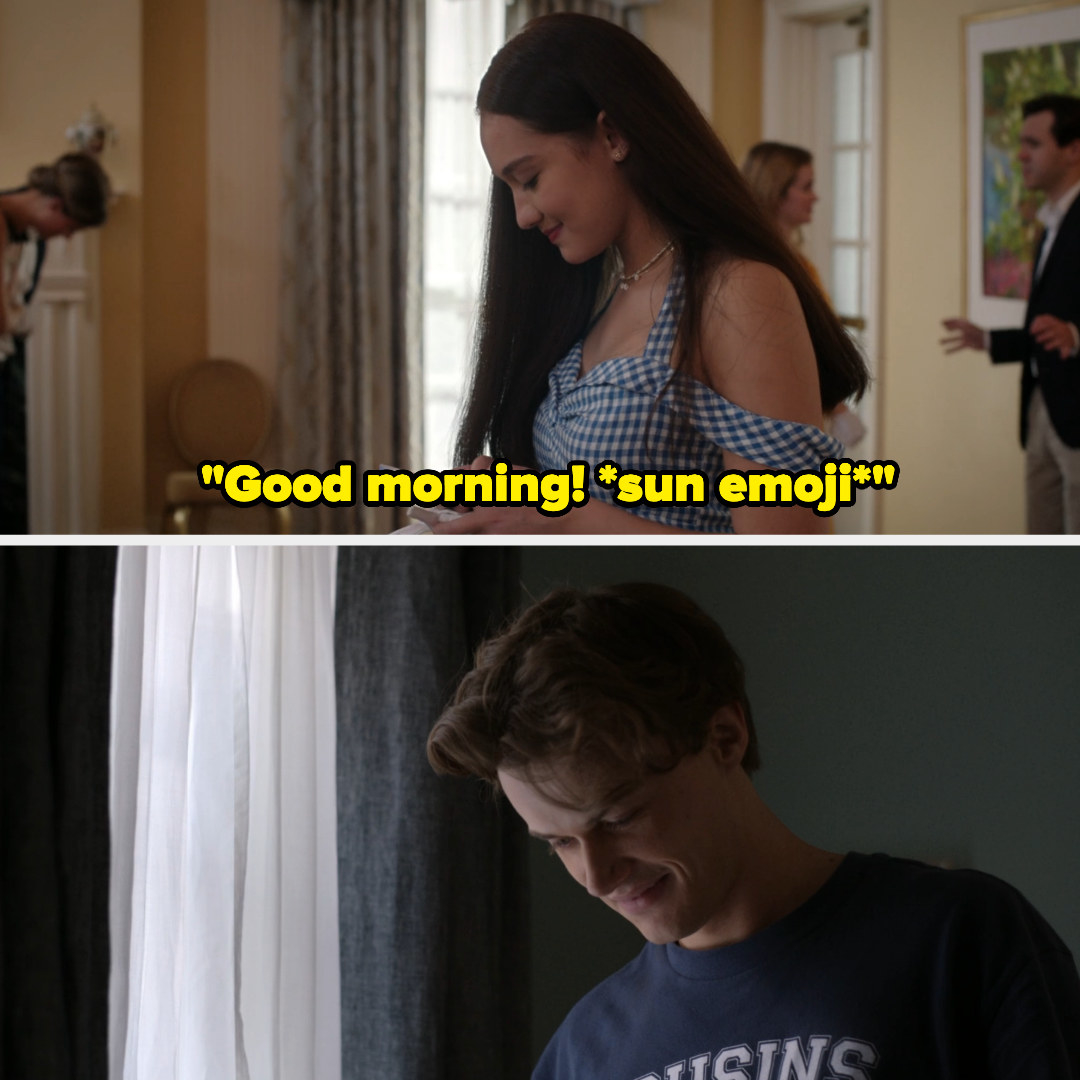 10.
When Conrad gave Belly the muffin that the other boys were trying to keep away from her in a flashback scene: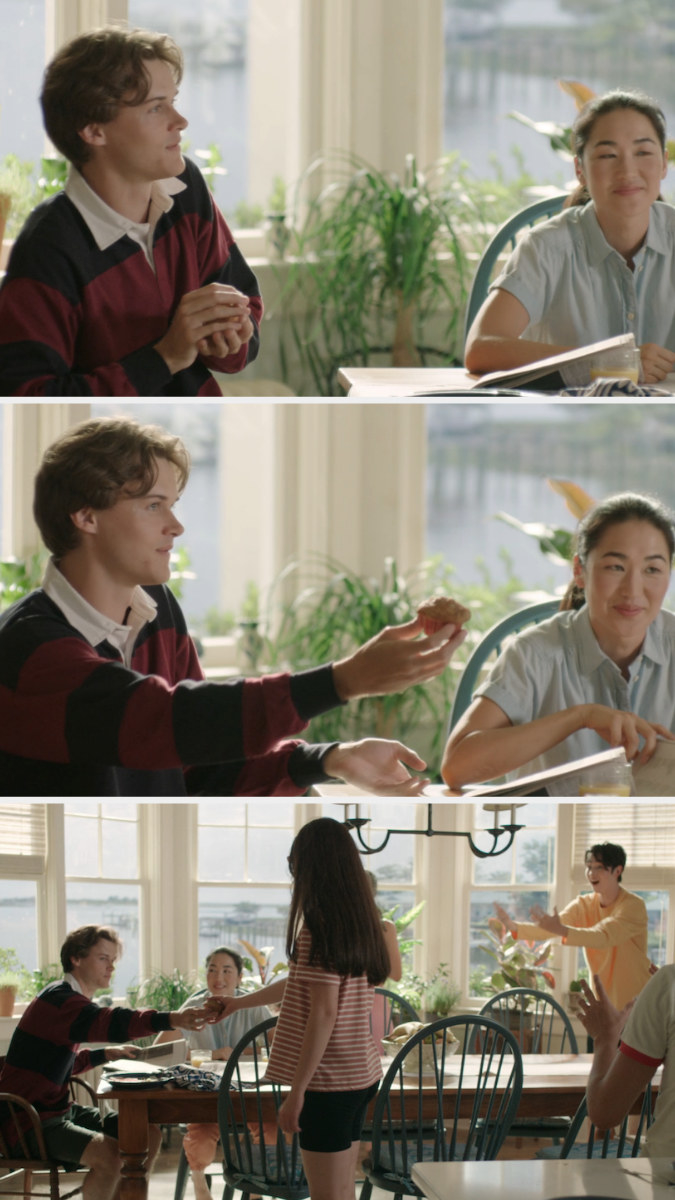 9.
When Conrad PICKS UP THE GOOD MUFFINS FOR BELLY AND SHE SAYS SHE DOESN'T WANT ONE:
8.
When Belly and Conrad talk on the beach and he grins at her: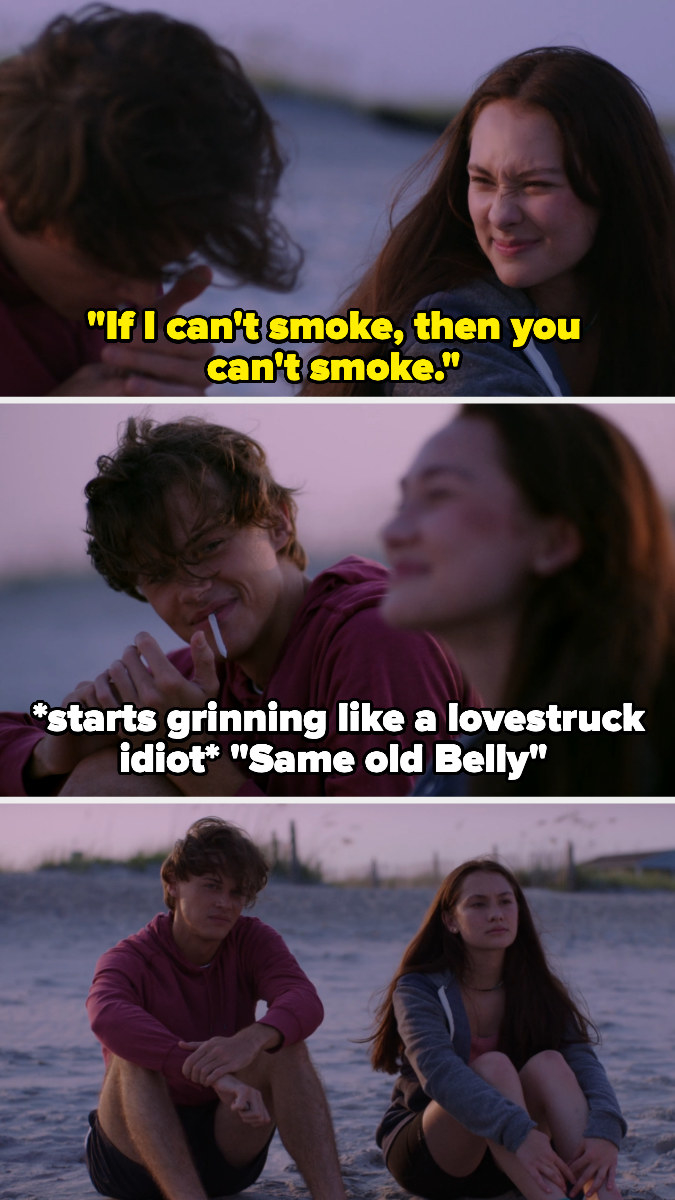 7.
When Conrad plays with Belly's hair in the car after the bonfire: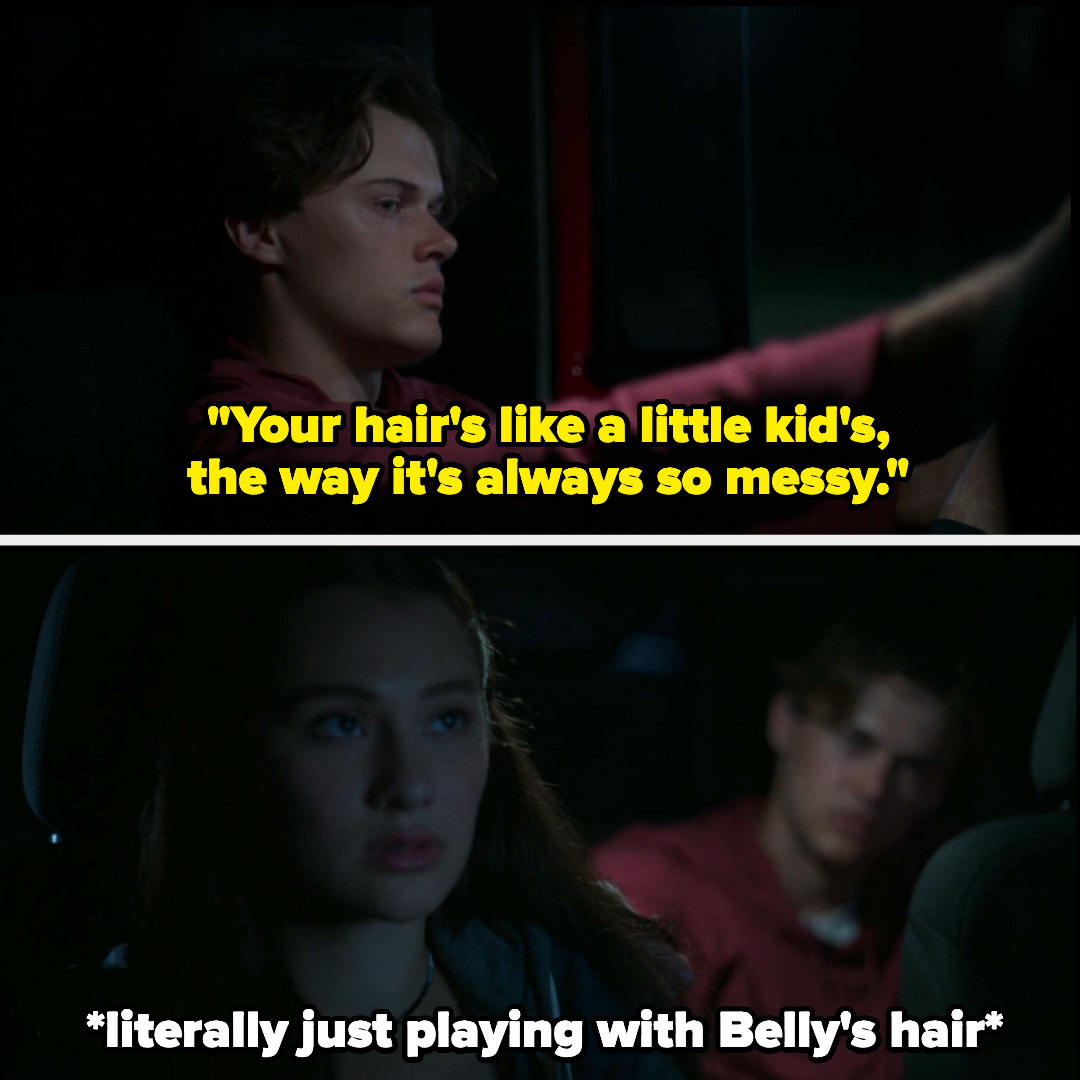 6.
When Conrad teaches Belly how to dance during a flashback: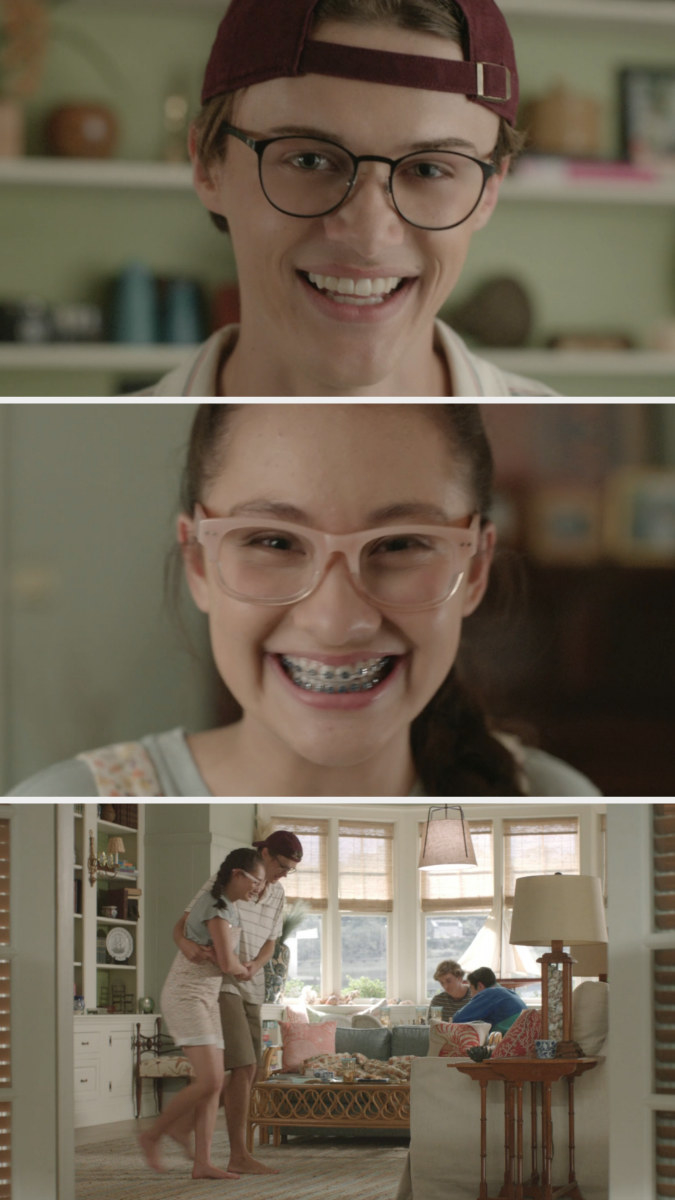 5.
When Conrad asks Belly what she would give him if he quit smoking: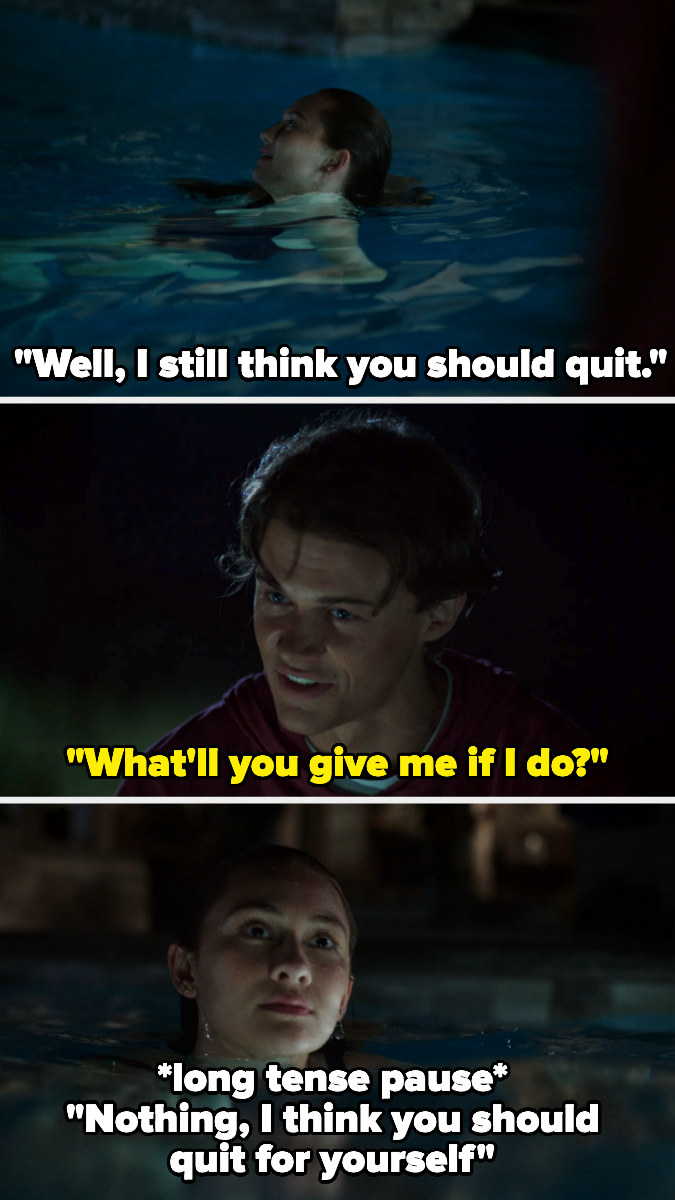 4.
When Conrad subs in for Jeremiah during the volleyball tournament, and he and Belly do their little handshake: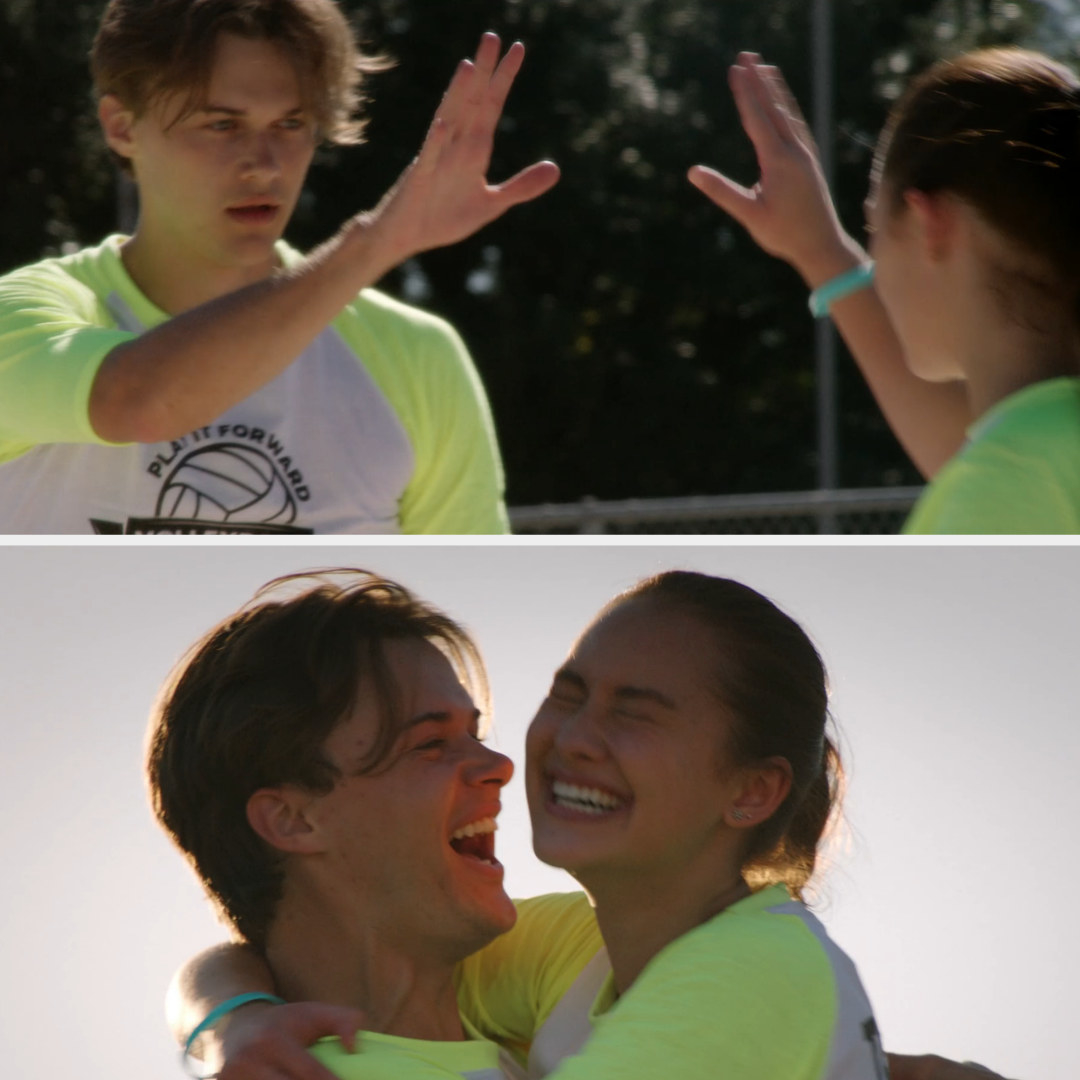 3.
When Belly and Conrad almost kiss on the 4th of July: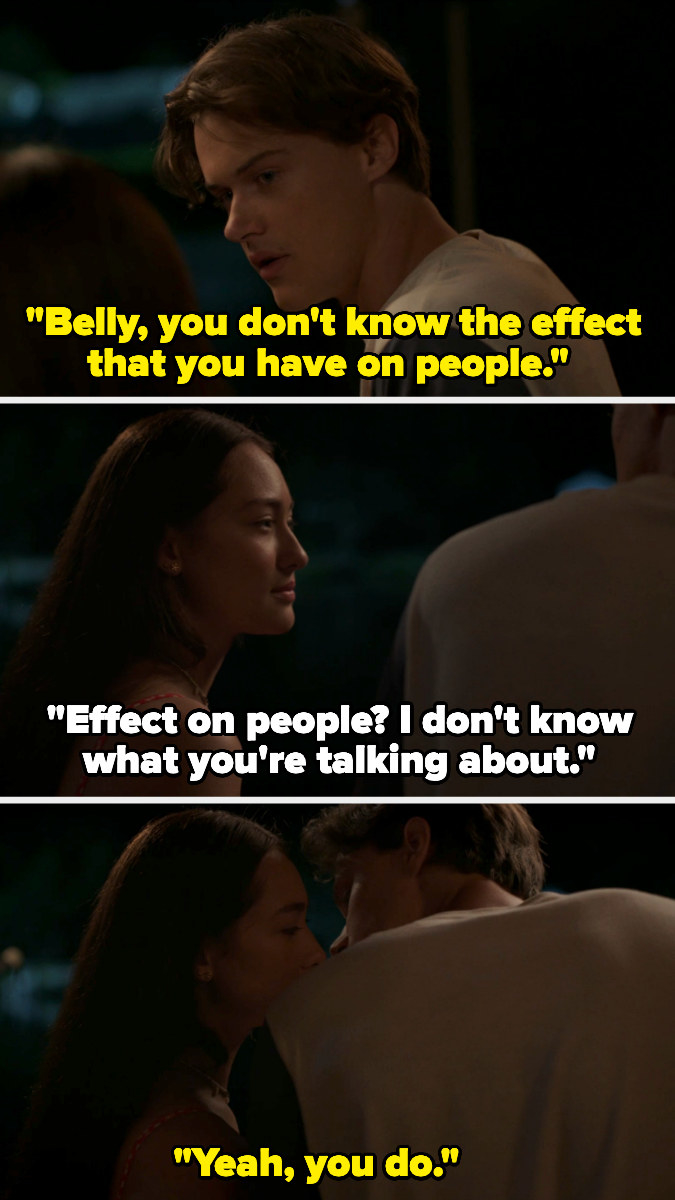 2.
When Conrad and Belly ACTUALLY kiss at the very end of the season: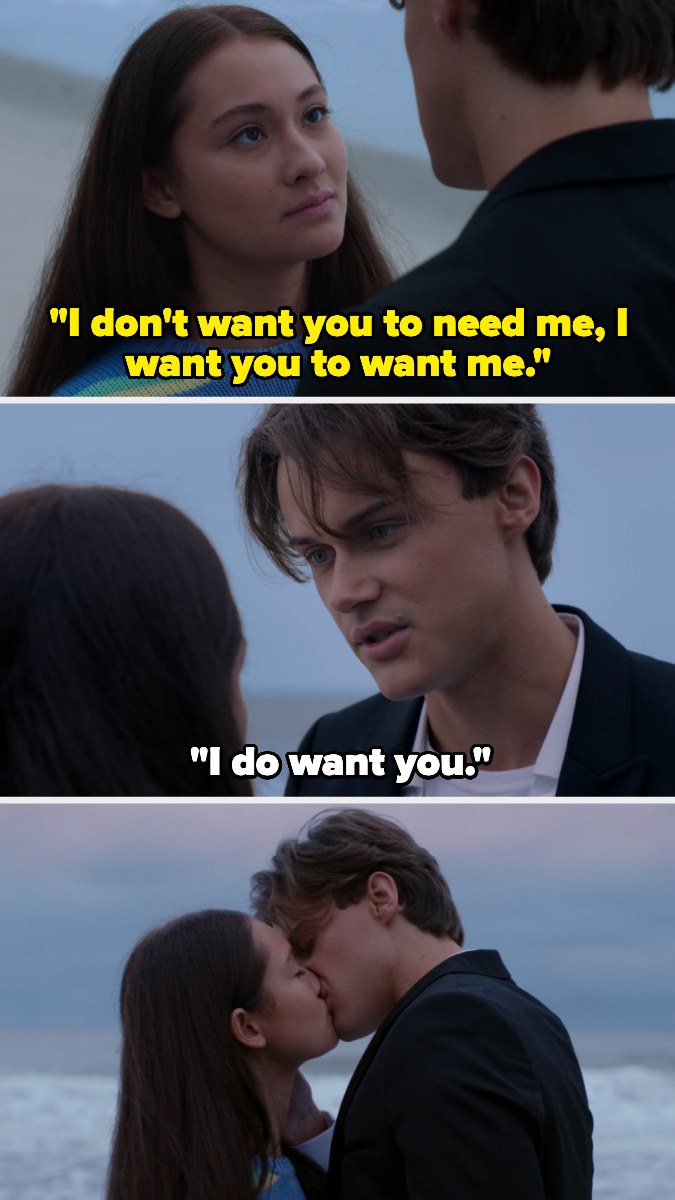 1.
When Conrad steps in for Jeremiah and dances with Belly at the debutante ball...
...and, of course, when Laurel says this about them: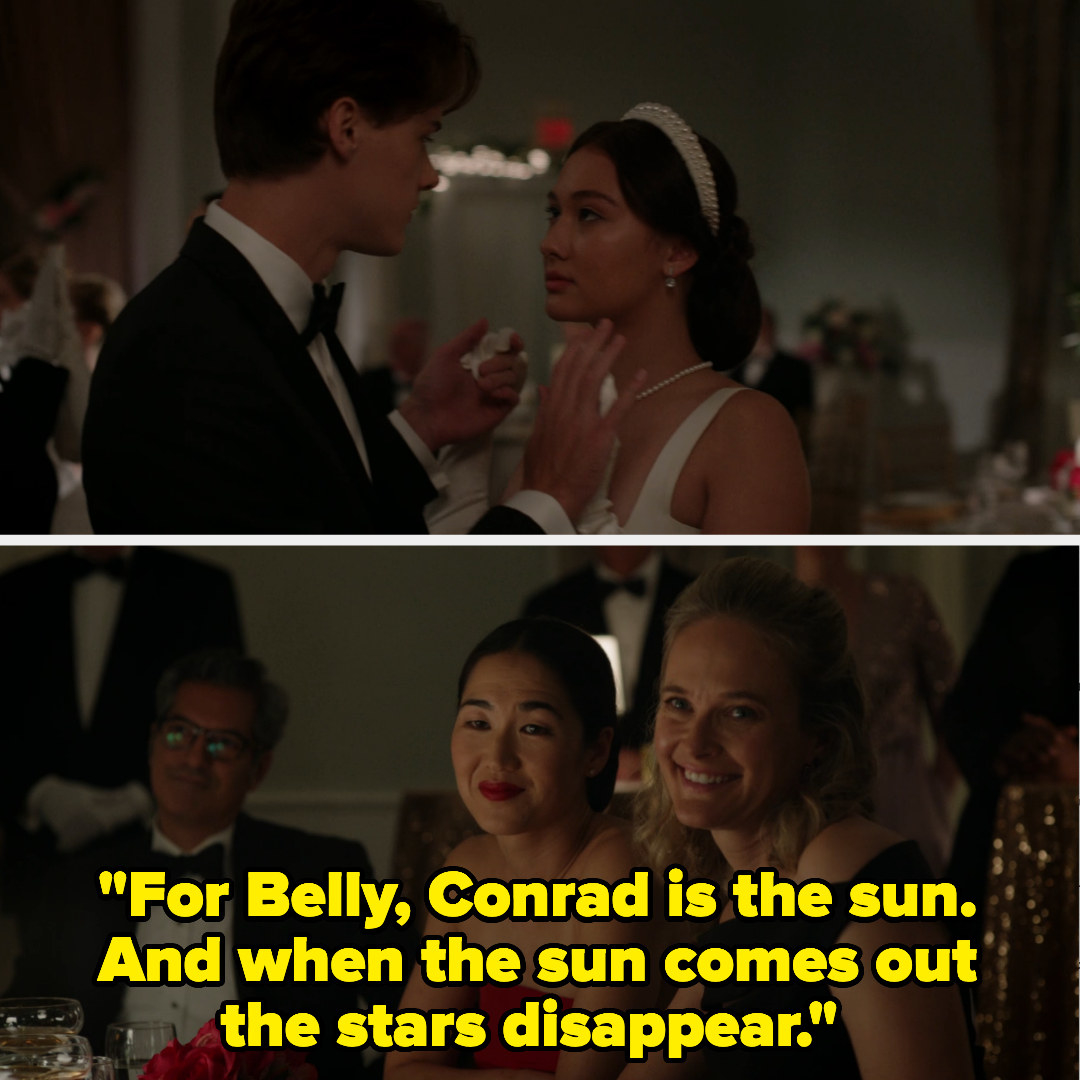 I MEANNNNN...
Okay, so what was your favorite Conrad and Belly scene — or Bonrad, if you're Taylor? Or are you more of a Jeremiah fan? Let me know in the comments, and also (nicely, please) let me know how you'd rank things differently...