Over the weekend, Cole Sprouse shared a photo of a real poem he wrote for his mom when he was younger, and IT IS SOMETHING.
It starts out normally enough...

Sounds downright adorable and sweet already. This is going to be the purest thing ever. Let's continue.

Wow, look at that rhyming! A wonderful pairing of BEST and REST! Great work!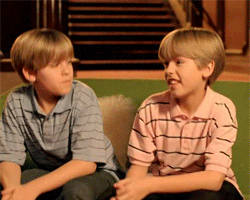 But suddenly, young Cole starts to wonder about what would happen if he were ever separated from his mom, and things start to get dark real fast...

What are you going to do Cole?!?!! What rhymes with apart?!

He'd "REPEDEDLY" STAB THEM IN THE HEART. We are talking about REPEDED heart stabbings here. Then, Cole signs his poem like this:

So, yeah, don't ever get between Cole Sprouse and his mom. Here's the whole beautifully twisted poem in all its glory:
In case you haven't noticed, he's weird. He's a weirdo. He does't fit in and he doesn't want to fit in.