1.
When she declared her undying love for coffee:
2.
When her dad discovered Pinterest: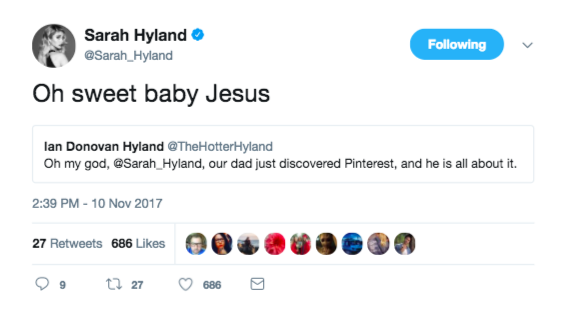 3.
When she cringed about her posts from 10 years ago:
4.
When she had a very productive day:
5.
When she hoped her tweets were magic:
6.
When she called out her friend for running late:
7.
When she had this classic, curly-haired paranoia:
8.
When she admitted she doesn't have a filter:
9.
When her group text was over her:
10.
When she looked like all of us eating ice cream bars:
11.
When she revealed her true wedding goals:
12.
When she was friggin' tired:
13.
When she was REALLY friggin' tired:
14.
When her dogs didn't talk back to her:
15.
When the transformation was almost complete:
16.
When she COULD NOT handle being sick:
17.
When she just wanted lots of pups to play with:
18.
When she freaked out over THIS:
19.
When her day was already off to a bad start at 9a.m.:
20.
When she was simply over trying to be a gym girl:
21.
And, most relatable of all, when she said she doesn't even identify as a celeb: