1.
Waterproof globe lights so your outdoor gatherings can continue long into the night. Hang them along your roofline, drape them on outdoor structures, or just string them up solo to give your backyard the most magical vibe.
Reviewers note that you should remove the bulbs before stringing up the strands and then install the bulbs.
Promising review: "I am loving my new lights! Just got them up in time for hanging out on the back deck for springtime. They give a great outdoor cafe feel to my back deck. I advise purchasing extra light bulbs when purchasing these lights. It comes with one extra, but they are extremely fragile/delicate. We ended up breaking four total during the hanging process." —charlee harris

Get a strand from Amazon for $18.99+ (available in four colors and lengths).
2.
And solar-powered mason jar lights you can place around your backyard — on tables, along fences and railings, or on stair steps — to liven up evenings and make you nostalgic for nights spent catching fireflies as a kid.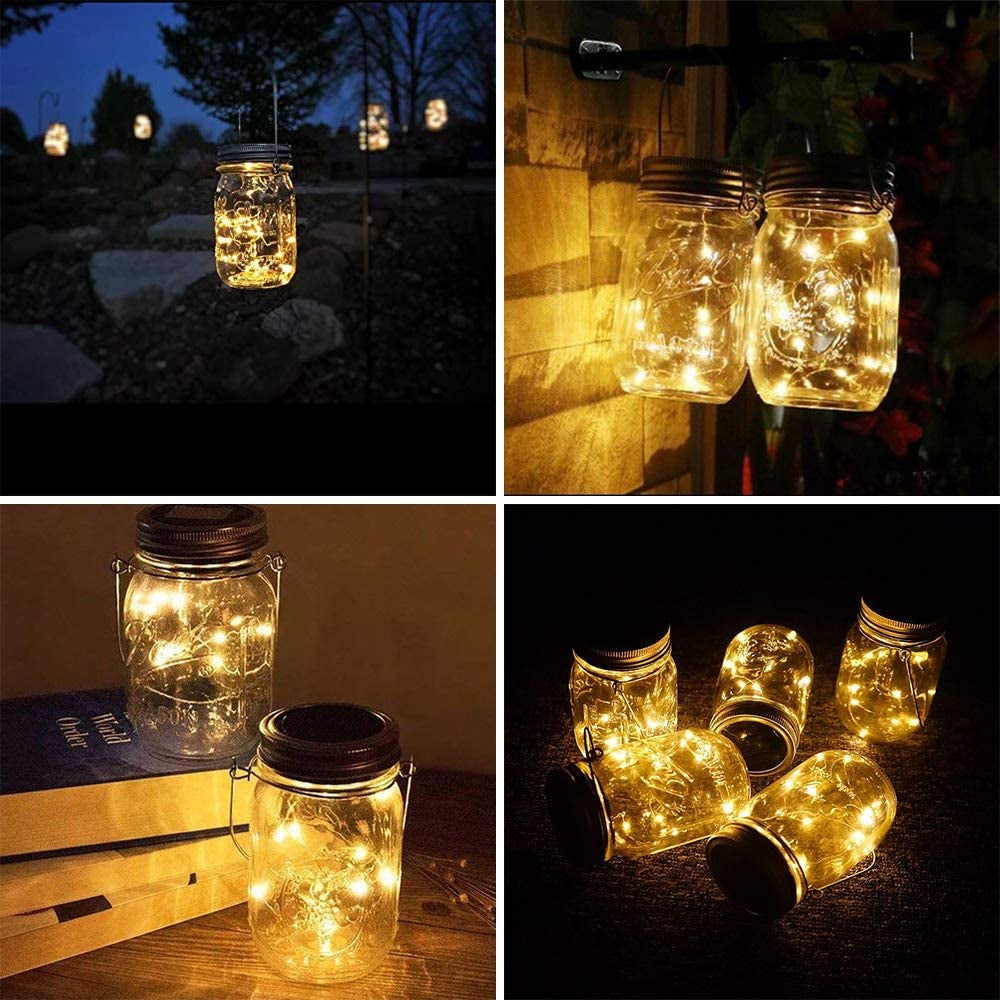 Since these are solar-powered, you'll need to place them in the sun to get them to light up. Six to eight hours of sun exposure will work if you want roughly eight hours of light. And if you don't want to do that, no worries, because they have a spot for an optional AAA battery if you'd rather power them up without the sun.
Promising review: "Absolutely love these lights. I bought these about five years ago and they were very loved, so I upgraded and bought more this year. They add such whimsy to your garden and beautiful ambiance. I love that they're solar-powered. I will definitely recommend getting these." —folse1

Get an eight-pack from Amazon for $24.99 (available in five colors).
3.
A set of color-changing inflatable pool balls for when the sun goes down but no one's ready to get out of the pool. They're completely waterproof and solar-powered (lasting about eight hours on one charge), and you could even hang them from the trees for a magical forest vibe.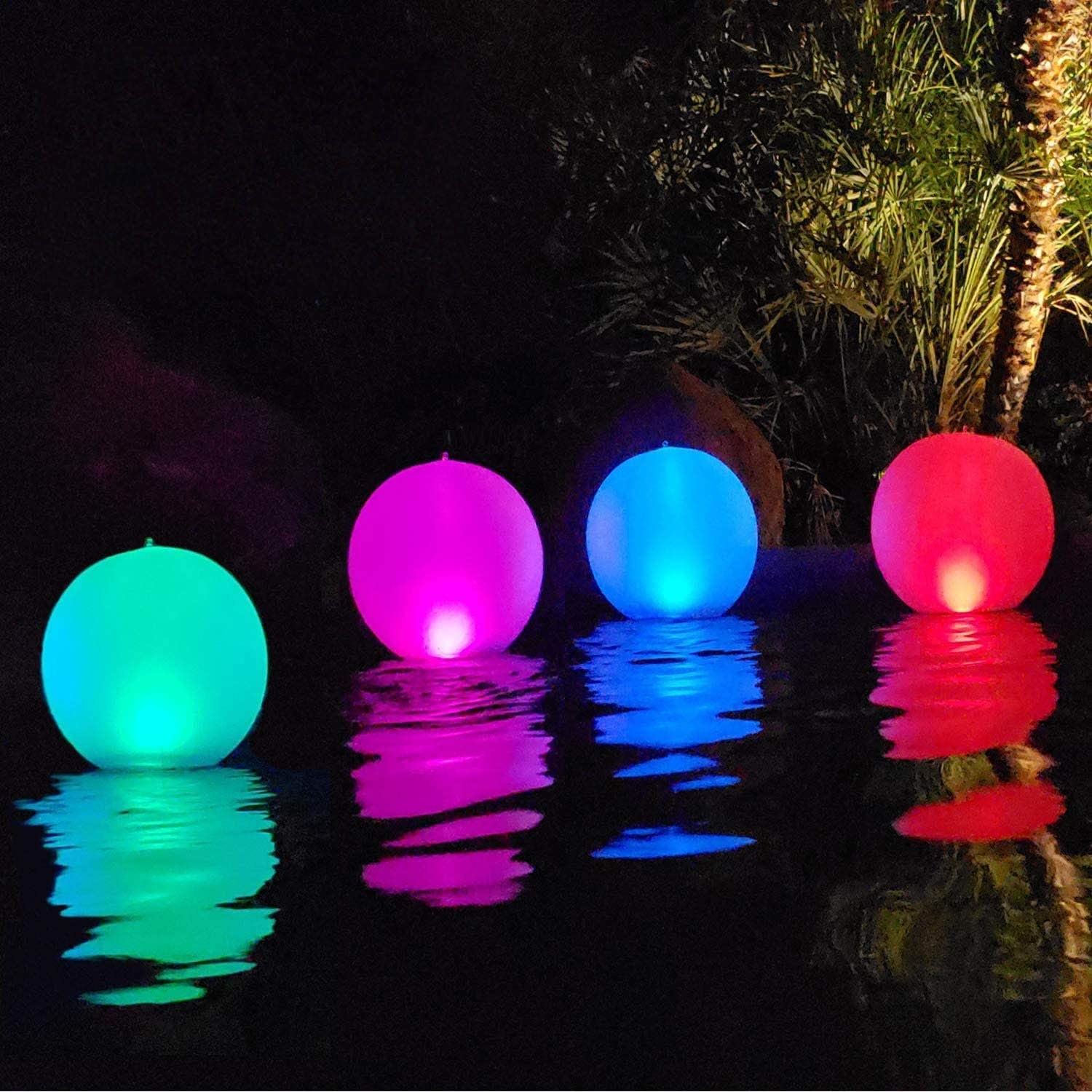 Each light cycles through red, blue, white, and green.
Promising review: "My pool is so old school and boring that I bought these to liven it up and what a difference!! My pool went from 'meh' to WOW! The balls are easily inflated by mouth like a beach ball. Once inflated, a few hours in the sun and they are charged and ready to go. They light up after dusk (it has to be rather dark). There is no manual way to power them on or off; they glow all night long. The changing colors are vibrant and very beautiful. They have a loop at the top if you would like to hang them. They would be magical hanging in a tree or from a pergola. I really liked how easy these were to fill and charge, and I like the solar power and the amazing color display. They make my inner child happy." —J. Matheson
Get a set of four from Amazon for $55.99 when you clip the coupon for $10 off.
4.
A lighted umbrella that'll help illuminate your hangout area when the sun goes down *and* provide that necessary shade during the day so you're not squinting and shielding your eyes during conversations.
Note that this includes just the umbrella, not the table!
Promising review: "Great umbrella! We don't keep it up all the time, just take it out when needed. Great quality. The lights are great at night, really elevates our backyard! The option for leaning the umbrella is really nice, too, in the mornings when I want to sit outside without the morning sun blaring down on me. If you don't want it to break, don't keep it outside all the time, that simple!" —Morgan

Get it from Amazon for $71.99+ (available in 11 color combos).
5.
Or if you already have an umbrella, a clamp-on light you can attach to the pole for some convenient overhead lighting.
It adjusts to fit poles with a diameter of 0.86 to 1.81 inches and has three brightness modes! It requires four AA batteries, which aren't included.
Promising review: "When I bought this, it was totally on a whim. I was convinced that because it was so inexpensive, it would be a cheap piece of junk! Was I wrong! It does a great job of lighting up the table with the three different settings. AND, if you turn it upside-down, you can further vary the brightness. (Sometimes you just want a hint of a glow, rather than a spotlight in your face.) I'm very happy with this, especially since I left it out all summer long with no issues. It was hidden under a closed umbrella, but I'm sure it got a little damp with rainwater and it survived! For just $10, it is such an easy solution for my patio that has no electricity, and therefore, needs something battery powered." —LouiseN
Get it from Amazon for $11.97.
6.
A patio table mosquito net enclosure if you're tired of getting eaten alive when you're just trying to catch up with friends and family outside. No mosquitos are invited to this get-together! Oh, and you can tie the netting back when it's not needed. 

Promising review: "We bought this for a rather large umbrella over our table in the back yard, and used it for the first time last night. We were less concerned about mosquitoes because we have a service to eliminate them — it's the bees that were disturbing our outdoor meals and events. My wife hosted a few friends last night, and they all fell in love with this. They've all been fighting with bees lately, and they were not bothered once by any bugs. Every friend bought the netting on the spot. Also, when you're inside the netting sitting on chairs, it's almost as if the netting is invisible; most of the time you can't tell whether it's even there, especially at night." —Sara Olshanky
Get it from Amazon for $29.65+ (available in three styles, including an LED-lit option).
7.
Or a high-voltage insect zapper you can set up near the grill, patio, fire pit, or wherever people will be hanging out the most in your backyard. It eliminates mosquitoes, gnats, flies, and other bugs with wings that are undeniably the worst part of lounging around outside.
It has a range of up to 1,500 square feet!
Promising review: "Usually if I am outside with a group of people, the bugs come hunting for me and nobody else gets bitten if I am in the area. I got tired of putting on bug spray every time I go out on the patio, so I bought this to try and it has made a huge difference. I turn it on for a little bit every night, even if I am not outside, and you can hear and see it doing its thing, and now I can sit out back and have no bug spray and nothing bothers me. Very effective product." —Todd F

Get it from Amazon for $29.99+ (available in two sizes, three colors, and a two-pack).
8.
A cosmic-themed fire pit, complete with moons and stars etched into the sides, so you can set up an area for s'mores, late-night chats, and star-gazing. Cozy ambience, here we come.
It's made of thick durable steel and covered with rust-resistant, high-temperate pain. And the effect of the light shining through the moon and stars at night? Stunning.
Promising review: "Got this as part of our backyard renovation project. Shipping was super fast, received it earlier than expected. Large fire pit, super easy to assemble. It's a sturdy piece! I read the reviews and decided to take some precautions — we drilled three drain holes at the base, fast and easy to do. We also bought a cover just in case. Used it the same day during a chilly North Carolina night to watch an outdoor movie with friends and blankets in the backyard. Worked amazingly and kept us toasty. Love the cutouts! Friends asked where we got it all night. Would recommend to anyone!" —Isabel

Get it from Amazon for $239.
9.
Or a gorgeous wildlife ring firepit so you can pretend you're out in the wilderness telling ~spooooky~ stories by the campfire while listening to the sounds of nature (and trying to remember if there are bears in this area).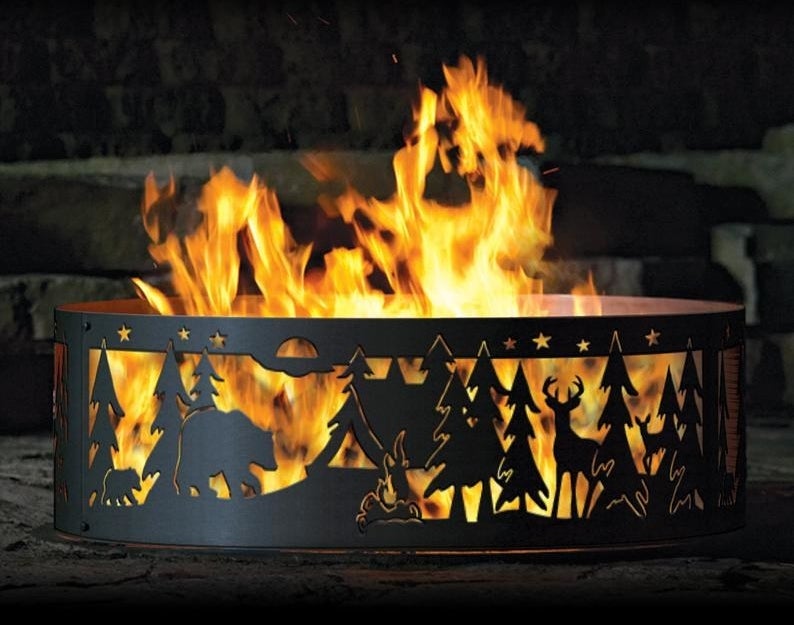 Five Metal Design is a Neenah, Wisconsin-based Etsy shop creating metal ring fire pits featuring intricate (and often times custom) designs.
Promising review: "This is EVERYTHING they said it would be. Always hard to tell if something will look as amazing as the picture. In this case it's as great or better than the picture. Fast delivery great friendly service! I highly recommend this company. Best purchase yet on Etsy!" —pjmklm2004
Get it from Five Metal Design on Etsy for $196+ (available in four sizes).
10.
And a pack of marshmallow roasting sticks to keep on hand so everyone can take a turn roasting up fluffy marshmallows for the iconic campfire treat. *Technically* you can use that stick you found in the woods, but it's time to start taking your s'mores operation a little more seriously. 

You can use these to roast hotdogs, small corn, and veggie skewers too! For convenience, you can also pick up a Hershey's s'mores kit that comes with everything you need to make them.
Promising review: "Roasted a lot of marshmallows on sticks and clothes hangers. The MalloMe sticks make it so much easier and more fun. First, they are compact, easy to carry, and easy to find in their own bag. Next, it is easy to put a marshmallow on the stick. Then, extending the stick as much as needed is easy. Rotating over the fire carefully is easy. The twin tines keep the marshmallow from falling off. And taking the marshmallow off is easy. Cleaning is not very hard but I'm not sure I'm doing the best job. I love these sticks and intend to buy several more as gifts." —catch1949

Get a five-pack from Amazon for $9.99 (also available in larger packs).
11.
Mystical Fire flame colorant so you can pretend you're a wizard when you drop a couple of these packets onto your bonfire and green, blue, purple, and yellow flames start to emerge. This one's a guaranteed crowd-pleaser.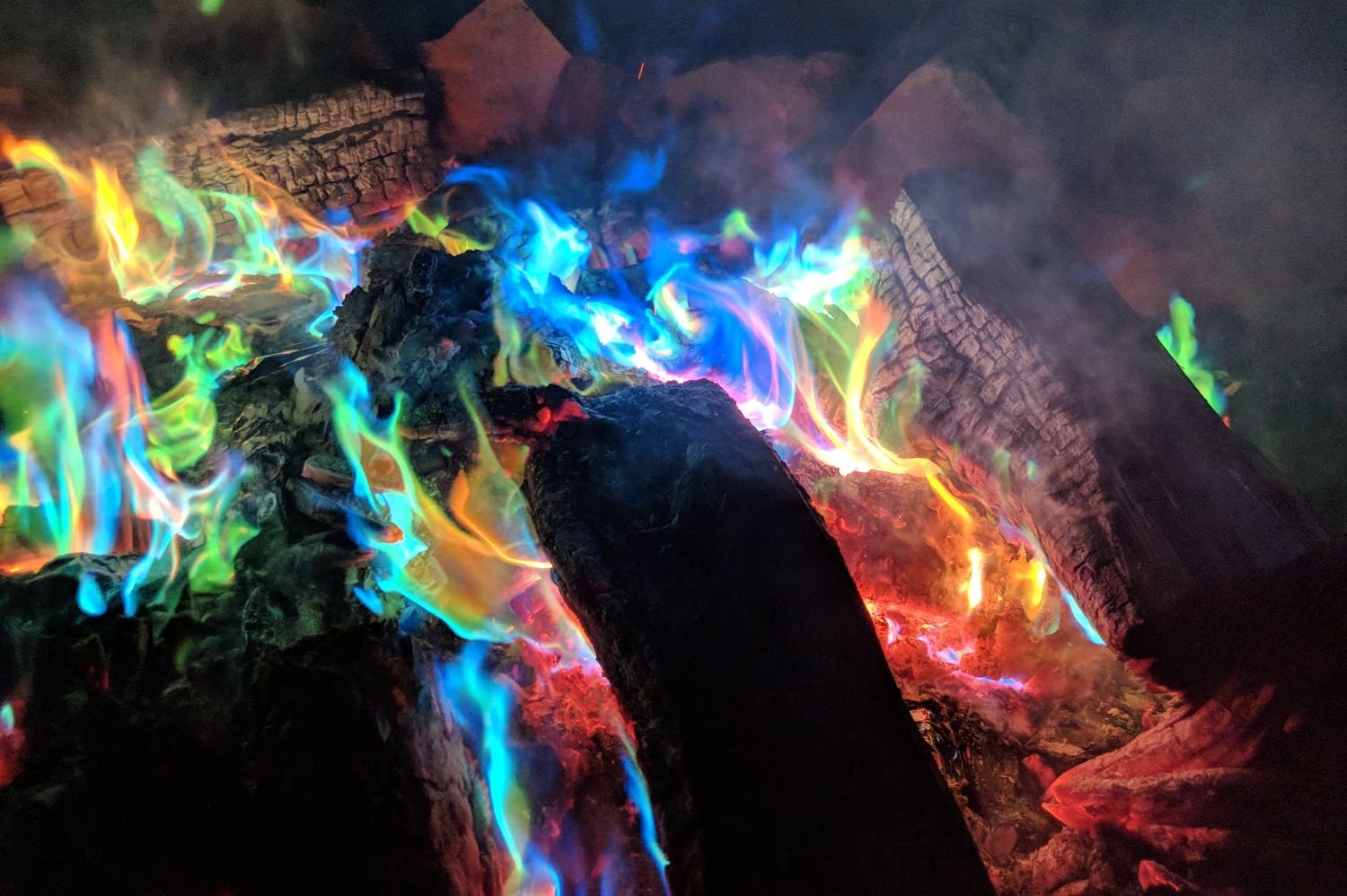 Promising review: "Love these, have purchased a few times and will now buy the 50-pack because they really add a ton of fun to my bonfires. Depending on how much your fire is raging, they will last 30-60 minutes. I use two to three packets at a time. Highly recommend." —JAO
Get a six-pack from Amazon for $7.50.
12.
A discreet pair of waterproof, LED-lit Bluetooth speakers for hanging around your firepit, patio, or table so whoever's DJ-ing can control the tunes right from their phone and keep the party going all night long. And because there's two of them, you can position them on opposite sides for a ~surround sound~ effect.
The Bluetooth distance between phone and speaker is up to 33 feet, while the dual pairing distance between the two speakers is up to 66 feet! The handles at the top make them easy to hang, but you can also just set them on the ground or a table!
Promising review: "The surround sound that we get at night while sitting around the fire pit is wonderful! We invested in shepherd's hooks so that we can relocate wherever we want! Nice." —Denise Peoples

Get the two-pack from Amazon for $169.98 (available with white lights or rainbow lights).
13.
A pair of flexible magnetic lights — secure these to your grill, and you'll be able to keep the crowd well-fed even after the sun's gone down. Nothing better than enjoying some kebabs by the light of a flickering fire.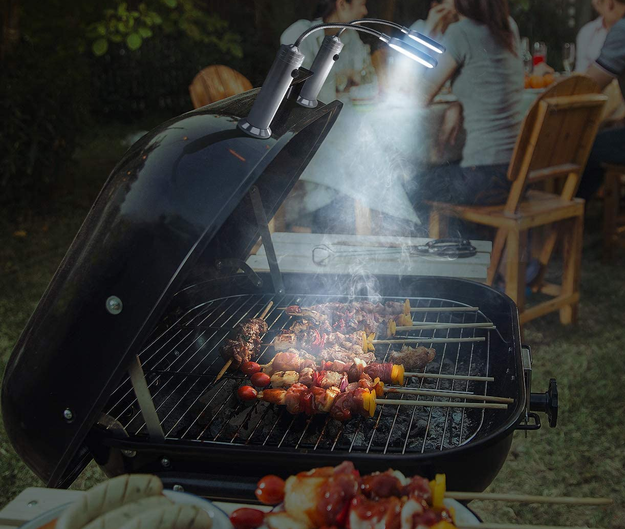 Promising review: "I used these for the first time the other night and they were exactly what I wanted. I often tend to grill after dark and I can't see what's on the grill, but not anymore. These light up the entire grill surface area perfectly. Would definitely buy again." —Flossie DeGrave

Get a pair from Amazon for $22.29.