1.
A TikTok-viral pet massager because they love a good massage as much as you do, and this gadget's four 3D-rotating rollers will give them those good rubs and tingles better than you could manually. It's rechargeable, waterproof, has two speeds, and an ergonomic handle that pops up when you're ready to become your cat's personal masseuse. 

If you look at just one TikTok from this post, let it be this one of a cat having their head massaged with this. 

Promising review: "All three of my orange tabbies adore this! They come running when I call 'Massages!' They mostly love it on their head and around their necks — the favorite scratching places." —MaggieD
Get it from Amazon for $32.99 (available in three colors). 
2.
A Bissell Little Green Multi-Purpose Cleaner if cat stains and accidents are part of your daily life, and you've almost given up on that one rug they seem to have designated "the puke spot." This TikTok-beloved cleaner is a holy grail product for many pet parents, capable of sucking out stubborn stains as well as dust, dirt, and fur. It's *your* house, not the cat's: Time to reclaim your furniture and floors. 

Promising reviews: "I found the Little Green machine because of a TikTok video; someone was cleaning their car seats and the water was absolutely disgusting, so obviously I was like I HAVE TO TRY THIS. So I ordered one and it was everything I ever hoped and more! We have three cats in the house whose favorite pastimes are puking, peeing, and occasionally stepping in their own poop and running across the only carpeted room in the entire house, you know how cats are. Anyway, this thing works SO well it tackles all of that and every other mess I've made to date! It's small enough it doesn't feel like a huge hassle to store it or pull it out, but also holds enough water I don't have to constantly run to refill it. I think it might be magic and I have a slightly unhealthy attachment to it at this point. I'm not sure if its always the case, but the box came with a coupon for two containers of the cleaner through Bissell too, which was a huge bonus!" —Stephani
Get it from Amazon for $123.59.
BTW, this tool comes with small bottles of ready-to-use cleaning formula, but if you need more, grab a bigger bottle for $10.98!
3.
And — also from Bissell — a pack of Stomp 'N Go stain-removing pads you'll wanna keep on hand for tackling cat stains new and old in the easiest manner possible: Just lay one down, stomp to release the cleaning formula, and walk away while you let it work its magic. Reviewers say it's capable of lifting and removing stains from YEARS ago. 
See them in action on TikTok!
Promising review: "A must-have for older cats. I got one of these as a sample pack when I ordered carpet spray for cleaning up accidents. I thought it was a gimmick and no real value and threw it in a drawer. Then my cat had diarrhea and no amount of scrubbing would get the stain out. I tried it as a last resort and was blown away at how fast and easy it was. Seriously you wipe up the initial mess and sometimes think 'OK, I got it all.' Then you throw one of these down and stomp on it and the amount of ick that comes out of the carpet is astounding. Amazed at how well these work and ordered a ton for the future." —Ryan
Get a pack of 20 from Amazon for $27.49.
4.
A whisker-friendly lick mat that'll slow down your fast eater who gobbles down their meals in a flash — and sometimes throws them up afterward. By prolonging their own meal, it can also keep them from chowing down on other cats' food!

The grooves on this feeder also help add enrichment to the meal, so it can help with fussy eaters / kitties who need encouragement to eat more. 
Psst — Get a look at it on TikTok!

Promising review: "We have three cats who are very fast eaters. One of them tends to snatch other cats' plates and gobble their food, we had another that ended up overeating to the point that she would vomit, and another who has cancer so when he gobbles his food quickly it makes him sick too. We felt bad for them until we found these. MIRACULOUS!!! These are simply amazing and we couldn't be happier! This has allowed us to feed the fast eaters and allow our other cats plenty of time to eat their food before the fast eaters come looking for more. This is a FABULOUS product! Thank you :)" —thomas moore
Get a pack of two from Amazon for $15.95 (available in three color combos).
5.
Or an interactive cat toy — it can also help picky eaters slow down, but at the same time, it'll ~stimulate their brain~ as they try to solve the puzzle of getting treats or dry kibble out of the various-sized tubes in a natural pawing manner. For bored kitties who're always stealing household items (or sometimes literal trash) to play with, this'll provide some much-needed enrichment.

See it on TikTok! (It's a photo slideshow, so view on mobile!)

Promising review: "If your cat is curious, inquisitive, or just always getting into things, this is an excellent choice of toy. It has 6 cups of various sizes and depths that you can fill with kibbles treats or small toys. The cat plucks them out with their paws to get the reward. I have a cat who is always stealing household items to play with, and this has been a great way for her to get out energy and put a curious brain to good use. Good value for money, simple to use, genuinely holds a cat's interest. A+" —TedJameson
Get it from Amazon for $19.99.
6.
A mini pet hair remover for tackling that *deeply* embedded fur in their cat beds, towers, sofa cushions, carpeted stairs, and anywhere else they spend a ton of time lounging. Each edge has a different teeth length + density, designed for different cleaning modes, like deep cleaning a spot vs. broad strokes across a wide area. It can help to work this over an area first before vacuuming if that fur is really stuck in there.  
See it in action on TikTok, where the reviewer uses it to clean dog fur off their car's upholstery.  
Promising review: "OK, y'all, I normally do not write reviews. That being said, this thing is not a WANT but a NEED for anyone with long-haired animals! I saw it on TikTok and was like, 'Whatever, I'll try it.' I have a husky and three cats. It normally takes me three HOURS to vacuum my couch and clean it. It took 15 MINUTES. I would rate it 1,000 stars if I could." —Cheyenne Cutsinger
Get it from Amazon for $16.99+ (available in seven colors).
7.
A cute, foldable litter box with a clever one-way design intended to help catch as much stray litter as possible. The cat enters through the front door, does their business, then exits by jumping through the top, which has small holes for the litter to fall back through into the box. Its collapsible design makes it handy for travel and storage!

Get a closer look at the pink version and how it works on TikTok!

Promising reviews: "I have a cat who LOVES to get in the box and sling the litter clean across the room. I figured I'd give a top-entry box a chance. I like that this one has the one way door. It was good for training the cats to use the box. Finally my little one can't throw litter all over my house. It has also stopped the tracking, and an added bonus is how well it actually also helps with the smell when I go an extra day without scooping! It feels a little flimsy when you move it around, but the litter pan drawer-like feature has made cleaning the box much easier than my previous box. I'd definitely recommend!" —Eric Evans
"I really like that this version of the litter box comes with a little brush to clean off litter on the top or on the inside seams/ledges. I also TRULY appreciate that it comes with two plastic strip covers to cover the holes that appear on the inside of the ledge when the whole box is put together. That way, it doesn't let litter collect in those holes. I will say that it was a little difficult trying to get the box slotted in tightly and I didn't want to put a lot of pressure fitting it in case it warped or broke." —Lili S.
Get it from Amazon for $57.99+ (available in three colors).
8.
Or a contemporary kitty litter enclosure that'll really keep your cat's bathroom business out of sight, out of mind...at least until it's time to clean. The box is completed enclosed behind the doors on the left (which open for scooping), and they'll enter and exit through the opening on the right, which contains a scratching pad intended to catch excess litter before it gets tracked outside. 
See how it looks IRL on TikTok!
Promising review: "This is one of the nicer kitty washroom boxes out there. Many are made of very cheap particle board or even cardboard. This one is a thicker wood and feels quite sturdy and durable. It's also very spacious and will fit a large litter box with room for kitties to move around and step out of the box to shake off a bit of that litter before heading out onto the replaceable cardboard scratchpad. I would HIGHLY recommend covering all the interior pieces with contact paper prior to assembly so you can wipe up any pee accidents and prevent urine from soaking into the wood. Don't forget to add an extra layer at the corners once assembled. It takes some extra time to cover and then cut out all the holes for assembly but it is WELL worth it to extend the pee-free life of this kitty washroom. Enjoy!" —Jen
Get it from Amazon for $102.99+ (available in three colors).
9.
An outdoor play tent for cats so they can lounge outside in the fresh air and sun instead of always just sadly watching through the window. It'll give them a 360-degree view with plenty of room while also keeping them safe and close by.
You can also fill it with their blankets, cat beds, and toys to really make it fun and cozy while they take in the fresh air. Psst — This works great for bunnies, hedgehogs, guinea pigs, and other small animals too! It comes with an attachable tunnel, as pictured on the right above.
Get a closer look at it on TikTok!
Promising review: "Worth every penny. It takes seconds to assemble. I set it to go up to my window. I close the window on the tunnel and cut cardboard to fit the left and right opening of my window. My cats LOVE it. They will run in and out, and in and out, and sun bathe for hours. Disassembly takes a minute or two." —Danielle P. Scicluna

Get it from Amazon for $67.80 (tent and tunnel also available separately).
*Note: If this is showing up as out of stock, here's a similar option that's also highly rated!
10.
Or for fully indoor kitties, an organic cat grass growing kit in a rustic wood planter — they'll love the flavor, *and* they'll have something fun to chew on that's not your indoor plants (some of which can be toxic!). Give them a taste of the outdoors with this cat-safe, fiber-rich grass, which includes a healthy mix of wheat grass, oat, barley, and rye and helps with digestion and hairball control. 
Check it out on TikTok! (It's a photo slideshow, so view on mobile!)
The Cat Ladies is a family-owned, southern California-based small business founded in 2015 by a mother-daughter duo who wanted to create unique, organic, nontoxic products for other passionate cat owners.

Promising review: "I have been a customer for about a year now, and ever since the first time when we gave her gentle pets while she ate the grass, she's now developed a whole daily routine! She meows at us every morning, demanding that we come and sit with her and pet her while she munches happily on the grass. It's become such an important part of her daily routine that we bought two of the planters so that she can always have fresh grass." —Amazon Customer
Get it from Amazon for $28.90.
11.
A 2-in-1 scratching post and turntable toy so your cat can get scratching and play time in at the same time, with a wooden turntable base and sleek aesthetic you might appreciate more than the colorful plastic kind. It'd be a great pick for new cat parents who might not have many toys yet *or* longtime owners needing to replace a worn-down scratching post.

Note that there are two sizes! The slightly larger one would be a better pick for full-grown adult cats, while the smaller one may be more appropriate for kittens.
Check it out on TikTok! (It's a photo slideshow, so view on mobile!)

Promising review: "I love this so much. Wish I found this before the flat ball/cardboard ones I tried first. Kitten really prefers the wood balls over other toys; I hear him happily clack-clacking all day long. Having them attached to a sturdy scratching post is genius because it's like a one stop shop for him to freak out on all his instincts in one go. I love that if I can't figure out where he's hiding in the house, I can just smack the wood balls together and he comes running. The design is sleek and you could even stain the wood to whatever color you like to complement your house. I'm rarely this enthusiastic about reviews but I really like this and I think the price point is perfect." —Robin Cradles
Get it from Amazon for $36.99+ (available in two sizes and another style).
12.
A professional-level grooming kit that comes with everything — and I mean everything — you need to get your cat (and other pets) looking like they just left the groomers, which can save you a ton of money in the long-run. The set includes a (relatively quiet) vacuum and five detachable heads for deshedding, trimming, and more — and since you're vacuuming the loose fur right up, cleanup has *never* been easier. 

Get a closer look at the set and everything it comes with on TikTok. 
Promising reviews: "Omg. I almost never write reviews for products but holy smokes. This thing is absolutely amazing. We have three cats (two short hair, one long hair) and one dog (German shepherd). This thing is absolutely amazing, super quiet so easy to put together and change attachments. It is so quiet that one of our cats (who's PETRIFIED of vacuums) runs up to it and begs to be brushed. With the winter season coming, shedding is inevitable, so I'm glad we got this thing. We 'vacuum' our kids everyday and it seems like there's less and less hair every day." —Marianna

"My grumpy cat used to legit attack us when we tried to brush him. He got knots because nobody wanted to do it, needless to say. I got this for my dog, and now the cat comes running and jumping in my lap for his turn! Incredible!! He no longer attacks us and we don't have to take him to the groomer anymore. Even lets us brush his belly and butt — can't believe it!" —Stacey K Boender
Get it from Amazon for $138 when you apply the coupon for $10 off.
13.
A sleek donut tunnel cat bed designed to be the ultimate play zone, whether you have just one kitty or multiple fur balls running around. They can curl up on top of it in the "donut hole" or lounge / run around inside of it — it even comes with three small catnip toys you can toss inside. 

If they need a little encouragement to use it, try sprinkling some catnip on top.  The medium size of this bed is relatively small, appropriate for cats up to 6.5 pounds. If your cat is larger than that, here's a very similar bed in a larger size!
Get a closer look at the adorable pink version (currently sold out) on TikTok.
Promising review: "The cats took to it immediately — no catnip needed. The cats love playing in it, on it, and around it; sometimes one of them will lay down and 'run' along the outside, setting it spinning. There's something about the bed that makes them playful; I think it's almost entirely responsible for the orange cat being much more active... Play sessions start here, but lead to chases around the house. While I hesitated over the price, this has certainly been my most successful cat purchase for some time. As long as you buy the large, it should provide lots of cat entertainment...and the humans of the house have been pretty entertained watching them!" —WorkerBee
Get it from Amazon for $37.59 (available in two colors).
14.
A ChomChom pet hair roller if your kitty loves to sprawl out on your furniture and leave a thick layer of hair behind. The ChomChom roller doesn't mess with sticky tapes or paper; instead, you get a reusable brush that grabs up every bit of hair and lint as you clean — just empty it out after, and you're good to go again!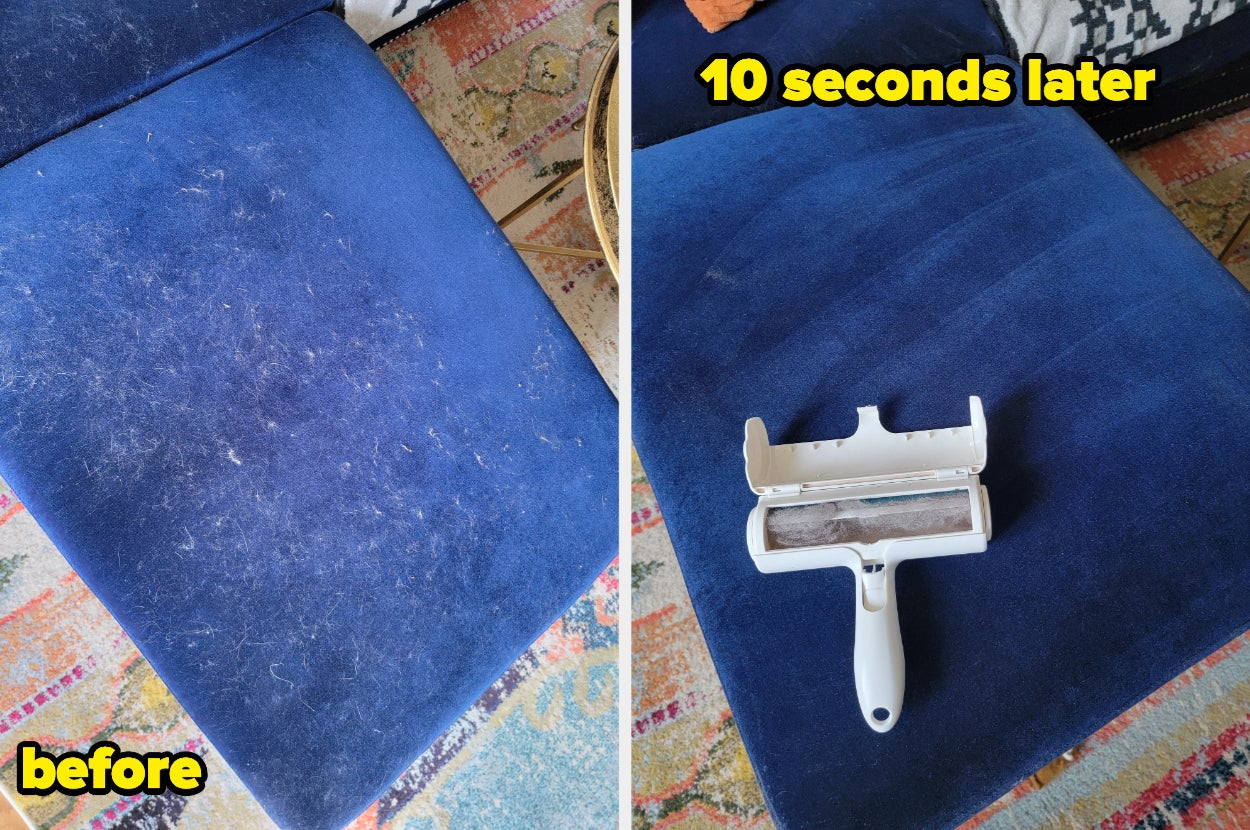 See it in action on TikTok! 
The tens of thousands of 5-star Amazon reviews are reason enough to add the ChomChom to your cart immediately — but let me add my own personal review to the stack. I've been using the ChomChom for quite a while now, but I took the photos above (on the left) literally just now to show just how quick, easy, and effective this roller is. It took 10 seconds to rid my velvet couch ottoman (yes, velvet...a terrible cat owner choice, I know) of the hair my two gray kitties are constantly leaving everywhere. It takes a bit of practice to get the hang of using this roller — at first, I thought you only brushed down in one direction, and was confused why it wasn't picking up hair. It's important to do a push-and-pull brushing in *both* directions so it actually pulls the hair inside, which does require you to apply a bit of pressure. Afterward, you'll just dump out the hair that's been trapped inside. The ChomChom is best for large flat surfaces like couches and beds. 
Get it from Amazon for $24.95 when you clip the coupon for $5 off.
15.
And a FURemover carpet rake for your rugs and carpets, because it's basically a magnet for all that embedded fur, and you won't have to lug around a vacuum. The built-in squeegee is also effective on hardwood, tile, and other flat surfaces to clean up any messy spills. Plus, the handle extends up to 5 feet long!
Check out our FURemover broom review for more satisfying photos of the hair it removed from one BuzzFeed Shopping editor's carpet.

Promising reviews: "I saw this on CleanTok and purchased this little gem thinking I was about to be very disgusted with my carpets, only to find that my Dyson was actually doing its job —the audacity! In a surprising turn of events, I learned about the lies and deceit of my broom! I have no idea what my broom has been doing all these years but I am sure it was ashamed when I shaved an invisible layer of fur off the freshly swept floor with the FURemover and then proceeded to use its dust pan to collect all the evidence of its betrayal. I love sweeping with this broom and am continuously amazed with the ways it has elevated my cleaning game. You won't be disappointed...go ahead and get yours!" —A. Sharp
"I saw this on TikTok and thought it was worth a shot. I have two dogs and a cat, and being one with a dust and dander allergy I have to vacuum often but the vacuum can't always get in deep enough. This actually works and I was shocked at how well it does. I brush the carpet a few times and vacuum it up and the carpet even looks better!!" —Theo Ackerman
Get it from Amazon for $16.99.