Olivia Wilde recently appeared on an episode of "Watch What Happens Live"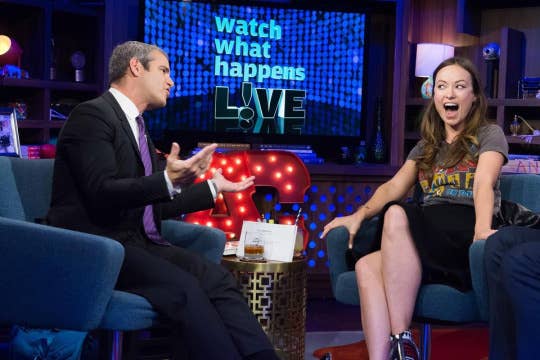 Where she was grilled by her fiancé, Jason Sudeikis, on some more... private matters.
Via Bravo
Such as the wildest place she's done the deed.
Via Bravo
Making her plead the fifth on the very first question.
But he gets her really flustered when he asks whether she's ever dipped into the lady pond.
Via Bravo
"Oh my god! Oh my god! I mean... what's going on!?"
Which she smoothly answers after getting over the initial shock.
Via Bravo
Looks like our O.C. dreams aren't completely crushed after all.
He finally eases up a bit by asking the one annoying thing about him she'd change.
Via Bravo
"The way you ask these questions."
And even though he should be in the doghouse with these questions... she can't think of a single thing.
Via Bravo
Because she's obviously perfect.
But after racking her brains, she finally comes up with something.
Via Bravo
"He folds everything so perfectly and then it makes my clothes look bad."
And it's about how bad he makes her look compared to him.
Via Bravo