An Engineering Student Eloquently Pointed Out Why Female Classmates Aren't Equal
He shared his feelings in a letter to his campus newspaper about why men and women in engineering are "unequal."
This is Jared Mauldin, a senior mechanical engineering major at Eastern Washington University in Cheney, Washington, who recently took a stand against sexism in STEM.
After years of studying and being involved in STEM (Science, Technology, Engineering, and Math education), Mauldin noticed that women pursuing the field were not treated equally to men.
He decided to share his feelings on the issue in a letter to his campus newspaper. The letter starts off by claiming that his female peers are not his equals, then explains why.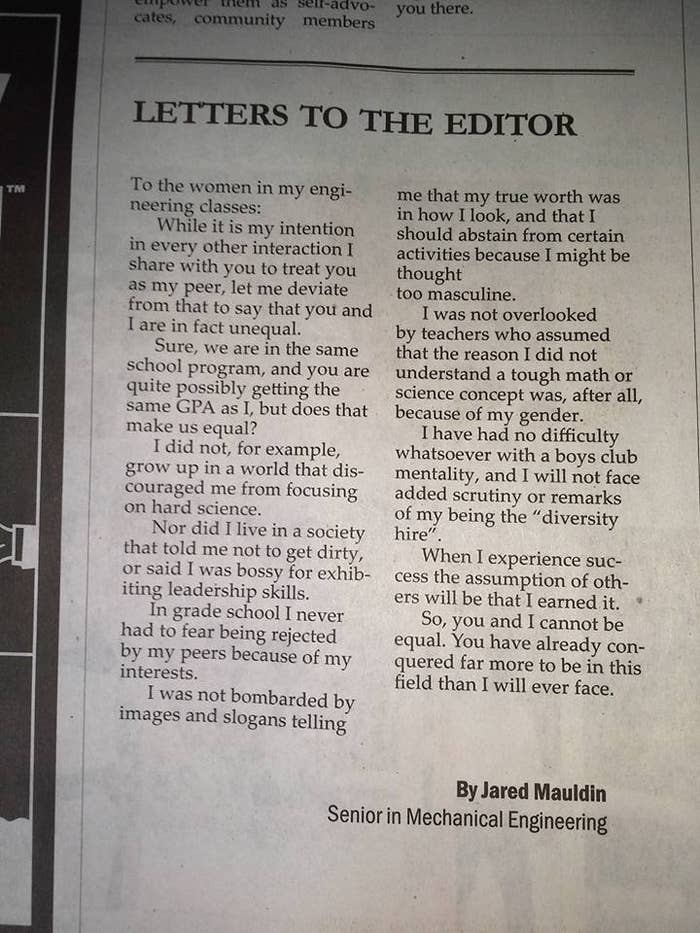 Mauldin's screed focused on the barriers women face in the field, and how men have it much easier:
I did not, for example, grow up in a world that discouraged me from focusing on hard science.

Nor did I live in a society that told me not to get dirty or said I was bossy for exhibiting leadership skills.

In grade school I never had to fear being rejected by my peers because of my interests.

I was not bombarded by images and slogans telling me that my true worth was in how I look, and that I should abstain from certain activities because I might be thought too masculine.

I was not overlooked by teachers who assumed that the reason I did not understand a tough math or science concept was, after all, because of my gender.
The letter goes on to lay out the discriminatory practices and sexist attitudes women face when pursuing a career in the STEM fields.
Mauldin told BuzzFeed News that he was inspired to write it after witnessing a bright female classmate constantly get ignored, dismissed, and treated badly in calculus classes.
Since its initial posting on Oct. 1, the letter has since gone viral on Twitter and Facebook, and had been shared over 38,000 times on A Mighty Girl's Facebook page by Friday afternoon.
This isn't the first time this year that sexism in STEM has been addressed. In June, women in STEM fields started the #DistractinglySexy hashtag campaign after a male scientist claimed that they posed a distraction to men at work.
A 2015 study by the Harvard Business Review also states that women pursuing STEM careers often face bias and discrimination. Some end up being pushed out of the field, with women of color being hit the hardest.
Mauldin told BuzzFeed News the response to the letter has been overwhelmingly positive, with women thanking him and sharing their stories.
He did note that he thought the sentiment was still taken more seriously because it came from a man.
"Nothing I said was new; it has all been said a thousand times before," he said. "The difference is that I am a man. Maybe by standing up and breaking the silence from the male side, I can help some more men begin to see the issues, and begin to listen to the women who have been speaking about this all along."