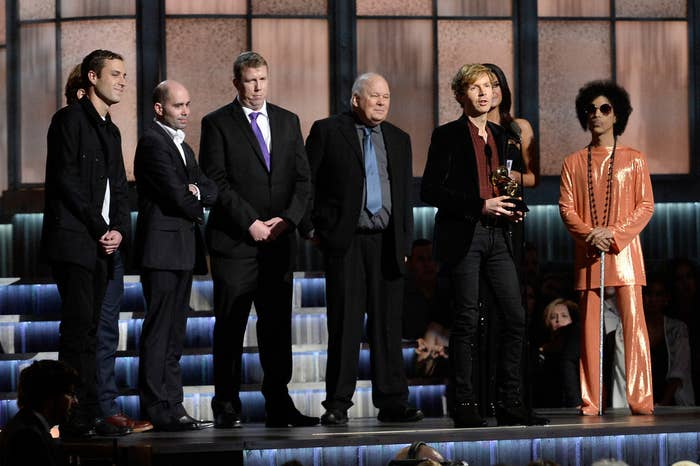 The music industry is routinely criticized for its neurotic obsession with all things teen and pre-teen, but you'd never have guessed it by watching last night's 57th annual Grammy Awards, broadcast live from Los Angeles' Staples Center. The proceedings kicked off with senior citizen Australian hard rock vets AC/DC ripping through classic rock hits "Rock or Bust" and "Highway to Hell." Jittery Grammy cameras quickly cut to audience reaction shots to make sure viewers knew just how much attendees like Dave Grohl and Lady Gaga were digging it. Later in the show, a determined Madonna got both randy and limber to deliver new single "Living for Love." At 56, her toned physique and bleach-blond ambition is defying kneejerk ageism, but the choreographed dancing guys in matador outfits suggested the veener of erotic edginess without actually offering the real thing. Perennial awards host LL Cool J—a rapper who hasn't charted any hits or walked with a panther in some years—by now symbolizes the antiseptic nostalgia-with-a-smile that the Grammys seems to revel in.
Vet Grammys producer Ken Ehrlich, who's helmed the show for 35 years, continued his formula of curating customized live collaborations between geezers and pop tarts. Herbie Hancock, accompanied by ?uestlove and John Mayer, rollicked through "Thinking Out Loud" by Brit singer-songwriter Ed Sheeran; Sheeran in turn accompanied ELO captain Jeff Lynne for a wide-open version of "Mr. Blue Sky"; Usher convincingly rendered Stevie Wonder's harp-driven 1976 "If It's Magic" before the maestro himself emerged from the shadows to close the tune with a harmonica coda; Hozier launched into his Eric-Burdon-esque "Take Me To Church" before jamming with Annie Lennox for a rousing take on Screamin' Jay Hawkins' 1956 voodoo chestnut "I Put a Spell on You."
Despite its stilted pageantry (those faux mosh pits recycle the visual staging of award shows from the grunge era), the Grammys remain a bizarrely watchable phenomenon. They still get points for delivering as the most star-studded night in pop music; and by bringing so many musicians together under the same roof, the ceremony helps make annual sense of the weird spikes and valleys of the Hot 100. Also, because the awards are still beset by a convoluted and sometimes downright unfair voting process, it can be a head-scratching blast to watch awards go, every year, to undeserving artists. Social media curmudgeons love to hate-watch the awards, and perusing the scattershot wit you see bubbling up on Twitter and Facebook feeds is sometimes much more exciting than paying attention to the show itself. Yet for all the mean-spirited ire the Grammys elicit, hardly any musician would turn down the gift of a nomination.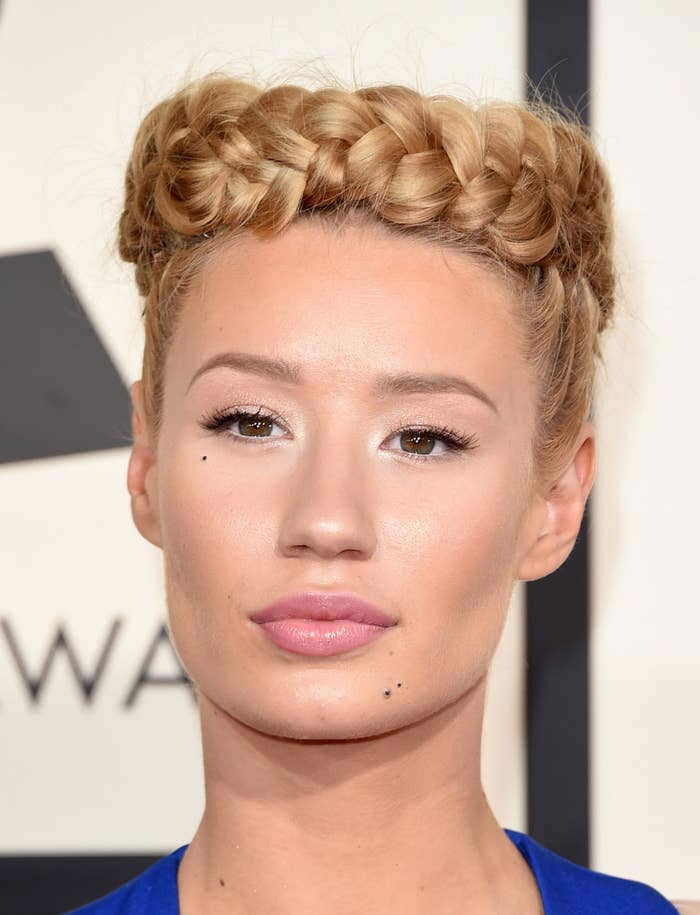 Still the Grammys too often covet mediocrity in fear of the musical sublime: every number last night seemed to be accompanied by a gospel choir. That stale trope has been wheeled out at least since Foreigner in 1984 to signal emotion, but Good Lord forbid that the Grammy broadcast actually puts a real live nominated gospel act on TV. Miranda Lambert got through a curious rendition of "Little Red Wagon;" it had only the most vague resemblance to country. There were near-funereal hymns from pop divas like Ariana Grande and Katy Perry who are both so much better doing faux-effervescent rather than faux-somber. The Grammy decision was made some years ago to marginalize awards in the most eclectic and diverse genres, including Latin, rap, R&B and dance, by either eliminating them or shuttling them off to the pre show (which aired this year on the Grammys webcast). What a shame. Fiery Best Traditional R&B Performance nominee Angie Fisher scorched the stage with a full-throated rendition of her bluesy "I.R.S." that would have likely catapulted to her mainstream stardom had she been allowed on the main broadcast—not dissimilar to the serendipitous primetime opportunity Ricky Martin took advantage of in the late 1990s to kick off his solo career.
Generally risk-averse, the Grammy broadcast seems rigged to assure there's no possibility you'll discover much new or truly independent music (unless you've had your head under a rock). This year, nominated R&B singer Ledisi – a pyrotechnical vocalist who's been perennially nominated but could certainly benefit from some prime time coverage – was unceremoniously booted from performing her Selma soundtrack rendition of a Mahalia Jackson spiritual in favor of household name Beyonce. Go figure.
Given the tumultuous political year, the Grammys sentimentally courted and skated around identity issues. A timely videotaped anti-violence message from President Obama followed by domestic abuse activist Brooke Axtell prefaced Katy Perry's "By the Grace of God" ballad—but just hours earlier, the awards honored Eminem, who's made waves this year with an abusive punchline about socking Lana Del Rey. As black lives matter protests raged in the streets, the Grammys saw fit to nominate a spate of black-music-influenced white artists like Meghan Trainor but didn't bother to actually nominate a range of deserving actually-black nominees in major categories.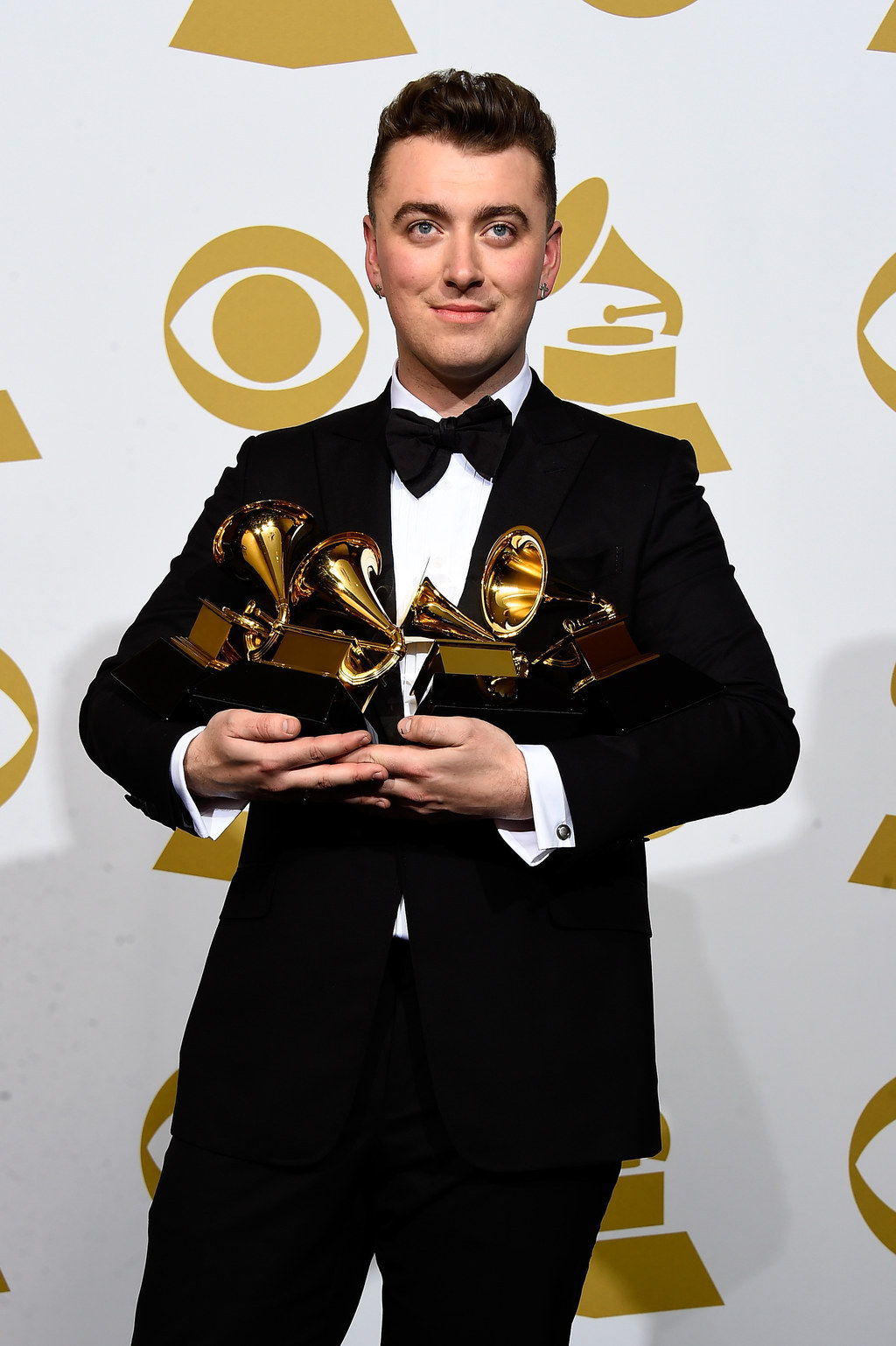 Perhaps as penance, the show gave the closing musical number spot to John Legend and Common's solemn Oscar-nominated duet "Glory" from Ava DuVernay's Selma, but too little too late, methinks. Pharrell tried to absolve guilt for his controversially flippant New Black comments by diving into performance art chic: sporting a Grand Budapest Hotel bellhop outfit, he reimagined buoyant retro smash "Happy" as a Hans Zimmer-orchestrated, Lang Lang accompanied Ferguson ode, replete with dancers pumping their fists the air. The concept might have been heartfelt but it was completely nonsensical; a didactic Adrian Piper, Pharrell is not.
On that subject of racial progress, only presenter Prince's off-the-cuff quip resonated: in announcing the Best Album category, he remarked: "Like books and black lives, albums still matter." 2014 was a nerve-racking year in which only Sam Smith, Pentatonix That's Christmas To Me, the Frozen soundtrack and Taylor Swift's 1989 album went platinum— and Swift even pulled her catalog from Spotify to signify her displeasure with paltry streaming payouts. So the Purple One's sentiment was more aspirational wish fulfillment than reality.
And in a year where gay marriage is still a state-by-state negotiation and the future of trans equality is still ludicrously up for grabs, Sam Smith became the first openly gay pop singer to win major categories. He took home four awards: Best New Artist, Song of the Year and Record of the Year for "Stay with Me," and best pop vocal album for In the Lonely Hour. Smith—who GQ controversially called "the new face of soul"—does have palpable vocal texture, and his emotional range approximates that of the classic soul singers. But his mannered singing, as artifactually pristine as it may be, reveals neither the penchant for improvisation or call and response, nor the funkiness or erotic heat we tend to associate with declarations of soul. Some critics have floated concerns that Smith's heart-on-your-sleeve sentimentality masks a conservative ideology and a desire to crossover as universally accessible rather than emerge front and center as an explicit representative of progressive LGBT issues. Still, he took the stage on primetime TV last night to thank the man who inspired the romantic songs on his album; that, my friends, is progress, regardless of what you think of the package it comes in.
As long as the pragmatic Grammys deliver TV ratings, there'll be no real incentive to tweak them for the better. At the end of the day, #Grammysmatter. But for them to continue to matter into the future, I'd like to see the rise of a new, alternative awards system for popular music that's less brazenly focused on commerce. I'd suggest models like Canada's Polaris Prize or the UK's Mercury Prize as a start—though both awards have their respective limitations as well.
Perhaps the most dramatic moment in last night's broadcast occurred when Kanye West bumrushed the stage just as Beck went up to claim his Best Album trophy. The move provoked fears that Kanye was about to rehash his infamous VMA moment in which he mercilessly hijacked Taylor Swift's award to imperialize Beyonce. No such thing happened last night. But in press interviews after the ceremony, Kanye delivered a screed about the Grammys' consistent inability to respect artistry, craft and inspiration. On many levels, West is right. But the new material he himself performed last night, highlighted by the mawkish folk-sentimentality of McCartney–assisted baby ballad "Only One," is not exactly leading the charge of transcendent art either. Plus, I'm pretty sure he'd like to be back next year to collect some awards. Having it both ways is precisely the Grammy dilemma.