1.
A stainless-steel tongue scraper designed to banish bad breath, enhance tastebuds, and reduce bacteria buildup for an ultra clean mouth. A bonus? This also restores the look of the natural color of your tongue.
Promising review: "I never realized how much gunk was on my tongue in the mornings. Pretty disgusting actually. My mouth feels extra clean after using this. Great quality stainless steel. To sanitize it, I just dip it in a pot of boiling water for a few minutes. The only thing others may have an issue with is storage as it doesn't come with a case or anything. Simple solution, though. I put up a small hook next to my toothpaste and toothbrush and hang it on that." —Alexis T.
Get it from Amazon for $7.95+ (available in two colors and in two-pack options).
2.
A two-pack of "flossing toothbrushes," which feature soft, multi-layer bristles that are essentially like strong pieces of floss that reeeally reach between teeth, under the gum line, and deep into grooves where cavities and bacteria can breed.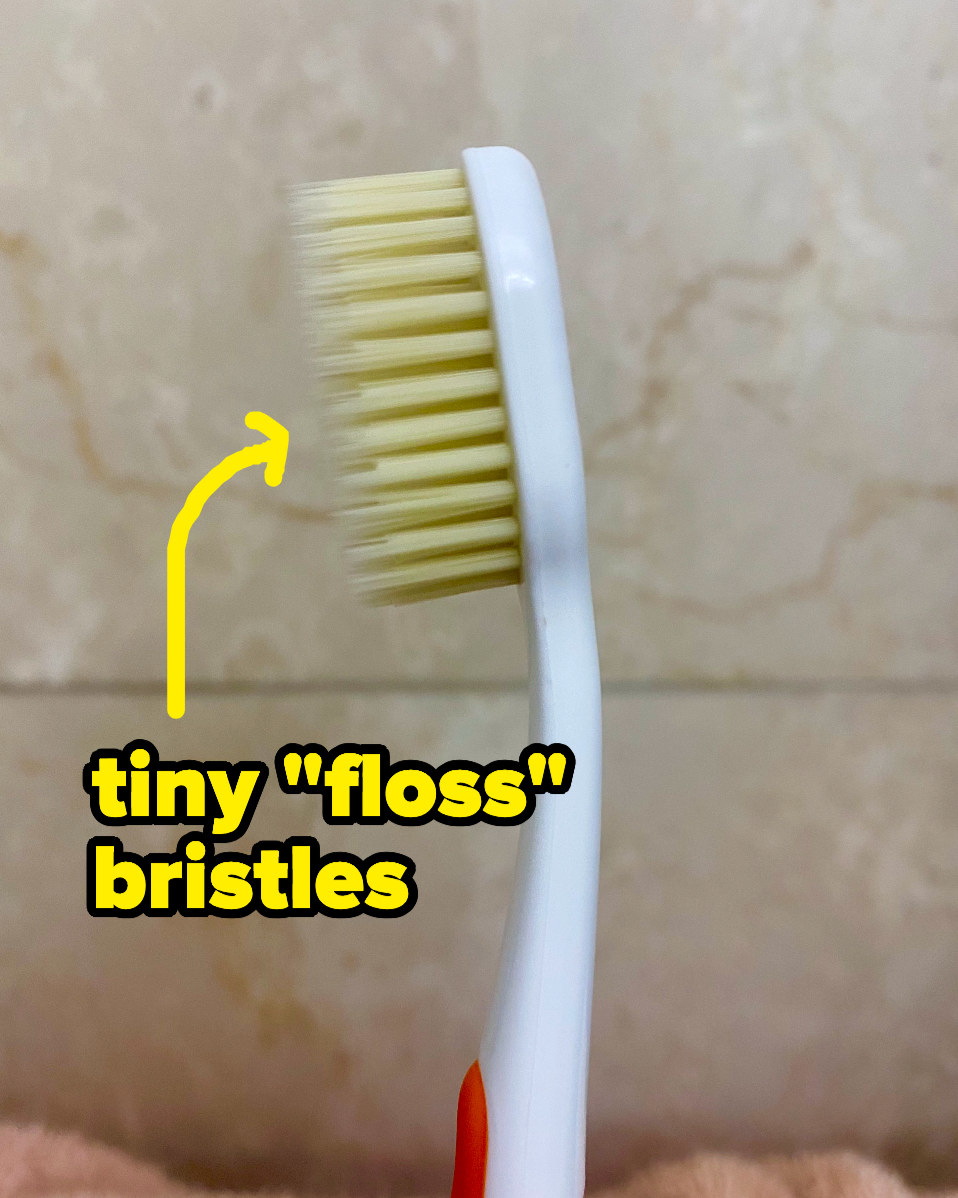 Mouthwatchers is a small business established by Ronald Plotka, DDS, that specializes in antimicrobial toothbrushes designed to get deeper cleans that even patients with "great" dental hygiene might miss with traditional brush and floss routines. 
*Two* of my BuzzFeed Shopping colleagues have tried these — here's what one of our editors Emma Lord has to say: "I personally just bought this at the recommendation of BuzzFeeder Stephanie Hope, and love it just after the first few days of use! I use an electric toothbrush usually, but I feel like I'm getting a much more satisfying clean from these?? Especially because I tend to get yellow stains between my teeth no matter *how* much I floss, and these bristles seem to actually target that a lot more effectively." 
Get it from Amazon for $9.90 (also available as a four-pack). 

3.
A CeraVe salicylic acid body wash so you can say "see ya!" to scabs left over from picking ingrowns and "au revoir!" to keratosis pilaris flare-ups. This exfoliates without the rough, physical microbeads and buffs away bumpy skin while smoothing — thanks to hyaluronic acid and niacinamide.
Promising review: "My 6-year-old daughter has keratosis pilaris, commonly known as 'chicken skin.' This year it really flared up during warm weather so I gave this wash along with lotion a try. Wow, I saw results after just a few uses and after a couple of weeks most of her bumps disappeared. Thrilled we skipped a trip to the dermatologist! Can't beat this price for the results either." —Ashley Steigerwald
Get it from Amazon for $13.99.
4.
A jar of Lawless Forget The Filler overnight lip mask, which takes care of chapped lips that are battling dryness and dehydration. Packed with shea butter, berry extract, and hyaluronic acid, this stuff supports natural collagen production to plump and soothe as you sleep. So getting kissably softer skin has never been easier!
Team up harsh acne medication with fierce winds and you've got the perfect formula for lizard-like dryness. AKA what I'm currently dealing with — especially around my mouth. Enter: the Lawless Forget The Filler Overnight Lip Mask, which has been saving my chapped lips for the past few months. It's cooling, it's soothing. It's thick without feeling tacky. It's hydrating without feeling sticky. And I don't have to do a darn thing except liberally apply it each night and wake up with softer, fuller, less painful-feeling lips!
*And* this is vegan and cruelty-free!
Lawless Beauty is a woman-owned beauty brand from Annie Lawless. She makes clean, nontoxic makeup and skincare that doesn't skimp on pigment or coverage.
Promising review: "As someone who is skeptical about overnight products like this, I was pleasantly shocked and surprised to see results the next morning after my first use! My lips not only felt hydrated and smooth, but definitely looked more plump (without that tingling sensation most plumping products provide which I don't like!)" —JuliaFromPhilly
Get it from Sephora for $22 (available in three shades).
5.
A shampoo scalp massager to soothe a dry, itchy scalp that's home to pesky dandruff. How? By a) reinvigorating, b) exfoliating, and c) stimulating the roots to really get that deep, deep clean. Plus, it can also be used to gently detangle any knots!
And! This just happens to be fan-favorite among the BuzzFeed writers — including myself. I have one of these shower companions, and while I don't use it every time I get sudsy, I usually run it through my hair after a few days of back-to-back dry shampooing. It really gets in there to clear up any buildup while also feeling like a nice little scalp massage.

Promising review: "This has been the BEST $8 I've ever spent! I suffer from psoriasis on my scalp I've dealt with FOR YEARS. I get the worst flare-ups and the dandruff is just incredibly painful and embarrassing. I tried just about everything. I read some of the reviews and saw some other people had used it for the same thing. I literally just massaged my entire scalp while shampooing. I have a lot of hair so I had to flip my head over and do sections but I was able to get everything off my scalp. I didn't have ANY dandruff. It really did help get all the buildup out and remove any irritation I had on my scalp. If you have psoriasis, try it!" —Michelle
Get it from Amazon for $6.98+ (available in three colors).
6.
A set of itty-bitty dermaplaning razors so you can carefully take care of any unwanted peach fuzz + keep your eyebrows looking their best. The blades are designed with built-in guards that won't hurt your skin, plus they come with an extra attachment for salon-precise eyebrow shaping.
Promising reviews: "I saw these on TikTok and was skeptical but they work so well. I use them for any facial peach fuzz and to shape my eyebrows and they're perfect." —Megan Kopicko

"I bought these blades to try at home dermaplaning. I was nervous at first, but it's almost impossible to cut yourself with these and it took the peach fuzz right off my face. In fact, as I was staring at my face in a magnifying mirror and removing the fuzz, I noticed my nose hair was a little out of control. I even used one of these in my nose (that's right) and it worked great! I will be keeping a few of these on hand at all times." —TKB 
Get a set of three from Amazon for $5.67 (also available in a set of nine).
7.
A blackhead scrub stick, which comes in the form of a too-cute-for-words octopus-shaped stick that is ridiculously good at removing excess sebum. Rub this over your face post-cleanse and just watch it work wonders on exfoliating your pores to yank out blackheads and whiteheads.
Psst! TikTokers love this thing!
Promising reviews: "Must-have. I use this a couple of times a week. I have terrible blackheads and this manages to scrub 90% of them away and the rest are barely noticeable. Will keep buying." —Princess Jasmin
"After just two days of use, this adorable little octopus has done wonders for me, smells great too. Here's how I used it: I wore down the stick just a little to where the texture from the salt is visible, scrubbed around on my face so there was plenty of product, then I used my fingers to gently massage all the gunk away. Rinse, pat dry, and enjoy the softness. Highly recommended for people with sensitive skin like myself." —LuckLocust

Get it from Amazon for $12.50. 
8.
Korean skincare exfoliating mittens to slough away dead skin and reveal visibly (and touchably) softer arms...legs...bums...literally wherever you want to use it — and much more effectively than your worn-in loofah!
Promising review: "I have always had skin issues. Itchy, flaky skin, lotion won't absorb, no product really helps remove the gross dead skin in high friction areas. These changed my life! Remove dead skin with ease, and aren't as coarse as those gloves you see in big box stores! I'm significantly less itchy, lotion absorbs better, and I feel better when I wear tank tops or even less! These things are a lifesaver. Most gross and satisfying, while scrubbing, I noticed the water turning gray in the tub as I scrubbed away all those dead skin cells. My allergies aren't half of what they were a week ago, and I can use all those cute soaps and lotions! I feel great. I'd buy these a million times more. I had no idea how much body soil I was retaining. I feel great after a shower and for once, I feel truly clean." —Rachel Anschuetz
Get it from Amazon for $6.99+ (available in a one-piece and two-piece option). 
9.
L'Oréal 8 Second Wonder Water Lamellar, a rinse-out hair treatment that works like a treat in eight, yes, you read that correctly, EIGHT seconds and transforms fine to curly textures. Think: mirror-like shine and softer-than-soft locks in less time than it takes to say "arrivederci to you, frizz!"
Apply this directly to wet hair, avoiding the roots, massage it in for eight seconds, then rinse. Effort required = practically zero. You can use one dose for fine- to medium-textured hair, two to three doses for thick- to curly-textured hair, and add one more dose if you have long hair.
Promising reviews: "I don't usually do reviews on products, but for this one I absolutely have to. I have 3c type hair and struggle with a lot of breakage, unmanageability, and moisture. When my mom mentioned this product to me I didn't take her seriously because of the simple fact that we have two completely different hair textures. I never would have thought this brand would work on my hair. I have never in my 22 years felt my hair like this. I feel like I have a completely different head of hair. This product is so amazing and I will FOREVER be using this product in my hair regimen. Thank you so much!! ♥️" —Theressa Hailey
"It does exactly what it says...makes your hair soft, shiny, and cooperative! I have given this to two of my friends ALREADY — one with thick and curly hair, the other with limp and fine hair — and THEY BOTH swear by this product! Just can't think of enough good things to say! I have short bleached hair, so am getting excellent results using less than half as much as they recommend. Buy this stuff — you'll thank yourself later!!!!!" —enamelcamel
Get it from Amazon for $9.87. 
10.
Medicated, waterproof bandages lauded by reviewers for effectively concealing, protecting, and lifting stubborn warts out from the deep, dark depths of your skin. Some saw results after just ONE application.
Promising review: "More than six years with a large, sometimes painful plantar wart on the bottom of my foot. The doctor tried freezing. I tried apple cider vinegar, aspirin, freezing at home, over and over again...nothing worked. Never showing the bottom of my feet, refusing to get a pedicure with the girls, and so, so embarrassed...It felt like I was doomed to have it for forever; it was resistant to everything. Literally six years of fighting it and on a whim tried these because of the good reviews. ONE APPLICATION. I wore the bandage overnight. I didn't think it did anything, but a few days later the wart just came off. I know it's silly to be so emotional over a stupid wart, but I'm telling you, I nearly cried. I've never been so happy with a product in my life. Highly, highly recommend giving these a try if you've got stubborn plantar warts." —Liz Dube
Get a pack from Amazon for $6.99+ (available in five sizes). 
11.
Foot exfoliating peel masks that work like witchcraft to peel away dead skin and leave you with the softest baby bum feet. And this at-home science experiment might be gross, but you'll be so very satisfied with the results.
Just pop on the booties for an hour, wash your feet, and marvel as your feet start shedding layers of dead skin.
Promising review: "Okay, so first things first: I have VERY calloused feet from years of barefoot gravel adventures. The directions advised me to use a second application one week after the first, which I did. My feet just keep PEELING. I'm talking massive chunks of skin coming off. My feet literally haven't felt this soft in over a decade and I'm only 21!! It's a must-have for those wanting to take care of their feet!" —Callie Pinaire
Get it from Amazon for $17.95 (available in four scents and in three pack sizes).
12.
Or! A foot file so you can tell pricey pedis to beat it once and for all. This makes taking care of crusty feet epidermis easy peasy — and if you want to let your hooves see the light of day quickly (without going through a two-week treatment), this miracle worker will gift you with brand-new skin that you'll be proud to parade around.
Promising review: "AMAZING!!! Seriously beyond impressed with this product. I've never had dry or cracked heels until recently, and I've tried everything I could find to get rid of them. This is all you need!!! I literally opened the box and did this in less than a minute! I'll never use anything else! Even better than professional pedicures!!!" —Kyla Jackson
Get it from Amazon for $9.99.
13.
A nose hair wax kit in case you're looking to avoid eye-watering pain that comes from tweezing those stragglers beneath your nose. This kit contains everything you need to keep that area hair-free for up to four weeks!
You'll get 100 grams of nose wax beads, 30 wax applicators, 10 mustache protectors, a measuring cup, and 15 paper cups at your disposal.
Promising review: "I highly recommend this product. The instructions were super easy to follow, and it worked perfectly! I was a little nervous to pull the sticks out once the two minutes were up; however, it didn't even hurt. I expected it to hurt momentarily and my eyes to water, but neither was true! If you wanna get rid of them pesky nose hairs...snag this product!!!" —Julie J.
Get it from Amazon for $10.99+ (available in three colors and in two styles).