1.
Wet & Forget shower cleaner, which *gasp* doesn't require you to do any scrubbing. No, seriously. Simply give the areas in your bathroom that could use some TLC a quick spray down with this...and then rinse off the next day. Plus, it only has to be used once a week!
Promising review: "I wish I took before and after pictures because the results are unbelievable with no scrubbing or elbow grease. We have a stone floor/wall shower with stupid large and annoyingly mold prone grout lines. I used it per the directions and rinsed with hot hot water the next morning, and couldn't believe all the crap that rinsed off. Seriously worth every penny!" —Kate
Get it from Amazon for $17.97.
2.
An old faithful carpet cleaner that works so well, you might think it's magic. Don't worry — your eyes aren't deceiving you; this formula literally clears up any evidence of (horrific) accidents, sticky soda spills, pet stains, and shoe markings from your light-colored carpet.
Promising review: "Better than the best! This stuff cleans grease off of chinos. Yes, we did purchase it to clean the rugs in our motorhome and it reliably cleans them like new as I can't convince the spouse to remove his dirty shoes. Beyond rugs be sure to try it for clothing spots as it's better than those stocked on grocery store shelves and leaves zero residue, even on chinos. Blot the moisture out, let dry, and ready to wear. If you have pets, order the large size as you'll find it indispensable. Doesn't take much to do the job, just a little spritzing, wait a few moments and rub with a clean rag or towel for rugs. My order included two bottles; one lent to a friend to try and now she won't give it back." —Sharon l. smith
Get it from Amazon for $6.91+ (also available in multiple packs).
3.
Affresh dishwasher tablets if you never thought you needed to deep clean the appliance that does your least favorite chore for you. Turns out you do, but good news: All you have to do is pop one of these in to dissolve residue buildup, blast away foul odors, and get your machine cleaning dishes like it used to.
Promising review: "I've been using this product for a while and I've started to a rely on it. I first used this out of desperation. My dishwasher was broken from a fried control panel. I eventually replaced the panel. I opened the dishwasher and it was fairly gross. A little stagnant water gave way to some mold. I found this product and figured I'd give it a shot. I did need to use this two or three times before the dishwasher was cleaned and usable. But I find that a major win considering the shape it was in beforehand. Now I use it every month or two and I have to say way easier than cleaning by hand. Definitely worth the price I paid." —Justin
Get a pack of six tablets from Amazon for $8.99.
4.
And some for your washing machine, because laundry day doesn't have to stink. These fast-acting tablets eradicate funky smells and nasty buildup from the edges of the drum in just a couple of cycles. No elbow grease required 👍.
Promising review: "So impressive! These tablets really get rid of the funky smell in your washer. I use one on the factory setting for tub wash on my washer and then after that, run a regular cycle to make sure all the tablet residue is gone. Once a month is all it takes! Big difference!" —Bendy W
Get it from Amazon for $6.99+ (available in packs of three, five, and six).
5.
A cacti brush set so adorable, using them will never feel like a chore — these clean out every nook and cranny of your little one's sippy cups, bottles, and breast pump parts. Plus, even reviewers without toddlers in the house mention these are great at cleaning reusable straws and bottles!

This set comes with a bottle brush, straw brush, nipple brush, and a detail brush that all sit within a cup and easy drain container.
Promising review: "I love this new bottle brush set, works well with a variety of bottles and sippy cups. I especially like the straw brush. The handy cup that it comes in is super cute yet very functional with allowing all the brushes to properly dry." —ZoeyBella
Get it from Amazon for $15.99.
6.
The Pink Stuff all-purpose paste and spray (as seen on TikTok) that'll magically clean practically anything and everything in your home — and even in your closet! This potion in a paste reverses wall markings, cooked-on grease, soap scum, shoe scuffs, and whatever else that could use a little abracadabra alakazam.
Promising review: "WOW!!!! This stuff is amazing. I literally just have to spray it, let it sit for a few minutes, come back, and depending on what I'm using it for I either wipe it and it comes right off or I just use a scrubbing pad and it comes off. There's nothing out there that is anywhere in comparison to this product!!!! This stuff is the absolute best. I highly recommend purchasing this. I can tell you that half of my cleaning products are now going to be thrown out because all I need is The Pink Stuff. Whoever invented this stuff is an absolute genius; if you're a clean freak like me this really is the way to go. Also it doesn't have that nasty chemical smell, it smells great. Just buy it; you won't regret it." —Twin33
Get the original cleaning paste and multi-purpose spray from Amazon for $19.99.
7.
A foaming garbage disposal cleaner you can trust to take care of your garbage disposal if it really hasn't been tended to, like, ever. These foam with a lemony scent and do the trick to deeply cleanse the underside of the splash guard and the interior side walls.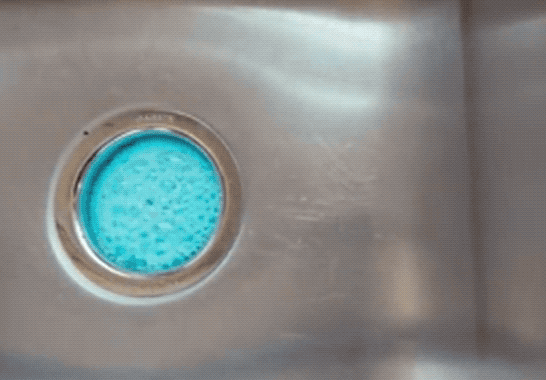 Promising review: "Easy to use. I followed directions and it works just like it says. I only use this once every month now. First use I had to do it twice (which it says if it hasn't been cleaned in a while you may need to). Weekly I follow up with the Glisten Garbage Disposal Freshener and that keeps my disposal working well and smelling great." —Lostbraincell
Get a four-pack from Amazon for $7.96+.
8.
A squeegee broom to easily gather up crumbs, spills, and hair (think: yours *and* your pet's) from any surface. Carpets, furniture, wooden floors...wherever. Who knows, you might even enjoy giving the crevices of your couch a quick scrape with this once a week.
Its natural rubber bristles attract pet hair on multiple surfaces, like carpet, tile, hardwood, and linoleum AND has a built-in rubber squeegee (aka the thing you use on your windshield) for cleaning windows and spills.
My BuzzFeed Shopping colleague Emma Lord loves this genius tool! Here's a bit of what she has to say about it: "An embarrassing confession: my hair gets so ingrained in the carpet that a vacuum truly does nothing for it. In fact, to make matters worse, weird particles get stuck in the hair on the floor, which is stuck to the carpet, so I often was just unrooting clumps of hair from the floor with my hands (sorry for the visual). I bought this broom and it immediately started pulling it up GOBS of hair. My carpet like, genuinely changed color (turns out the pink was supposed to be much pinker, whoops). Anyway, do with that semi-horrifying information what you will."
Promising review: "I bought this broom two years ago and it is still going strong! I have four large-breed dogs and we have fur EVERYWHERE! This works so, so well! I came back and purchased one for my neighbor and sent one to my favorite pet rescue down south. I am always amazed at what this picks up even after I just ran the vacuum. I also use it to get dust and cobwebs off the floors and ceilings. It truly is a super tool." —Roseann

Get it from Amazon for $12.97.
Wanna know more? Check out our full squeegee broom review.
9.
A hands-free wringer mop that'll have your head ~spinning~ with just how well it works. Reviewers note that this actually makes mopping fun...can you believe?! The automatic wringer is definitely something to write home about, not to mention the triangular shape of the mop which make it — get this — WAY easier to reach into nooks and crannies around your home.
And this comes with two extra microfiber refills that are machine washable!
Promising review: "Ashamed to say, but I barely ever mop the floors. I purchased this O-Cedar mop and bucket based upon the great reviews. I am here to add a 5 star review of my own. This mop and bucket not only cleaned my floors, but it made the entire process easy (and dare I say fun?). I did the entire first floor of my house both tile and wood. Then wanted more fun, so I scooped up the handy handle and carried it upstairs where I continued on to the bedrooms and bathrooms. I don't want to go on and on, but this mop picked up lots of dirt and grime, then popped easily into the washer. It came out great. The swirly thing makes all the difference. It wrings out all of the excess water, so it's easy to mop without using too much muscle, which I do not have. And the mop heads are short, rather than long mop heads, which only make for heavier mops. If you're on the fence, go for it, you'll agree." —LauraP320
Get it from Amazon for $53.99.

10.
A bottle of Leather Honey cleaner, which scrubs away discoloration and freshens up your leather sofas and other faux leather items pretty quickly. It's so satisfying you'll probably want to document the "before and after" yourself.
Promising review: "This product is the perfect consistency to spread easily. It cleans leather deeply without harming it. Dries fast so that there's no residue on your leather. I used it on a chair and a coat. It doesn't seem to leave any lasting noticeable smell either. Just nice clean leather. The chair was a favorite for my dog, which is the reason I bought this in the first place. She's not supposed to be on the chair! So yes, it's desperately needed cleaning. The honey leather works great. The leather coat had been in a closet for two years in Florida where humidity can get to it. Once again, great job. Easy-to-use and the coat looks like new! Another good thing is that it seems to condition the leather as well. It felt much more supple after the first simple cleaning. I just put the honey leather on a washcloth, kept moving the the washcloth to a new clean area and adding more product. And both the chair and the coat felt like new leather again. And looked fantastic." —N3rd Girl
Get it from Amazon for $16.99+ (available in two sizes).
11.
A flexible vent-cleaning brush that will have you exclaiming "Holy lint balls!" once you discover how necessary this is to ensure your dryer is operating safely. Like most machines, your dryer requires periodic maintenance and this system effortlessly (but effectively) eliminates buildup that can lead to long-term damage.
This is also great for cleaning your dryer's vents!
Promising review: "Pretty simple to use and must-have for the dryer. I never cleaned my dryer vent bucket, because couldn't reach inside. Now this long, strong and flexing enough dryer vent cleaner works perfect to scrub the stuck lint out of the inside. It's a nice product and easy-to-use cleaner. I'm very satisfied with my purchased and recommend it." —nwklee
Get a pack of two from Amazon for $10.95.
12.
A jewelry cleaning stick — if your accessories collection has lost its razzle dazzle, this'll transform your tarnished rings and bracelets and make them sparkle once again before your very eyes, and all without a hefty cleaning fee...or any effort for that matter.
Promising review: "This little pen brush is incredible! I wasn't sure if it would work well on my emerald engagement ring since it's mostly advertised for diamonds, but I thought I'd give it a try. I have been wearing the ring since getting engaged in October, and even though I had it cleaned at the jeweler's in April, it just didn't seem as bright as it was when it was new and I thought it would just always be a little cloudy. But after cleaning it once with the Dazzle Stik I was blown away by the difference — it looks as bright and sparkly as when I first got it! I'm so glad I didn't buy an ultrasonic cleaner since this is so much less expensive and easier and gentler — it took me less than a minute to clean and I can do it whenever I want! And it's honestly better than when the jeweler cleaned it. So thrilled!" —KFray
Get it from Amazon for $7.98.
13.
A fireplace cleaner kit in case you've forgotten what color your fireplace ~was born with~ — this'll fix soot stains and odors to strip it back to its OG shade in no time.
And by kit I mean a brush and 16-ounce bottle of nontoxic fireplace cleaning formula.
Promising Review: "Wow! This stuff really works and is cheap and easy to use with little scrubbing power. I had soot stains on the stone fireplace of the house I recently purchased. The chimney sweep indicated that it would be difficult to remove and that they couldn't guarantee success. Suggested a very costly process ($250?). Instead, I purchased this Fireplace Cleaner for under twenty bucks and had it off in 20 minutes. Like, seriously, I barely scrubbed it and didn't even rinse it that well. This product is perfect!" —Sarafloat
Get it from Amazon for $16.95.