1.
A cooktop-cleaning kit so you can reverse any sign of old cooking mishaps. Burned-on grease and gunk from the previous homeowner's past will never haunt you in your sleep ever again, thanks to this nonscratch trio!
The kit includes a 10-ounce bottle of Cerama Bryte cooktop cleaner, one cleaning pad, and one scraper — and it works on glass, ceramic, induction, radiant, and halogen cooktop ranges.
Promising Review: "Works amazing! I hadn't thoroughly scrubbed my glass cooktop in years...only wiped down with random multi-cleaners, which never seemed to do much. Then a friend recommended this product...AMAZING! The included scrubbers and scrapers really make the difference. As others have said it will leave your cooktop shiny and new. Even marks that had been on there for years came almost completely off...98% better. The key is to use very little product. Let dry to a haze and wipe with a clean, dry cotton towel. (Just like waxing a car). If you aren't getting a mirrored finish it's because you've used too much product and not enough elbow grease to polish off." —B. Swartwood
Get them from Amazon for $11.37.
2.
Wet & Forget shower cleaner, which *gasp* doesn't require you to do any scrubbing. No, seriously. Simply give the areas in your bathroom that could use some TLC a quick spray down with this...and then rinse off the next day. Plus, it only has to be used once a week!
Promising review: "This may be the best thing I have ever bought off of Amazon. And I buy quite a bit. This was something I needed and didn't even know it! Long story short, the tub in my kids' bathroom was atrocious, due to spotty cleaning and hard water. I bought this with a heavy dose of skepticism, even though the reviews were mighty impressive. On the back of the bottle it says that you may need several daily applications before your tub is clean, and then you can switch to weekly application. I'm on day three, and let me say, even if this stuff worked no further, I AM BLOWN AWAY. The shower looks close to new. A couple more days, and I'll be able to switch to weekly! I won't post pictures because I'm embarrassed of how bad it looked before. But seriously, I am SO happy to have discovered this product, and I plan to keep on using it." —Tee
Get it from Amazon for $19.74.
3.
A foaming garbage disposal cleaner you can trust to take care of your garbage disposal if it really hasn't been tended to, like, ever. These foam with a lemony scent and do the trick to deeply cleanse the underside of the splash guard and the interior side walls.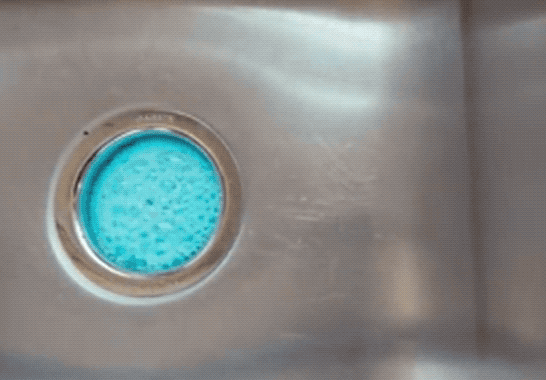 Promising review: "Easy to use. I followed directions and it works just like it says. I only use this once every month now. First use I had to do it twice (which it says if it hasn't been cleaned in a while you may need to). Weekly I follow up with the Glisten Garbage Disposal Freshener and that keeps my disposal working well and smelling great." —Lostbraincell
Get a four-pack from Amazon for $6.99+.
4.
An Oxo over-the-drain hair stopper that'll certainly make you do a happy shower dance (now without the pool of soapy water beneath your feet). This little creation works like a magnet for hair and captures clumps *before* they make their way to clog up your drains.
5.
Keurig cleaning cups if you're someone like me who didn't realize a coffeemaker needed to be descaled — turns out, it DOES. Just pop in one of the pods as you would a coffee pod, and proceed to be amazed (read: horrified) at the amount of residue that trickles into your cup of joe.
Promising review: "This is an excellent product that I cannot say enough good things about. I had thrown away my current Keurig machine thinking it was broken. I decided to try to resurrect it using these cleaners and I am glad I did! One cup took care of years of neglect on my part (lesson learned). Because there was so much cleaning needed, I used two cups, and now the machine works perfectly. So glad I discovered this product and highly recommend. I am thinking a three-month interval to keep the machine in good condition. Thank you so much!" —Susan
Get it from Amazon for $9.95.
6.
The Pink Stuff all-purpose paste and spray (as seen on TikTok) that'll magically clean practically anything and everything in your home — and even in your closet! This potion in a paste reverses wall markings, cooked-on grease, soap scum, shoe scuffs, and whatever else that could use a little abracadabra alakazam.
Promising review: "WOW!!!! This stuff is amazing. I literally just have to spray it, let it sit for a few minutes, come back, and depending on what I'm using it for I either wipe it and it comes right off or I just use a scrubbing pad and it comes off. There's nothing out there that is anywhere in comparison to this product!!!! This stuff is the absolute best. I highly recommend purchasing this. I can tell you that half of my cleaning products are now going to be thrown out because all I need is The Pink Stuff. Whoever invented this stuff is an absolute genius; if you're a clean freak like me this really is the way to go. Also it doesn't have that nasty chemical smell, it smells great. Just buy it; you won't regret it." —Twin33
Get the original cleaning paste and multi-purpose spray from Amazon for $19.99.
7.
A grout pen if your tiles have become so unsightly you've forgotten what color the lines that separate them are. (Spoiler: they're white!) You'll feel instantly gratified with how well this brightens up floors in your bathroom, backsplashes in the kitchen, or literally wherever tiles live in your home.
Promising review: "I just bought my first house and because of COVID I have not had the funds I wanted to fix it up. This was cheap and the backsplash in my new kitchen was an eyesore. I wasn't expecting much because of the price and I am absolutely stunned. My kitchen looks so much better! It was easy to use, no odor, and quick! I did two coats because the color was dark brown. Some places I did more but I didn't mind doing it because it was actually really satisfying. Definitely recommend this product!" —Kim
Get it from Amazon for $8.99+ (also available with a wide tip).
8.
An old faithful carpet cleaning spray that works so well, you might think it's witchcraft. Don't worry — your eyes aren't deceiving you; this formula literally clears up any evidence of (horrific) accidents, drink spillages, pet stains, and shoe markings from your light-colored carpet.
Promising review: "Better than the best! This stuff cleans grease off of chinos. Yes, we did purchase it to clean the rugs in our motorhome and it reliably cleans them like new as I can't convince the spouse to remove his dirty shoes. Beyond rugs be sure to try it for clothing spots as it's better than those stocked on grocery store shelves and leaves zero residue, even on chinos. Blot the moisture out, let dry, and ready to wear. If you have pets, order the large size as you'll find it indispensable. Doesn't take much to do the job, just a little spritzing, wait a few moments and rub with a clean rag or towel for rugs. My order included two bottles; one lent to a friend to try and now she won't give it back." —Sharon l. smith
Get it from Amazon for $12.07+ (also available in multiple packs).
9.
A jewelry cleaning stick to transform your tarnished accessories and make them sparkle once again before your very eyes — and all without the hefty cleaning fee.
Promising review: "I needed something to clean my engagement ring before my wedding day and ordered this because I didn't think I'd be able to get into a jewelry store to have it cleaned. This thing worked wonders. My ring was getting pretty dirty (I work out in my ring, I cook with it on, it get soap all over it...it gets a beating and needed a cleaning badly. This was so great. My mom saw how nicely it made my ring sparkle and we tried it on her wedding, anniversary, and engagement bands (which probably hadn't been cleaned in well over five years) and the difference as we cleaned was astonishing. This stuff is powerful, the bristles get into the little crevices and I can't recommend this product enough." —Elizabeth Holihan
Get it from Amazon for $8.99.
10.
Some Goo Gone so you can finally break up with the stickers and wall posters of your favorite bands from high school, without the fear that they're going to leave gross goop all over your belongings. Plus! This magic sauce can be applied to both hard *and* soft surfaces — just use it as a spot treatment with a cloth.
Promising review: "Bought it to remove a piece of chewing gum from a white leather car seat. It's not recommended for leather, but did the job wonderfully. Then I used it to clean car door aluminum sill plates — a protective sticker wasn't taken off in time, so they were covered in adhesive that I couldn't remove for a few years. After applying Goo Gone liquid and letting it sit for five minutes I was able to clean it off! Really powerful adhesive remover, glad I discovered it." —ef
Get it from Amazon for $7.60.
11.
A Power Dash carpet cleaner that will reverse years of filth by sucking up sticky soda spills, pet stains, and caked-in marks. This Hoover even comes with a cleaning solution to tackle tough messes and leave your carpet sparkling clear from discolorations.
Promising review: "I freaking love this thing. It's small but extremely powerful! The soap that comes with it is excellent! When I ran out I bought a gallon of it! The amount of cat hair this thing sucks up is wild! I'm six months pregnant and have absolutely no trouble with this thing. It snaps together easy to fill and change water. I wish I could give it 10 stars." —Bee Fowler
Get it from Amazon for $104.94.
12.
A reusable pet hair remover so you can finally sit on your couch in your all-black outfit *without* looking like you're trying to coordinate with the messiest individual in your household: your cute little fur baby. So long to the days of incessantly attacking yourself from head to toe with the lint roller.
Promising review: "I bought this because I was at my wit's end with cat hair. I have two cats that shed like wild. I first tried this out on my comforter and was disgusted and shocked by how much cat hair was accumulated on my bed. I got to work and started rolling every piece of furniture and cloth surface in my apartment and it was so satisfying to see all the cat hair be removed. Some of it was invisible too 🤢. And it also works on clothes! I added a picture after trying it on my coat I hadn't seen it that lint free in ages. This is the best $25 I've ever spent in a while lol. I was a little taken back by the price but honestly it's so worth it considering I don't have to buy disposable lint rollers anymore which are annoying and time-consuming to use, and they don't pick up as much lint as they should. This is definitely a must-have if you have pets!!" —Jen H.
Get it from Amazon for $25.95.