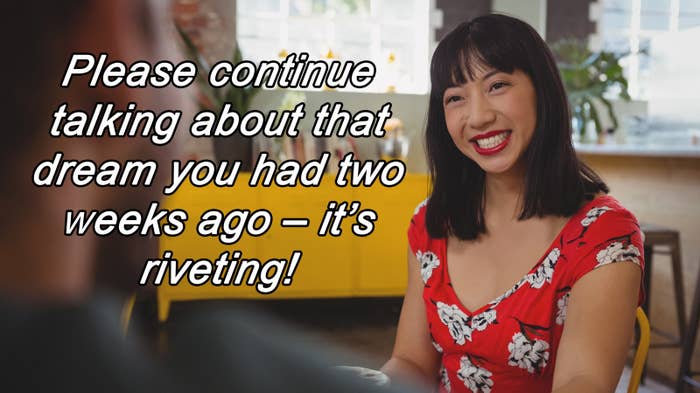 Hey! I'm an interesting young woman with my whole life ahead of me. Luckily, there's nothing more I'd like to spend the remainder of my youth doing than teaching boring men how to live life to the fullest! Stuffy, bad at conversation, and with all the personality of a bar of soap? That's my type! We'll meet for the first time in a bookstore or a cafe or a vintage record shop and I'll be peering out from under my straight-cut bangs. He'll ask me what I'm reading/drinking/buying and it'll turn out to be the exact same thing as him. Then, lo and behold, lucky ol' me gets to help a 30-year-old man embrace living in the moment!
I love to do things like say "hey, haven't you ever danced in the rain before?" while twirling in some puddles and looking at him invitingly until he realises that hey, life can be exciting! I'll be fascinated by his two-hour speeches about his ennui and ~what the meaning of everything is~ even though he's never asked me how my weekend was and doesn't even know if I have any siblings! But on the upside I do know all of his opinions about the meaning of life and have been given an exhaustive history of every past relationship he's had and where they went wrong so, y'know, that's good.
I'll be incredibly beautiful but not aware of it at all. In fact, I'll be just the correct amount of self-deprecating and insecure (not enough to be needy but enough to not be too arrogant for him). I'll be super low-maintenance while also looking like I get my hair professionally blow-dried every day, and have the slim physique of a catwalk model while eating whatever I like and never working out, because that would kill the illusion, right? He'll frequently mention how beautiful I look without makeup on even though I have foundation, blush, bronzer, highlight, brow gel, mascara, and a nude lipstick on – I just forgot my eyeliner that day. And when he says things like "your kisses are hot summer days on my frosted winter lips" I'll smile appreciatively and nod instead of saying "literally what the fuck does that mean, Daniel?"
I'll wear his oversized shirts in the morning and say things like "hey, handsome" even though nobody has actually said that since perhaps the year 1952. I'll linger around his large apartment (as for my own living situation, he wouldn't know – he never asks!) and sit at the bar stool in his kitchen while drinking coffee. His friends will like me but he will never meet my friends or ask about them because he knows literally nothing about me, not even my second name! There's no time for such conversations when we're dedicating whole evenings to talking about the dream he had two weeks ago. I'll stare adoringly at him while he tells me about books and whether 1984 or Brave New World is better while I nod sombrely. I'll understand every obscure movie reference he makes, which will unfortunately only make him more enamoured with me!
Even though I have other things to do and also a job I really ought to be going to, I'll need to dedicate my spare time to teaching a grown-ass man how to live even though I'd rather take up a new hobby, maybe crochet. While he will often be grouchy or in a shitty mood, it's because he's brooding and intense and his brain is swirling with so many interesting and complicated thoughts (did he tell you he's writing a book?), I'll always be bubbly and pleased even if talking to him is as interesting as talking to a pebble I found on the beach. It's a good thing I don't have any negative feelings of my own and just exist as a plot device to help this guy out! At the end of the movie he will have his whole life figured out; the months of our relationship will have transformed him and he'll realise that life involves risk, heartache, and adventure! And if you're wondering what I gained from months of emotional labour, the answer is a UTI. So I guess it worked out for everyone!