It's become an awards season tradition for dozens of talented, intelligent women to line red carpets and navigate the unfortunately inevitable question: "What are you wearing?" The response is typically a one-of-a-kind gown just off the runway of a high-end fashion designer for a size 0 star, something the average person will never have a chance of wearing. But when Bryce Dallas Howard stood in front of E!'s Giuliana Rancic at the 2016 Golden Globes, her first time at the ceremony, she channeled Dorothy Gale and pulled back the curtain on the Wizard. "I just picked it up at Neiman's this week," the Jurassic World star said plainly, revealing that she bought her own dress off the rack (albeit at a very expensive department store).
"You went and bought it yourself?" Rancic asked, shock in her voice. Howard, who was presenting at the ceremony, nodded calmly and continued: "Because I like having lots of options for a size 6 as opposed to maybe one option. I always go to department stores for this kind of stuff."
Social media lit up, with many incredulous at the idea that a size 6 would be problematic for fashion's elite to accommodate; the morning shows covered Howard's comment, and dozens of articles were written based on that 30-second interaction.
Today, the 35-year-old actor and mother of two laughs off the idea that she had an inkling her honest response would become one of the night's most talked-about moments. "You just hope to survive those things," she told BuzzFeed News mid-pedicure in Santa Monica, California, one July afternoon. "There are folks with really refined aesthetics offering critiques of these moments, and you're like, I just wanted to wear something that fit and wasn't going to show that I'm perspiring immensely."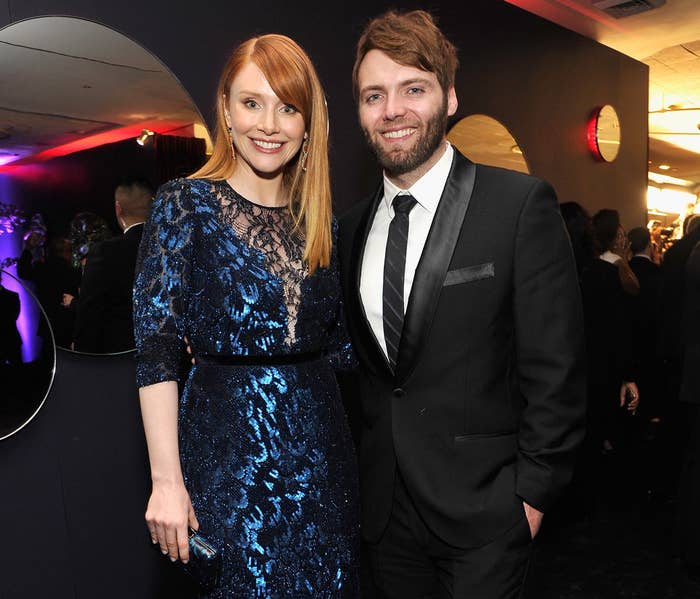 Her pedicure outfit was designed for comfort: hair pulled back into a ponytail, minimal makeup, black leggings, a simple white tee, and sneakers that get tucked into her bag in favor of sandals as to not smudge the dark purple hue newly lacquered on her toes. "I came quasi-prepared," she said.
Looking back at her unintentional path to becoming a spokesperson for body positivity, Howard said it felt "so, so, so nice" to receive that kind of love on the internet, a platform not typically known for kindness. "I just feel so relieved that [the reaction] was positive," she said, wrapping her arms around herself, making the imaginary internet hug suddenly real. "But it also leaves me room to do what I need to do and not be concerned with what people are going to say."
It's something Howard learned in 2012, four months after giving birth to her daughter Beatrice, when she was photographed by paparazzi around Los Angeles while wearing a beloved pair of sweatpants that everyone in her life had begged her to throw away. "I hadn't lost hardly any of the baby weight," she said. "And there was a photograph of my daughter, who was four months old, and I was holding her and my stomach was very distended."
TMZ ran the photo with the headline "Bryce Dallas Howard -- It Takes a Village." The story was three sentences long, and, considering the headline, it was seemingly published to make some sizeist comments, which felt especially insensitive to Howard given how open and honest she had been in writing about her postpartum depression after the birth of her son Theo in 2007. (TMZ has since removed the image and did not respond to BuzzFeed News' request for comment as to why.)
Howard's husband — fellow actor Seth Gabel — discovered the post and showed it to her. "I got emotional because I felt like people wouldn't understand," she said. "I felt very vulnerable, but then I thought about it more as the day progressed, and I was like, I gotta let this one go. Someone took a picture. Whatever. I have to move on with my life without being sad about it or having complicated feelings about it. I know what's going on in my home; I know how my body is. You feel it, react, and move on."
Three months later, the New York Times published a story called "Can a Mom Get a Break?" about the unrealistic expectations the entertainment industry places on new mothers. Howard was highlighted alongside Beyoncé and Jessica Simpson. "It, in a weird way, gave a little bit of purpose to that moment," Howard said.
In addition to purpose, Howard has found a way to add some levity to those moments to help her move past them. "In my time of processing, I'll feel the emotion and then I'll do this character," she said post-pedicure at Bulletproof Coffee in Santa Monica. Then, she sat up in a leather armchair, legs crossed, took a deep drag of an imaginary cigarette, and said, in a posh affectation, "'It's all for the memoir.' If something hurts or you start to take criticism personally, just remember to say, 'It's all for the memoir!'"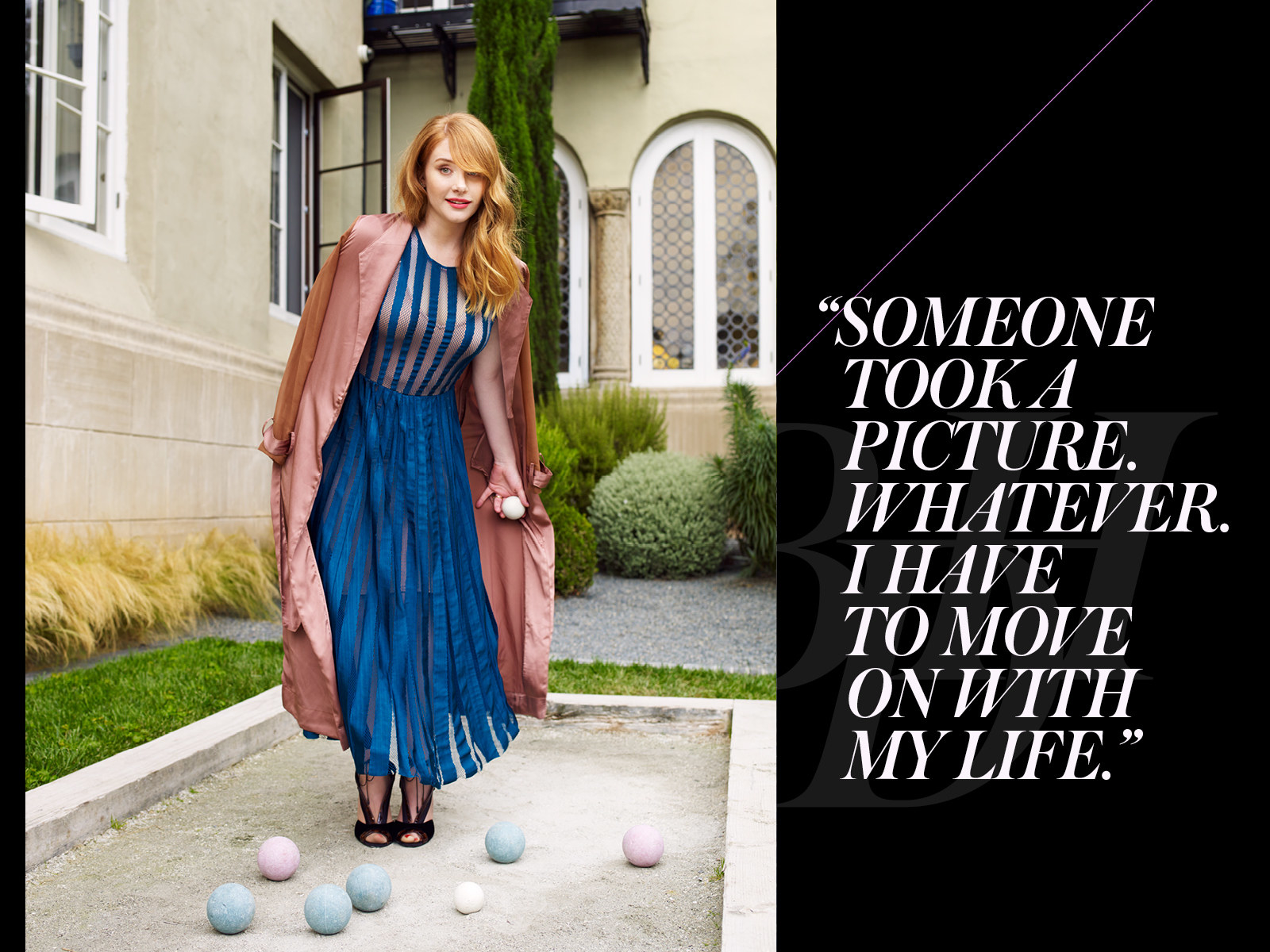 Howard's (half-joking) working title for the memoir she's not actively working on — yet — could not be more apt: Everything Is Falling Into Place. Of course, that's not hard to imagine for someone whose father is the Oscar-winning director and beloved actor Ron Howard, whose mother is actor and producer Cheryl Howard, and whose grandparents, Jean Speegle Howard and Rance Howard, spent decades in front of the camera. "I was raised on sets," said Howard, who was born in Los Angeles but raised in Westchester, New York, and Greenwich, Connecticut. "I was frolicking amongst the crew and really, really falling in love with the moviemaking experience."

It was a passion her father quickly noticed. "Even as a little tiny 7-year-old, she was helping," Ron Howard said in a phone interview with BuzzFeed News of the oldest of his four children (twins Jocelyn and Paige are 31 and Reed is 29). "Of all the kids, she was the one who sort of seemed to enjoy hanging around set the most."
Though Bryce has never lacked for work since — she's juggled roles in big-budget blockbusters (2007's Spider-Man 3, 2009's Terminator Salvation, and 2015's Jurassic World), award-winning hits (2011's The Help), and low-budget films (2005's Manderlay and 2008's The Loss of a Teardrop Diamond) — it wasn't readily apparent that her future lay in acting.
"In the little second-grade musical — I never said anything to her — I would be ever so slightly chagrined because she wouldn't bother to learn the freakin' lyrics," Ron recalled, laughing. "I saw it. I know actors. She's faking it, she's mouthing something gibberish, she doesn't know what the words are. She was shy and didn't demonstrate a performer's need to be noticed. I figured it wasn't for her, which was a huge relief really. It's a tough business."
"I didn't just observe. I felt a part of it."
Quietly, a public speaking class and a school talent show fostered Bryce's desire to perform. One summer, following her best friend's lead, she attended the prestigious Stagedoor Manor theater camp, which boasts Robert Downey Jr., Jennifer Jason Leigh, Josh Charles, Lea Michele, and Zach Braff among its alumni. "I did A Midsummer Night's Dream with, hilariously, Natalie Portman," Bryce recalled, her face lighting up at the memory, as it did nearly every time she reminisced about her childhood. "We were like 15 and she had a flourishing professional career … I was like, I hope you're all enjoying the future Academy Award–winning performance that she's giving you on this lawn." But Bryce had her eye on a much smaller stage. "It kind of was like the first moment when I thought, Oh, I should audition for the school plays!"
Once Howard actively set her mind on performing, she had an undeniable head start on everyone in her class given her rarefied proximity to performers. "My parents included us in everything they were doing," she said. "I didn't just observe. I was really up to speed on what was happening with [my father's] work and I felt a part of it. "
By the time she took the lead in Guys and Dolls in the ninth grade, she even won her father over. "You could tell she would be a pro," Ron said. "It was a little bit like seeing somebody in a high school basketball game who you know is ready for the NBA."
It was then that her drive to perform shifted into high gear, but an unusual skill she'd mastered a few years earlier hinted that there may have been a passive interest: her ability to cry on command. It began almost by accident, as fifth-grade Bryce recited Juliet's death scene from Romeo and Juliet over and over again in her bedroom. "It's the sensation of yawning," she explained of the talent, which she memorably recreated on Conan last year. "You know how yawning makes your eyes water? I would just practice yawning and then I would try to yawn without actually yawning so it would trigger the muscle." She demonstrated while continuing to talk, and within 30 seconds, tears fell from her eyes.
Most kids with that kind of talent for emotional manipulation would likely deploy it whenever their parents were particularly harsh, but Howard said she only used it once: when she was an extra in her father's 1992 film Far and Away, starring Tom Cruise and Nicole Kidman. Although she perfectly executed the teardrop during a funeral scene, her father didn't notice the moment and it didn't make the final cut. In fact, he was still oblivious to it until recently. "I said to him last week, 'Dude, you've never said anything!' And he goes, 'Oh, I was just watching Tom.'" She added, with a laugh, "It's a silly trick that only serves one profession and one profession only."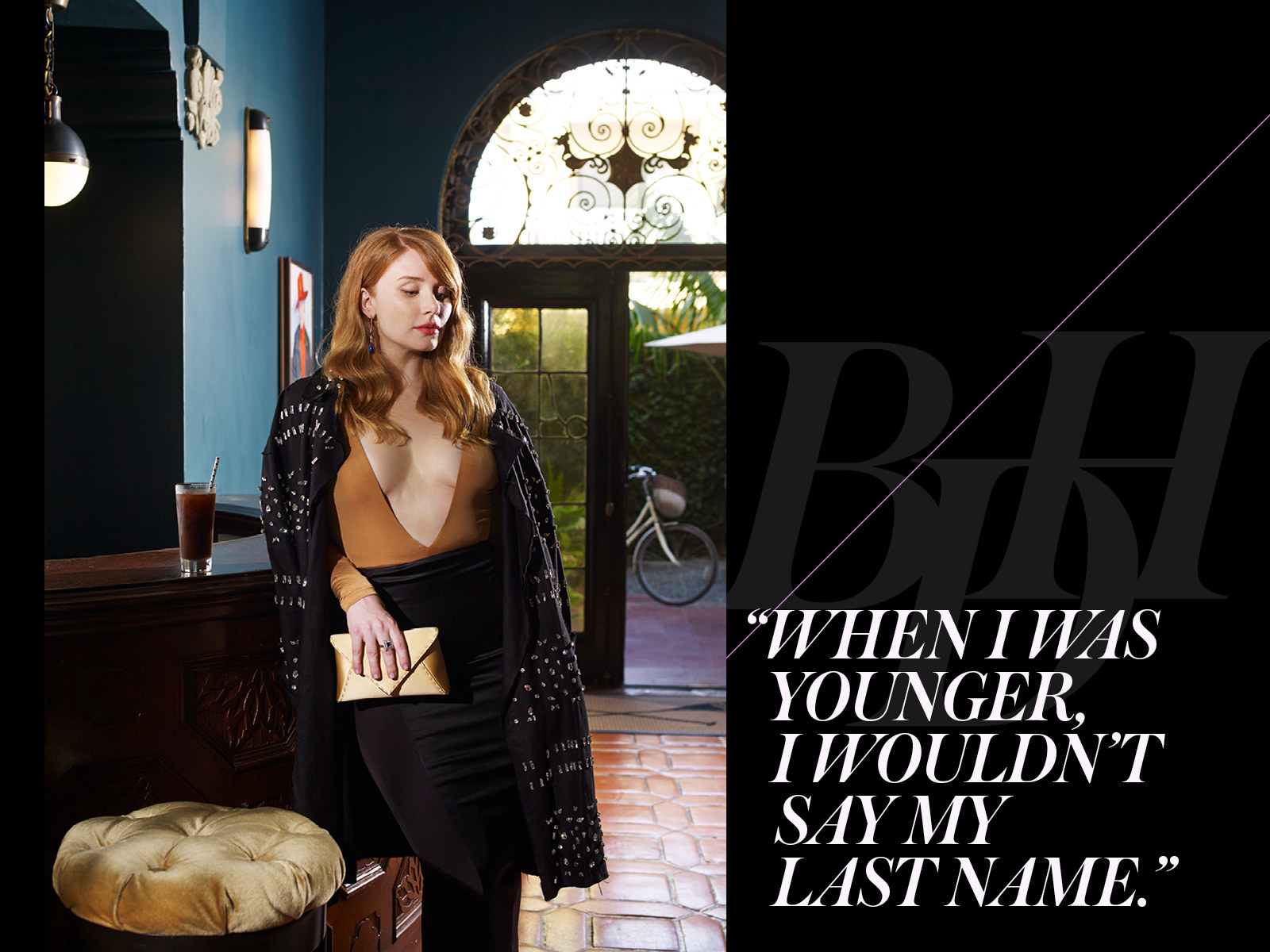 It seems that time in second grade when Bryce Dallas Howard faked her lines was the rare instance in which she truly floundered as a performer, because ever since, she's been hard to forget. After graduating from high school in 1999, Howard headed to New York University's Tisch School of the Arts, and soon she met Rubén Polendo, the founder and artistic director of Theater Mitu. It was Polendo who dispensed the wisdom that has guided Howard in her professional career: The goal of entertainment is to be unignorable.

"He would always say to us that the greatest insult would be if, before watching the show, two people were talking about what they want for dinner, and the show starts and then the show ends and they turn to each other and they're like, 'I'm thinking chicken,'" Howard said. "That means nothing happened. While we can't determine if what we're going to do is good, bad, or will be received well, we want to make sure that something happens."
It was while starring in Theater Mitu's production of Hamletmachine — which required her to be completely naked on stage — that Howard signed with an agent, the same one she has to this day. The following year, The Sixth Sense director M. Night Shyamalan was so captivated by Howard in a production of As You Like It that he bypassed the audition process and cast her as Ivy Walker, the blind savior of The Village, outright.
"My dad was absolutely shocked and straight-up said, 'What? No. This doesn't happen,'" Howard recalled with a smile.
There was a time when Bryce struggled with the implications of her last name — going as far as to drop it for a little while when she started college. "I was definitely conscious of it. When I was younger, I wouldn't say my last name or I'd be shy if someone brought it up," she said, visibly remorseful. "It wasn't about, oh, I want to prove it to myself; it was truly a genuine reaction to insecurity, to not wanting to be perceived a certain way. And then one day my parents said to me, 'Are you not proud to be a Howard?' And I was like, 'Oh my gosh, I'm so proud to be a Howard!'"
When she won the part in The Village in such an unconventional way, she came to a crucial, if obvious, realization about her famous surname: "Movies are too expensive to cast somebody because they're related to somebody else. It's too much of a risk. There's nothing to gain unless you actually think that person can do the job."
Still, the daughter of a beloved entertainment figure like Ron Howard starring in a film from the white-hot Sixth Sense mastermind made for delicious headlines that had Ron nervous. "I feared she'd be discounted because of nepotism," he said. The perception of bias is a major reason Bryce has never starred in one of his movies. "I wasn't going to do that. John Huston had done it with Anjelica, Francis [Ford Coppola] did it with Sofia, and it's a loaded situation. I knew not to fall into that trap."
Bryce understood where her father was coming from. "I kind of knew not to approach it," she said. "It was clear that wasn't going to happen. Now when I harass him about it, he's very sincere about wanting to work together."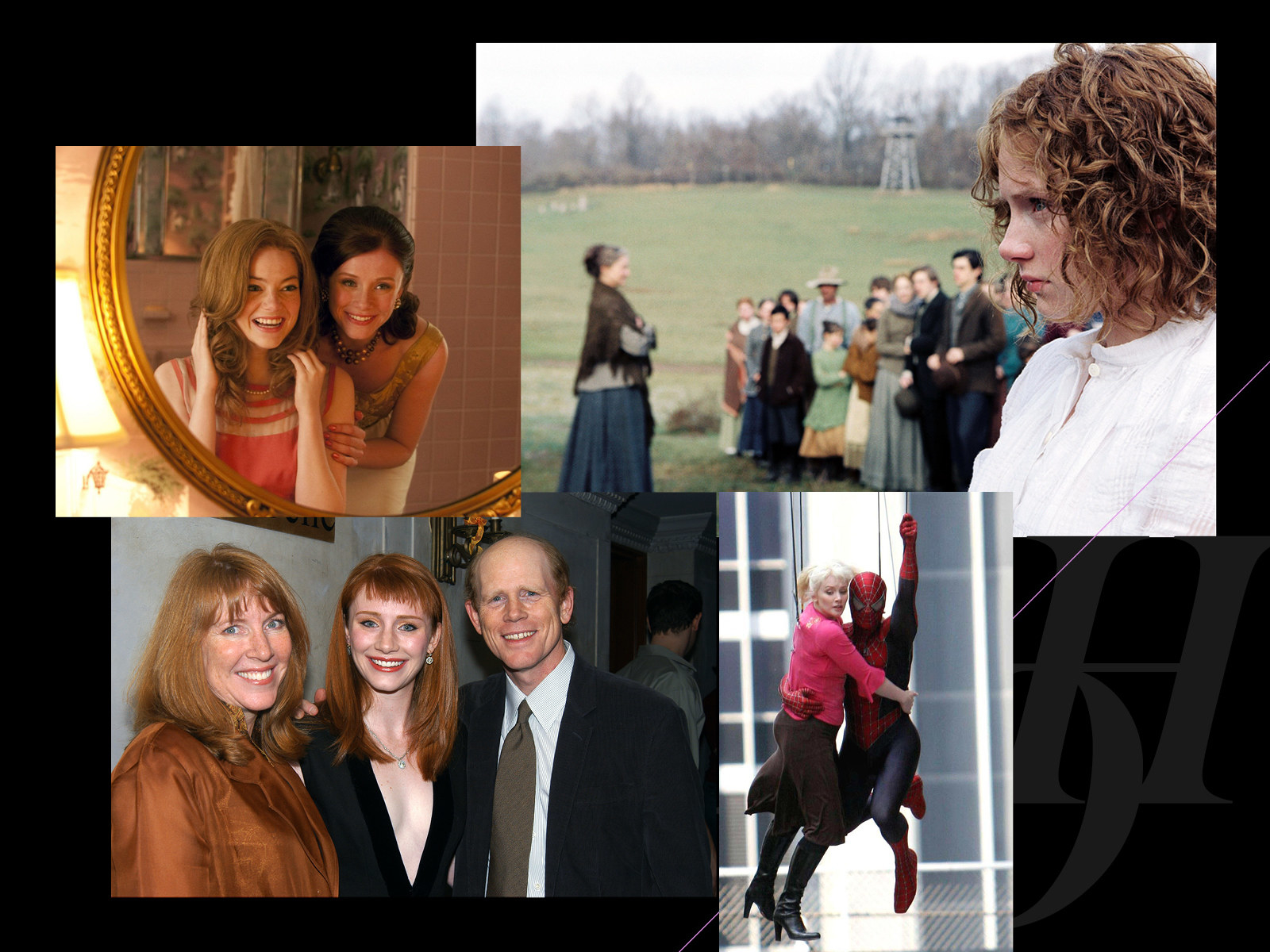 When The Village was released in 2004, it was crushed by the weight of expectations that audiences and critics had for Shyamalan, who was coming off three back-to-back megahits: 1999's The Sixth Sense, 2000's Unbreakable, and 2002's Signs. Those films' final-act twists had worked so well, but fans were now aggressively anticipating what Shyamalan's newest movie would offer. The Village's climax revealed — 12-year-old spoiler alert! — that it took place in modern day, not centuries earlier, as the costumes and dialogue had attempted to imply. But while the movie itself was panned, Howard's debut performance earned the kind of attention every young actor dreams of.

"That was the first time everyone got a sense of how talented she was," director David Lowery told BuzzFeed News in a phone interview. "She was playing a blind character in that movie, so her eyes weren't even seeing anything … but being able to see her thinking on screen was so captivating."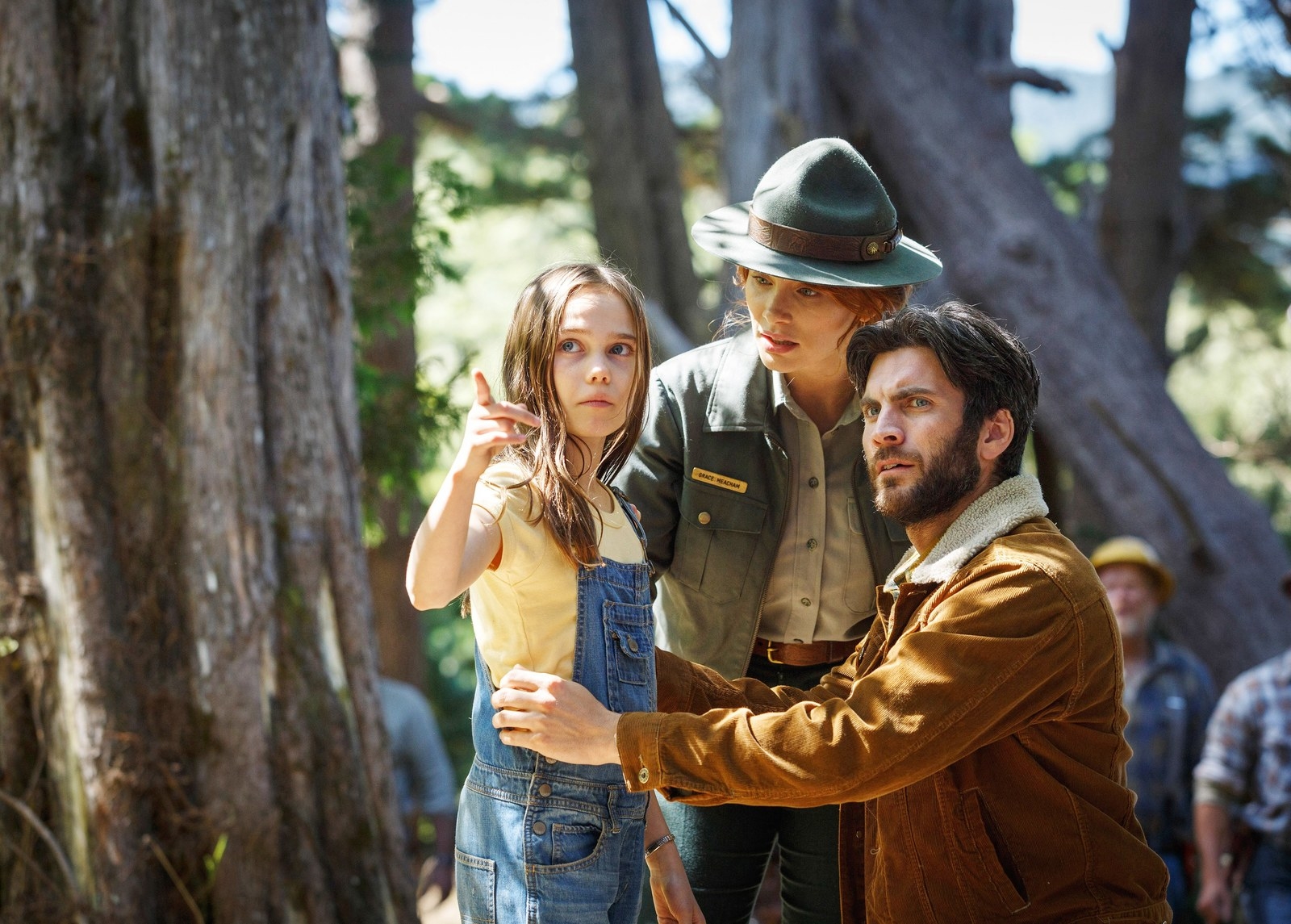 While praise from a director about his actors is typical, there's an insistence that comes from those who have worked with Howard that goes beyond lip service. "Before The Help, she said, 'There is nothing you can say that will hurt my feelings about my performance. I need you to be as blunt and frank as possible. I'm serious. If something sucks, I want you to come up to me and tell me how bad it sucks!'" The Help helmer Tate Taylor remembered during a phone interview with BuzzFeed News. "It is so rare to not have to play psychologist before you go give an actor a note."
In Lowery's upcoming reimagining of the 1977 family film Pete's Dragon, Howard stars as forest ranger Grace Meacham, a character who's predominantly defined by her compassion: for the woods she protects, for the mysterious boy (Oakes Fegley) she takes under her wing, and for the titular creature she helps keep safe from those who mean it harm.
Like Grace, Howard radiates a genteel essence: When you're with her, you feel nurtured. She actively listens when you talk. You know this because, as Lowery said, you can see her processing your words and formulating a response that's both thoughtful and one she deems worthy of the conversation. When you're in Bryce Dallas Howard's company, it feels like it's the only place in the world she wants to be at that very moment. Because, perhaps, Howard doesn't want anyone to feel ignored, herself included.
Howard's empathetic nature doesn't preclude her from playing a character with Indominus Rex–sized levels of self-importance, like Jurassic World's Claire Dearing. The actor called the massive 2015 blockbuster "such a crazy win on so many levels."

"I had not worked for a while; I wasn't even fully back-back-back when I got that role. I had just finished nursing and I had baby weight on me still," she said. "I wasn't in a 'ta-da!' kind of place."
Howard signed on without having read a script because she found a director she wanted to work with in Colin Trevorrow. But unbeknownst to her, Jurassic World would wind up putting her in the crossfire of yet another conversation about how women are portrayed in Hollywood. While Chris Pratt was being touted as the next great action hero and the film was devouring money faster than a herd of hungry raptors, Howard was repeatedly asked during press tours about one thing and one thing only: Claire's high heels. The character spends the entirety of the movie in them, which some found to be sexist and others saw as empowering. Either way, those pumps were all anyone wanted to talk to the actor about.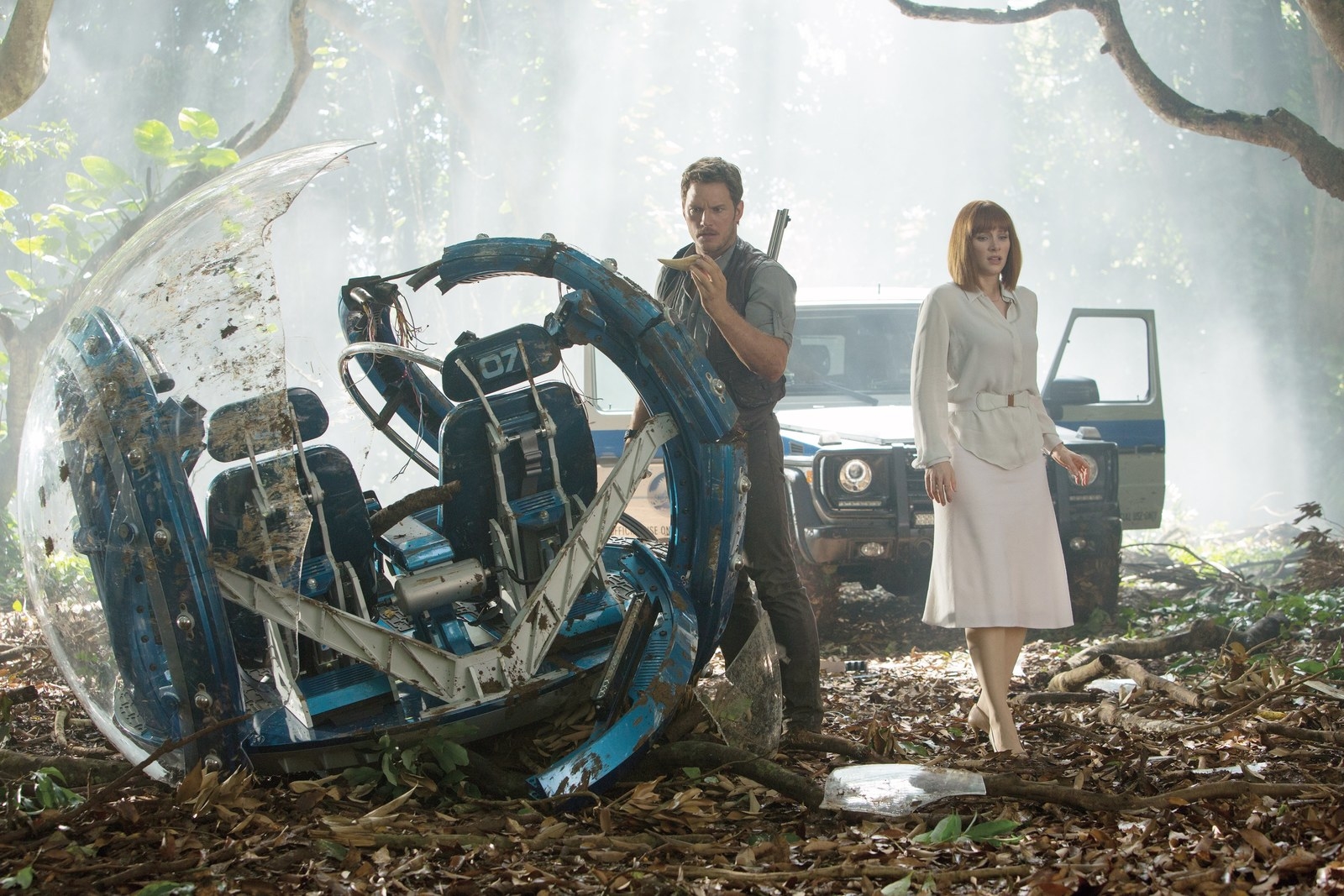 "I'll be the lady with the high heels until the day I die and I'll be damn proud of it!" Howard said. On one hand, she explained, "It was hard to run in those heels, so I felt like I was getting credit"; but on the other, "There were these parallel conversations that had to do with how women are portrayed in film that kind of honed in on a few things that I think are very positive conversations to be having." The most notable of these was prompted by writer-director Joss Whedon, who, after viewing a clip, tweeted that Jurassic World appeared "'70s era sexist" — specifically in regards to the relationship between Howard's and Pratt's characters. "She's a stiff, he's a life-force – really? Still?"
The comment, which Whedon later apologized for, speaks to the one-dimensional way women are often presented in promotional materials for big-budget films — a scheme that could potentially be alleviated were there more women in powerful positions behind the scenes. The dearth of females behind the camera is an issue that particularly incenses Howard. Of the two dozen films in which she's played lead roles, only one was directed by a woman (Jodie Markell helmed 2008's The Loss of a Teardrop Diamond). "That statistic is abysmal. It's nothing to feel okay about," Howard said. "But I have to say, I have seen so much...I don't know if it's change quite yet, but so much action around transforming that statistic. It's not necessarily easy to navigate solutions, but I think I'm seeing it happen."
One way Howard hopes to correct that imbalance is by producing her own projects that center on female characters. She did so on 2011's Restless, a romantic comedy starring Mia Wasikowska and directed by Gus Van Sant, and she's currently developing a film adaptation of The Swans of Fifth Avenue by Melanie Benjamin, a novel based on the contentious real-life friendship between socialite Babe Paley and famed author Truman Capote in 1950s New York City. "It's told through the eyes of these women in high society who were very powerful and their best friend was Capote, but there was this massive betrayal that happened with him where their lives became public," Howard said, her enthusiasm causing her to momentarily stumble over her words.
"I know the statistics. I know the odds."
Equality is hugely important to Howard in terms of producing and directing, but she has some qualms about not having yet committed herself to the latter. "Am I failing myself by not ... 100% focusing on directing?" she said, before concluding, "When the time is right, the time is right."
Bringing a feature-length film to completion typically takes about two years, and one barrier keeping Howard from jumping into directing her first feature is the sheer volume of time she would lose spending with her kids. Like her parents before her, Howard brings Theo, now 9, and Beatrice, now 4, to set, or at the very least to the cities she's filming in. But they're still not sure what their mom does. "When I was doing Pete's Dragon, there was a morning when Beatrice had to go to school and I couldn't drop her off," Howard remembered. "She was upset about it, and I was trying to explain that her job is to go to school and my job is to go to work, and I could see that she was kind of confused, so I asked, 'Beatrice, do you know what I do for my job?' And she goes, 'Laundry!'"
Of the many lessons she gleaned from her own childhood spent on movie sets, Howard said that the most enduring is that not everyone finds success — which is why, when asked to name the moment in her career that has made her the happiest, Howard gleefully replied, "The fact that it's happening at all!"
"In my mind I thought, Prepare yourself for a long haul here. Prepare for crippling disappointment, prepare for significant rejection. That's what I was expecting. And there was that, but … it would always feel unexpected," she continued, trying to find the words to articulate further. Despite early adversity, nepotism worries, rude comments about her appearance from tabloids, and reviews that range from glowing to glowering, things are working out for Bryce Dallas Howard — and it hasn't gone unnoticed. "I know the statistics. I know the odds. I know how many great people are out there. … I am consistently surprised and delighted every time I get another job." •