Nancy Meyers wrote the preeminent films about getting married (1991's Father of the Bride), giving birth (1987's Baby Boom), aging (2003's Something's Gotta Give), and divorce (2009's It's Complicated). With her latest movie, The Intern, she's venturing into unchartered territory: men.
"Even though everybody thinks of my movies as always about women, but in great measure, this movie has a great deal to say about men," Meyers told BuzzFeed News in an exclusive phone interview.
The film, which hits theaters Sept. 25, stars Anne Hathaway as Jules Ostin, the CEO of an online fashion startup, and Robert De Niro as Ben Whittaker, her 70-year-old intern. "I had been thinking a lot about men and how they've changed over my lifetime," Meyers said of the script's inspiration. "There's a line where [Hathaway] says, 'How did men go from Jack Nicholson and Harrison Ford to…' and then she looks at some of the other interns; they don't dress particularly well, they don't shave, they're all in sneakers no matter what age they are, so it was my take on what's happening with men. She refers to DeNiro's character as a dying breed."
Meyers added, "It is an homage to men like my dad."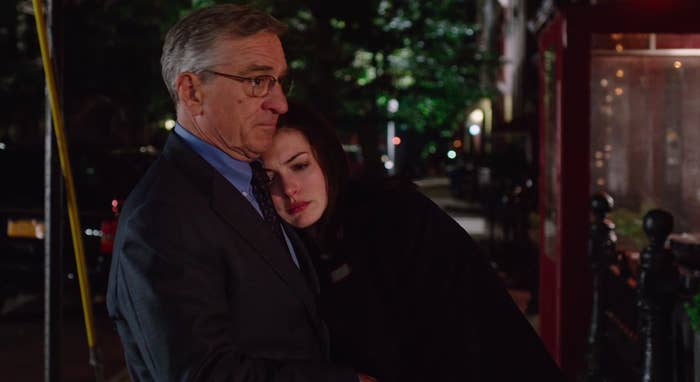 The Intern — which Meyers also directed — is also a departure from her other movies in a second significant way. "It's a friendship movie and I've never written that before," Meyers said, referring to Jules and Ben's dynamic. "It's a love story, but it's not a romantic one. For me, that was different and refreshing to write."
Despite The Intern's male focus and nonromantic central couple, the underlying message that courses through Meyers' work remains unchanged in her latest movie. "Telling women's stories is something that's really important to me because there are so many people telling those other kinds of stories," she said. "I really feel my niche is to talk about the kinds of issues I talk about in my movies." It's a niche that Meyers has occupied since 1980 with Private Benjamin and most notably 1987's Baby Boom.
"We're still talking about those issues," she said of Baby Boom, which stars Diane Keaton as a businesswoman who unexpectedly becomes the guardian of a relative's toddler and must figure out how to juggle being both a parent and a powerhouse at work. "In some ways, to be frank, it occurred to me in the middle of making this movie that I'm making a companion piece to Baby Boom. It's been almost three decades but there are still some of the very same problems, and I found that interesting. Annie's character is a little bit like Diane Keaton's character in the struggle to maintain what it is she wants from her life and how to get it and how to be happy with it. For me, telling these stories is an important part of my work."
Watch the trailer for The Intern.
Warner Bros