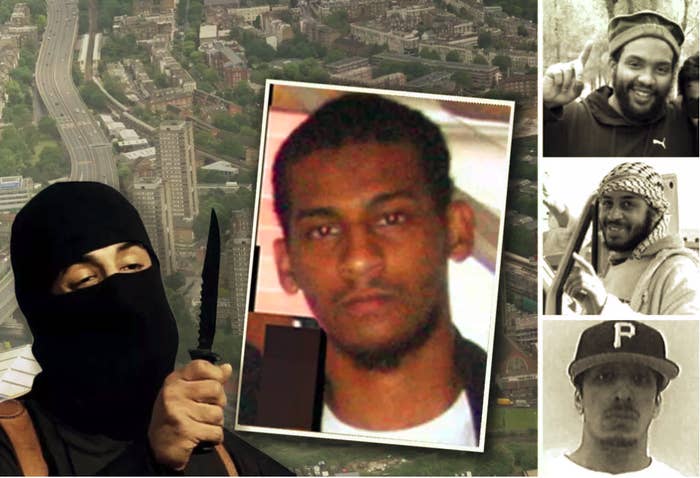 Two British members of the ISIS "Beatles" execution cell infamous for beheading, torturing, and imprisoning hostages have been captured in Syria, according to a report citing US officials. Alexanda Kotey and El Shafee Elsheikh were first unmasked by BuzzFeed News and the Washington Post in 2016.
Kotey and Elsheikh were the last two members of the four-man cell still at large. The group's knife-wielding ringleader Mohammed Emwazi, nicknamed "Jihadi John", was killed in an airstrike in 2015 in Syria after an intensive manhunt. The fourth member, Aine Davis, is in prison in Turkey on terrorism charges. All four had lived in west London. They received their notorious nickname because of their British accents.
Today the New York Times reported that Kotey and Elsheikh have been detained by the Syrian Democratic Forces, a Kurdish-led militia fighting ISIS insurgents. The SDF passed them along to US special operations forces, who confirmed their identities, according to the Times, which quoted "several" US officials speaking on condition of anonymity.
Since their capture, both Kotey and Elsheikh have provided important information to military interrogators, the Times reported, citing a "senior United States official".

In Syria, the "Beatles" became known as the cruellest of all ISIS guards, terrorising their hostages with electric shocks, waterboarding, and mock executions – even a staged crucifixion. They beheaded seven British, American, and Japanese hostages, including the British aid workers David Haines and Alan Henning, and 18 members of the Syrian army.
Emwazi ran the cell, but Kotey and Elsheikh were both active participants. Elsheikh "was said to have earned a reputation" for his role in the group's most macabre torture methods, and Kotey recruited several other British citizens to join ISIS, according to the US State Department.
In February 2016, BuzzFeed News unmasked Kotey as a "quiet and humble" 34-year-old football fan from west London. We spoke to British and US intelligence officials, obtained identity documents, and interviewed neighbours, relatives, and friends.
Kotey, who is half Ghanaian, half Greek Cypriot, grew up in a family of dress cutters in Shepherd's Bush – just under 2 miles away from Emwazi – and was an avid supporter of Queens Park Rangers Football Club. He is said to have converted to Islam, grown a beard, and begun dressing in robes in his early twenties, after falling in love with a Muslim woman. He left two young children in Britain.
Elsheikh, 29 years old, was unmasked a few months later. He was described as a "kind and softly spoken" former fairground mechanic from a family of Sudanese communists in west London.
Elsheikh's mother, Maha Elgizouli, told BuzzFeed News in an exclusive interview at her home in White City that her "perfect" son ran away to Syria to wage jihad in spring 2012. Elsheikh's mother said he was heavily influenced by the sermons of Hani al-Sibai, a notorious west London Islamist preacher who described the London 7/7 bombings as a "great victory", is said to have inspired the 2015 Tunisian beach massacre, and has himself been linked to Emwazi, the "Beatles" ringleader.
In both cases, the authorities had missed chances to spot the radicalisation of the two men, who grew up in the same deeply divided pocket of west London and were radicalised in its mosques before travelling to Syria.
BuzzFeed News revealed Kotey had gone to the Middle East alongside three other known extremists on a controversial aid convoy to Gaza organised by the London mayoral candidate George Galloway in 2009. Friends in west London did not hear from him again after that journey. A spokesman for Galloway said at the time that there was a "vetting procedure" to join the convoy and that they were unaware of the extremists.

Investigators believe Kotey was radicalised while attending the Al-Manaar mosque in Ladbroke Grove alongside Emwazi. The mosque's leaders said they had clamped down on radicalisation and were working closely with the police and the council to combat extremism.
By February 2016, Kotey's family said they had not seen him "for a number of years" and were "deeply distressed" at news that he had been identified as an ISIS guard.