A ring of Colonel Muammar al-Qaddafi's henchmen – including military commanders linked to the bloody suppression of the Libyan uprising – have been found living in Britain by BuzzFeed News.

The three men – who all deny any wrongdoing – are on a target list of former regime figures wanted by prosecutors in Tripoli for allegedly fleeing the country with stolen state assets following the collapse of Qaddafi's dictatorship in 2011. BuzzFeed News can reveal that they have been given safe haven in the UK despite being accused of laundering millions of pounds through British banks and property deals.
General Ahmed Mahmoud Azwai, who maintained Qaddafi's missile stockpile, is suspected of laundering millions through properties in the Home Counties via a network of offshore companies. BuzzFeed News found him living in an affluent part of Surrey.

Brigadier Guima Elmaarfi, who commanded a brigade in Qaddafi's army, is suspected of escaping the country with a fortune of at least £14 million following the fall of the dictator and is wanted for allegedly laundering stolen assets in the UK. BuzzFeed News tracked him down to a large house in southwest London. It can be revealed that his son, who fled with him to Britain, was jailed two years ago for stabbing a teenager with a kitchen knife and carving his initial into the abdomen of a man who had been beaten unconscious.
BuzzFeed News has been banned from naming the third member of the Qaddafi regime found hiding out in Britain, after he hired the exclusive law firm Mishcon de Reya and top QCs Dinah Rose and Monica Carss-Frisk to obtain a gagging order from the high court on Monday. The injunction is so restrictive that it is not even possible to disclose the grounds on which it was made.
Lawyers and investigators acting for the Libyan state claim that the three former officials are among scores of regime figures suspected of hiding stolen assets worth a total of $10 billion in the UK. They say the British authorities have done nothing to help them investigate, instead allowing all three men to settle in Britain, and granting Elmaarfi and Azwai political asylum.

Elmaarfi categorically denied all the allegations in an interview at his home in southwest London, insisting that he was struggling financially after leaving Libya empty-handed. Azwai denied stealing from the state, before shutting the door of his home in Surrey.
But documents obtained by BuzzFeed News reveal that the Libyan Transitional Government wrote to Britain's Serious Organised Crime Agency (SOCA) in 2012 asking for assistance in recovering money allegedly "obtained through corrupt or illegal means" by 240 former regime figures – including the three men found by BuzzFeed News. The letter warned that some of the money had been hidden in the UK, but investigators say Britain gave no assistance.

The revelations raise questions about the government's repeated pledges to get tough on money laundering, two months after David Cameron promised new measures to shut illicit cash out of the British property market and "send a clear message to the corrupt that there is no home for them here". The capital was branded a "welcome mat" for corruption in the UK in a report by the home affairs select committee earlier this month, which warned that "poor supervision and enforcement in the London property investment market are making a safe haven for laundering the proceeds of crime".
The Qaddafi regime was accused of multiple atrocities in its brutal suppression of the Libyan uprising in 2011 and investigators told BuzzFeed News that both Elmaarfi and Azwai led the dictator's forces in the fight against the rebels. Elmaarfi headed a military brigade in the town of Tarhuna and helped round up recruits "to sacrifice their lives for the sake of Libya and the great chief Qaddafi", while Azwai was responsible for maintaining the Scud-B missile stockpile that the dictator unleashed on protesters in the dying days of the regime. Elmaarfi denied allegations that he "terrorised" rebel-held areas during the struggle and said he had simply defended Tarhuna, while Azwai did not respond to questions about his role in Qaddafi's military.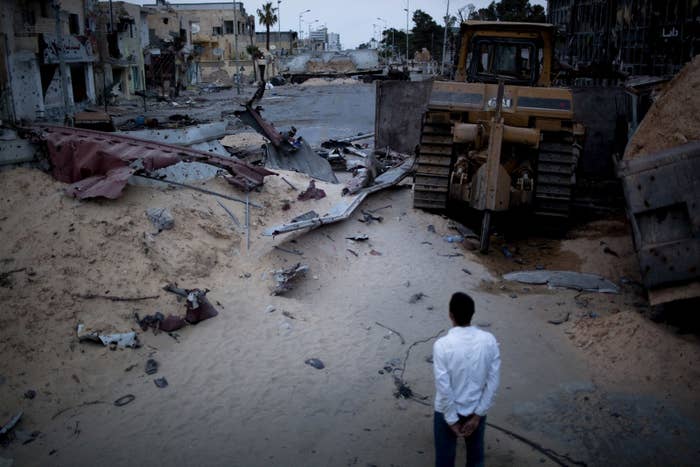 Libya has descended into chaos since the collapse of the regime following NATO's intervention in 2011, with three rival government factions now struggling for control of a nation gripped by civil war. With an economy in deep recession and oil revenues tumbling, the country's embattled financial authorities are hunting tens of billions of dollars' worth of missing assets they believe Qaddafi's top officials looted and hid around the world.

Abdelhamid Eljadi, an investigator appointed by Libya's transitional government to help with the asset hunt, said $30 billion was found stashed in Swiss bank accounts and $50 billion in the United Arab Emirates, but British authorities had not helped to recover a large portion of the missing assets believed to have been hidden in the UK. "We are aware of $10 billion of stolen assets in UK banks and the British government is aware of that," he said. "The problem is governments like the UK that tend to be democratic and anti-corruption, they protect these people. They are giving them a safe haven."
"Looting state coffers is only worth doing if you have somewhere safe to put it and somewhere fun to spend it."
Mohammed Shaban, a London lawyer representing the Libyan government in its efforts to recover money hidden in the UK, was able to reclaim a £10 million London townhouse owned by the dictator's son Saif Qaddafi through the civil courts in 2012, but says Britain's law enforcement agencies have been no help with the wider hunt. "I don't think that the British government is as interested as they say they are in helping Arab countries recover their assets and stopping money laundering," he said.
Shaban said Libya has struggled to provide the voluminous documentation Britain requires before agreeing to give "mutual legal assistance" to other countries in asset-freezing cases, protesting that the process is prohibitively bureaucratic for a fractured nation engulfed in civil war. "They seem to be dealing with Libya as if it were the United States or France, where they have proper systems, proper record-keeping, rather than a country that has toppled a former dictatorial regime and is trying to find its feet," he said. But he acknowledged that "Libya hasn't done themselves any favours in producing the goods".
The National Crime Agency (NCA), which replaced SOCA in 2013, said in a statement: "The NCA works with UK and viable international partners to prevent corrupt individuals from successfully hiding illegally acquired assets in the UK. We do not routinely confirm or deny specific operational activity, nor discuss the details of engagement with partners. However, this engagement is clearly going to be more difficult in areas of conflict or political instability."
Campaigners called on UK authorities to come to the aid of Libyan investigators struggling to hunt down the country's missing assets. "Looting state coffers is only worth doing if you have somewhere safe to put it and somewhere fun to spend it," said Chido Dunn of the transparency watchdog Global Witness. "For many years the UK government has allowed corrupt leaders and their cronies to buy up luxury property and travel to and live freely here."
Robert Barrington, executive director of the campaign group Transparency International, said the government must proactively investigate any former Qaddafi official suspected of living in Britain on embezzled funds. "It's unjust that the UK has a situation where these people can be living in luxury while their home economy implodes," he said.
The story of how a clutch of senior Qaddafi officials escaped to a comfortable new life in Britain as Libya slid into chaos can today be told for the first time.
Colonel Qaddafi had only his most loyal commanders still by his side as he waged a bloody onslaught on the rebel-held coastal town of Misrata in the spring and summer of 2011, killing indiscriminately in a firestorm of shelling, missile strikes, and cluster bombs. The dictator's troops, military chiefs, and ministers were deserting in their hundreds as rebel forces advanced on land and aerial strikes rained down from NATO fighter jets overhead. But, investigators say, General Ahmed Azwai stayed true.

The white-haired military chief had held a glittering array of senior roles since helping to lead the coup that brought Qaddafi to power in 1969, investigators told BuzzFeed News, and four independent sources said he commanded loyalist forces fighting the rebellion in the western area of Libya as the regime crumbled.
Azwai's most important role, investigators say, was heading Qaddafi's Central Organisation for Electronic Research (COER), responsible for the long-range missile stockpile that the dictator began to unleash on his own people in the dying days of his regime. Qaddafi had promised to eliminate his arsenal of weapons of mass destruction in December 2003, but diplomatic cables reveal Azwai refused to surrender Libya's cache of Soviet-era Scud-B missiles unless a "satisfactory replacement" was found. In one tense encounter in February 2010, the missile chief had told the US ambassador Gene Cretz: "I will not allow 12,000 Libyan soldiers to remain unarmed and vulnerable. If I give up their weapons before I have a replacement, they will turn on me."

The following year, as the regime's troops deserted in droves, Qaddafi began firing the notoriously indiscriminate Scud-B missiles into rebel-held towns. Though the warheads were believed to have landed on the coast without casualties, NATO condemned their "utterly irresponsible" use as "a weapon of terror" against civilians. The COER was bombed by British jets in July 2011 and the Royal Air Force issued a statement saying the centre had "long been a cover for the regime's nefarious activities" and "was still being actively used by [Qaddafi's] security apparatus to repress the civilian population".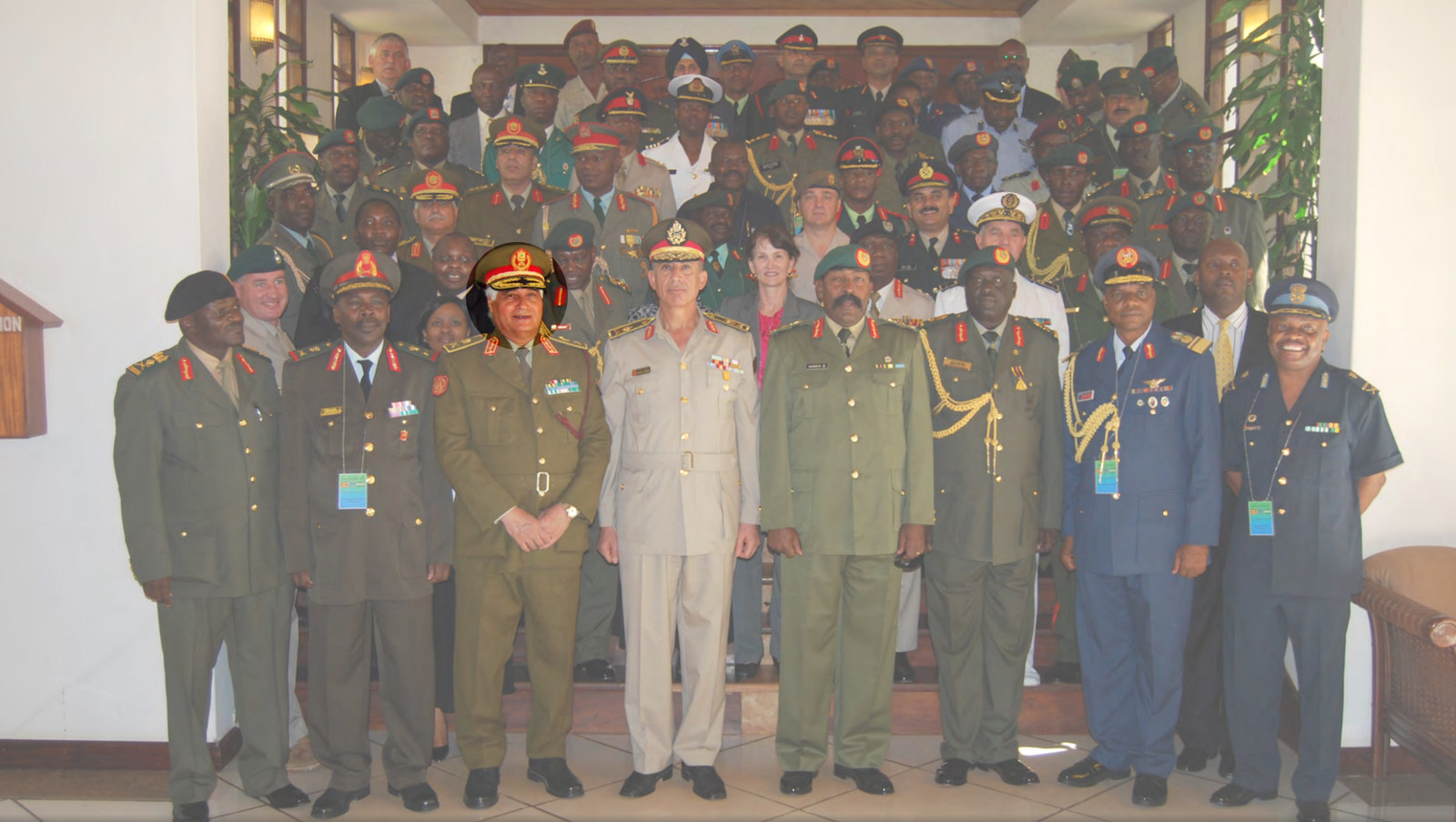 Thousands of civilians died in the siege on Misrata and other rebel-held areas before Qaddafi was finally killed near his hometown of Sirte in October 2011. It is not known exactly when Azwai finally fled Libya, but documents seen by BuzzFeed News suggest he was formally retired in 2012, the year after Qaddafi's fall.
Five years on from the Libyan revolution and thousands of miles away from the political and economic uncertainty facing the country today, Azwai has been tracked down by BuzzFeed News to a prosperous neighbourhood in Surrey, where average property prices top £1 million. His detached house is surrounded by 8-foot hedges with an intercom at the large iron gate, and gleaming BMWs and Audis often roll up the paved drive.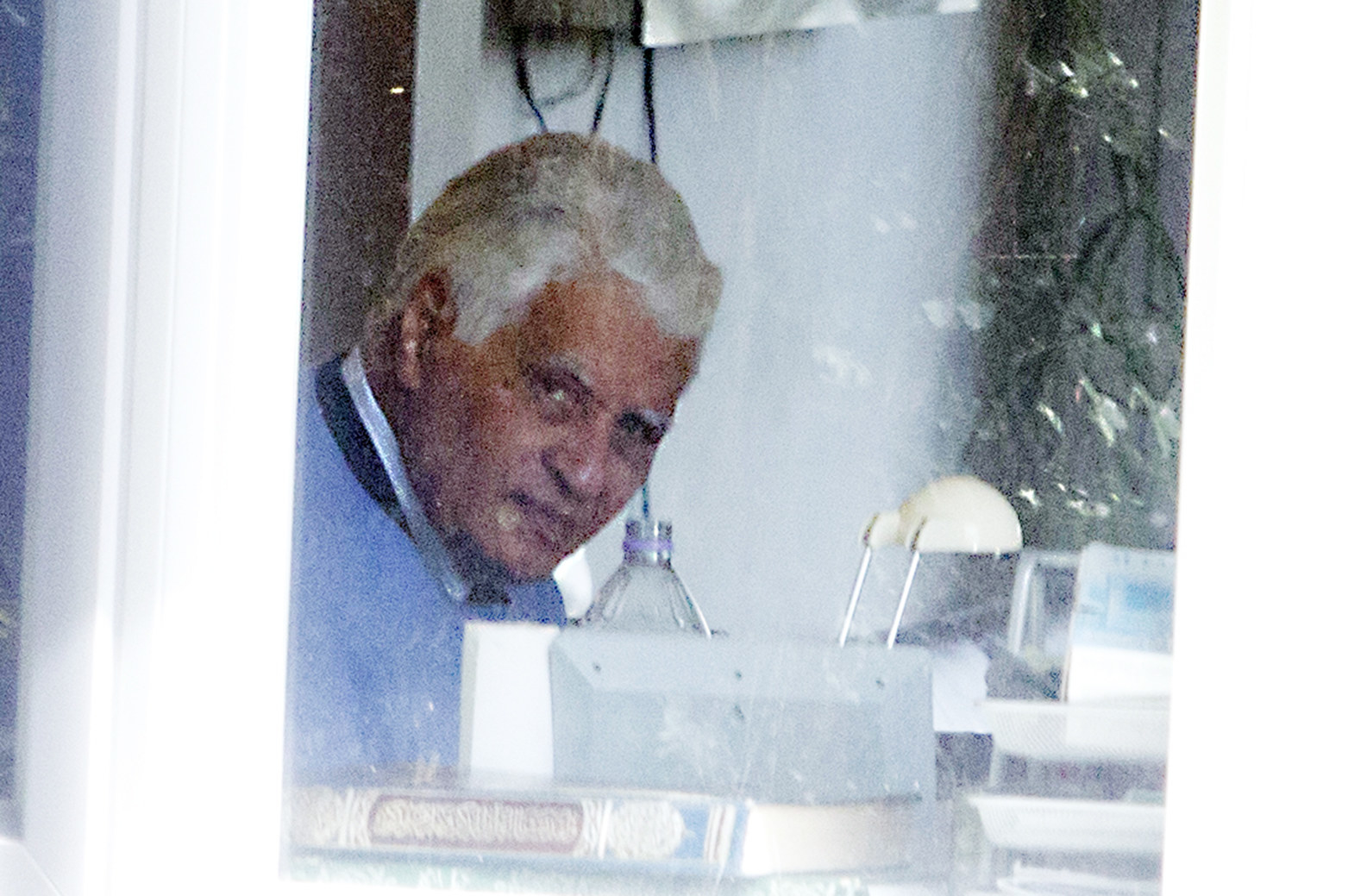 Sources say Azwai was granted political asylum after he arrived in Britain and his life here is quiet: During three days of surveillance by BuzzFeed News he did not leave his house once, instead spending hours sitting by the window of his living room reading Arabic literature. But he has been unable to leave his past behind completely.
For the past four years, lawyers and investigators working for the fractured government in Libya have been searching for Azwai and millions of pounds of public money he is suspected of having laundered through the UK. They suspect he and a second former official who can't be named due to the gagging order have laundered millions of pounds siphoned off from the regime by buying property in the Home Counties through a network of offshore firms that they are alleged to beneficially own.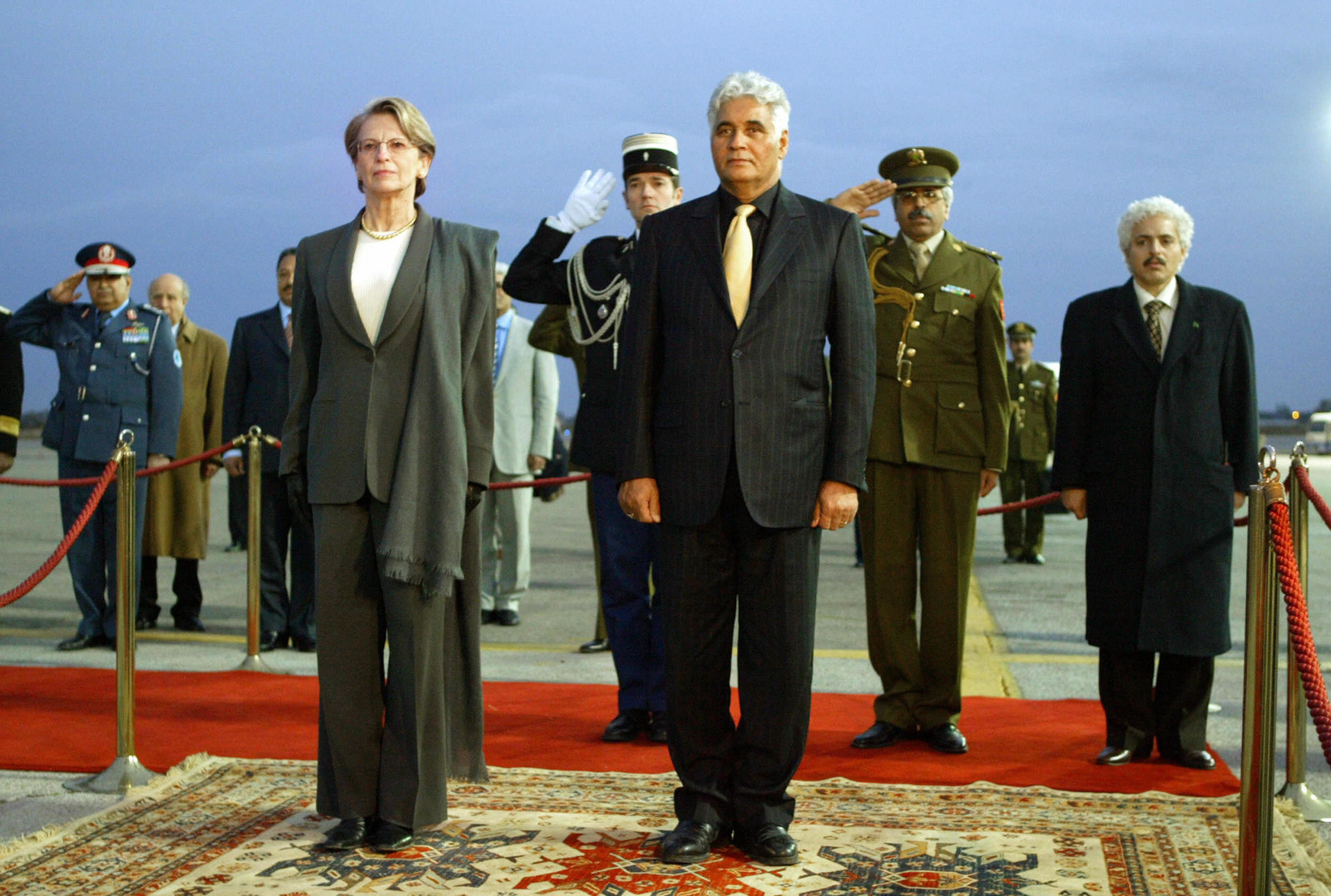 Abdelhamid Eljadi, the investigator who was appointed by Libya's transitional government as a point of contact with SOCA in 2012, told BuzzFeed News that the money Azwai is accused of laundering in the UK is suspected to be a fraction of the total fortune he allegedly amassed throughout Qaddafi's reign. "Those funds are spread all over the world: Switzerland, UK, Germany, and others," he claimed.
Eljadi claims that when Qaddafi assigned Azwai to head up the COER, overseeing the development of medium- and long-range missiles, the general was suspected of taking large bribes from other countries and companies. This claim was made by another Libyan corruption expert close to the case who wanted to remain anonymous because of her work in Tripoli.
Azwai was a personal friend of Qaddafi, according to Eljadi, and the men were so close that when the dictator asked Azwai for his daughter's hand in marriage to a suitor he didn't think was right for his own daughter, the general obliged.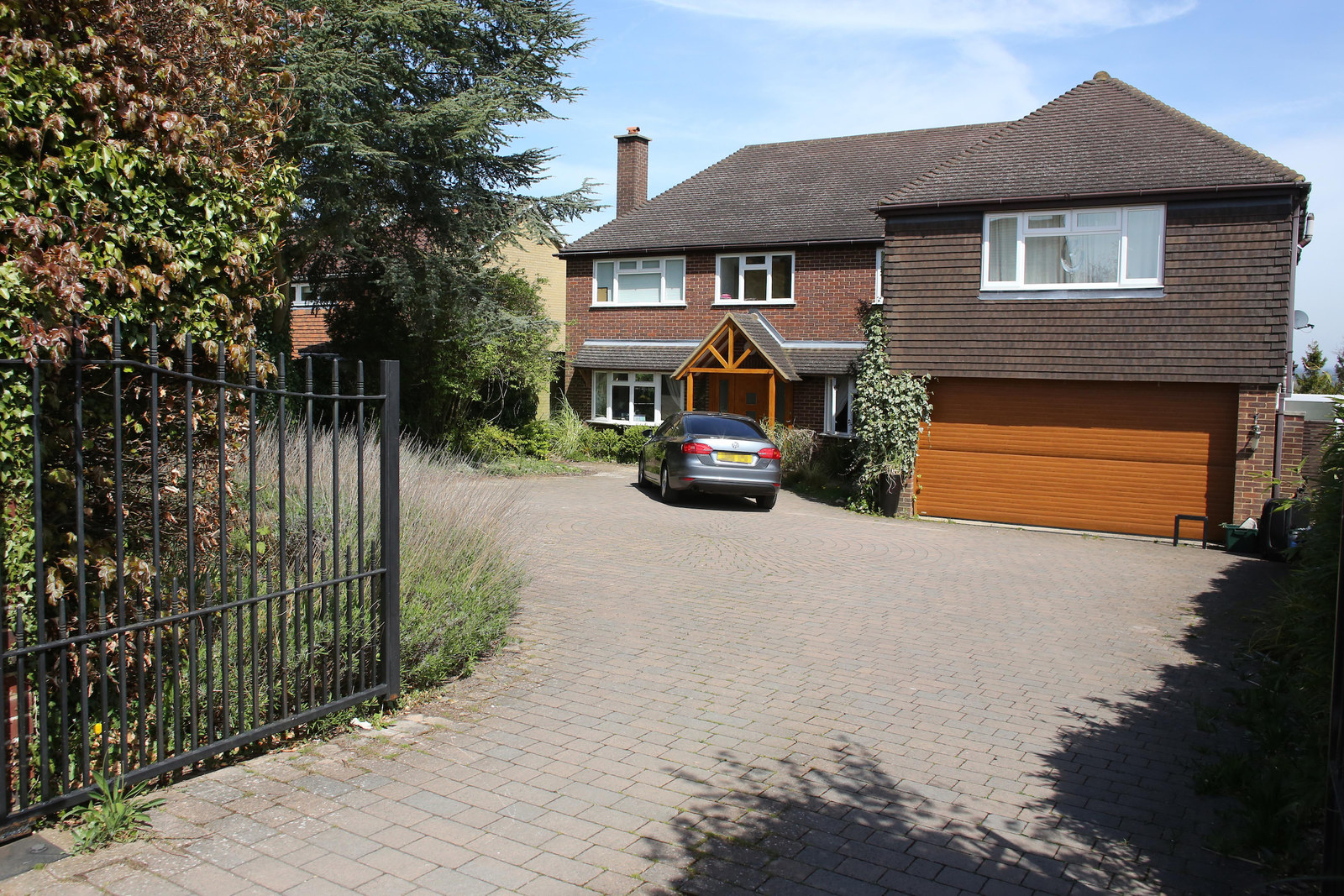 BuzzFeed News has established that two neighbouring addresses where Azwai previously lived in Surrey were bought for a total of £1 million by ATT Universal Holdings Ltd, one of the offshore firms he and the other regime official are alleged to own. Azwai has since moved to a new address nearby, where he was located by BuzzFeed News.
Approached for comment at his home in Surrey, Azwai said "I didn't steal", before shutting the door on reporters. He did not reply to a detailed letter requesting his response to allegations that he laundered money or played a role in suppressing the rebellion against Qaddafi.
On a manicured suburban street on London's southwestern fringe lives another of Qaddafi's former military commanders. Guima Elmaarfi resides here with his wife and children in a large semidetached house after fleeing Libya with assets amounting to at least $14 million, according to accounting documents seen by BuzzFeed News. Immigration papers show that Elmaarfi has been granted refugee status by the Home Office, and bank statements paint a picture of the quiet but affluent lifestyle his family enjoy here, shopping at Marks & Spencer and dining at Patisserie Valerie.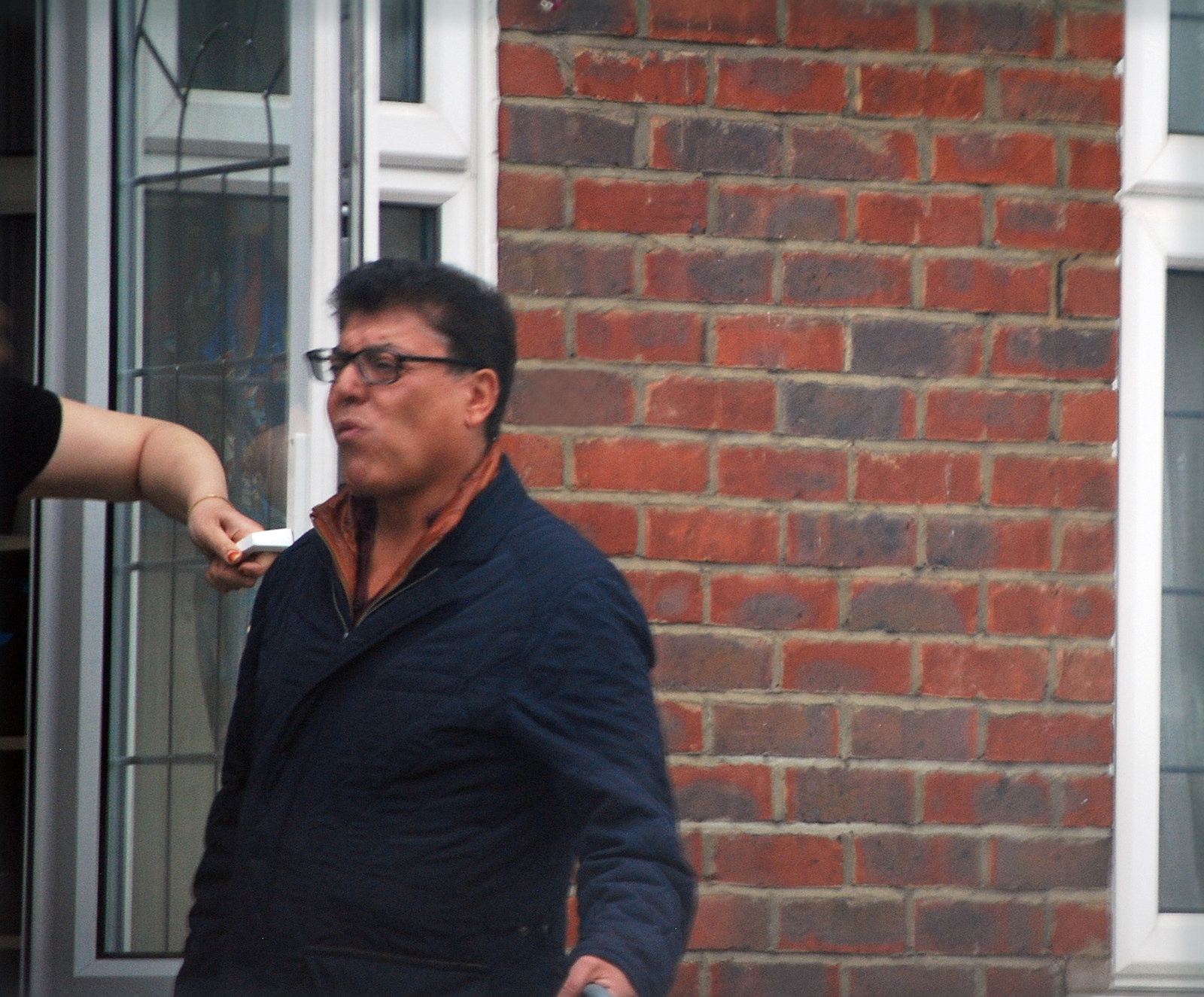 But five years ago Elmaarfi was the commander of Qaddafi's battalion in the city of Tarhuna and allegedly rounded up thousands of local men to help crush the rebels. Lawyers claim he also helped lead the charge into Misrata – one of the most intense battlegrounds between Qaddafi forces and rebels – where Amnesty International reported "horrifying" tactics by the dictator's troops, "including use of heavy artillery, rockets and cluster bombs in civilian areas and sniper fire against residents". Elmaarfi denies this.
Elmaarfi publicly glorified the dictator in an interview broadcast during the civil war, calling for recruits to "sacrifice their lives for the sake of Libya and the great chief Qaddafi". He called the rebels "betrayers and cowards" who "sold their country and will go to hell".
Guma El-Gamaty, who worked as a coordinator between Libya and the British government after the revolution, told BuzzFeed News: "He recruited thousands of young men and pushed them on to fight Misrata in the revolution and I think thousands of young men were killed."
But by the autumn, as it became clear Qaddafi's days were numbered, Elmaarfi had decided to jump ship. In September 2011, Al Jazeera broadcast an interview in which he declared his defection from Qaddafi and claimed he had secretly helped arm rebels.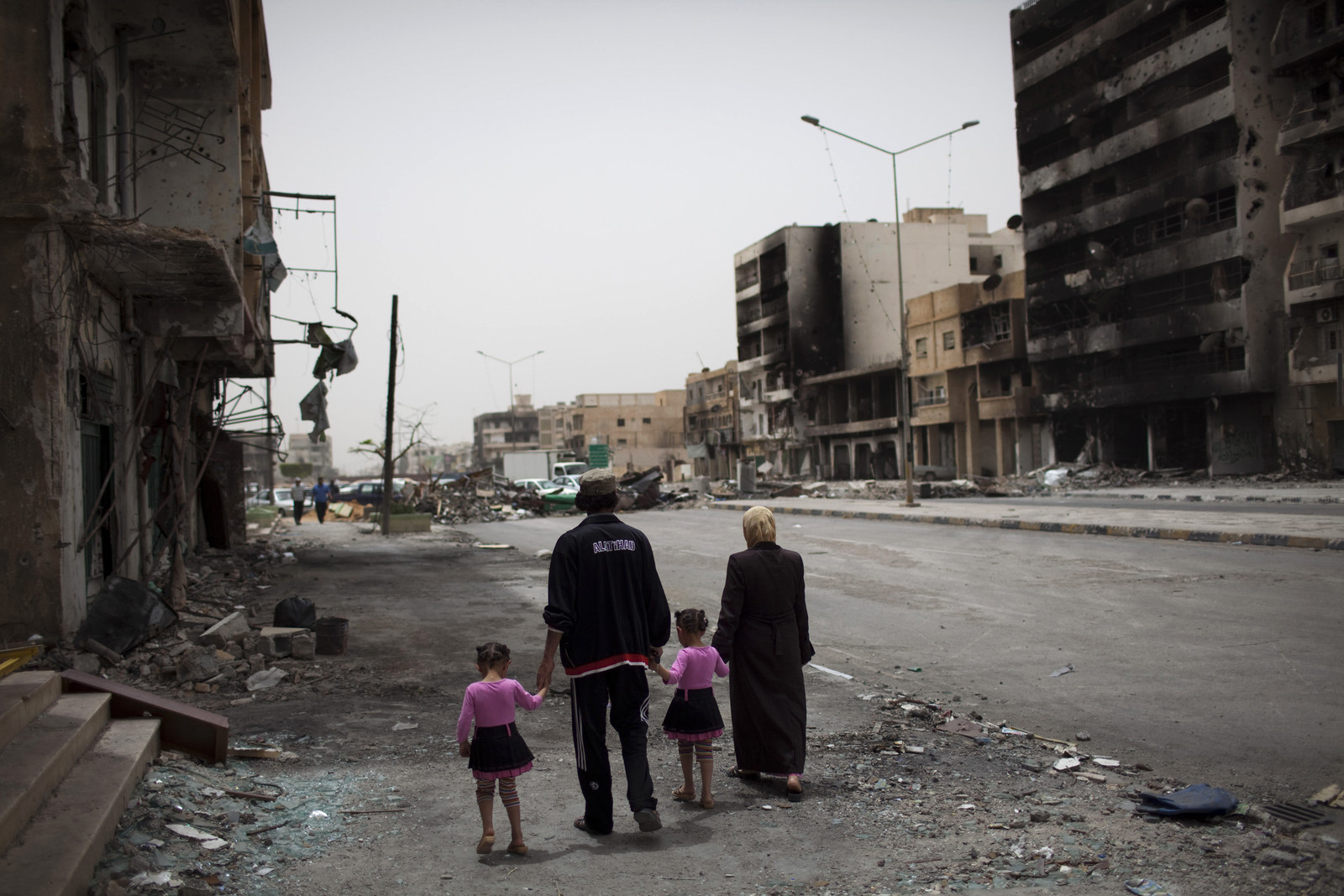 Gamaty claims that when Elmaarfi realised Qaddafi was "doomed", the brigadier decided to "escape the country and save his own neck and enjoy the money he had". He says Elmaarfi approached him in his role as a liaison between the Libyan and British governments when he reached the UK and begged for his assistance. "He was trying to send this image of innocence, saying he was not with Qaddafi; he deserted him and came to the UK and had to claim refugee status," Gamaty said. "He said, 'I came to London with $17,000, they are the only assets I had.'"
However, a year later, Gamaty said, he bumped into Elmaarfi at a coffee shop outside a Dubai mall. "He looked very wealthy, well-tanned, well-dressed. As soon as I saw him I thought, Bloody hell, how far can $17,000 go?" Gamaty said. "He said $17,000 was all his wealth but no way did I believe that – I think he missed a few zeros."
Financial documents from March 2013, seen by BuzzFeed News, appear to show that Elmaarfi escaped Libya with investments totalling $14 million in various property and healthcare companies in Dubai; furniture, antiques, and jewellery worth half a million dollars and a net annual income of $500,000. His 2011 accounts showed a "personal and household expenditure" of $20,000 a month.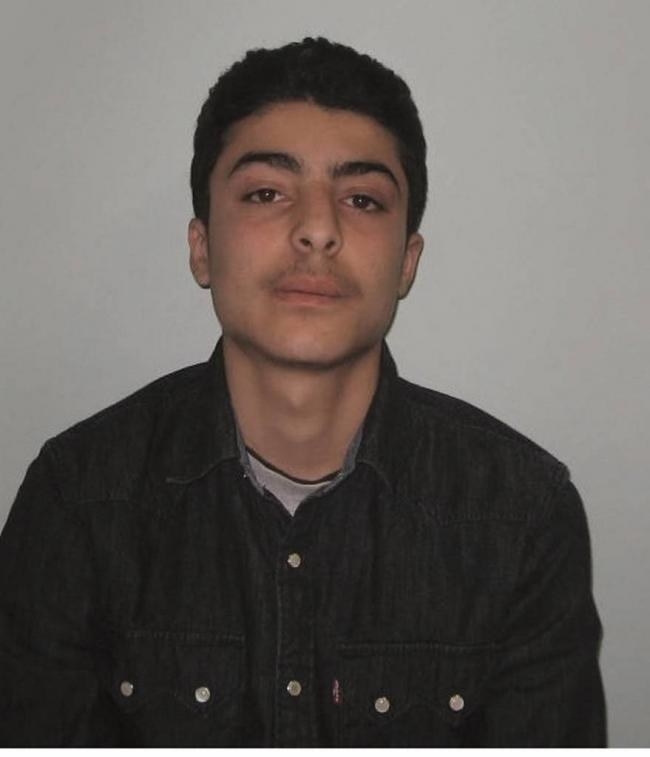 But, like Azwai, Elmaarfi has been unable to leave his past behind entirely. His son has repeatedly been in trouble with the law for acts of extreme violence. Basel Guima Elmaarfi was jailed in 2014 at the age of 18 for stabbing a fellow teenager with a kitchen knife in an argument about a mobile phone. He also pleaded guilty to carving the first initial of his street name "Tabs" into the abdomen of a man who had been beaten unconscious. In January this year, he was cleared of stabbing the father of another man he had been arguing with in McDonald's.
And Elmaarfi himself is on the list of former regime officials being hunted in Tripoli for allegedly laundering stolen state assets in the UK.
Elmaarfi vigorously rebuffed all the allegations against him in a 40-minute interview with BuzzFeed News at his spacious home, which he said he rented for his large family to live in.

Sitting on an ornate gold-patterned armchair in front of a bookshelf lined with souvenirs from Paris, New York, and Dubai, the former brigadier denied that he had escaped Libya with assets of $14 million and said he was struggling financially. "All these are lies created by those who occupied Libya," he said as his wife served up Arabic coffee and sweets on silver trays. "Not me only but a lot of my colleagues also are suffering from difficult economic circumstances. We are clear like the sun, and Britain knows that, and all the world knows that."

Elmaarfi accused the current government in Tripoli of embezzling money, claiming "the biggest money laundry in history is happening now in Libya" and said he would be "ready with my friends to go back and stand in front of any court" if the country "had a real state and had justice and safety and the terrorism [had] been eliminated".
"If Libya had a real state and had justice and safety and the terrorism [had] been eliminated, I am ready with my friends to go back and stand in front of any court."
The former brigadier acknowledged that he had commanded Qaddafi's battalion in Tahuna during the uprising but insisted that he had "kept the city as safe as possible" and blamed the NATO-led intervention for the crisis currently engulfing Libya. "The Western countries destroyed it," he said. "Where are they, these people, with what's happening now in Libya? … I prefer Qaddafi to stay more than a hundred million times than this situation now."
Elmaarfi strongly denied any involvement in the crackdown on Misrata or any violence against civilians.

It was Libya's new deputy prime minister, Mustafa Abushagur, who was tasked with tracing and repatriating the billions of dollars believed to have been stolen by Qaddafi's top officials after the dictator's death. Prosecutors in Tripoli opened a formal investigation into 240 "politically exposed persons" who were suspected of serious embezzlement – including Elmaarfi, Azwai, and the third official who cannot be named – and their assets in Libya were frozen and transferred into the custody of the state.
Others on the list already revealed to be living in the UK include Saleh Ibrahim Mabrouk, a former education minister under Qaddafi who was arrested in the UK last November in connection with the murder of PC Yvonne Fletcher outside the Libyan embassy in 1984 and is now on bail. Mabrouk allegedly fled to Britain carrying around £130 million of stolen state cash after Qaddafi's death and was initially granted asylum, though police investigating Fletcher's death also arrested him and two relatives under suspicion of money laundering. Scotland Yard announced it had dropped its money laundering charges against Mabrouk and his relatives one week after this story was published.
The documents also show that Libya asked SOCA for help pursuing assets allegedly stolen by Ali Ibrahim Dababia, another close Qaddafi aide who allegedly ploughed millions of pounds into an investment in the upmarket British estate agent Chesterton Humberts as the regime collapsed. Dababia denied any wrongdoing and said he was no longer under investigation in Libya.
Much of the money was believed to have been hidden abroad and so, in 2012, Abushagur began reaching out to foreign law enforcement agencies through diplomatic channels to ask for help in recovering the loot.

Shaban, the lawyer for the Libyan embassy in London, was instructed to make contact with SOCA about the money believed to be stashed in the UK. Documents show he emailed the crime agency for the first time in July 2012 to ask for help in "identifying any assets held in your country (UK) which may have been acquired, by way of corruption and/or fraud, by Libyan nationals".
The initial response from SOCA seemed positive. Officials at the agency's financial intelligence unit told Shaban they were prepared to discuss ways of assisting the Libyans in their asset hunt, and three days later Abushagur wrote to formally request their help. The deputy prime minister enclosed the list of 240 former Qaddafi officials who were under investigation in Tripoli, noting that "some of those identified may directly or indirectly own and/or control assets in the UK which may have been acquired clandestinely by the misappropriation of Libyan public funds". His letter nominated Eljadi – the corruption investigator who spoke to BuzzFeed News – to liaise with SOCA on Libya's behalf.
Shortly afterwards, Eljadi received a friendly email from an investigator at SOCA's financial intelligence unit expressing a willingness to "help ascertain exactly what illicit assets, if any, are held in the UK by, or on behalf of, former regime members". And in August, the head of the agency's financial intelligence unit wrote formally to deputy prime minister Abushagur declaring: "The United Kingdom stands ready to work closely with the Libyan authorities on asset recovery."
"They never wanted to return the funds. As soon as things started to fall apart in Libya they turned their backs and shut all doors."
But then came the first sign of the difficulties that lay ahead. The letter to Abushagur explained that while SOCA was very happy to share information with the new Libyan government on an informal basis, "should the sharing of financial intelligence lead to a desire from the Libyan authorities to seize and restrain assets in the UK" then the new government would have to jump through all the hoops of making a formal request for mutual legal assistance to the Home Office.
The process of requesting mutual legal assistance from the British government is long and complicated, requiring the applicant to supply voluminous paperwork, and Libya's transitional government was busy firefighting as the civil war continued to rage. It quickly became apparent that they were going to struggle to comply with the complex bureaucratic procedure, Shaban said, and to complicate matters further, Libya's chief asset hunter Abushagur was ousted from office in the October after briefly becoming prime minister. With him out of the picture, Eljadi told BuzzFeed News, cooperation between the UK and Libya stalled entirely.
"They never in reality wanted to return the funds," Eljadi said. "As soon as things started to fall apart in Libya by the departure of prime minister Dr Mustafa Abushagur in October, they immediately turned their backs and shut all doors."
SOCA was shut down in 2013 and replaced by the National Crime Agency. The NCA refused to comment to BuzzFeed News on whether any efforts were now being made to investigate the allegations against Elmaarfi, Azwai, and the third official, saying it could not comment on "specific operational activity". But a spokesman stated: "The NCA works with UK and viable international partners to prevent corrupt individuals from successfully hiding illegally acquired assets in the UK."
A spokesperson for the Home Office said mutual legal assistance is an "effective tool for both UK and overseas investigators" and that the guidelines on how to make the requests are "clear".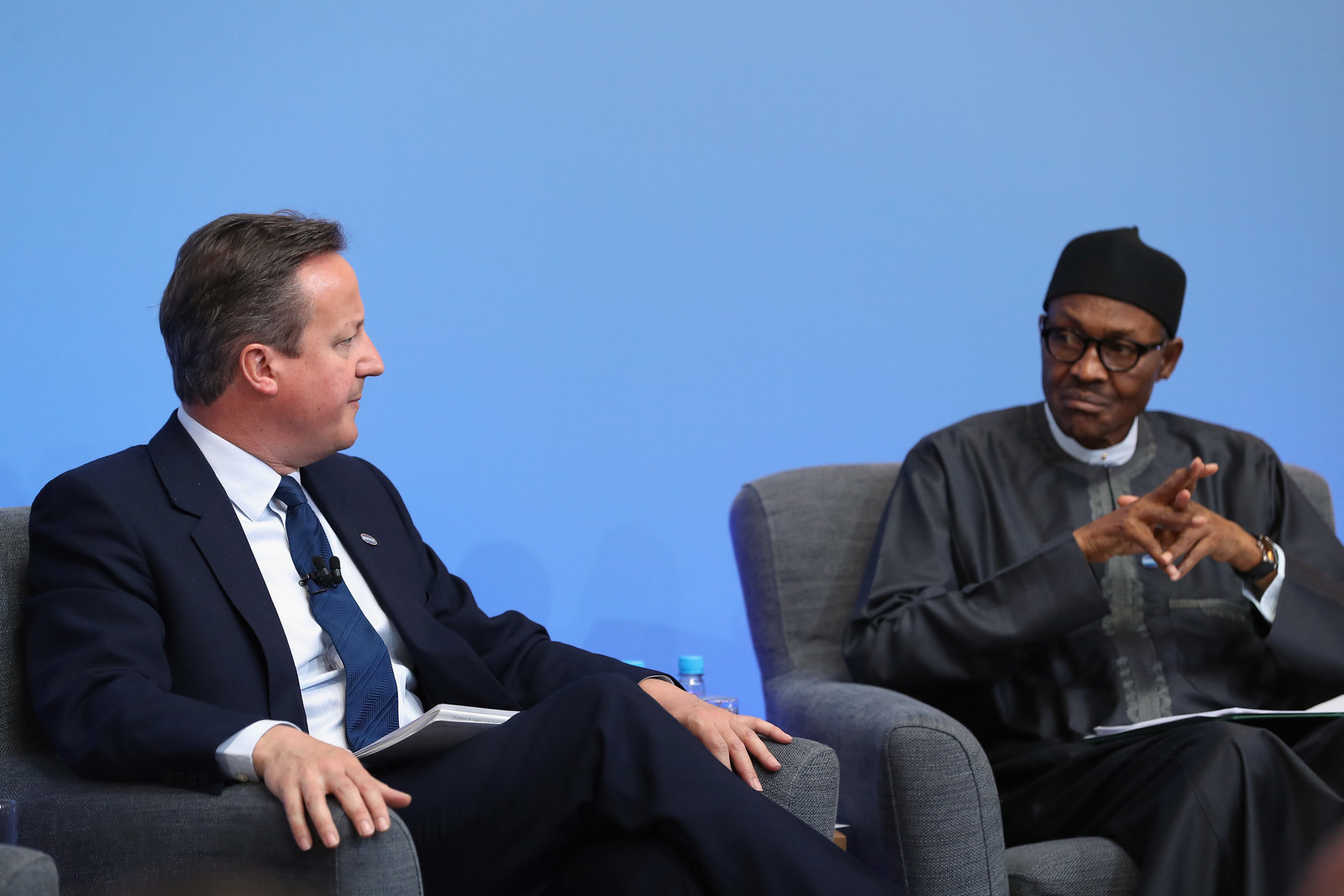 Britain's inefficacy at helping foreign governments retrieve stolen assets was brought into sharp focus ahead of David Cameron's global anti-corruption summit in May when 95 Nigerian reform groups wrote to the then prime minister asking him to stop the country's corrupt officials laundering money through Britain's property market. "Civil society in Nigeria is calling on you to take serious action to end the UK's role as a safe haven for our corrupt individuals who steal our wealth for their own private gain," the letter said.
Tensions heightened when Cameron was caught on camera calling Nigeria a "fantastically corrupt" country at the summit. Asked if he would like the British prime minister to apologise for the clumsy remark, the country's president, the pro-reform Muhammadu Buhari, responded: "I am not going to demand any apology from anybody. What I am demanding is the return of the assets."
At the summit, Cameron unveiled a plan to force foreign firms, which together own a total of 100,000 properties in the UK, to declare their assets in a public register, claiming that the move would mean that "corrupt individuals and countries will no longer be able to move, launder and hide illicit funds through London's property market, and will not benefit from our public funds".
Chido Dunn of the anti-corruption NGO Global Witness welcomed the government's announcement of "clear measures aimed at tackling the problem of dirty money in UK property". But she warned that "these promising words will need to be backed up with firm and swift action if we are to make sure that the UK is no longer providing a safe haven for the world's criminal and corrupt".