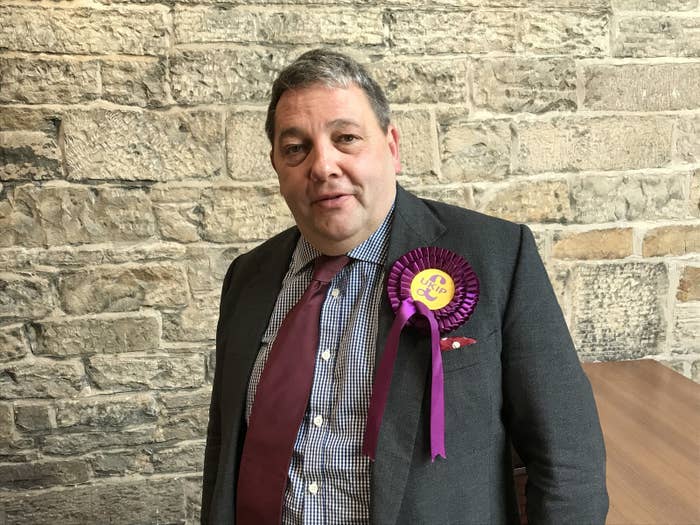 The leader of UKIP Scotland has insisted he's not a failure in politics and will be able to keep his deposit in the upcoming election, at a manifesto launch where he also declared that British people are less xenophobic than the French.
David Coburn, who's been unsuccessful in every Scottish election campaign since he became an MEP and UKIP's only elected representative in Scotland in 2014, launched his manifesto at a bizarre event in the city centre of Edinburgh on Wednesday.
The launch – attended by around a dozen journalists, four candidates, and one man who told BuzzFeed News he was not a member of the party but came along with a friend – saw Coburn take aim at Nicola Sturgeon, Ruth Davidson, and the town where he's standing for election.
After the younger male UKIP candidates had fetched a pint from the upstairs bar in the venue – a private members' club adorned with military memorabilia – Coburn burst into the room with his party's chairman, Calum Walker. "Good evening, everyone," began Walker, just after 2pm.
Coburn loudly launched into an at-times confusing speech, for which he appeared to have notes. He spoke in support of the continuation of the NHS (which he said he needed now as "bits were starting to drop off [him]"), dismissed the SNP manifesto as "unreadable gobbledegook", and wrongly and repeatedly insisted UKIP was the only party against another referendum on Scottish independence.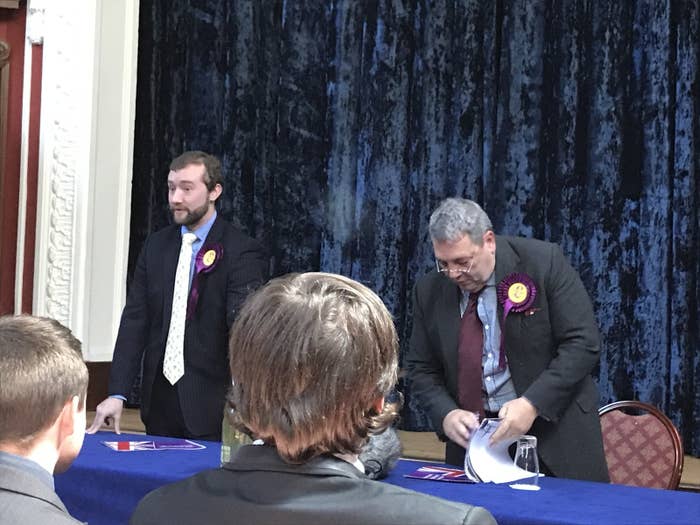 The most eye-catching policies in the UKIP Scotland manifesto include raising the level of alcohol you can have in your blood before you're legally over the limit to drive, abolishing the smoking ban in pubs and clubs, and building "local homes for local people".
Following his speech, Coburn came under brutal questioning from the media. He was asked if he was a failure as a politician, if he could improve on his performance from 2015 by managing to keep his election deposit this time, and how the Scottish economy could survive with slashed immigration bearing in mind the country's declining population.
"We should have more children, that seems the obvious thing," replied Coburn to the question on immigration, in what did not appear to be a joke. "And remember migrants grow old too, they don't remain perpetually young, so the same problem revisits us."
Coburn attracted derision from the press on several occasions but particularly when he insisted the party was one of "meritocracy" around two minutes before being forced to admit that the party's chairman, sitting alongside him, is in fact the party's biggest donor.
"He is chairman because he was elected chairman," said Coburn, while the angry Walker beside him shouted that he'd "worked bloody hard" to get where he was. A flustered Coburn continued: "He's rebuilt the party. I couldn't operate without him. He's a clever man and he operates a business."
On being asked if he was a failure as a politician, Coburn replied "no", before launching an attack on the media, saying: "We've had setbacks in the past but that's politics," and admitting that "life has been a wee bitty difficult" for UKIP Scotland in recent elections.
"The Scottish press establishment – BBC, STV, and everyone else – have done their level best to keep us out of the media," said Coburn, before singling out a journalist in attendance from The Herald, which he described as "the house magazine for the Scottish National Party".
Speaking to BuzzFeed News after the event, surrounded by scattered handwritten speech notes, Coburn described a town in the constituency where he is standing – Kirkcaldy in Fife – as a "concrete block" full of "vaping shops", before insisting he enjoys living in the area.

"The high street, the old growth areas, are the vaping shops and charity shops. Everything else is closing down," said Coburn. "There's this wonderful seafront, which you'd be grateful to see in Nice or Cannes, but all they've got is this concrete thingy which looks like the Berlin Wall along it – not inspiring."
Asked if he liked the area, Coburn said: "It's gorgeous. It's a great place to bring up your children and it's a great place to set up a business."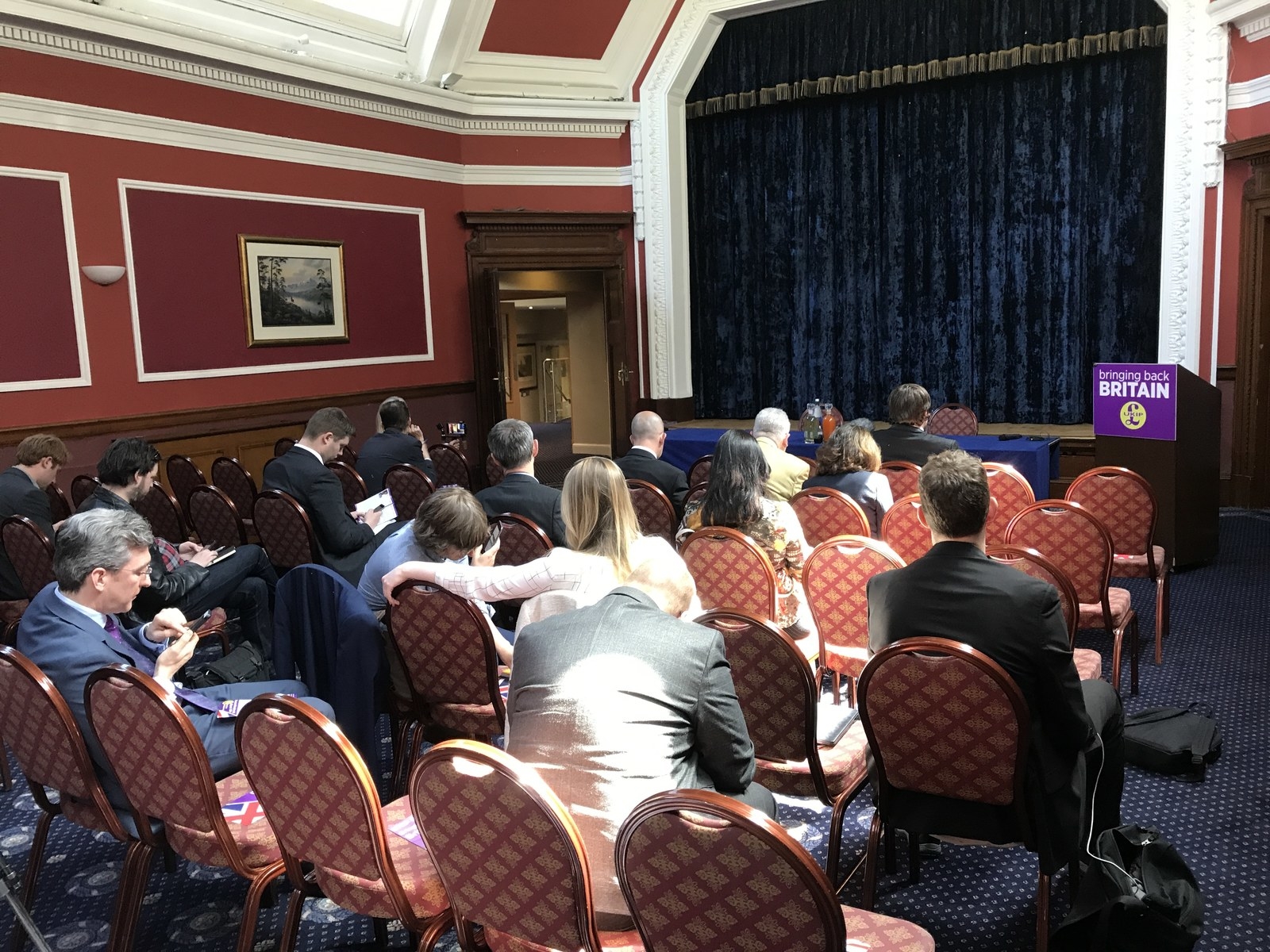 Coburn criticised Jeremy Corbyn because, he said, the Labour leader is "chummy with the IRA, or Sinn Féin or whatever they're called nowadays", adding that people who believe Corbyn ally Diane Abbott could be a successful home secretary are "in the land of nod".
Asked by BuzzFeed News how his party's policies would help make Scotland more secure from terror threats, Coburn said the problem was that immigrants hadn't been able to absorb themselves into the "fun and laid-back" way of British life, which he would seek to change if elected.
"The same thing has happened in France: Loads of people came from North Africa and the Muslim world to France and they settled in these horrible, hideous suburbs like a big doughnut around Paris and led a separate life," said Coburn.
"The result is that they've started planting bombs and goodness knows what where all the smart people live," he said, before adding: "I think we've managed it a bit better because we're less xenophobic than the French."
Coburn admitted UKIP would have a "difficult" election in Scotland – where the part's standing 10 candidates – because prime minister Theresa May has "sprung this on us". However, he's hopeful that people's disaffection with the other parties might boost his vote share in the Kirkcaldy and Cowdenbeath constituency.
"I think there's a chance [of me being elected]," said Coburn. "People are fed up with the SNP, cheesed off with Labour, and the Conservatives closed down the mines [in Fife] – I think a lot of people see through them."
However, the UKIP Scotland leader admitted: "We can't make people vote for us."