In 2012, a man welcomed Donald Trump to Scotland by rubbing a big yellow balloon on the tycoon's head in an attempt to dislodge his famous plumage.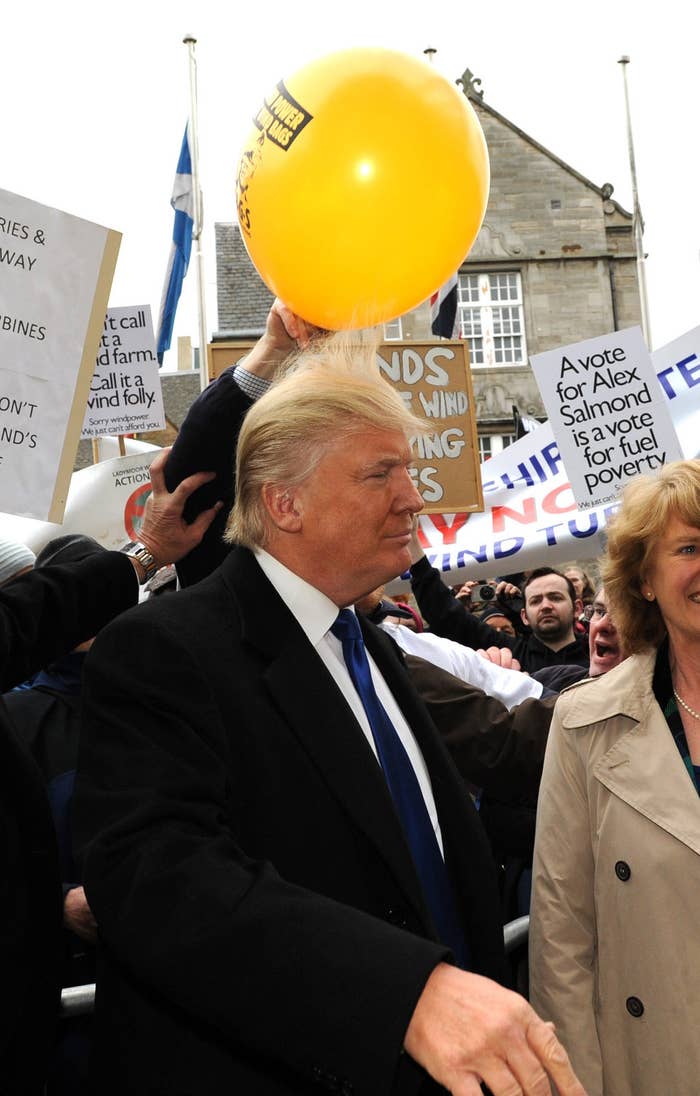 Trump's ballooning has since gone down in folklore in Scotland as a plucky show of defiance against the establishment. At the time, Trump was attempting to persuade the Scottish government against constructing a wind farm near his billion-pound golf course in Aberdeenshire, because he thought it might spoil the view.
But through the simple science of static electricity, Trump was made to look like an idiot when he left the Scottish parliament in April 2012.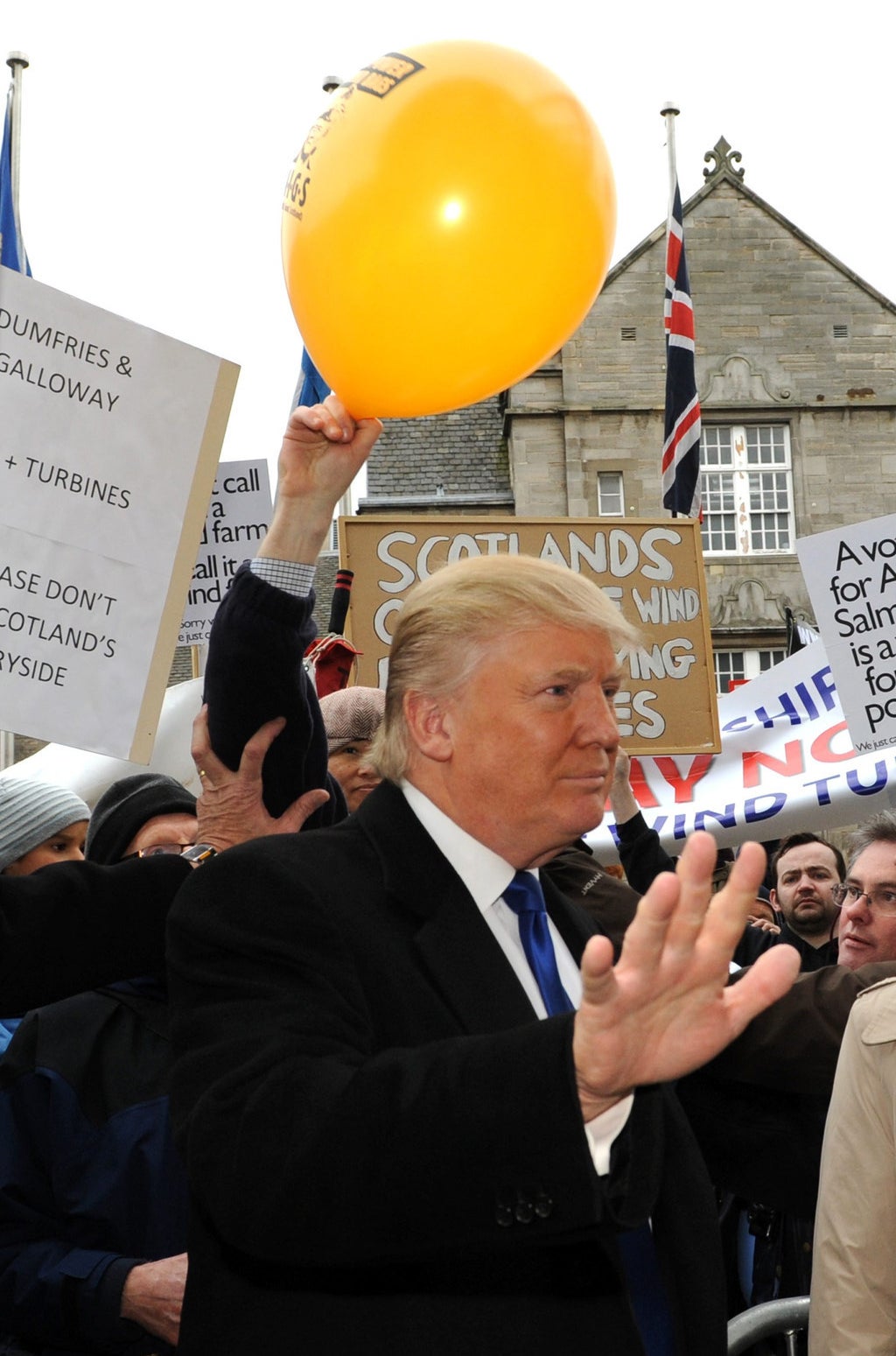 The act was carried out by environmental campaigner Stan Blackley, who told BuzzFeed News about the memorable balloon-based protest and how Scotland was ahead of the curve compared to the the rest of the world when it came to ridiculing Trump.
"I'd love to say, after 25 years of being a campaigner, that the ballooning was all meticulously planned step-by-step," Blackley said. "But I just found myself behind Donald Trump with a balloon one day and did what any sane and sensible person would have done."
Blackley, who was chief executive of the environmental group Friends of the Earth Scotland at the time, attended Trump's arrival at the Scottish parliament in Edinburgh with a small group of activists who called themselves WIGS – Wind Is Good, Scotland.
For Trump's visit, in which the tycoon was invited to give evidence to a Scottish government renewable energy committee, the group had printed T-shirts and balloons with the slogan "Wind Power Not Wind Bags" placed next to a picture of Trump with his golden hair being disturbed by wind turbines.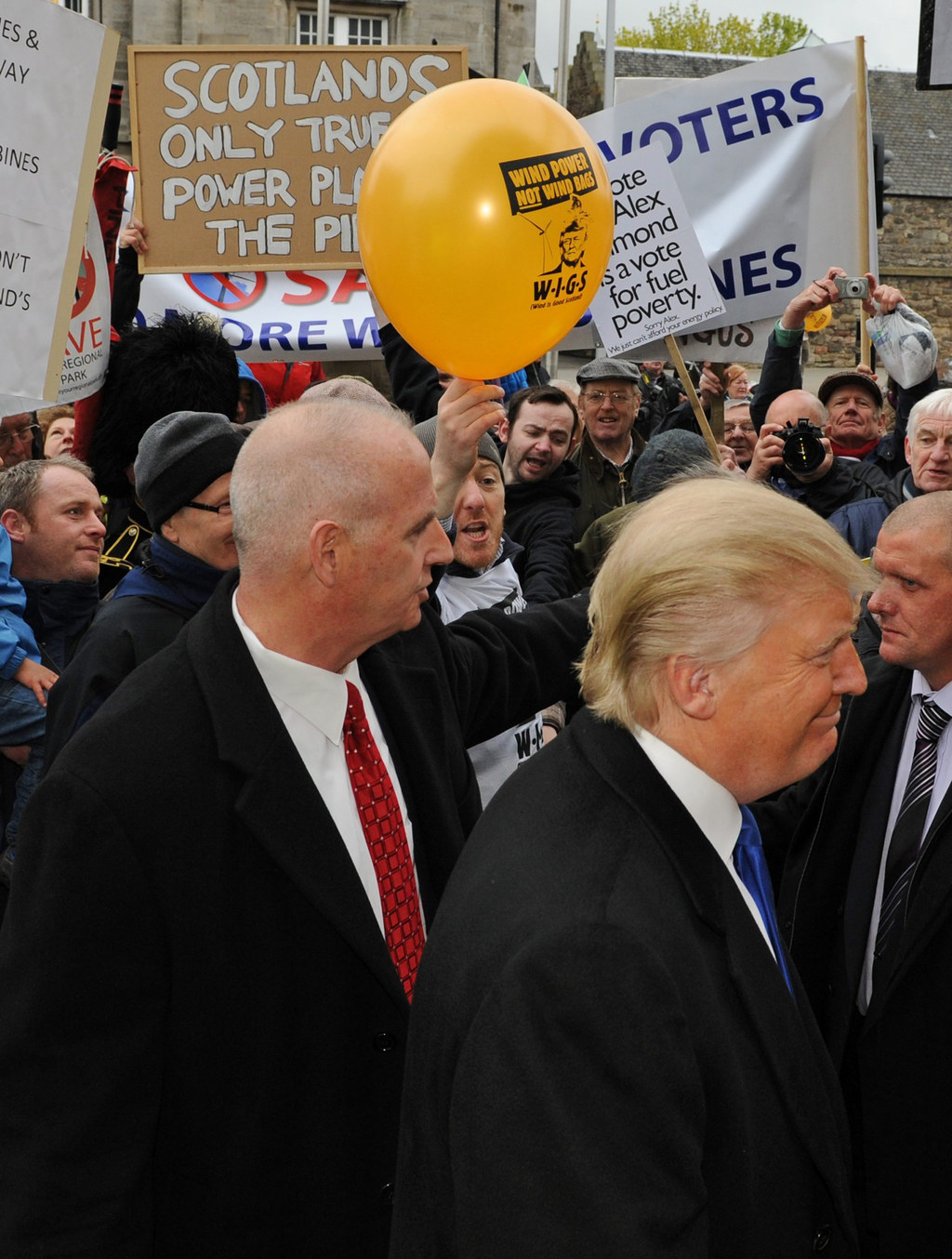 "It got to the point where Trump was coming out the building and we were nowhere near where he was going to be," recalled Blackley, "so I politely asked one of the police if I could nip over and have a wee look and he said 'Aye, fire away.'
"I took a balloon with me, he stepped out, turned his back to the crowd to get a photo surrounded by his supporters, and I quickly manoeuvred myself behind him, blew up the balloon, and rubbed it on his head. It was that simple."
Blackley said he got "a couple of good bops" on Trump's head before a "goon" grabbed his arm and ushered Trump away. (Incidentally, on that day, one of Trump's security men was prevented from entering the Scottish parliament as he was carrying what was believed to be a can of mace. In fact, it was Trump's hairspray.)
Although the incident was over quickly, Blackley remembers how bizarre Trump's hair looked as it was upset by the static electricity: "I can attest that his hair is real, I've been close enough," he said.
"It's just bizarrely combed back at the sides and forward at the back so it lies in that really strange way that looks like some kind of wild animal."
Immediately after the incident (note Trump's tousled hair below), Blackley said, Trump's furious supporters threatened him with legal action.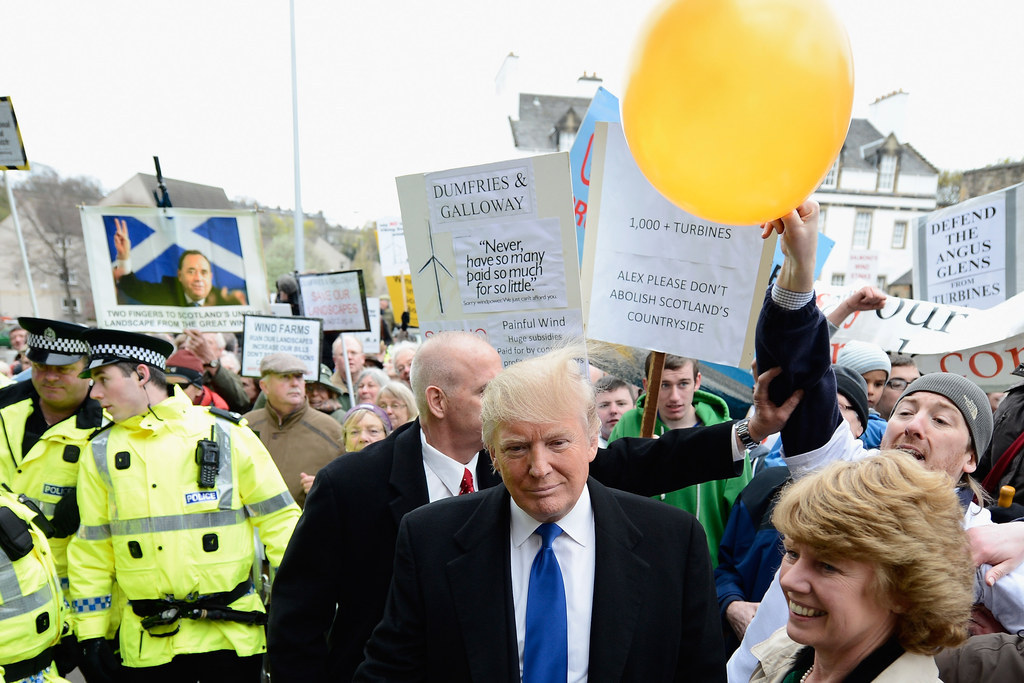 "Donald Trump Jr threatened me with all kinds of stuff," said Blackley. "Trump's people were saying I'd stamped on a little girl, and another said Trump was going to come out wearing a neck brace, as if it's actually possible to break someone's neck with a balloon.
"After all that I went to ground for a wee while, I kept my head down, but it did the job on the day. I don't think anything that day did a better job of showing what a ridiculous man he is – it just pricked that pomposity he has with the simple act of taking a balloon to his hair."
Despite the balloon being popped by a pro-Trump member of the crowd after the protest, Blackley held on to the "shriveled remains" (pictured below). He is considering auctioning them to raise money for charities that help people whom the presidential candidate has recently insulted.
"It could be disabled people, Mexicans, Muslims – the trouble I'm having is deciding which charity gets the money, because he's maligned so many different people," said Blackley.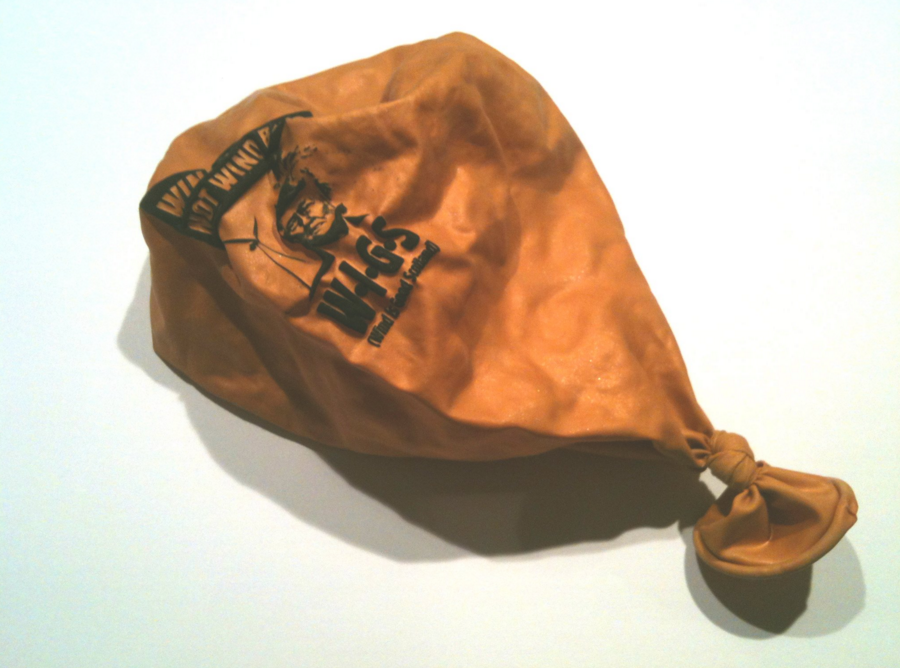 Blackley suspects Trump will prove to be his own undoing in the race to be US president, but he hopes the photograph of the ballooning, which continues to be shared to this day, will help the effort to turn Trump into a figure of fun during the campaign.
Most of all, Blackley is pleased to see the rest of the world joining in the condemnation of Trump years after people in Scotland decided to treat him with utter ridicule.
"I think Scotland's just had more experience of Donald Trump," said Blackley. "We remember the way he treated the community of the Menie estate when he built his golf course there. The terrible things he did to old women and families for his vanity golf course marked him out as a terrible, deeply unpleasant person.
"I think Scotland has had a wee bit more time to become accustomed to what a bawbag Trump is. I'm glad the rest of the world is catching up now."