Pregnant women in the Highlands of Scotland are having to travel hundreds of miles to receive urgent medical attention, with one woman telling BuzzFeed News that she had a miscarriage on her own at home after she was told the only specialist doctor who could see her was at a hospital 110 miles away.
Three parents from the Caithness region on the northeast tip of the Scottish mainland told BuzzFeed News the lack of specialist medical staff qualified to deal with pregnancy complications at the local hospital has forced women to make highly stressful and uncomfortable journeys to Raigmore hospital in Inverness.
A woman from the town of Wick who didn't want to be named said the lack of specialist care at her local hospital forced her to go through the terrifying ordeal of miscarrying in her own home with no medical care or advice from the NHS, as she was physically unable to make the two-hour drive to Raigmore.
"I was hysterically crying on the phone, asking her to what would happen to me. I'd never had a miscarriage before and I was so frightened."
"I started bleeding quite heavily so on the Friday morning I phoned Caithness General," she said. "The midwife said she'd have to phone Raigmore to speak to a consultant as they didn't have any consultants there. It was the back of 12 before she called me and said a consultant was keen to see me in Raigmore.
"I said I have two young children and my husband was away working offshore, and I couldn't drive to Raigmore anyway with the way I was feeling. I was left for another three hours on my own and she phoned me back ... and she said it would be my choice not to attend my appointment in Raigmore.
"I was hysterically crying on the phone, asking her to what would happen to me. I'd never had a miscarriage before and I was so frightened. She said she couldn't say because everyone has different experiences. I was still crying and she still didn't ask about what was going on, and she asked if I wanted another number to phone.
"I felt like I was being a nuisance because I hadn't driven to an appointment in Raigmore, and I can tell you, even if my husband had been home, I would not have wanted to sit in a car for two hours with the pain I was in."
The woman ended up having a complete miscarriage – meaning she passed a pregnancy sac containing the foetus – on her bathroom floor on her own when she was nearly seven weeks pregnant with no medical care or advice to help her. Her experience is just one of a number of traumatising experiences women in Caithness have been put through during their pregnancies.
Although Caithness General has a maternity unit – which each person BuzzFeed News spoke to praised – it has no obstetricians, who specialise in medicine and surgery related to pregnancy, which means that any form of medical complication in the pregnancies cannot be dealt with locally and must be referred to Raigmore in Inverness.

One woman, Eilidh MacIntosh, was told that she would have to go to Raigmore to have her baby because she had streptococcus B – a common bacterial infection in pregnant women that can, in some cases, be passed to the child during birth. While in labour, MacIntosh was told she would be transferred via ambulance to Raigmore – a distance of around 110 miles.
"I had to go in a road ambulance strapped into a stretcher."
"I live in Thurso, which is 21 miles from Wick in the first place, and I had to phone the hospital and they told me to make my way there," she said. "When I got there I was in heavy labour and I knew I wasn't going to be making Raigmore. They did examinations on me there and I heard the consultant outside the room saying he was happy for me to carry on to Raigmore even though I knew I wasn't going to make it – they weren't listening to me.
"I had to go in a road ambulance strapped into a stretcher. It's really not comfortable at all to be in labour strapped in a stretcher, and the ambulance didn't have enough water or gas and air facilities either. By the time we got to Dunbeath [20 miles from Wick], I felt I had to push. They were telling me not to push but it's hard not to push when you need to. They carried on and the ambulance man said to the midwife: 'She's not going to make Raigmore, is she?'
"They said they'd have to take another course of action and rung into Golspie [a hospital 50 miles from Wick]. Golspie doesn't have maternity facilities or anything, it was basically a doctor's room. They diverted me into there and I had the baby within five minutes of being there. There was nothing there for the baby; one of the ladies in the hospital had to go to the local Co-op and get her milk."
MacIntosh was then taken back to the ambulance within 15 minutes of giving birth to carry on to Raigmore, but due to the lack of an incubator in the ambulance she and her partner were told they had to leave their new baby girl behind without knowing whether or not she had been infected with streptococcus B. The baby arrived at Raigmore nearly five hours after the couple did.
"The whole situation was terrible – to try and explain it briefly is so hard, the whole thing was so up in the air, no one knew what they were doing, and it's totally put me off ever having kids again," said MacIntosh.
"It's really not comfortable at all to be in labour strapped in a stretcher, and the ambulance didn't have enough water or gas and air facilities either."
"They don't know what to do when someone goes in labour now up here if there are complications. The midwives in Wick are just as worried as we are; they have that responsibility on them when they don't have facilities that they need, and they're so far away from Raigmore."

Stephen from Thurso, who didn't want his surname to be used in this article, told BuzzFeed News that he and his partner were also separated from their newborn child at Caithness General within hours of her giving birth in 2015. The child was transferred by air ambulance to Raigmore and the two new parents had to make the two-hour journey by car just three hours after the birth had happened.
"With our first child, my partner was on tablets because she had high blood pressure. When he was born he had to be transferred straight away to Raigmore because of low blood sugar," said Stephen. "The midwives up here had already said he'd be born with low blood sugar but after the first feed he'd be fine. But the NHS policy is that if they have low blood sugar they have to stay in for 24 hours.
"Because the maternity ward isn't 24 hours he had to be transferred to Raigmore. He was airlifted down by air ambulance within a couple of hours of him being born. Three hours later, after she'd just given birth, we had to drive down to Raigmore to go and be with the little one. It was a complete farce. The midwives up here were second to none but they don't have what they need to do anything."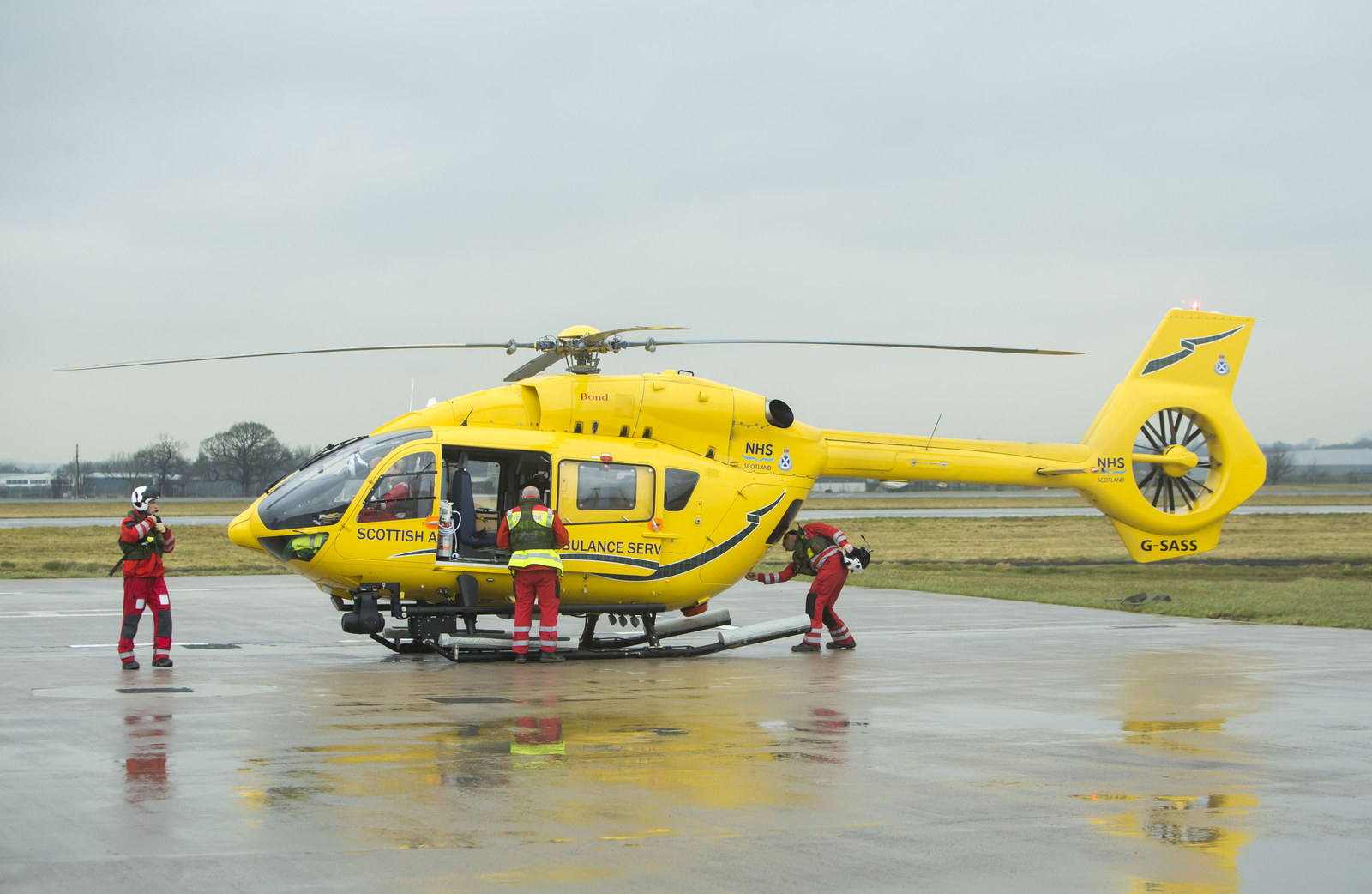 The issue was raised by local Liberal Democrat MP Jamie Stone during Prime Minister's Questions last week, who said he fears the transfers will "end in tragedy". Theresa May said that, while health is a matter devolved to the Scottish parliament, she "wishes him the best" in his efforts to improve care for pregnant women in his constituency.
Nicola Sinclair, an independent local councillor, is the spokesperson for the Caithness Health Action Team, which is leading the campaign to help change the situation for Caithness's pregnant women. Sinclair said she feels let down by the Scottish government's lack of action to bring an end to the distressing and physically uncomfortable journeys women are being asked to take.
"At Caithness General, they categorise pregnant women as green or red pathway, and the green pathway is absolutely no complications," said Sinclair. "The other question mark is first-time mothers being told of the risks of not having obstetric cover, so even if they're green pathway, some are choosing to go to Raigmore. Very, very few – I think less than 10% of parents now – are giving birth in Caithness General."

She added: "Jamie Stone has been very supportive on the issue, and [local Conservative MSP] Edward Mountain has been supportive, but at the higher levels we sent a 6,000-signature petition to [Scottish government health secretary] Shona Robison and countless letters as well.
"They don't know what to do when someone goes in labour now up here if there are complications."
"We're now in the process of sending thousands of protest postcards to Nicola Sturgeon but the Scottish government keep saying it's a decision for NHS Highland and they won't intervene. At the highest level, where they could actually change things, they're not listening."

A spokesperson for NHS Highland told BuzzFeed News that the change in policy to encourage more women to give birth in Inverness came after the potentially avoidable death of a baby in Caithness General in September 2015, and that it had installed several measures to ensure that trips to and stays in Inverness are as easy as possible for pregnant women.
"The vast geographical area of the Highlands covered by the board means there has been, and always will be, a need for women living in such remote and rural areas to plan for travel arrangements when they go into labour," the spokesperson said.
The spokesperson added: "NHS Highland has robust systems in place and advise expectant mothers who live at a greater distance from the hospital to travel early, as soon as labour starts. Need assessments are undertaken by the midwives at all eight of the board's Community Maternity Units, like the one in Caithness, and if the midwife, in discussion with the woman, feels an ambulance transfer with midwife escort is appropriate, this is organised.
"Other improvements made over the past year include the provision of additional accommodation on the Raigmore Hospital Campus in Inverness, dedicated ambulance services and the further development of a Highland-wide 'hub and spoke' model for maternity and neonatal care.
"This includes an additional investment of £400,000 to increase ambulance provision in Caithness. This would be fully on stream in early 2018. In the meantime, some additional capacity has been put in place."
The spokesperson added: "NHS Highland does not comment on individual cases. However, updated figures to August 2017 (in comparison to the same period to August 2016) show that urgent/emergency maternal transfers by ambulance were reduced – from 26 women to 24 – while emergency neonatal transfers were significantly reduced from eight to two."

However, MacIntosh and the woman who told BuzzFeed News about her miscarriage said they are not comforted by the changes NHS Highland are making. MacIntosh said she is taking legal action against the NHS, and that she fears it will take a tragedy for the situation to change.
"They must put more into the hospital up here rather than send us over a hundred miles away," said MacIntosh. "Raigmore is all well and good if they can make it there safely, but what's to say someone won't need an emergency section and there's nothing up here for them to be able to get that? It's going to take for a baby to die and I'm not sure even that would change things."

The woman who wanted to remain anonymous said of her miscarriage: "I was not prepared for it – it was extremely traumatic and an experience I will never forget. It feels like modern-day Highland Clearances – they are putting people in terrible situations and it's not fair."