A massive ceilidh has been held in Edinburgh, in an altogether quite bizarre effort to get people to vote Remain in tomorrow's referendum.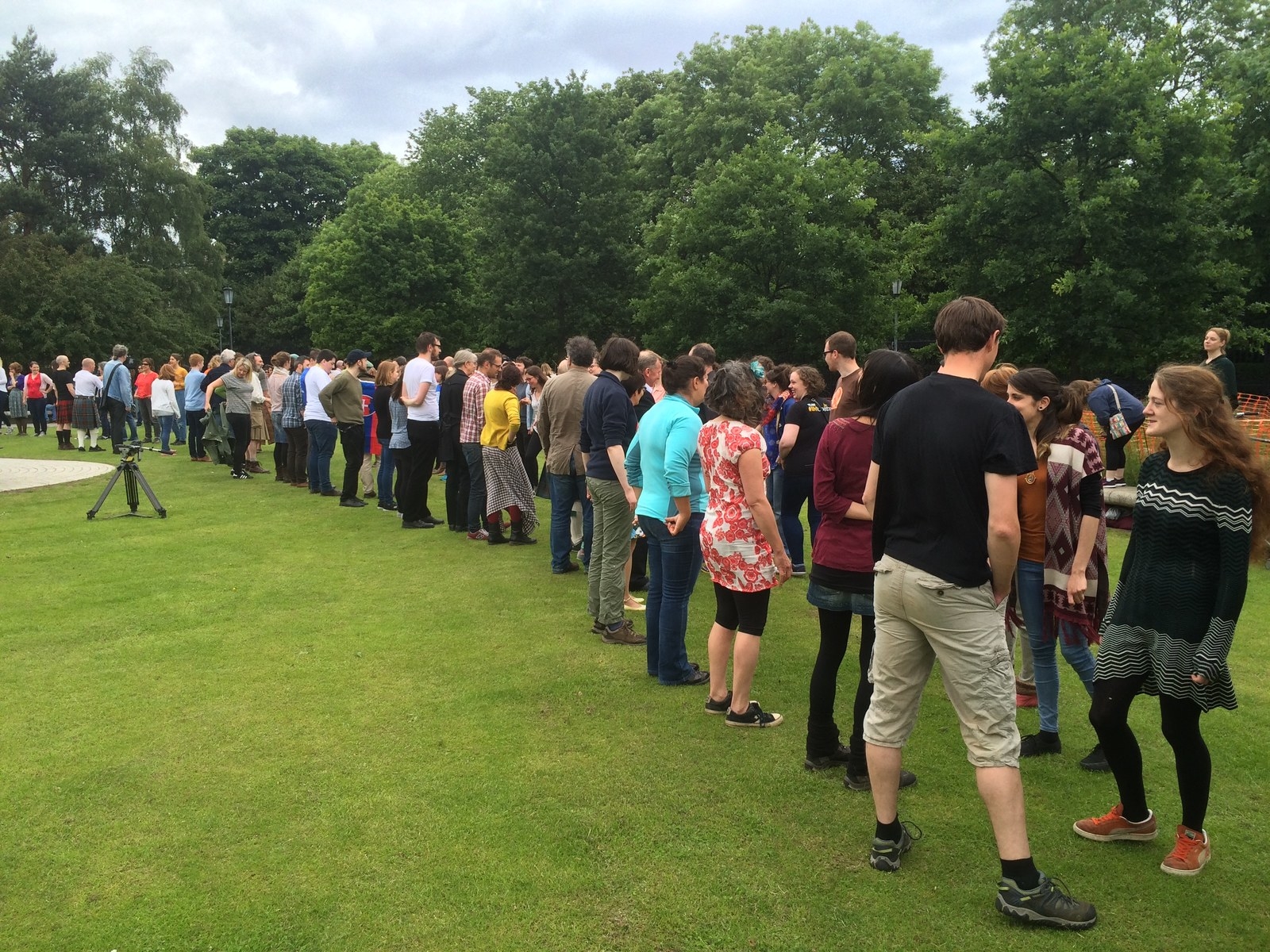 The ceilidh – a form of traditional Scottish dance that involves lots of spinning and, normally, being incredibly drunk – was held in the shadow of Scotland's parliament the day before voters go to the polls in the referendum on EU membership.
The event was organised by a pro-EU Scottish folk trio called Lau who wanted to do something jolly and inclusive at the end of what they said has been a divisive and nasty period of campaigning.
"As Scottish folk musicians, we just wanted to do something positive at the end of this campaign, which has become messy and confusing and negative," said Lau band member Aidan O'Rourke.
"We're for the Remain campaign but we think everything has been said now and this is just a positive statement – a positive, musical, dancing extravaganza."
The three-piece band were joined by around a dozen Scottish folk musicians all hoping for a Remain vote in tomorrow's referendum.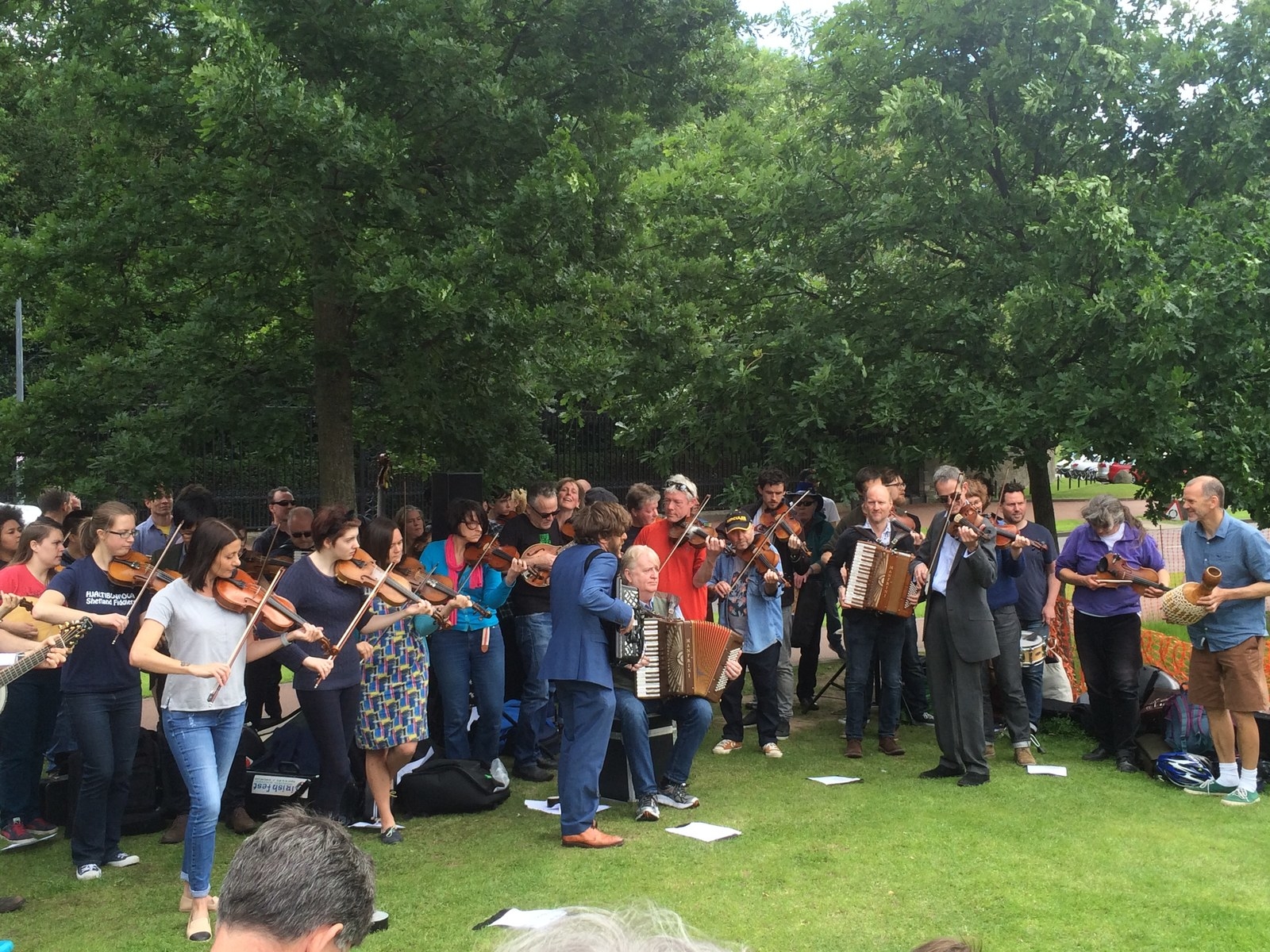 Afterwards, we spoke to some of the dancers as they tried to catch their breath. Ralph MacGillivray conceded that he was "a wee bit knackered" after the dance.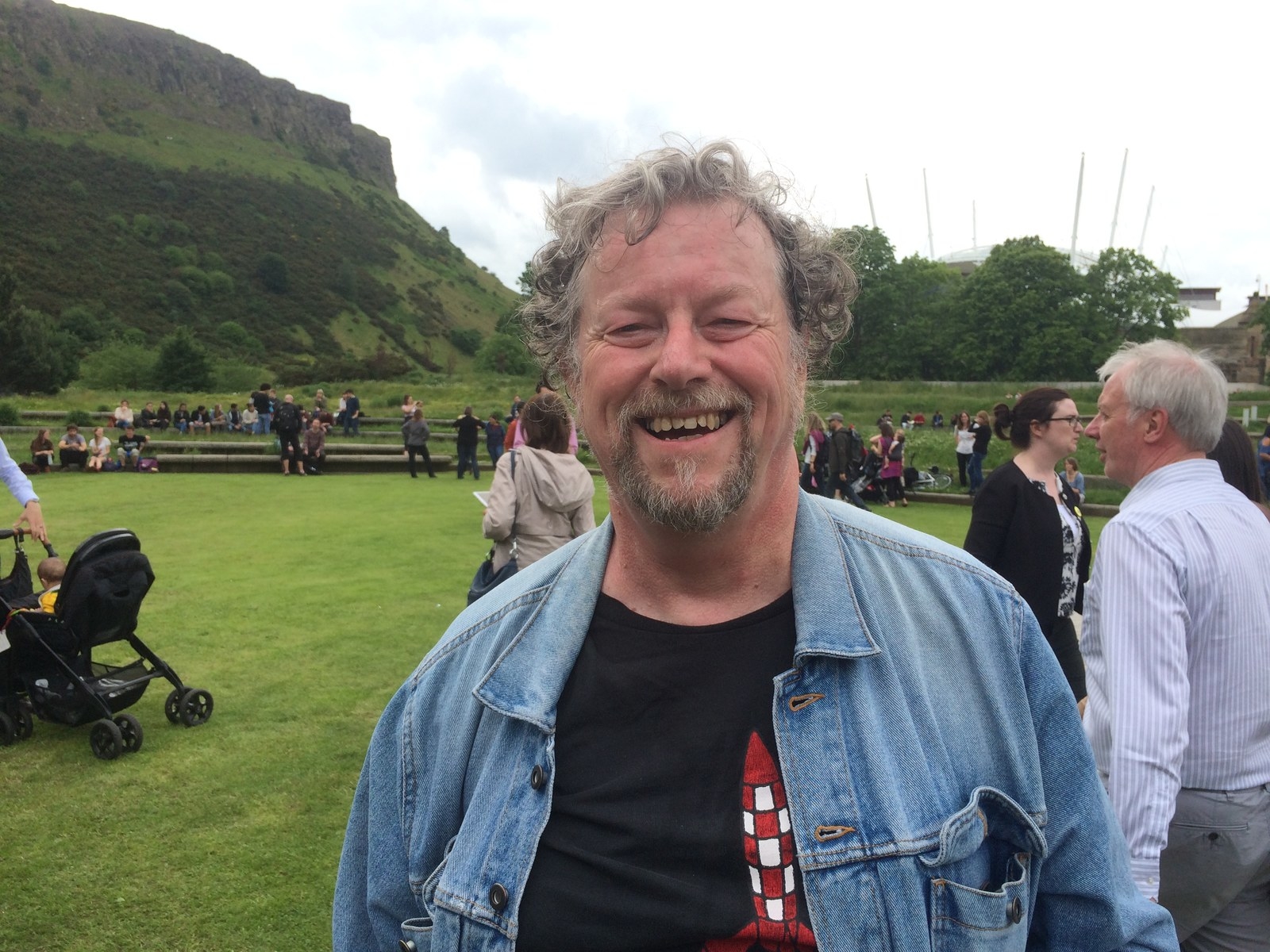 "I came along today because I think it's a good way to show unity," he said. "New friends, old friends, people from other lands all dancing to one beat – what could be a better message than that?"
Ailsa Deans, with Jack Bynoe, said she hadn't done a Strip the Willow while sober since she was at high school, but enjoyed the experience and the message it gave.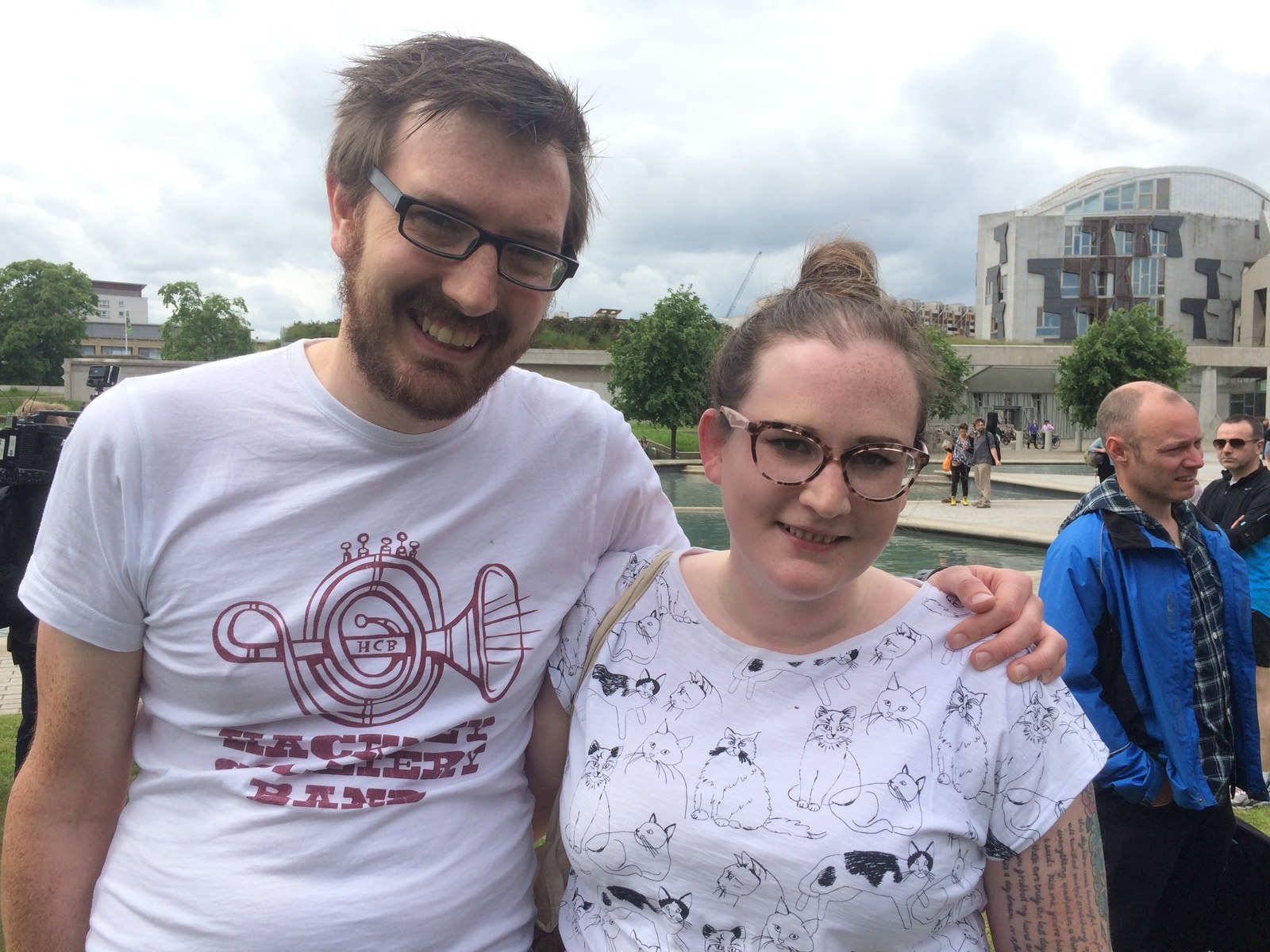 "I think remaining in the EU is really important for the future," said Deans. "A lot of the rhetoric around the Leave campaign has been based on anti-immigration fear and hatred. They aren't principles we should build our country on – it's been built on immigration and diversity, that's why we've come out today."
She added: "Even though I supported a Yes vote and if the UK was to leave there might be another indyref, that's still not enough for me to want to leave the EU. It's risky and scary."
James MacDonald Reid came draped in the flags of Bulgaria and Slovakia, where he said he had lived before coming back home to Scotland.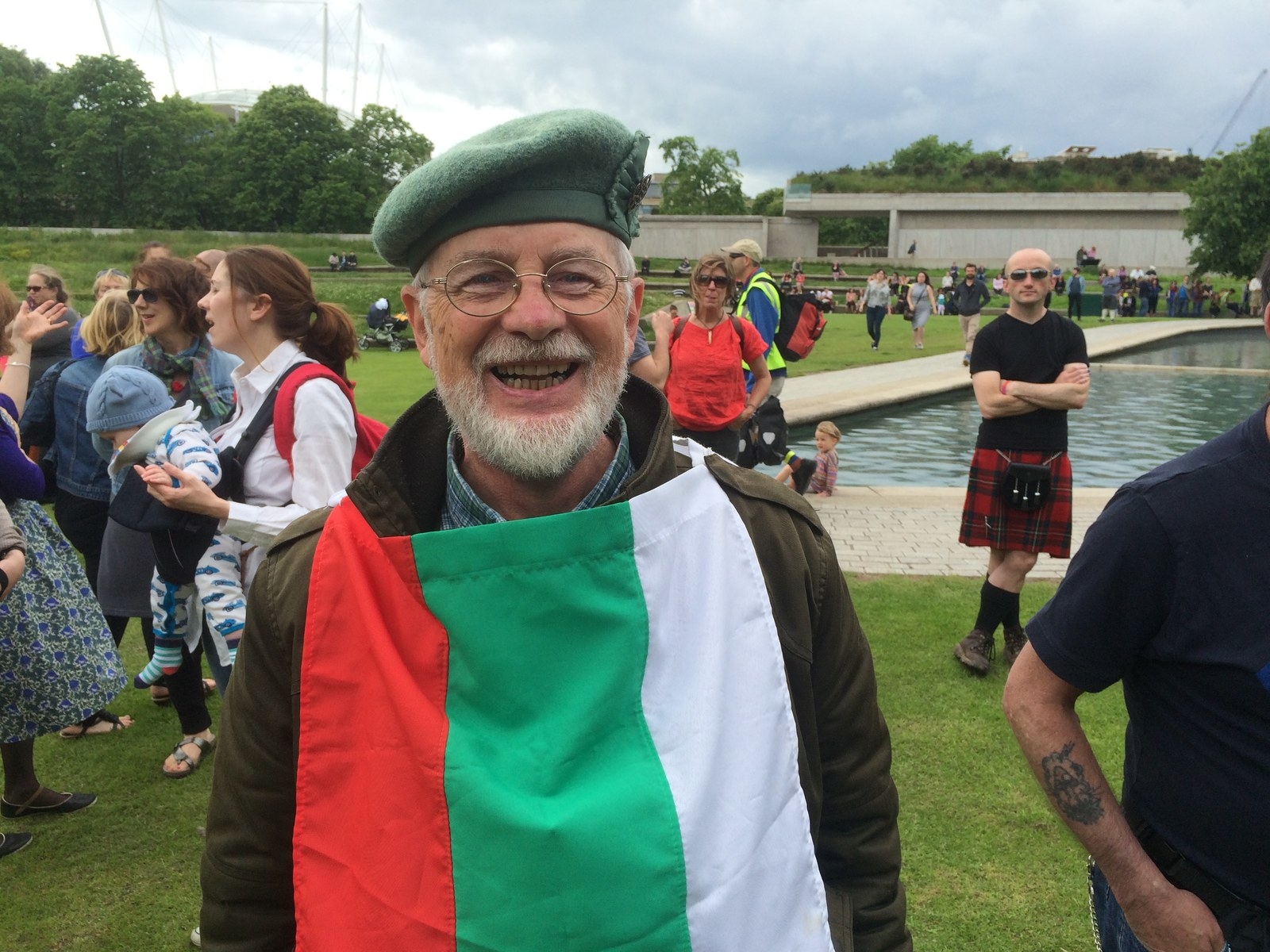 "I'm a Scot but I lived for a while in Bulgaria and a while in Slovakia," he said, adding that he was probably better at Strip the Willow than most people because he's from a rural background. "I'm here for dancing, while showing support for the European community," he added.
However, Leave campaigner and Tory MSP Ross Thomson was left unimpressed by the ceilidh stunt so close to polls opening, saying is showed how "complacent" the Remain side had become in Scotland, where they are expected to win a hefty victory tomorrow.
Polling suggests as many as two-thirds of Scots could vote Remain – a result that could be big enough to keep England inside the EU even if it votes to leave.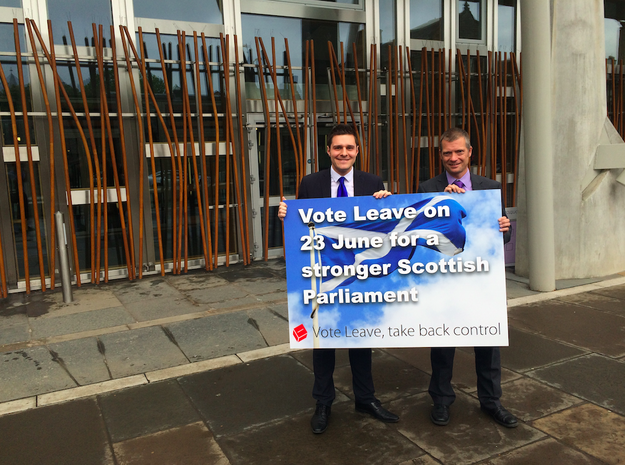 "What a sight," said Thomson. "I'm sure they thought this was a good idea at the time, but when people are concerned about the future of the EU and how it will effect Scotland it shows just how out of touch they have become.

"Families are concerned about access to GPs, paying their rent, and finding a place for their child to go to school. Scottish Vote Leave has been out, on the doors, speaking to voters about these concerns and how leaving can take back control to address them.

"At the same time, Remain are prancing about outside an empty Scottish parliament, as if they've already won the referendum."