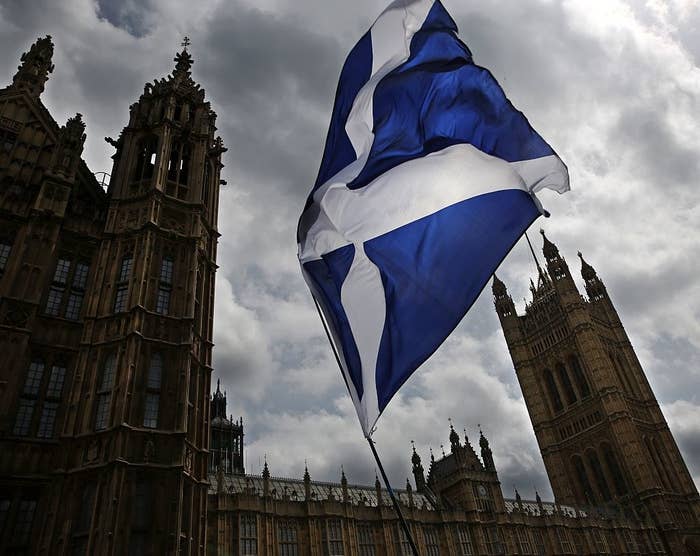 Voters in Scotland could keep England inside the European Union against its will in this month's referendum, according to polling experts.
Although the Leave side has been rapidly gaining ground on Remain in UK-wide polls ahead of the 23 June referendum, with some even showing the Leave side to be ahead, in Scotland alone the Remain side has been consistently and decisively ahead throughout the campaign.
The difference in opinion north and south of the border, and the prospect of Scotland being forced to leave the EU by votes in England where the population is 10 times larger, has sparked much talk of a second Scottish independence referendum.
Prime minister David Cameron admitted this week that he's worried about exactly that, adding: "You don't strengthen your country by leading to its breakup."
However, according to polling experts, a Leave victory in England of as much as 52.5% could be actually be overturned by what is likely to be an overwhelming Remain victory in Scotland – saving the UK's EU membership and Cameron's job in the process, but possibly causing a whole new type of constitutional crisis.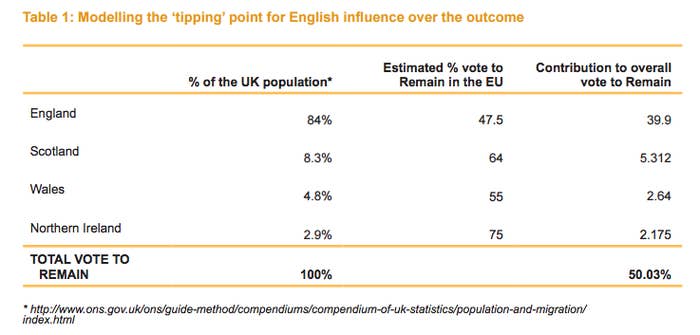 "I was quite surprised when I calculated it; I'd heard people dismissing the possibility and then I did the figures and found out it was actually quite likely," said Kirsty Hughes of the Friends of Europe think-tank, who has written an extensive paper on the implications of the EU referendum in Scotland.
"All the attention has been on whether there would be a second independence referendum in Scotland, but it's England that looks very likely to be so marginal, so this is an interesting and open question. We could quite easily end up with a UK-wide Remain vote even if England votes to leave."
Excluding those who don't know how they'll vote, 71% of Scottish voters said they will back staying inside the EU in a poll released on Wednesday.
Although it would be very tight, three different polling experts have calculated that such an overwhelming Scottish result could overturn a 51% or 52% Leave victory in England – effectively swinging the result, with the help of largely pro-EU London and Northern Ireland.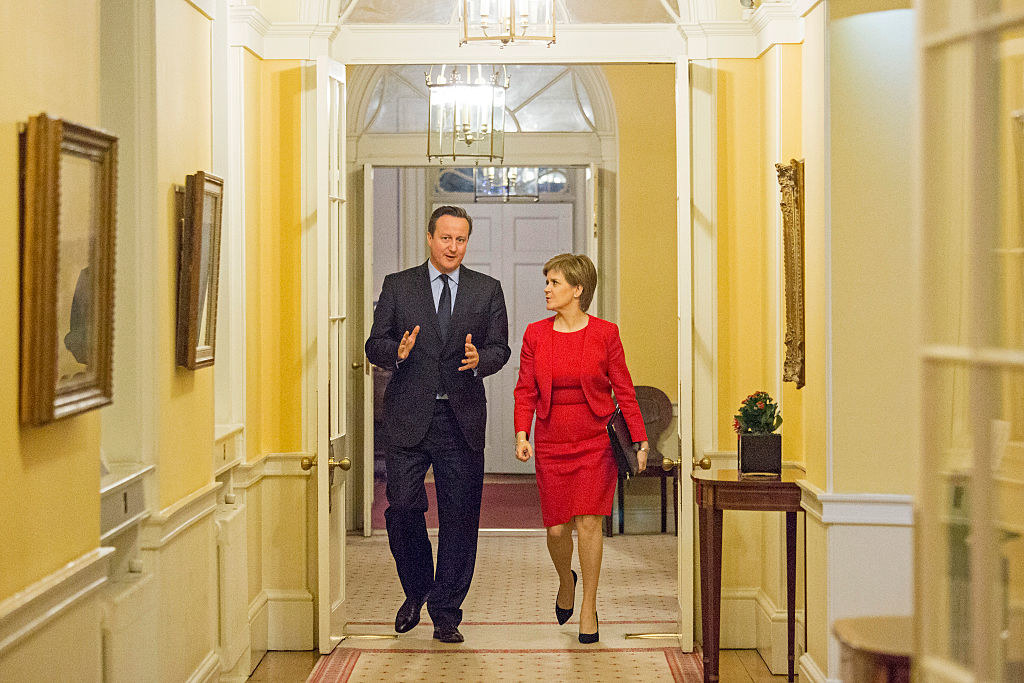 "It's a possibility, a reasonable possibility because the polling in England is around 50/50 or thereabouts, and given the large share of the population England has it wouldn't need much of a swing [to Leave] to pull the whole UK out," said Rachel Ormston, who did research for NatCen on the differing attitudes towards the EU across the UK.
"But, if England just narrowly voted for Leave, it's not at all inconceivable that votes in Scotland and Northern Ireland [where Remain support is also high] could do the opposite. In fact, as a scenario, it is reasonably likely bearing in mind how close the polling numbers are in England."
Mark Diffley, a director at polling company Ipsos Mori in Scotland, said he wouldn't put any money on either scenario of England dragging Scotland out of the EU or Scotland keeping England in against its will, but added that current poll trends mean both are possible outcomes on 23 June.
"It's the overlooked option," said Diffley. "Everyone bangs on about Scotland being dragged out against its will or whatever the expression is. But this one [Scotland keeping England in] is the more interesting one. The first option is still probably more likely: There's more of a chance Scotland will be dragged out against its will than England kept in against theirs.
"But, for Scotland to keep England in, it would have to be no more than a 52% Leave vote in England. If it's any wider than that then the population sizes mean it couldn't happen. But anything between 50.1% and 52% and a very decisive vote in Scotland – around two to one [66%] for Remain – then that could very much happen."
Diffley explained, however, that there are a few things happening in both Scotland and England that could lessen the chances of Scotland being the deciding voice in this referendum.
The results from his Scottish focus groups suggest the EU debate isn't of as much interest to voters in Scotland, with many feeling like it's more of an issue to be fought out among English voters. If voters in Scotland are turned off by the EU debate, that could reduce turnout and lessen the chances of Scotland having the numbers to be able to overturn England's result.
"There's talk of an 80% turnout UK-wide, which I doubt very much, and I particularly don't get that sense in Scotland," said Diffley. "A lot of people get the sense this is a debate happening in England rather than here, and all these new voter registrations could well be disproportionately people in England.
"If England has a higher turnout than Scotland, that will come into it as well, and, if these new registrations are predominantly young people, as many are suggesting, that will boost the Remain vote in England too, which would make the debate about Scotland being dragged out or tipping the balance to Remain pretty irrelevant."
However, if Scotland does keep England in the EU against its will, English Eurosceptics are unlikely to accept the result quietly. Such a result could further damage the ties between England and Scotland and, according to Hughes's study, could make vast swaths of the English population less keen for Scotland to stay in the UK.
Hughes said: "If it does come out that Scotland keeps England in, the Scots will be heroes in Brussels, but no one there will then want to see an independent Scotland as that would surely precipitate calls for a new England or rest-of-the-UK EU referendum all over again.
"So it has impact for Scotland and any eventual second independence referendum, as well as for what happens to UKIP, the Conservatives, and the cause of English nationalism in general."
UKIP is practically nonexistent in Scotland so is likely to be the angriest voice should voters north of the border keep England in the EU. The party's only elected representative in Scotland said he would accept the result, but was less confident people in England would be as gracious.
"If England takes Scotland out the EU against its will, and if Scotland keeps England in the EU then you have to say that's fair," David Coburn MEP told BuzzFeed News. "Fundamentally, we are a United Kingdom, we entered the EU together, and I'll back my friend the first minister if that is the case. But, if we're being honest about it, I should think it won't be popular at all in England."
It's still too close to call what will happen on 23 June but, if polls in Scotland and the rest of the UK are anywhere near right, the result could well open a fresh chapter in the UK's increasingly tangled constitutional politics.