UK Leaders Have No Plans To Meet Trump As He Confirms Visit To Scotland
Trump will visit the UK on 24 June – the same day as the result of the EU referendum.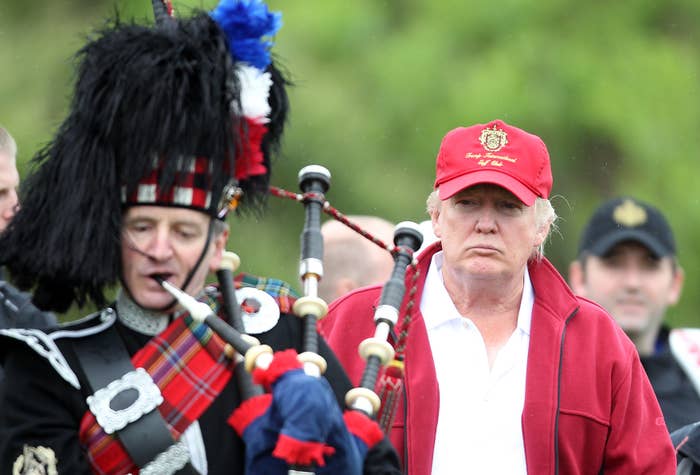 Donald Trump has confirmed he will visit Scotland in June to officially reopen his refurbished golf resort, but UK leaders have no plans to meet him.
Trump Turnberry, in the west of Scotland, reopened to visitors on Wednesday after a £200 million investment in the luxury complex. Trump has now confirmed he'll attend an official ribbon-cutting ceremony on 24 June – the same day the UK will learn the result of the referendum on its EU membership.
The presumptive Republican presidential nominee said: "Very exciting that one of the great resorts of the world, Turnberry, will be opening after a massive £200 million investment. I own it and I am very proud of it. I look forward to attending the official opening of this great development on June 24."
A Downing Street source told BuzzFeed News that "nothing has changed" since the last statement that there were "no confirmed dates" for any potential meeting between Trump and David Cameron.
A meeting would be potentially awkward for the prime minister on the day of the EU referendum result, which some polls suggest Cameron risks losing. In an interview with the Hollywood Reporter, published today, Trump said: "Oh yeah, I think [the UK] should leave."
A Scottish government spokesman said: "The first minister [Nicola Sturgeon] does not plan to meet Donald Trump on this visit."
Trump has visited Scotland on several occasions in order to promote his two golf courses in the country. Memorably, one visit in 2013 resulted in an anti-Trump protester rubbing a balloon on Trump's head.