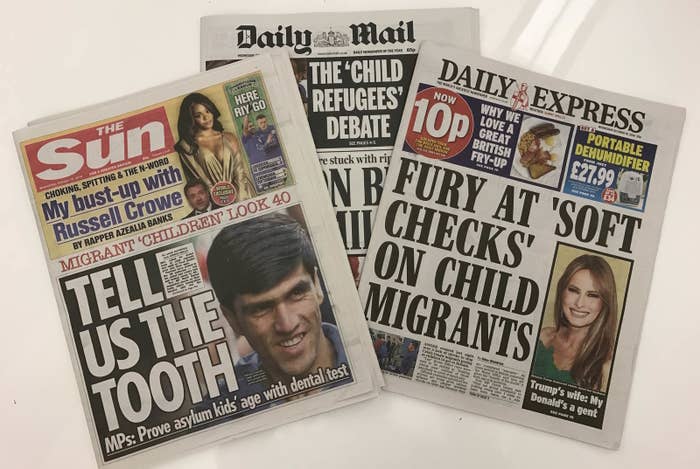 A small number of refugees arrived in the UK from the Calais Jungle camp on Monday, as part of plans to resettle unaccompanied refugee children with family already in the country.
The group, described by the Home Office as boys aged 14 to 17, immediately faced fierce scrutiny over their ages from MPs – led by the Conservative right-winger David Davies – and newspapers including the Daily Mail, the Daily Express, and The Sun.
The Daily Mail ran a headline saying "facial recognition analysis shows one may be as old as THIRTY-EIGHT", while Davies called for the teenagers, described by the Home Office as "vulnerable", to face dental X-rays to corroborate their age.
What's the basis for the media claims these children are older?
The Daily Mail article suggesting this week's arrivals could be as old as 38 was based on two sources. One was a Harley Street doctor, Ross Perry, who is quoted as saying from a single photograph of a refugee he "would guess he is late thirties to early forties".
However, Perry is quoted in the same piece noting: "He doesn't look like a child. But then if he has been living in a war zone, it could well have aged him prematurely, and it is impossible to know without meeting him."
The "facial recognition software" referenced in the article is How-Old.net, an experimental project made by Microsoft developers.
A spokeswoman for Microsoft told BuzzFeed News: "How-Old.net was designed to be an example of how developers could build a fun app using modern development practices. It is not intended to be used as a definitive assessment of age."
The app is, in practice, somewhat hit-and-miss when it comes to identifying age, suggesting a photo of David Davies MP showed he was 58 rather than his actual age of 46, while a photo of Boris Johnson during his time as a sixth-form student at Eton identified the future foreign secretary as a 27-year-old woman.
Does the Home Office do checks to make sure child refugees are actually children?
In some cases it does, though this is often not a simple process as many children arrive with no paperwork of any sort, meaning age has to be gathered through interviews and some health checks.

There is no definitive test to assess someone's age. According to figures published by the British Red Cross, in 2015 the UK had 3,043 applications for asylum from unaccompanied children, and the Home Office questioned the age of 766 of these.
Around 60% of those who did have age checks were found to be adults by the Home Office. This does not mean that a majority of people seeking asylum as children are found to be adults – it just refers to those who the Home Office suspect of being older. The number found to be adults instead represents around 15% of child asylum applicants.
The British Red Cross notes that for some applicants who can't prove they are children, the situation can be very difficult if they are classed as adults.
"They then face the unsettling prospect of sharing accommodation with adults who are strangers to them," it notes of such cases. "This makes them vulnerable to abuse."

The British Dental Association quickly condemned Davies' suggestion that children arriving in the UK should undergo dental scans.
"It's not only an inaccurate method for assessing age," said a spokesman, "but it is both inappropriate and unethical to take radiographs of people when there is no health benefit for them."

What about the teenagers arriving this week – have they undergone checks?
They have. The refugees arriving from Calais this week differ somewhat from the usual claimants in that they are arriving having demonstrated they have family ties in the UK, and have passed checks before entering the country.
The teenagers are being moved to the UK under what's called the Dublin process, an EU law designed to reunite refugee children with their parents if both are in EU countries – putting into force an accepted principle of international law.
The UK also has its own law – the "Dubs amendment" to last year's immigration bill, named after Lord Alf Dubs, who proposed it – to allow safe refuge to unaccompanied children with family ties with the UK.
The Home Office stressed those arriving this week had already undergone a series of checks.
"All individuals are referred to the UK authorities by the France terre d'asile (FTDA) and are then interviewed by French and UK officials," said the Home Office in a statement. "Where credible and clear documentary evidence of age is not available, criteria including physical appearance and demeanour are used as part of the interview process to assess age."

What do agencies who work with child refugees say about the situation?
Anny Bhan, the Europe refugee crisis adviser for the International Rescue Committee said the aid groupd on the ground are dealing with traumatised children.

"We have to stress that these are children - 16- and 17-year-olds are considered children under international law – and they need support and access to essential services. Imagine what you would want for them if they were your own sons and daughters," she said.
"All of these children have experienced trauma, and many are victims of war and extreme violence. They need help to deal with the violence from which they have fled and the violence they may have endured on their journeys. NGOs like the IRC are supporting children who often have little or no understanding of what's happening and what's ahead for them due to a lack of information on the ground."

The latest counts at Calais showed 1,290 unaccompanied minors at the camps, 60 of whom were girls.
Agencies have noted in briefing documents for many months that the majority of unaccompanied children in camps and elsewhere are teenage boys, rather than much younger children.
Is the UK accepting a lot of child refugees?
In short, no.
Under the Dublin rules, Home Office figures suggest, 140 children have been accepted into the UK, while BuzzFeed News understands no children have actually been granted entry under the Dubs amendment.
Last year only around 1 in 4 of the 3,000 asylum applications from unaccompanied minors resulted in refugee status being granted, according to the British Red Cross.
The agency estimates there are around 60 million people currently displaced from their homes in the world. The UK has a total of around 117,000 refugees.
In 2015 the UK had 38,878 asylum applications. This compared to 163,000 in Sweden and 431,000 in Germany.
Mike Adamson, the CEO at British Red Cross said the Home Office had established processes to check child refugees, working with the French government, and said the UK had a long tradition of helping people in need.
"We must not forget that the children who were brought to the UK this week, and those who will come here in the next couple of weeks, all have a legal right to come here to live with their relatives," he said. "The rights of under 18 children are very clear.
"The UK has a long tradition of giving refuge to people fleeing conflict and persecution and we are proud to be part of bringing these children to safety and reunited them with their families. "