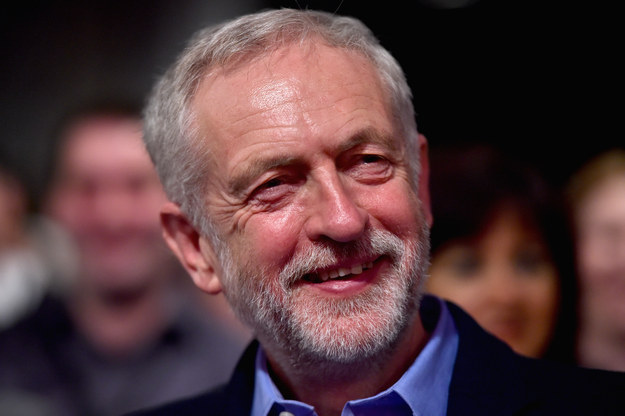 Most of the UK's political debate on Monday has centred around whether or not Jeremy Corbyn has appointed enough women to his top table, now he's finished appointing his shadow cabinet.
But gender isn't the only way to test diversity. Corbyn has said his team is "unifying, dynamic, and inclusive". To test that, we've looked at the 22 people (including himself) included as 'full' members of the shadow cabinet, as well as a further nine ministers who'll be attending shadow cabinet meetings, and compared them to the UK on a number of measures, including ethnicity, education, sexuality, and age.
Here's how they stack up.
The shadow cabinet is less ethnically diverse than the overall UK population.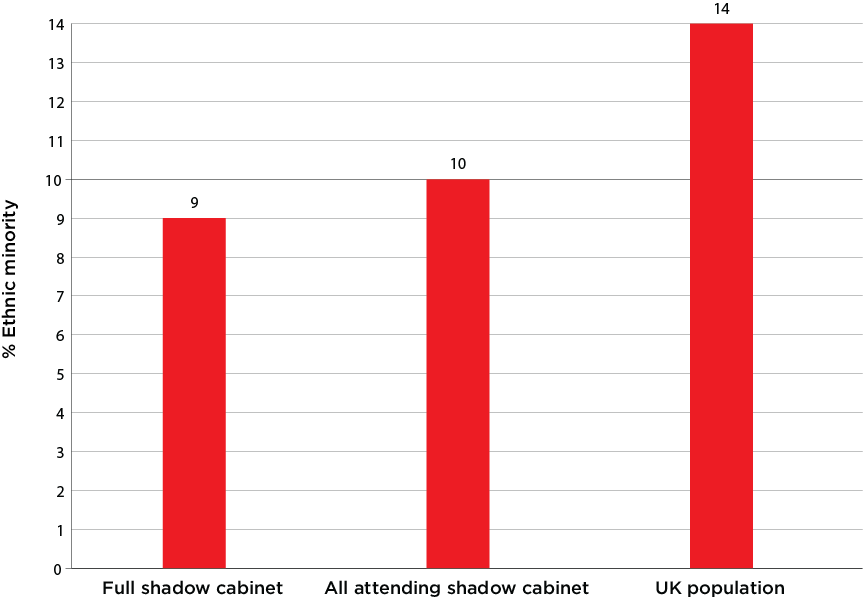 The latest UK census, carried out in 2011, revealed that 14% of the UK's population comes from an ethnic minority.
With two people from ethnic minorities – international development secretary Diane Abbott and energy and climate secretary Lisa Nandy – in the core shadow cabinet, and a third, shadow chief secretary to the treasury Seema Malhotra, in the additional attendees, Corbyn's cabinet falls somewhat short of the UK average, at 9% to 10%.
Despite the ethnic diversity of many of the constituencies they represent – Corbyn's Islington North is one of the most diverse in the country – Labour's shadow cabinet still falls short of being representative on this front.
Corbyn's cabinet is 14 years older than the average Brit.
Given that the overall population of the UK also includes children, it was almost inevitable that the shadow cabinet would be a bit older than the typical UK citizen, even though the figures do also include the very elderly.
However, the median age (the age at which half the team are older, half younger) of Corbyn's full shadow cabinet team is 54. If you include all those attending meetings, it drops fractionally, to 53. The median age of a UK citizen, meanwhile, is 40.
The oldest member of Corbyn's cabinet is Jeremy Corbyn himself, at 66, while the youngest is shadow minister for mental health Luciana Berger, who is 34. Counting only full members of the shadow cabinet, 36-year-old shadow energy and climate change secretary Lisa Nandy takes her place as youngest.
It's not clear whether Corbyn met his pledge for a 50/50 male/female shadow cabinet.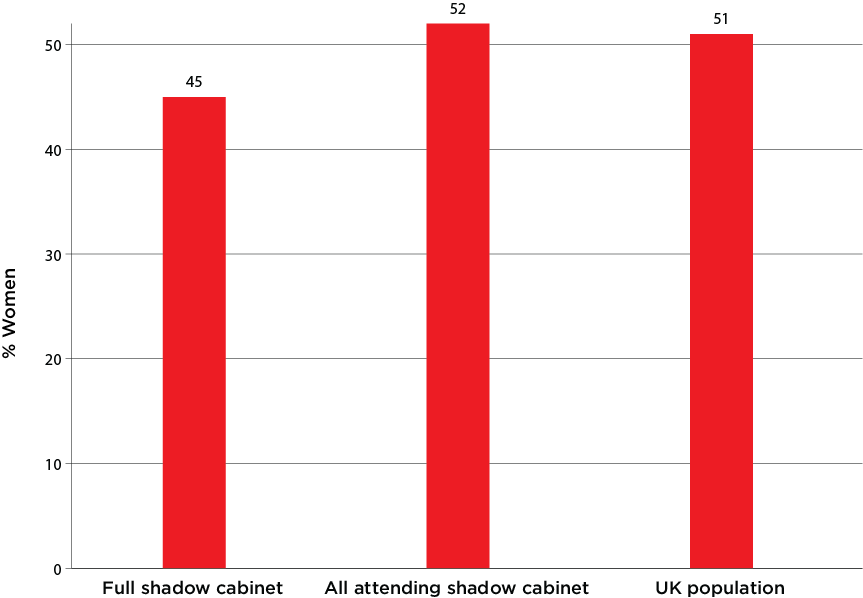 Like all the other leadership candidates, Corbyn signed a pledge from the Labour Women's Network to "ensure 50:50 membership of Labour's shadow cabinet". If all of those attending shadow cabinet are included, Corbyn has just made that pledge, with a 52% female cabinet – compared with a UK population which is 51% made up of women.
However, if only full shadow secretaries of state are included, Corbyn's representation of women drops to 45%, short of his pledge – and as many have noted, none of the four shadow jobs traditionally regarded as the biggest (leader, chancellor, foreign secretary, and home secretary) are presently occupied by women.
We don't really know enough about how many LGBT people there are in the UK to say how Corbyn's team stacks up on this front.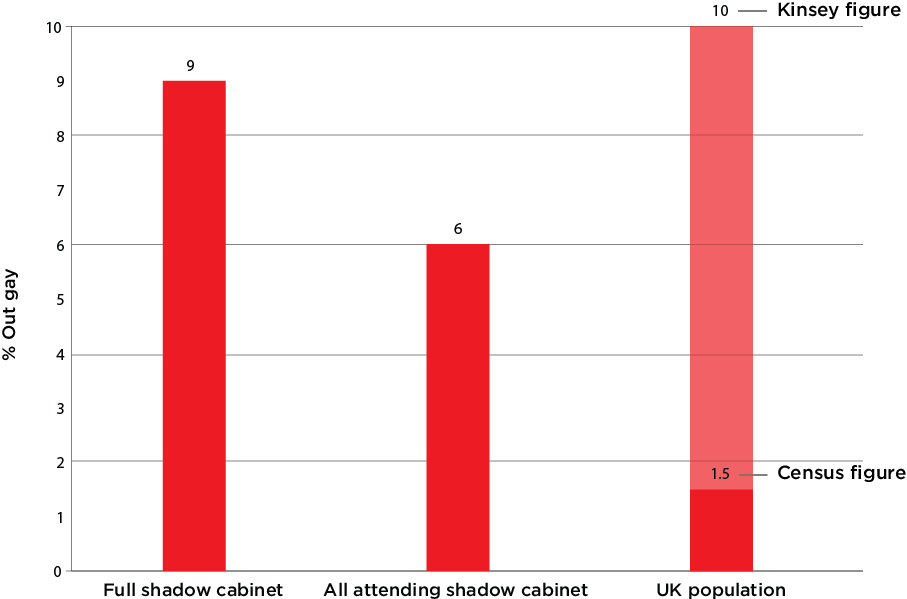 Labour's new frontbench team has, by our count, one out gay woman (shadow secretary of state for business, innovation and skills, Angela Eagle) and one out gay man (shadow leader of the house, Chris Bryant).
Since both of those roles are full cabinet members, that would make 9% of Corbyn's core team LGBT – though as none of the additional nine people are out as LGBT, the broader total drops to 6%.
It's worth noting, though, that Labour has no out bisexual MPs on its front bench, and no out trans MPs at all – though nor does any other UK political party.
It's difficult to compare how Corbyn's team stacks up to UK society on this approach as good statistics are hard to find. Official figures estimate 1.5% of the UK's population is LGB, but many find this estimate low. The figure of 10% is widely cited, but weakly sourced, while the campaign group Stonewall estimates the true figure is likely to be around 6%.
The shadow cabinet were more likely to have been privately educated than the general UK population.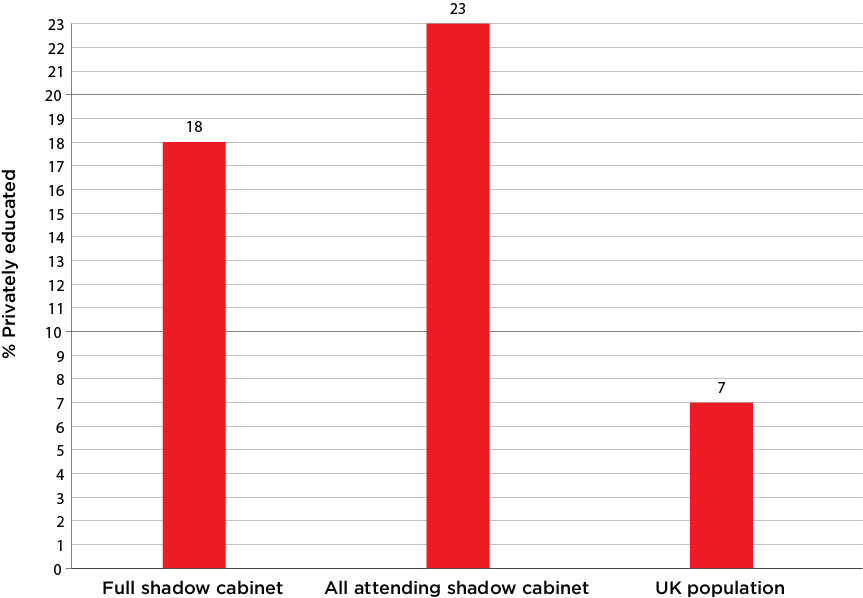 Labour MPs, and the UK's new shadow cabinet, are less likely to have been privately educated than their Conservative counterparts.
However, they are much more likely than the typical UK adult to have gone to an independent school for at least part of their education. The issue is also a more controversial one for the Labour party, where many members have an ideological opposition to private education – though Corbyn himself went to an independent prep school for several years.
Corbyn's full shadow team are around three times more likely than the UK as a whole to have gone to private school, while for the core team this drops to around 2.5x the UK figure.
Labour's shadow cabinet members are much, much more likely to have gone to Oxbridge than you.
Forty-five percent of Labour's core shadow cabinet team studied at Oxford or Cambridge – the same percentage of women that made that team – suggesting the political domination of those universities in British politics is one thing unlikely to immediately change under Jeremy Corbyn.
If all those attending shadow cabinet are included, this drops to 35%, but this figure is still vastly higher than the 1% of the UK population which the BBC estimates went to the two elite universities.
Of course, Parliament itself is less diverse than the UK, meaning Corbyn had a limited pool from which to pick his team.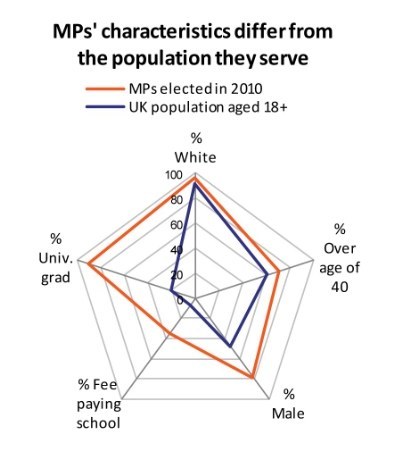 Research from the House of Commons library, conducted in 2010 – they don't seem to have repeated the exercise for 2015 yet – shows MPs across all parties were older, whiter, maler, and more likely to have gone to fee paying schools and university than the public they serve.