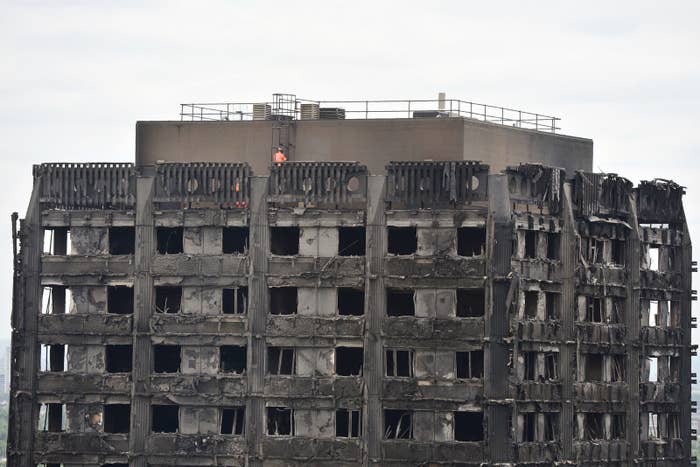 Twitter users, fuelled by the left-wing Skwawkbox blog and others, have been posting theories that the UK government has issued a "D-Notice" censoring the media from reporting casualty numbers from the fire at Grenfell Tower in Kensington.
The rumours have grown out of the slow rise in official casualty numbers from the fire. Officials have confirmed that at least 30 residents of the tower block have died and emphasised that the total is expected to rise.

In one post titled "GOVT "PUTS 'D-NOTICE' GAG" ON REAL #GRENFELL DEATH TOLL #NATIONALSECURITY", Skwawkbox claimed that "multiple sources told the SKWAWKBOX that the government has placed a 'D-notice' (sometimes called a 'DA Notice') on the real number of deaths in the blaze".
The article also notes: "The Skwawkbox telephoned the Home Office press office to ask directly whether this was true. To say that the question caused consternation at the other end of the line would not be an overstatement."
Aaron Bastani, of another left-leaning site, Novara Media, said on Twitter he was also contacting the Home Office over the rumour.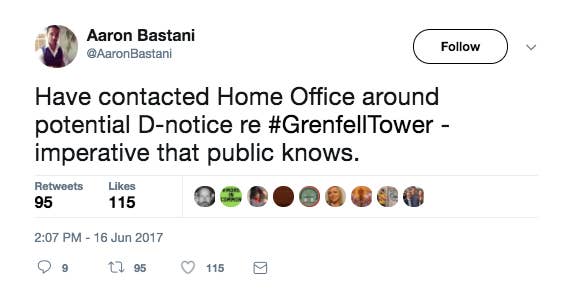 "D-Notices", which are actually called Defence and Security Media Advisory (DSMA) notices, are part of a voluntary system between government and media outlets to advise when the government doesn't wish the media to publish sensitive details of stories that could endanger intelligence, security, or police operations. They are relatively rare and only issued in relation to national security concerns.

One was issued, for example, following last month's Manchester bombing, in relation to then-active operations to track possible accomplices.

BuzzFeed News has confirmed with the DSMA secretariat that there are no advisories issued about the fire at Grenfell Tower, that notices would not be sent in relation to civilian disasters such as this one, and that so far as the DSMA secretariat is aware there is no national security element whatsoever to the tragedy.
There are five standing DSMA notices, all of which are available for the public to read, covering areas such as names of MI5 and MI6 agents, details of deployments of troops, and detailed specifications of some weapons systems. The notices do not ban outlets from reporting these facts, but rather ask that they consult with the DSMA secretariat before doing so.
After some major incidents, including some of the recent terror attacks, the DSMA secretariat emails outlets referring to the public notices and asking that they consult before publishing certain details, including (for example) specific details of deployment of special forces alongside police.
The Home Office is not responsible for issuing DSMA advisories.

The DSMA committee is made up of senior military and intelligence officials and senior editors from a range of UK publications. BuzzFeed News is not currently and never has been part of the DSMA arrangement.