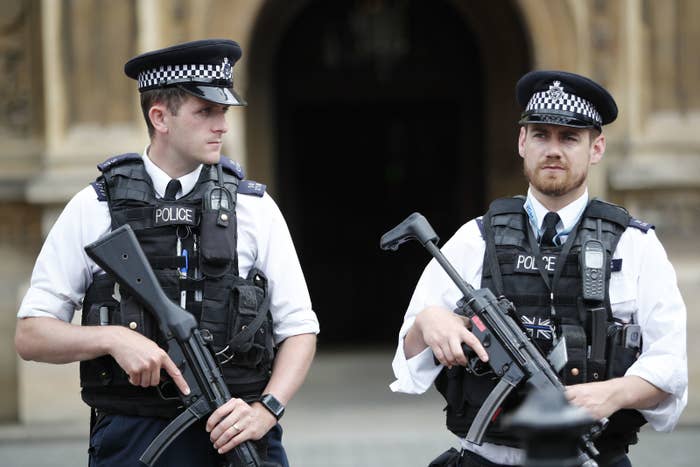 A man has been arrested outside the palace gates of parliament on suspicion of possessing a knife, the Metropolitan police have said.
A short police statement said no one was injured in the incident, which comes less than three months after the Westminster Bridge attack, in which five people were killed, including one policer officer who was fatally stabbed.
On Friday afternoon the police announced counter-terror command were investigating the incident, but said the force was "open minded" on whether or not it was terror-related.
Eyewitnesses to today's incident reported hearing a shout of "knife knife knife", before a man in his thirties was tasered by police and then arrested.

In a statement, police confirmed the use of a taser, saying the device was deployed after the suspect reached for a knife.
"At 11:10hrs on Friday, 16 June, officers on routine duties near to the Carriage Gates entrance to the Palace of Westminster became aware of a man acting suspiciously," the statement said.
"The officers approached the man in order to speak with him. The man reached for a knife, and police discharged a Taser.
"The man – aged in his 30s – was arrested for possession of a knife. Nobody was injured."
The suspect was escorted to a police van by four armed officers, and is now being held in a central London police station.
"At this time it is too early to understand the motivation so we have not declared this a terrorist incident," police said. "However given the location, the circumstances and recent tragic events, the MPS Counter Terrorism Command will be investigating this incident.
"We remain open minded as to whether terrorism was a motive.
"Once again we commend the actions of our armed and un-armed officers based in Westminster who are keeping the public safe."
This is a developing news story. Check this post later for updates.