1 In 3 Leave Voters Think It's Best For Britain If Marine Le Pen Becomes President Of France
According to a YouGov poll, 21% of voters thought the Front National candidate would be the best winner from a UK perspective, versus 23% for Emmanuel Macron.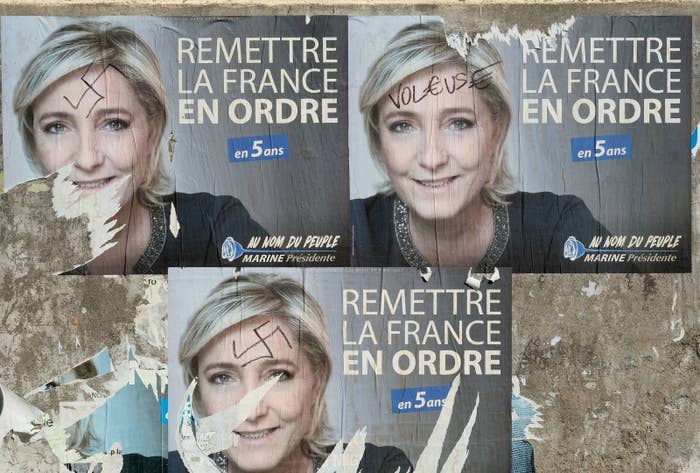 More than one in three people who voted Leave in the Brexit referendum think it would be best for the UK if Marine Le Pen – the candidate from the far-right Front National party – won the French presidential election, a YouGov poll has revealed.
Le Pen faces off against the centrist candidate Emmanuel Macron in the second round of the French presidential vote last year – but the polling evidence shows that those UK voters who have an opinion on the election (many said they didn't know) are closely divided between the centrist and far-right candidates.
Asked by YouGov which would be best for Britain if they won – given France's central role in Brexit negotiations – 21% of voters said Le Pen would be best, while 23% said Macron would be the better candidate from a UK perspective. Another 13% said the two candidates would be about the same, while the rest didn't know.
However, these figures showed dramatic splits when broken down by political party or by referendum vote. Conservative voters favoured Le Pen over Macron by 29-18, while UKIP voters overwhelmingly supported Le Pen, by 49-3.

By contrast, Labour, Liberal Democrat and SNP voters all preferred Macron over Le Pen – Labour voters most strongly, by a margin of 38% to 12%.
BuzzFeed News
Percentage of voters who said a Marine Le Pen victory would be better for Britain, broken down by party.
This same contrast showed in the Brexit divide. 45% of people who said they'd voted Remain thought Macron would be best for Britain, versus just 9% for Le Pen. However, 37% of Leave voters backed Le Pen, while only 6% thought Macron would be best for UK interests.
The UK result is a stark contrast to that seen in some other EU countries, which show overwhelming support for the moderate candidate – who is the overwhelming favourite to win – over his far-right rival.
In Germany, a poll asking who people wanted to win the contest – a slightly different question to that posed to UK voters – found 77% support for Macron, and just 8% for Le Pen.