May 1st is an important day for high school seniors. Even if you've been committed since December like me, there's something exciting about the finality of the the national deadline to commit to a college. My high school is small- everyone knows everyone and its nice to know where all the people you've known since Kindergarten are headed in the fall.
The irony that 55 prominent schools were listed as under investigation of the Federal government for mishandling of sexual assault cases became a topic of national discussion on that date is palpable.
I found out during my free eighth period- my friends and I were sitting outside when one of them told us that me and my two other friends' colleges were on this list. She broke the news in a teasing manner- sporting her pride to be attending Villanova in the fall, a school not on the list. The three of us, attending Franklin and Marshall, SUNY Binghamton, and Hobart and William Smith, were all a little taken aback.
The news prompted a discussion on the very real possibility that one of us could face sexual assault in college.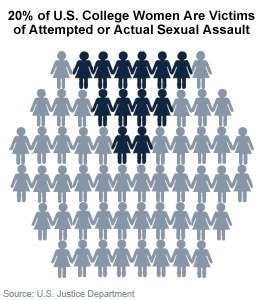 It's a little frightening. Not just the fact that we could be sexually assaulted, but the idea that the school that we've entrusted to take care of us- not to mention that we've paid thousands of dollars to- doesn't take us seriously. Or worse, cover it up to save face to prospective students, donors, and whoever else they're trying to impress.
When I got home that day, I began researching to find out what I could about the list. From what I could tell, my school, Hobart and William Smith Colleges, had been cooperating with the investigation. Still, I wasn't satisfied.
Sexual assault terrifies me, like any other young woman. I am proud of my sexuality and detest the idea that someone could do something to ruin that.
The only thing that could make the trauma and emotional toll of assault worse is not being believed and having to endure the next years of your life in the same classroom, the same parties, and graduation with someone who so horrifically changed your life.
So, first I reached out to my fellow prospective students.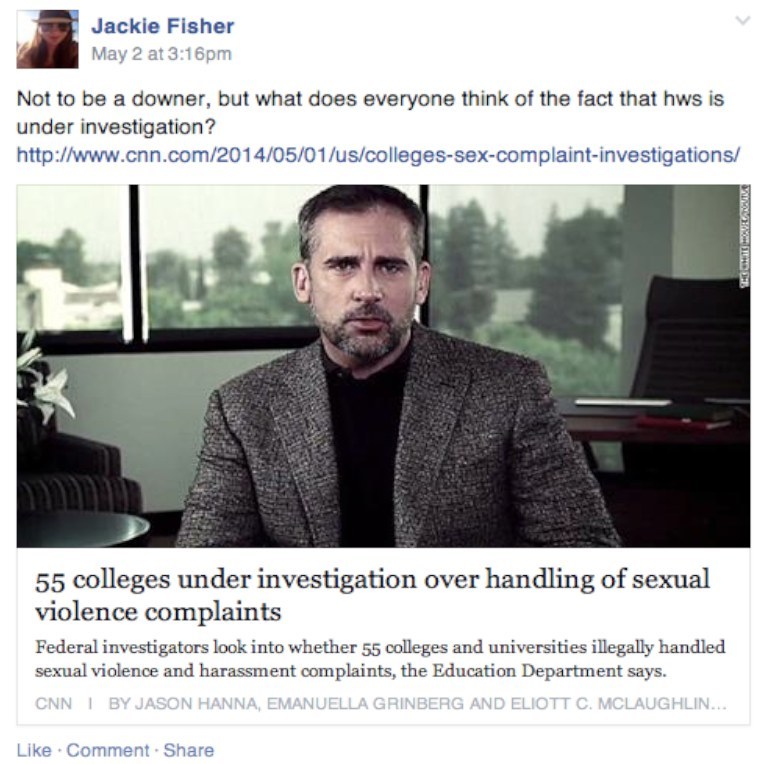 Meanwhile, I wrote an email to a woman in admissions whom I'd gotten to know very well and I felt comfortable discussing this sensitive topic with.
Before I had the chance to send it, I got the following response on my post.
Hi, Jackie! I'm a first-year at William Smith. I think the issue of sexual assault is a national problem for sure that needs to be talked about here and elsewhere. Even though it can at times be bigger than HWS, I know there's a growing corps of students who protest and demonstrate/educate against sexual assault (in any form). There's one such demonstration tonight. I think this says that no student here wants our campus to be on this list, and we're all willing to do what we can to promote change whenever and
wherever.
This post made me uneasy- It felt insincere.
Here was my response:
Hi *****************, I appreciate you taking the time to respond. The thing that concerns me isn't the student body- obviously the vast majority of students see this as a major issue- what concerns me is that the investigation focuses on how the administration handled the cases that were brought to them. If the affected students can't get justice, than it's almost irrelevant that the student body is so actively promoting change.
I didn't feel that she had really addressed the issue I was getting at- this investigation isn't about the students, it's about the administration and how they handle these issues.
If this interaction was any indication of what it would be like to talk to the school and get answers- I had a really rough time ahead of me.
So, feeling rather discouraged, I sent my email to the administrator.
Meanwhile, the girl from earlier responded to my post again.
I definitely hope it's not irrelevant, but I hear what you are saying. If you're a confirmed student for next year, then I think your voice will make an excellent addition to this campus.
To me, this comment read like this:
Sorry my answer isn't good enough for you, but you've made your choice and you're stuck here.
Not an easy thing to absorb.
Then, I got a phone call- Geneva, NY area code.
I was a little paranoid. Could I get some kind of disciplinary action before I was even technically a student?
"Hey Jackie," came a familiar voice on the other end of the phone.
I spent the next 11 minutes getting facts from my contact in admissions.
In this phone call, my contact explained that the school had nothing to hide- she was happy to answer my questions.
I learned something about my school, and this list, that completely changed my perspective.
The list of 55 schools came from accusations.
The list had nothing to do with a school having a history of mishandling sexual abuse/assault. It was based on contemporary accusations that students have made against the administration.
In the case of HWS, it was just one student.
We discussed it further- and one thing that was said to me really settled my fears.
"It doesn't matter if someone built the library or is here on full financial aid."
To hear a college representative say it- this horrific condition is something that exists. That this is an issue that needs to be addressed.
Hearing this assured me that this wasn't the case at HWS.
In addition to her time, my admissions counselor also gave me contact information to talk to the President or anyone in the college that I wished. She also forwarded me an email that was sent to the college faculty, which reiterated all of the points she'd made and that HWS was planning to be both cooperative and transparent.
So, I got the answers I needed. I'm confident that the Department of Education will conduct its investigation and find that everything regarding Hobart and William Smith's sexual assault policy to be above board. My paranoia was unnecessary after all.
Even so, I'm happy that I went on this quest for information. It made me really think about the reality of campus sexual assault, that I'm stepping into a world where the risk is ultimately higher.
It's a shame to think that such a frightening culture exists on campuses- but I'm confident that at HWS my fears of sexual assault won't overshadow the experience of four years at my dream college.
This post was created by a member of BuzzFeed Community, where anyone can post awesome lists and creations.
Learn more
or
post your buzz!